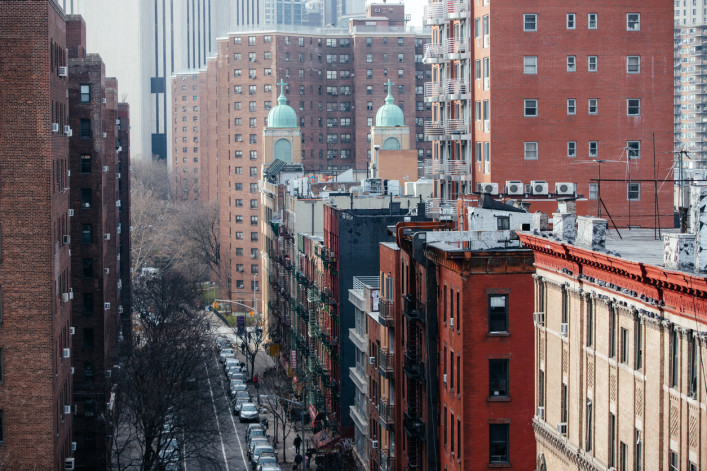 If you were hoping to take advantage of historic low mortgage rates to buy in New York City, you need to get it in gear. While mortgage rates are currently near record lows, they are not expected to stay near bargain-basement levels for more than a few months.
After the rollercoaster events that landed Joe Biden in the White House—and Democratic control of the Senate—there are likely to be some moves that benefit buyers, such as a repeal of the SALT cap, a $15,000 first-time homebuyer tax credit, and increased lending for first-time buyers—as well as renewed consumer confidence when the pandemic is brought under control.
The Federal Reserve has been buying mortgage-backed bonds for months, keeping rates artificially low as sort of an economic stimulus. When the economy recovers, that will end and rates will go up but not a dramatic surge, according to CNBC.
In fact, "mortgage rates have already risen off their all-time lows," says Melissa Cohn, executive mortgage banker at William Raveis Mortgage. She says this rise is essentially "a result of the Democrat-led Senate and the Covid vaccine in simple terms."
Fixed-mortgages (15-year and 30-year conventional loans) track with Treasury notes—when they're low, home loans are low—and the 10-year Treasury note hit an all-time low of .54 percent in March 2020.
But it breached 1 percent a couple of weeks ago and is now trading around 1.10 percent. As a result, mortgage rates have gone up on average from .125 to .25 percent, Cohen explains. 
One prediction is for the average rate on the 30-year fixed mortgage to reach the mid-3 percent range, up from the current 2.9 percent after seeing 2.76 percent in December, a record low.
Democrats' win a boon to NY buyers
House Speaker Nancy Pelosi and Senate Majority Leader Chuck Schumer have called for a repeal of the SALT cap, the state and local tax deduction limit of $10,000, which hurts owners in high-income tax states like New York. Cohen says a repeal of the Trump administration's cap will help incentivize buyers in NYC.
Her prediction for mortgage rates? "I expect that rates will remain in their current range for the next few months and then will rise as new stimulus gets passed, which will be inflationary and as we get vaccinated and start to go back to a more normal life," Cohn says.
Most NYers need jumbo loans
Still, many New Yorkers don't get to take advantage of very low conventional loans. Thanks to the high price of real estate here, most NYC buyers need a pricier jumbo loan in order to finance their purchase.
But there's some good news on that front for NYC buyers: the Federal Housing Finance Agency raised loan limits for mortgages backed by Fannie Mae and Freddie Mac—lifting jumbo loan limits in 2021 to $822,375, up from $765,600 in 2020.
Higher limits for conforming loans could potentially allow more financing options for borrowers, Brittney Baldwin, vice president and loan officer at National Cooperative Bank (a Brick Underground sponsor) previously told us. "There may have been borrowers that may not have met jumbo financing guidelines but now may fit Fannie Mae and Freddie Mac lending guidelines," she says.
Requirements for jumbo loans are much stricter. Most banks require at least six months of the mortgage payment, interest, taxes and insurance in your bank account, versus the typical two months' worth for a conforming loan. The loan-to-value rate, or amount you can borrow against your property, is also lower than a conventional mortgage.
Loans under Fannie Mae/Freddie Mac limits "have an excess of buyer or investor pools on the secondary market when lenders sell the loans and therefore have the least risk for the loan and thus lower rates," says Eli Sklar, senior loan consultant at LoanDepot.
Jumbo loans are harder for banks to move. "These are generally held on a bank's balance sheet and therefore have more exposure of default and risk," Sklar says.
A 'once-in-a-generation' opportunity
Nicole Beauchamp, an agent at Engel & Volkers, pointed to recent data that shows Manhattan co-op and condo sales surged in the fourth quarter of 2020, indicating that "buyers have been returning." It's a counterpoint to the endless narrative of urban flight, she says.
Thanks to low mortgage rates now, New Yorkers have a chance to break a pattern.
Instead of the typical New York lament—"if only I had bought then," Beauchamp says buyers today can really stretch their budget and trade up.
"This moment we are in now can be a once-in-a-generation opportunity with the mix of the mortgage rates and prices to get that amazing apartment you've always dreamed of," she says.
Brick Underground articles occasionally include the expertise of, or information about, advertising partners when relevant to the story. We will never promote an advertiser's product without making the relationship clear to our readers.