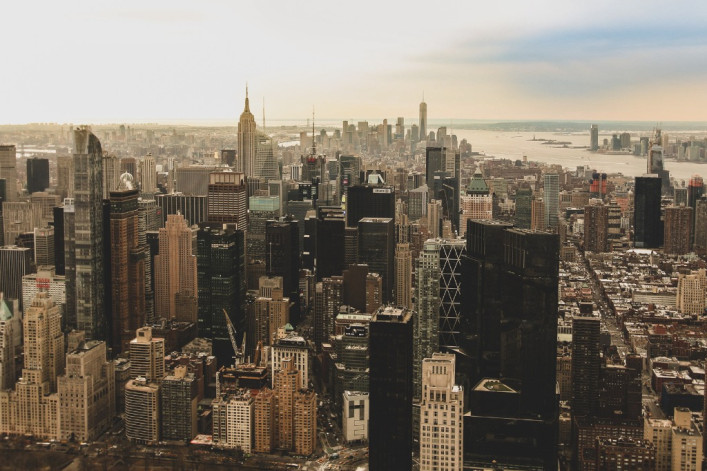 There were a burst of real estate deals in Manhattan at the end of the year as buyers took advantage of lower prices, historic interest rates, and concessions for new development.
New market reports show Manhattan is inching its way back from the plunge in sales that was caused by the shutdown. There were 1,909 sales of Manhattan co-ops and condos in the fourth quarter, an increase of 38.8 percent from the third quarter quarter, according to the latest Elliman Report.
 "There was a clear surge in sales activity from the third to the fourth quarter," says Jonathan Miller, president and CEO of appraisal firm Miller Samuel and author of the report.
In addition, Elliman's new signed contract report shows Manhattan's December activity was above year-ago levels for the first time since the lockdown ended.
Usually, it is best to focus on year-over-year comparisons, instead of comparing one quarter to the next, in order to filter out seasonal changes. But a quarterly look is important right now because it reveals just how far Manhattan real estate has come during the pandemic, Miller says. The fourth quarter is traditionally the weakest quarter for sales, since many New Yorkers travel for the holidays or are entertaining at home, and put off buying or selling.
Miller looked back over the past 20 years to find that sales declined from the third quarter to the fourth quarter by an average of 11 percent, so to see a quarterly increase of 38 percent in the fourth quarter compared to the third quarter of 2020 is significant. "The surge overpowered the seasonality," he says.
Other comparisons also illustrate how far Manhattan has come. In both the second and third quarters of 2020, sales declined by 50 percent year over year. In the fourth quarter of 2020, they were down just 20 percent compared to the fourth quarter of 2019.
Prices showed mixed results, the report says. The median sales price for condos and co-ops, $1,050,000, rose 5.1 percent over the fourth quarter of 2019—but if you break out the two types of apartments, you can see that co-op prices fell and condo prices increased. The median sales price for a co-op in the fourth quarter, $752,000, was a 5.4 percent drop from the year-ago quarter, while the median sales price for a condo, $1,675,011, represents a 6.3 increase over the fourth quarter of 2019.
The median price for luxury properties, defined as the upper 10 percent of all co-op and condo sales, rose annually for the second straight quarter. The median price in the fourth quarter, $5,600,000, was a 16.7 percent increase over the year-ago quarter.
The Elliman Report for new signed contracts in December shows find signed contracts were up 17.6 percent for co-ops and 6.3 percent for condos. Townhouse contract activity continues to exceed year-ago levels, a trend that has been in effect since September.
In Brooklyn, new signed contracts for co-ops, condos, and townhouses were more than triple the levels seen a year ago, the report says.
In the suburbs, contract activity for Long Island, Hamptons, North Fork, Westchester, Fairfield, and Greenwich outpaces the year-ago period—continuing a trend seen over the past six to seven months.
Other market reports
The average resale price dropped in the fourth quarter, but there were two important factors that prevented the fall from being much worse, Bess Freeman, CEO of Brown Harris Stevens, says in her firm's fourth quarter Manhattan sales market report.
"First, is the relative weakness of last year's fourth quarter, as July transfer tax increases pushed buyers of high-end apartments to close in the first half of the year," she says. "The second reason is that condos, especially larger ones, were a bigger percentage of the resale market than a year ago."
According to Brown Harris Stevens Development Marketing's year-end new development market analysis, there were greater discounts for new condos in 2020, which helped boost sales.
"Buyers with a long-term view on Manhattan had the foresight and confidence to buy at an historic moment in time that likely came with fleeting discounts," said Robin Schneiderman, managing director of BHSDM. "With average discounts of 12 percent off last asks, consecutive quarters of growth, and a vaccine in distribution, 2021 should continue to mount a comeback for Manhattan in terms of absorption and price stability as Q1 pre-lockdown evidenced."
Covid-19 has "slowed the home-buying process but not halted" it, according to Elizabeth Ann Stribling-Kivlan, senior managing director of Compass, in her firm's fourth quarter report. Notably, "Condos sold were larger this quarter, driving the average price per square foot to its lowest level of any fourth quarter since 2014." 
Frederick Warburg Peters, CEO of Warburg Realty, notes in the fourth quarter NYC market report for his firm that "competitive bidding returned for many well-priced properties, as did the gazumping—overbidding after another offer is accepted—of agreed-upon prices by considerably higher offers received late in the game. Most buyers shopped more online and visited only those properties which seemed a perfect fit, cutting down on apartment visits."
Signed contracts returned to pre-Covid levels, Pam Liebman, president and CEO of Corcoran says in the firm's fourth quarter Manhattan report, as a result of pent-up demand.
"Falling prices, low interest rates, more negotiability, a clearer political climate plus news of a vaccine were key contributors as well," Liebman says. "Although many of the challenges related to taxes, supply, and affordability remain, this quarter's results offer a firm foundation for more improvement in 2021."
BOND New York's fourth quarter market report found that all Manhattan neighborhoods showed increases in the number of listings in contract compared to the year-ago quarter. Nolita, Midtown South and Tribeca saw the largest increases.
"In spite of a pandemic that has caused most facets of the city come to a screeching halt, the residential real estate market has actually outpaced last year's fourth quarter," the report says. "The number of pending sales [listings in contract] was higher than it was pre-pandemic...The median number of days a property stayed on the market was fewer than this time last year and the number of active listings decreased. Combined, these factors are a strong indication of a market on the rise."
In the fourth quarter market report for new firm SERHANT, Garrett Derderian, director of market intelligence, says that looking ahead to 2021, "we expect prices to stabilize near current levels and demand to increase as buyers feel more comfortable entering the market. With the vaccination process underway, we are optimistic the daytime population of Manhattan will slowly return to its pre-pandemic level and by the end of next year the global markets will reopen for travel."
Brick Underground articles occasionally include the expertise of, or information about, advertising partners when relevant to the story. We will never promote an advertiser's product without making the relationship clear to our readers.