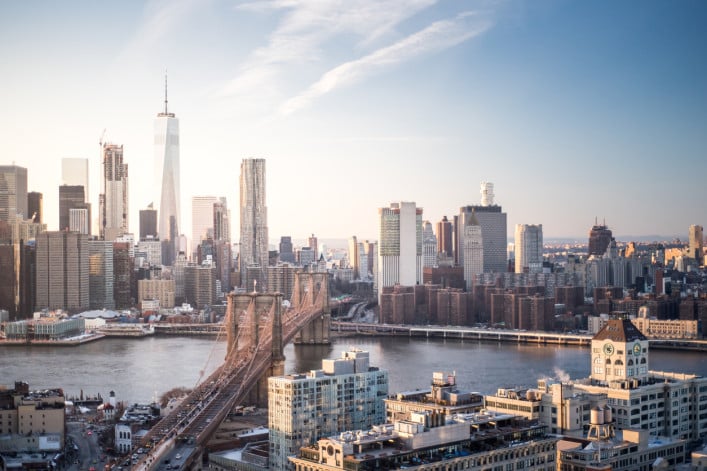 Call it a tale of two boroughs: The rally seen in new signed contracts for Manhattan co-ops in October year over year fizzled out in November. while in Brooklyn, contract activity was much stronger in November, remaining elevated over the same month last year.
New signed contracts for Manhattan co-ops (498) were down 15.9 percent in November 2020 compared to November 2019, according to the latest edition of the Elliman Report, which looks at new signed contracts and new listings for Manhattan, Brooklyn, Long Island, Hamptons, North Fork, Westchester County, Fairfield County, and Greenwich, CT. Contract activity for Manhattan co-ops had narrowed the gap in October, coming close to the same level a year ago.
For Manhattan condos, new signed contracts also saw a drop in November. There were 325 new contracts, a decline of 17.5 percent.
New inventory for Manhattan condos, co-ops, and townhouses fell well below year-ago levels and have been trending lower since the summer on a month-over-month basis, the report says.
Brooklyn saw very different contract activity, especially for houses, a continued sign of strength there.
New signed contracts in November for Brooklyn co-ops, condos, and townhouses outpaced levels seen a year ago. There were 150 new signed contracts for co-ops, an increase of 72.4 percent, 199 new contracts for condos, an increase of 49.6 percent, and 184 contracts for townhouses, up from 47, an increase of 291.5 percent.
New listings for Brooklyn co-ops, condos, and townhouses were up 64.2 percent, 11.8 percent, and 28.2 percent, respectively.
On Long Island, new signed contracts for houses increased 9.8 percent and 6.5 percent for condos over November 2019 (a much bigger increase than October and September year over year). Single-family houses showed the most contract activity in November in the price tiers above $400,000. Listings declined for single-family houses; most drops were below the $400,000 threshold, the report says.
The Hamptons saw an increase of 84.3 percent in single-family new signed contracts over the prior year (in October, they more than doubled the prior-year—and this was after peaking in August). Listings of single-family houses was almost double the number seen a year ago, after a peak in September.
 While the total of new contracts signed on the North Fork in November was small (56) it was higher than November 2019 (42). This area saw a peak in contract activity in July. Listings remain well above year-ago levels.
In Westchester, new signed contracts for single-family houses and condos were up 28.8 percent and 24 percent over a year ago—down from a peak seen in July. Properties above $600,000 saw the most activity and there were more listings for both types of properties compared to this time a year ago,
Fairfield new signed contracts for single-family houses and condos were up 8 percent and 1.2 percent over year-ago levels. The most activity was seen for properties over $2,000,000. There were sharply fewer single-family houses on the market in November, a decline of 30.9 percent in new listings, keeping the market competitive.
Both single-family houses and condo new signed contracts in Greenwich more than tripled the totals in the same month last year, up 209.8 percent and 212.5 percent. New listings for both property types were up sharply over the same period last year, but well below the rate of new signed contract growth, the report says.
Brick Underground articles occasionally include the expertise of, or information about, advertising partners when relevant to the story. We will never promote an advertiser's product without making the relationship clear to our readers.