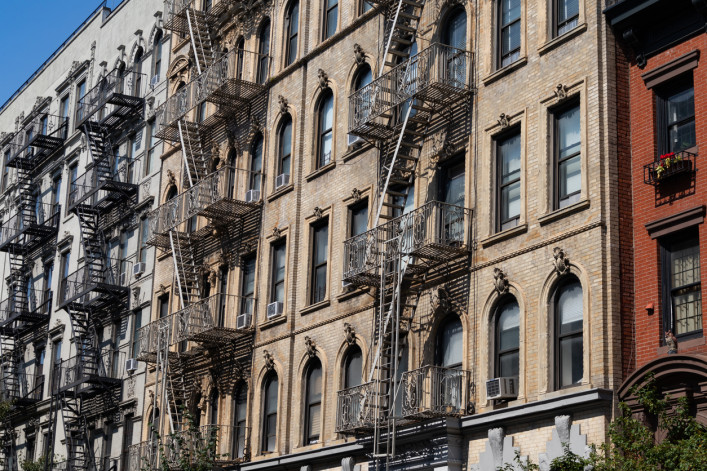 New York City buyers who planned on setting aside a down payment of 20 percent may in for a bit of shock: Banks are requiring higher down payments in order to get to a deal, in some cases up to 30 percent or more as they continue to tighten their lending practices.
Last week, JP Morgan Chase sent a memo to loan professionals saying the bank would now only be willing to lend 70 percent of the sale price for jumbo loans, forcing NYC buyers to up their down payments by an additional 10 percent. Other banks are expected to follow suit.
The reason for this is primarily due to the economic uncertainty the pandemic has wrought as well as low mortgage rates shrinking margins. In addition, with fewer property sales in expensive urban areas like NYC, it's more complicated for lenders to get accurate comps these days. 
It all comes down to risk. "The more you put down, the less risk there is on the transaction," says Alan Rosenbaum, founder of the independent mortgage bank Guardhill Financial. However, there are some workarounds—here's what you need to know. 
It's more important than ever to shop around for a mortgage
NYC has many banks and lenders, so if the larger retail banks are asking for higher down payments you can't meet, there are still lenders who can help. Melissa L. Cohn, an independent broker with William Raveis Mortgage, says, "There are still banks that are willing to finance with as little as a 10 percent down payment."
Whereas larger retail banks need to produce and follow national guidelines, independent mortgage brokers like Cohn and Rosenbaum understand the business, geography, and buildings of New York City on a more granular level and are able to access funds from a range of lenders. 
Cohn points out that when you're mortgage shopping, you shouldn't fixate on the lowest rate. 
"It's one thing if a big bank tells you they will give you a rate of 2.5 percent but if they won't give you as much financing as you need, aren't you better off going to another bank and paying 2.75 percent and getting everything you need?" she asks. 
Aleksandra Scepanovic, managing director of 
Ideal Properties Group
, 
tells her clients
 to leave no stone unturned. "There are some lending gems, smaller, and off-the-beaten-path lenders out there" who she says may be more interested in attracting borrowers and require smaller down payments. 
Make sure your financial profile is watertight
If you want to borrow in order to buy, now isn't the time to make major changes to your financial portfolio—for example, opening new or closing current lines of credit. Scepanovic says her mortgage partners are suggesting borrowers "keep the status quo with their financial profiles as much as possible and work on making sure to pay all of their bills on time."
Offering a higher down payment to seal a deal
Depending on the type of property you are buying, you may find you have to put more money down to secure the deal. There are, for example, co-ops that require a 50 percent down payment—a requirement that has nothing to do with the pandemic.
Much also comes down to the purchase price. For loans up to $1 million, the National Cooperative Bank (a Brick Underground sponsor) say they have not changed their underwriting criteria.  "We require a 20 down payment for co-op share loans that are primary residences, but we will always look to the co-op as they may have a higher down payment requirement," says Brittney Baldwin, vice president and loan officer with the bank. 
New development buildings often use a preferred lender but Andrew Gerringer, managing director of The Marketing Directors, a company that works with developers to design and sell brand new apartments, says in some buildings appraisals have been complicated by the pandemic. He says banks may be unwilling to appraise apartments at the "crazy pricing" that was agreed upon and established with the banks pre-construction. In these situations, Gerringer points out, "Either the developer will have to drop the price or the buyer will have to put down more cash to make these deals financeable."
Ryan Serhant, founder of the new brokerage SERHANT, says you can expect to pay 30 percent in all the new development buildings he represents and even more if it's a second home. If it's an investor or second home you need to be prepared to put down at least 40 percent "because there's greater risk that you will walk away from a second home if the market collapses than you will from the home your partner and kids live in," he says.
On the plus side, higher down payments will lower your monthly obligations, and Scepanovic points out that scenario can "potentially shorten the length of your term and save you a pretty penny on the mortgage interest side."
Every seller wants a qualified buyer, so Cohn says it's important to present yourself in a way that gets the best possible price on the purchase. However, with so much uncertainty in the economy, she points out no one knows which direction the real estate market is headed. 
"Make the minimum amount of down payment that you have to in order to get a good rate—why would you make a bigger down payment if you felt the value of real estate was going to decline?" she says.
Brick Underground articles occasionally include the expertise of, or information about, advertising partners when relevant to the story. We will never promote an advertiser's product without making the relationship clear to our readers.