Sell
When is the best time of year to buy or sell a NYC apartment?
List in March to sell the fastest and get the highest price as per StreetEasy analysis
January and February search activity indicates buyers are getting ready for spring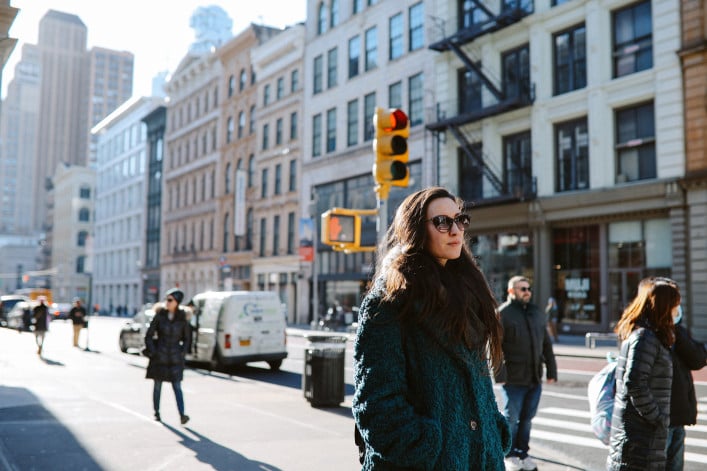 lechatnoir/E+ via Getty Images
Planning on buying or selling a place in New York City? Peak NYC buying and selling seasons are spring and fall—where buyers find the most selection and when sellers see the most interest. There are other small windows during the year that may work to your advantage—if you have the flexibility to act fast.
If you're looking to time the market in the weeks or months to come—here's some advice on how to get the most out of your deal—and avoid a long hunt for a new apartment or extended wait for the right buyer to come along.
---
[Editor's note: An earlier version of this post was published in October 2020. We are presenting it again with updated information for February 2023.]
---
If you're a seller
To sell your place the fastest and get the highest price, get it on the market in March. That's according to a new analysis from StreetEasy, which finds co-ops and condos that go on the market in the first week of March usually go into contract 16 days earlier than listings entering other times of the year.
Not ready to list in the first week of March? StreetEasy found apartments that enter the market anytime in March have a 4.1 percent higher probability on average of selling above ask compared to similar properties put on the market during any other month of the year.
"Spring is the time when buyers jump into market," StreetEasy economist Kenny Lee tells Brick, ticking off several contributing factors: leases tend to end in summer, families with children want to move before the school year starts, and many people want to take a summer vacation and have their new place squared away before they go.
'Normalization is ongoing'
After several volatile years, the sales market is reverting to more regular patterns. Or, as Lee puts it: "normalization is ongoing." There's already an increase in queries on StreetEasy, suggesting that buying activity is picking up sooner than usual.
With listings near record lows, this bodes well for sellers, although in January new listings increased for the first time since September for Manhattan and Brooklyn, according to the Elliman Report. There were 488 co-op and 488 condo listings added in Manhattan last month, compared to 666 and 626 in January 2022—when mortgage rates were in the 4 percent range.
When inventory is low, competition increases and that demand drives prices up. Consider this: For NYC listings sold in the fourth quarter of 2022, 18 percent sold above asking, which was just slightly below the peak of 23 percent in the third quarter of 2022, according to StreetEasy. 
If early spring is not the right timing for you, then consider these other windows of opportunity.
Listing after Tax Day to sell above ask
Lee finds listing the week after the April tax filing deadline give you the highest probability for selling above ask. His report notes that apartments listed the last week of April saw a nearly 5 percent increase in likelihood of selling above asking.
Lee's report analyzed NYC condo and co-op for-sale listings on StreetEasy between 2017 and 2021 (the last year with complete data), excluding 2020 because of the shutdown. Short sales and foreclosures by creditors were also excluded.
What makes buyers shell out more in April? It could be that buyers are expecting a tax refund, the return of warmer weather, or anticipating vacation plans.
September is another selling window
Fall is another selling season, and September is the most competitive month. Sellers who may have missed the spring market will be in a rush to sell then. But fall does not see the same level of demand as spring, and properties listed after Labor Day sit on the market 14 days longer than comparable homes that were listed in other times of the year.
When is not considered a good time to list? Around the winter holidays is generally a tricky time because buyers are traveling and caught up with preparing for and celebrating the holidays. As a seller, you may want to enjoy your holiday décor or want to have guests without the burden of preparing for showings.
If you're a buyer
In a typical spring, the number of listings on the market is higher—and that puts pressure on sellers to offer price cuts. StreetEasy reports that 121.8 percent more listings on average go on the market in spring as opposed to fall and early winter.
These spring listings usually sell nearly four weeks faster than properties listed in fall and early winter, the report says.
Pro Tip:
Looking to buy a co-op apartment? National Cooperative Bank offers competitive rates and easy pre-qualification. With 40 years of lending to buyers in New York City, NCB is the bank for co-ops. After all, Cooperative is our middle name! Call us at (202) 349-7455 or email Ryan Greer [email protected] #507534. Equal Housing Lender.
More favorable rates bring back buyers
This year, interest from buyers who have been sitting on the sideline may signal a busier spring market ahead. Some will take more favorable mortgage rates as their cue: Although rates have ticked up slightly in recent days, they are below the record highs of 2022.
Scott Harris, an agent at Brown Harris Stevens, says, "Buyers are enthusiastic. At all price points and segments of the market, they are feeling more confident with the recent period of rate stability," he says.
Another factor driving some buyers back to the market: Jobs that require workers to return to the office full- or part-time.
"Employees are facing a moment of reckoning with the unlimited flexibility of remote work coming to an end. Returning city dwellers are re-evaluating their living spaces, commutes, and evolving needs," Harris says.
Winter searches indicate higher interest
Janine Young, a broker at Compass, says because of an uptick in searches in January and February, "I do expect the NYC market to be a bit more robust this spring." she says. 
"There seemed to be an uptick in sales activity and rents aren't getting any cheaper, so there is definitely a thirst out there from buyers looking to jump into the market and folks who want to upgrade or change location," she adds.
Buyers will be on the hunt for properties that have been lingering on the market to score additional discounts, she says.
"There is definitely a perception from buyers that the spring will offer more inventory and that properties which have been lingering on the market for a long time will present an opportunity for further discounts," Young says.
For buyers who are hesitating to get into the market, there are grants and programs available for first-time buyers, also additional opportunities buyers of all types may not be aware of: New conforming loan limits mean New Yorkers can borrow over $1 million and avoid the conditions of a jumbo loan.
"I think New Yorkers miss the fact that they might qualify for lower mortgage rates, either through relationship pricing, or from one of many programs that offer lower rates. We also have a highly qualified buyer's pool, and great credit scores can also mean lower rates," Young says. Closing credits and CEMA purchases are other creative strategies, she adds.
Pro Tip:
Looking for a way to discreetly test the waters before publicly listing your co-op, condo or brownstone? You can test demand, price and marketing strategy by "pre-marketing" your place first. The pre-marketing program at New York City brokerage The Agency is a no-risk way to get feedback and offers from actual buyers shopping for a place like yours. There's no charge to participate and no obligation to sell or enter a traditional listing agreement if you haven't found a buyer by the end of the pre-marketing period. To learn more, click here. >>
'Need-to-sell vs. have-to-sell'
Still, another broker says spring inventory won't match pre-pandemic levels, but that sellers who are in the market are motivated.
"This year, while we are expecting more inventory to hit the market, we are not expecting our normal volume uptick," says Seth Levin, a broker at Keller Williams NYC.
That means many sellers who are entering the market this spring are likely facing some kind of life change and need to make a move.
"This can be an advantageous time for buyers to test the vulnerability of current sellers. Many are in the need-to-sell, rather than the want-to-sell category," Levin says.
Making the most of the holidays
The winter holidays have been Young's winning strategy in the past.
"I have always had tremendous luck with winning bids for my buyers around or during the holiday season," she says. "I would never tell someone to hold off on bidding for a property they truly love to wait for November or December to roll around, but I'm always certain to work the timing to our advantage if we happen to be looking around that time of year. Sellers tend to be more receptive to offers if they picture their holidays with the sale behind them or dread the property lingering through a cold winter." 
Young says the winter season can work to a seller's advantage if they price right.
"Similarly, I would never suggest to a seller that they wait until a busier season if they aren't in the position to hold onto the property for that many months, but I would certainly be careful to make sure we price and market the property accordingly," she says.
Brick Underground articles occasionally include the expertise of, or information about, advertising partners when relevant to the story. We will never promote an advertiser's product without making the relationship clear to our readers.