Sales Market
With new conforming loan limits above $1 million, NYC buyers can stretch their dollars
New Fannie Mae and Freddie Mac limit for one-unit properties in pricey areas is $1,089,300
Crossing the $1 million threshold may boost sales: 'A psychologically important event'
Higher loan values could help buyers on the cusp of being able to afford to trade up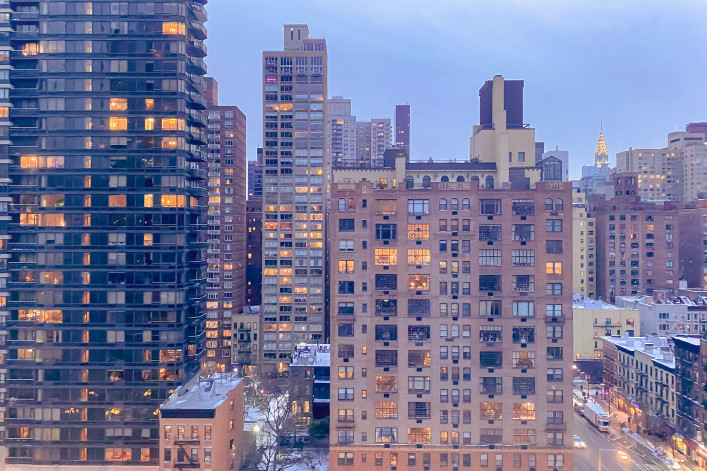 Olga Kaya/iStock/Getty Images Plus via Getty Images
New York City buyers will be able to get bigger home loans this year with better terms that can stretch your dollars farther but be sure to look carefully at your budget before you leap.
The increase in borrowing is the result of the Federal Housing Finance Agency raising limits on conforming loans, which are loans that can be bought by the government-backed agencies Fannie Mae and Freddie Mac. It's good news for buyers trying to buy expensive properties—a description that applies to a broad swath of the market here.
In most parts of the U.S., the 2023 conforming maximum value for one-unit properties is $726,200, an increase of $79,000 from $647,200 in 2022.​ But in pricey areas like NYC, the new ceiling limit for one-unit properties is $1,089,300—rising above the $1 million threshold for the first time. (Considering buying a multi-unit property? There are new conforming rate limits for those as well.)
Pro Tip:
Did you know you can receive a buyer's rebate from your broker? Buying with Prevu you'll pocket a rebate of two-thirds of the commission paid to the buyer's broker at closing. On a $1.5 million condo, you'd receive up to $30,000. Click here to learn about Prevu's Smart Buyer Rebate.
More NYC buyers can get conventional loans
A higher conforming limit will allow more borrowers access to conventional, fixed rate-financing, instead of adjustable rate financing, says Ryan Greer, senior vice president at National Cooperative Bank (a Brick sponsor). Adjustable-rate mortgages or ARMs can be attractive to buyers trying to buy expensive properties; they often have lower rates than a fixed-rate loan in the beginning of the term—and banks can consider that lower rate when qualifying buyers. But borrowers can get into trouble when the loans reset and payments grow larger and they're unable to sell or refinance.
The higher loan values for conforming loans could help buyers who are on the cusp of being able to afford to trade up, says Matt Hackett, manager of operations at Equity Now, a mortgage banker.
Crossing the $1 million threshold could give the sales market a boost as well. Hackett calls it "a psychologically important event, and not just for those who are in that market, but for all those who have been watching prices soar over the past two years. For years the FHFA loan limit was stuck at $417,000, so this is a huge difference for those of us who remember those days."
Higher conforming limits means avoiding a jumbo loan
Mortgages for amounts above conforming loan limits are "non-conforming" or "jumbo" mortgages. Many NYC buyers turn to jumbo loans in order to buy here because it is so expensive. While  rates for jumbo loans have become more competitive with conforming loans in recent months, they are typically harder to qualify for and make borrowing more expensive in the long run. But now that conforming loans have a higher ceiling, many borrowers will be able to use them instead of a jumbo loan.
With a jumbo loan, your loan-to-value ratio is lower, so you need to come up with a bigger down payment. Most banks will require six to 12 months of mortgage payments in your bank account, versus the typical two months' worth for a conforming loan. And you'll also need a higher credit score, likely around 700 or more.
The pandemic wreaked havoc with many New Yorkers' incomes, another reason conforming loans are more desirable for NYC buyers, says mortgage broker Kevin Leibowitz, founder of Grayton Mortgage.
He points out that Freddie Mac will accept one year's tax returns for people who are self-employed and in business for five years, as opposed to a jumbo loan, which requires two years of tax returns.
"With 2022 a more back-to-business year, you can use one year's tax data and really stretch your money farther," Leibowitz says, pointing out that with the new limits you may be able to borrow nearly $1.7 million to buy a three-unit property. "That's a big number."
Among his clients are a married couple and one of the spouses works as a restaurant host. While 2022 was a good year for restaurants, the previous year was not, so the couple doesn't have a good two-year average for their debt-to-income ratio. Being able to submit just the past year and the new higher loan ceiling "is good for New Yorkers," he says, especially with the retrenchment of lenders like Wells Fargo, which announced this month it is shrinking its mortgage business in the face of reduced demand.
How the new FFHA loan limits boost your spending power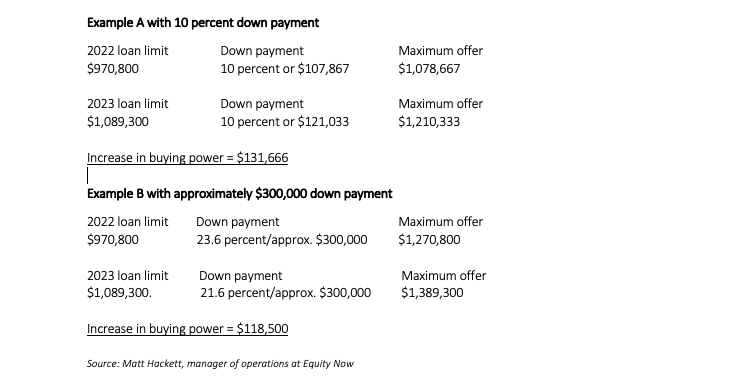 Let's say your goal was to maximize your spending power with 10 percent down payment. In 2022, a NYC buyer applying for a mortgage at the full conforming FHFA loan limit of $970,800 would have been eligible to make an offer of $1,078,667 with a 10 percent down payment or $107,867, Hackett explains.
Under the new FHFA 2023 loan limit of $1,089,300, that same buyer with a 10 percent down payment can make an offer of up to $1,210,333, getting an increase in buying power of $131,666. "This is not an inconsequential increase in buying power, all else being equal," Hackett says.
If you can afford a bigger down payment of $300,000, you can now make an offer of as much as $1,389,300 and still stay under the new conforming limit of $1,089,300. In 2022, that same buyer with a down payment of approximately $300,000 would have been limited to an offer of $1,270,800.
Pro Tip:
Looking to buy a co-op apartment?  National Cooperative Bank offers competitive rates and easy pre-qualification. With 40 years of lending to buyers in New York City, NCB is the bank for co-ops. After all, Cooperative is our middle name! Call us at (202) 349-7455 or email Ryan Greer [email protected] #507534. Equal Housing Lender.
But beware of stretching yourself too thin
Melissa Cohn, regional vice president of William Raveis Mortgage, points out that bigger mortgages will likely be welcome news considering that prices rose nationwide. They've slipped a little in NYC but are not heavily discounted: The median sales price for Manhattan condos and co-ops was $1,100,500 in the fourth quarter of 2022, down 5.5 percent compared to the previous year, according to fourth quarter Manhattan sales data in the latest edition of the Elliman Report. 
Her advice: Buyers should slow their roll. A loan limit over $1 million is a "double-edged sword for the marketplace," she adds, because some buyers will now be stretching themselves very thin to qualify for a loan. "If you can spend 50 percent of your monthly gross income to qualify for a mortgage," she asks, "do you have money to buy food?"
Borrowers need to consider that in high-cost areas like NYC, taxes, maintenance and common charges and renovation costs are up as well, and so are prices for other goods and services. Buyers may find themselves in over their heads if they strive to buy more expensive homes with the increase in limits for conventional mortgages, Cohn says. She recommends buyers "sit down and make sure that you can manage that budget without having a negative impact on your ability to pay the rest of your bills."
Brick Underground articles occasionally include the expertise of, or information about, advertising partners when relevant to the story. We will never promote an advertiser's product without making the relationship clear to our readers.