Sell
What 'days on market' really tells you about pricing, discounts, and negotiability
An UrbanDigs report finds discounts rise 2 to 2.5 percent per 30 days on the market for first six months
After six months, discounts accelerate to 3.5 percent and then nearly 5 percent for each 30 days, the report says
But luxury properties often linger because they are harder to price and need to 'test the market'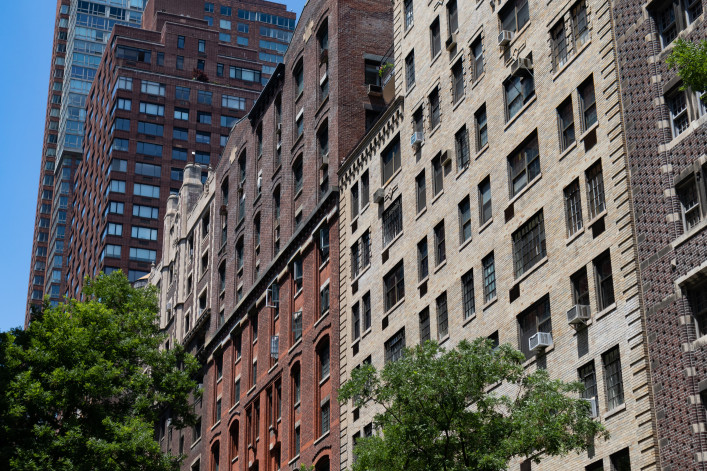 James Andrews/iStock/Getty Images Plus via Getty Images
You would think that "days on market," or the number of days, weeks, months, or even years a listing has been for sale, would be considered a straightforward piece of intel that sellers can use to set prices and buyer can use to offer bids—but this metric is more complicated than it seems.
Listings that sit on the market in New York City for a long period of time are highly problematic for sellers. Based on that one number, buyers often assume something is wrong with these places and expect discounts. A broad look at recent pricing trends bears that out, but it is also important for buyers to do some digging into each listing's unique circumstances.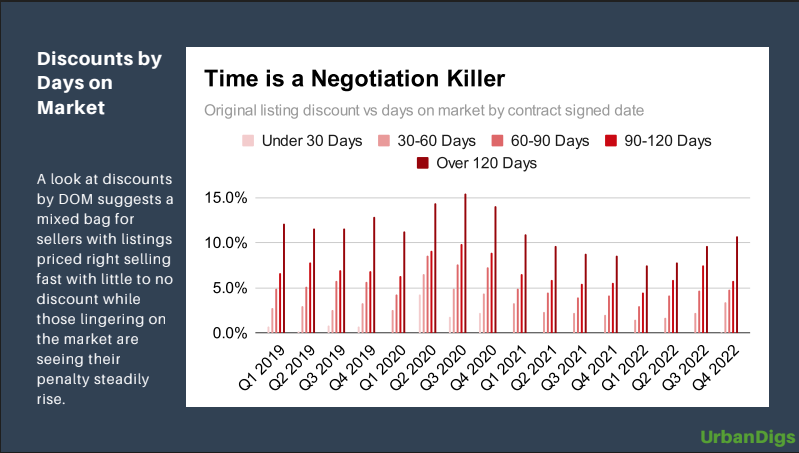 Listings that linger lose leverage
As a new report from John Walkup, co-founder of real estate data site UrbanDigs, puts it: "Time is a negotiation killer." He tracked what happens to listings that linger on the market and looked at pricing discounts over 30-day intervals.
His findings (above) show discounts steadily rising around 2 to 2.5 percent per 30 days on the market until around six months on the market. Then there appears to be an acceleration and discounts rise by 3.5 percent and then nearly 5 percent per 30 days.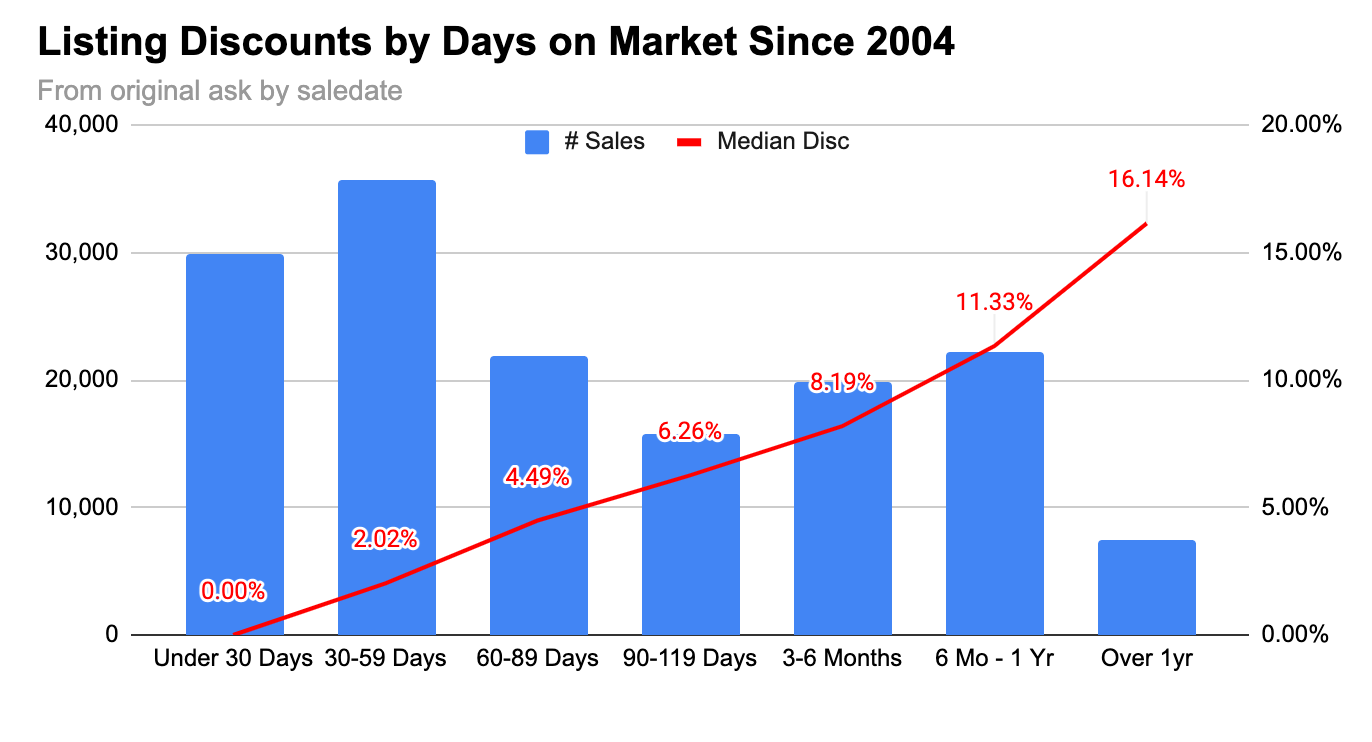 The chart above breaks down the discounts some more. "Listings lingering for over a year see significantly higher discounts than units on the market for less than a year," Walkup says.
But that's not the only way to look at this measurement (remember it is complicated)!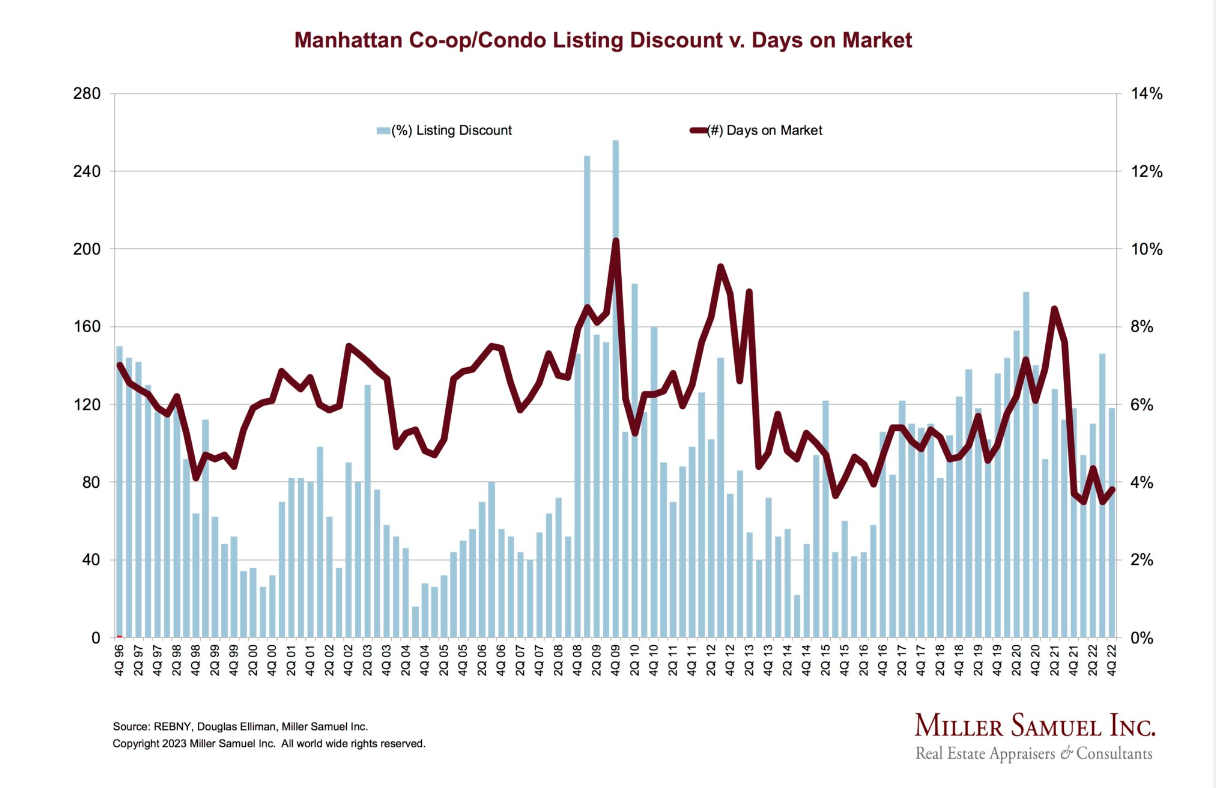 Jonathan Miller, president and CEO of real estate appraisal firm Miller Samuel, tracks days on market by using the last list date before the contract date and the discount measured from the price at the time of contract, rather than the original list date.
Miller draws a distinction between when a property really entered the market versus when the property is merely testing the market. 
"I see the original price as somewhat random—that the property wasn't competitive until the last time the price was changed before the contract signing," he says.
For that reason, he recommends buyers weigh this intel as part of the big picture, especially if they are shopping on the higher end of the market.
Luxury properties "almost always have higher days on market than the general market," Miller says. That's because they're less homogenous and harder to price. "It's not necessarily that people are pricing wrong," he says.
Then there's location (among other factors) to consider. A listing that has been on market 90 days or more without an offer could be overpriced relative to the neighborhood. Or it could be overpriced for the building, where other units have sold with multiple price drops.
Targeting both of these types of wallflower listings is a good strategy for buyers looking to negotiate a deal, Nicole Beauchamp, a broker at Engel & Völkers, explained to Brick for our 2023 NYC real estate forecast.
So to that end, she keeps an eye out for listings that are stuck on the market for over 100 days with no price reductions. Instead of waiting for the price to drop, she recommends her clients make the first move and put in a lower offer.
At that point, sellers may be ready to accept that they're not going to get the prices their neighbors achieved in the early part of 2022. "We're trying to get a sense of who has had a come-to-Jesus moment about pricing," Beauchamp previously told us.
Days on market is meaningless without context
If she could, days on market is one of two ways of looking at listings that Vickey Barron, a broker at Compass, would like to eliminate (the other is price per square foot).
Buyers and sellers "don't really understand it and it creates lots of confusion," she says. That confusion can undermine the value of a place.
On the one hand, sellers fear if they have a listing on the market over 30 days the listing is "ruined." (Fear not: Here are some tips from sellers who were successful in this weird market.)
And on the other: "Buyers see something on market for 90 or 150 days think they can get huge discounts, she says. While there is opportunity for negotiation, you have to look at the whole picture.
She likens the situation to dating: Just because someone is single doesn't mean they are damaged goods.
"Just because something has been on market doesn't mean it lacks value. Often it means it didn't come out of the gate priced accurately," Barron says. "You have to understand the market, the apartment, the listing agent, and seller's motivation," she says.
Her advice? Ask questions about what was going when the property was listed and what could be turning sellers off. Here are some to consider:
Was it listed during a major event when attention was elsewhere, like an election period or the holidays?
Is there new development going up that's going to block the views?
Does it show badly or have tenants who are blocking access?
Are the building's financials bad?
Does it require a huge down payment?
Days on market accrue when deals go bad
It's also important to consider that sometimes a high count for days on market is the result of a deal that fell apart. Mark D. Friedman, a broker at Brown Harris Stevens, has a listing that has been on the market for over 200 days.
"The building doesn't allow showings on the weekends or after 6 p.m. during the week. We had a contract out but due to the rise in mortgage interest rates," he says, the buyers' chances of passing the board diminished.
"We all worked to get this to the finish line for more than four months but in the end, it didn't work out," he says. That means the property wasn't being shown for 120 days. "You wouldn't know this by just looking at the days on the market counter," he adds.
Restarting the days on market clock
There is sort of a fix for sellers: In NYC a seller can take a listing off the market to reset the clock. The Real Estate Board of New York's Universal Co-Brokerage Agreement allows days on market to be reset to zero if the listing has sold and the transaction has closed; or if it has been taken off the market for 90 consecutive days. StreetEasy has a similar policy. In other parts of the U.S., the rules may be different.
But stopping the clock is not without controversy. Barron says she would only do this under specific circumstances, for example the seller is doing construction, or the building is waiting for scaffolding to come down. "It is a slippery slope," she says. "You only want to do this for a real reason."
In an interesting experiment, clocks were halted for sellers near the end of March 2020, the early, panic-stricken time during the pandemic when New York was under lockdown orders. StreetEasy joined The Real Estate Board of New York to stop the days on market counters to give sellers a break.
Some brokers applauded the move (one noted that NYC was in uncharted territory, and this could help sellers avoid the stigma of stale listings) but Miller was outspoken in his criticism, calling it "highly unethical."
"You don't screw around with market data," he says. "What that does is reduce trust in the numbers. There will be periods of time where the market behaves in extreme ways, like a global pandemic or collapse in the stock market."
He would have preferred a bigger focus on discussing the situation with buyers. "You can always explain an anomaly," he says.
Brick Underground articles occasionally include the expertise of, or information about, advertising partners when relevant to the story. We will never promote an advertiser's product without making the relationship clear to our readers.