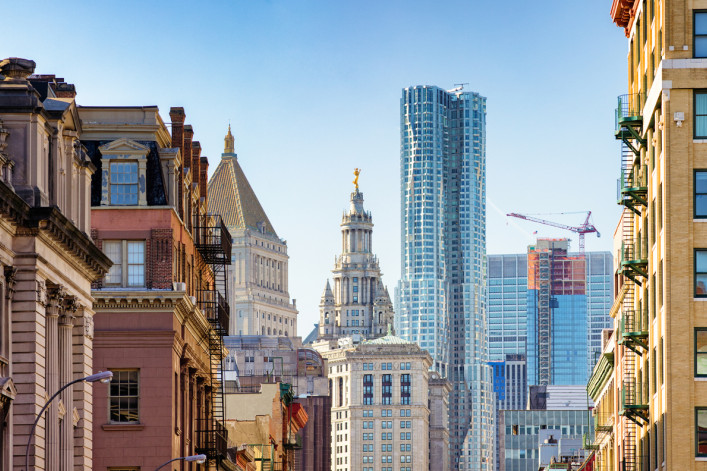 When you take the sales price of an apartment and divide it by the total square feet, you get the cost per square foot, a number that varies wildly around the city. For Manhattan, you can see apartments that cost as a low as $600 per square foot in Inwood to $10,000 per square foot for a trophy property with Central Park views.
It's a metric that buyers and sellers expect to see, and can be useful when you are comparing apartments within a segment of the market. But how much does it really tell you?
If you're looking at a one apartment that's 600 square vs. another that's 750 square feet, "price per square foot does have a use. It's good at cutting through a lot of variations in apartments but it can also mask variations and should be taken with a grain of salt," says Jonathan Miller, president of real estate appraisal firm Miller Samuel.
However, even within the same building, the metric can vary dramatically depending on factors like what floor the unit is on, its views and orientation. "South and west is often more desirable than north and east," says Constantine Valhouli, director of research for NeighborhoodX.
In order to make use of this number, as a buyer or seller, it's worth knowing how square footage is measured, and what it includes—as well as what it leaves out.
What's hidden in the average
The average price per square foot for Manhattan condos, co-ops and new developments is $1,684 according to Douglas Elliman's most recent market report. However, Valhouli says the figure "under-prices new developments, which might be in the $2,500 to $4,000 per-square-foot range and over-prices older co-ops, some of which can still be found at under $1,000 per square foot, especially in upper Manhattan."
The more metrics you're using, the more accurate your valuation. Miller uses three metrics for the reports he prepares for Douglas Elliman; the median price, the average price, and the price per square foot, and says isolating one of these numbers can be problematic. "It relies on the accuracy of the interior square footage and does not consider outdoor space," he says.
Measuring bonus space
Outside space has a value that often isn't included.
"Over the years it has shifted from being 25 percent of the value of an interior square footage, to now over 100 percent," says Valhouli. "But the value of a deck can also vary depending on shape: 200 square feet in a pleasant rectangle is more valuable than a 5- by 40-foot bowling alley," he says. 
Compass broker Toni Haber co-chairs NYRAC, an organization set up to foster transparency and ethical standards among NYC residential brokers, and says outdoor space will differ in value depending on whether it is off a master or a living room.
Similar issues occur with basement or mezzanine spaces. If you're looking at a duplex with a basement level, the lower level will likely be priced less per square foot than the street level says Valhouli. The same goes for a loft unit with a mezzanine.
"That mezzanine level may not be the full height for code, even though it is livable and useful. Depending on the height of the ceiling, the price per square foot may range from 25 to 50 percent of a regular interior square footage," he says.
Townhouses, condos are measured differently
Miller points out a 500-square-foot co-op would be measured based on its interior perimeter, whereas the methodology for a townhouse is to calculate everything within the exterior walls.
"The loss factor between the two can be 20 percent, making the townhouse appear larger," he says
The numbers can also be skewed in condos says Miller. "Developers often include hallways or elevator shafts in the square-footage, which makes the building look more affordable," he says. Haber says these kinds of details are disclosed in the offering plan. 
How to do it better
Miller says he'd like to see more standardization of methodology and more transparency.
"We have more data than we've ever had before but we also have more dirty data, things like variations in how listings are measured, the inclusion of basements, and rogue brokers including common areas in the calculations."
Haber agrees, saying "not all square footage is created equal." She says it's no wonder buyers get confused and she is pushing for a better way to disclose property data.
Crunching the numbers is still helpful for buyers and sellers.
"Sometimes, doing this analysis makes you realize one property is a relative bargain on a per-square-foot basis, even though the asking price is higher," says Valhouli. "Other times, especially with smaller properties, you realize that the asking price is fairly steep per square foot."
He recommends buyers chart numbers on a graph to identify if the unit is either far more expensive or affordable than its neighbors.
Brick Underground articles occasionally include the expertise of, or information about, advertising partners when relevant to the story. We will never promote an advertiser's product without making the relationship clear to our readers.