Getting Ready
Here's how long it takes to sell a NYC apartment: A timeline from pre-listing to closing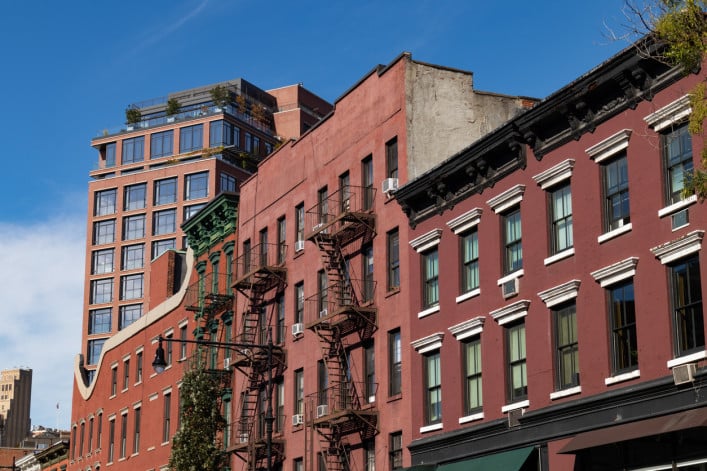 The usual timeline for selling your place in New York has been disrupted—like everything else—over the past two years. However, as regular seasonal selling patterns return and Covid risks recede, it is becoming easier to predict how long it will take to sell your place.
How fast you can close largely depends on the type of apartment you're listing. For example, larger three- and four-bedroom apartments are currently in demand and easier to sell than one bedrooms and studios. Fixer-uppers and estate sales usually take longer to close, especially now as current supply chain issues make a gut renovation a more complicated undertaking. The way the apartment is presented—the condition and staging—affects the timeline of your sale as will the marketing strategy of your broker. 
There can always be curve balls even when the transaction seems like it should go smoothly. The heavy volume of sales has been overwhelming and closings have seen delays because some management companies can't get questionnaires to closing lawyers in a timely way. 
---
[Editor's note: A previous version of the article ran in January 2019. We are presenting it again with updated information for February 2022.]
---
The pandemic also shifted much of the buying process online, including board packages and co-op interviews, which in some cases has sped up the process. 
But in the current seller's market, there are fewer listings for buyers to choose from and Jonathan Miller, president and CEO of appraisal firm Miller Samuel, says the time saved by a newly efficient buying process is "more than offset by the greater difficulties" buyers face finding the right apartment. 
Here's Brick Underground's timeline for selling your apartment, from pre-listing to closing. 
Weeks 1-5
Hire a Broker: Strictly speaking you don't need to hire a broker, but the majority of New York sellers do. It makes sense to have a professional to guide you through the selling process and advise you on the strength of the offers you receive, particularly if buyers end up pushing the sale into a bidding war. 
The process of choosing a broker typically takes a few days to a couple of weeks and involves interviewing several candidates to decide who has the most relevant expertise and the best plan to market your place.
Pro Tip:
Is now the right time to sell? There's an easy way to find out. By discreetly "pre-marketing" your co-op, condo, or brownstone on The Agency's data-driven pre-marketing platform, you can get a realistic idea of what today's buyers are willing to pay before publicly listing your home. There's no charge to participate and no obligation to enter into a traditional listing agreement. Get started>>
Choose an attorney: You want to line up a qualified attorney—someone who specializes in NYC real estate transactions—long before it's time to draw up a contract. If you have been through the selling process in another city, you may not have used an attorney—but deals are so complicated in NYC that they are a necessity.
Get the apartment into shape: This could be complicated by supply chain issues, which can slow a renovation. Cosmetic work like painting is relatively easy to do, but if you need to order high-demand appliances or cabinets you need to factor in extra time for the work to be completed. Consider budgeting an additional two weeks for supply chain issues, says Michael Graves, a broker at Compass. 
Broker Bianca D'Alessio is director of new development at NestSeekers and says for her clients who want to sell in the fall, she's recommending they order new appliances or flooring six months in advance. Another alternative is "to place the order and supply new appliances prior to closing or as part of contract negotiations," she says. 
Photography for marketing material can take five to 14 days because there's increased emphasis on digital post-production and virtual staging. "It's three to five days to book a photographer, another three to five to have post-production completed. Interior and exterior digital staging can add another three to five days," Graves says. 
If you want physical (rather than virtual) staging, you'll need up to six weeks. D'Alessio says stagers are in very high demand. "If you need to stage your apartment you should have a four-to-six week window from when you sign a broker to when you have it staged and ready to come on the market," she says. 
Show the apartment: Open houses are no longer the free-for-all they were before the pandemic. Buyers now have to schedule appointments within the open house window so showings take longer. D'Alessio says even though it takes longer to file everyone through the apartment for viewings, the market is so competitive that it's not slowing up how quickly offers come in.
Adjust your strategy (if necessary): "If you have presented your apartment correctly you should not be languishing on the market," Graves says. If you've had the apartment listed for several months and received no offers you might want to take a different approach—cut the price and change up the home decor.
Weeks 5-15
The number of offers you get and how fast they come in will vary depending on your apartment. However, as soon as you decide to take an offer, the timeline begins to speed up.
Accept an offer: Negotiating the deal could take 24 hours to a few days, depending on how long the parties need to decide on the terms, Graves says. But know this: Deals die when they sit too long.
Draft a deal sheet: The deal sheet is a summary of the terms of the transaction (price, closing date, any specific clauses like a mortgage contingency) and contact information (for the parties, the attorneys and building management) that the brokers put together based on their negotiations.
Week 16 or 17
Sign the contract: As soon as the deal sheet is drawn up, the seller's attorney can put together the contract itself. Meanwhile, the buyer's attorney is conducting due diligence on the property, reviewing the offering plan, board minutes, building financials, and other information. 
Contracts are generally taking a week to two to get signed up, says Steven Hafif, a real estate partner at the law firm Abrams Garfinkel Margolis Bergson. "Some managing agents are not able to keep up with the volume of deals and due diligence requests they are receiving," he says.
The contract will specify a closing "on or about" a specific date, which gives both the seller and the buyer the right to delay the closing by up to 30 days.
Weeks 17-28 (or later)
Once the contract is signed, the major responsibilities shift to the buyer, who will have to get a mortgage commitment letter from the bank (unless they're paying in cash) and secure approval from the co-op or condo board. But a seller should still stay on top of the process and have their broker check in with the relevant parties to make sure everything is moving along.
Order the stock and lease: If you took out a loan on your co-op, you likely handed over your stock certificate to the bank, and you'll have to get it back ahead of the closing. Your attorney should ask the bank to track down the document from their files well in advance of the closing—it can take some lenders 30-60 days to get it, Hafif says.
Monitor the buyer's bid to get a mortgage: It's no wonder sellers prefer all-cash deals—if your buyer is paying cash, you can skip this part altogether. If not, your buyer will have to get a commitment letter from the bank before the board will approve any sale, even with the preapproval letter. "If your buyer needs financing you're looking at a minimum of 45-60 days to close," D'Alessio says. 
The managing agent's ability to supply the bank with prompt information will affect your timeline, as can the buyer's preparation and the bank's experience with NYC apartments, especially co-ops. In all likelihood, your contract will specify how much time the buyer has to get a mortgage, you could also require them to use a specific bank that's familiar with your building to help speed things up.
Clear up any title problems (if necessary): Though the buyer's attorney orders the title report or lien search, in condos and co-ops, respectively, to verify there are no issues with the ownership of the apartment, the seller will want to be on top of the process to clear up any issues before the closing. 
Sometimes in co-ops, for example, an old loan against the apartment will be listed in property records even if it's been paid off and the seller's attorney will have to work with the lender to remove it. In other cases, you may have unfinished business with the Department of Buildings that was never signed off on after a renovation.
Submit to an appraisal: As soon as the contract is signed, the buyer's mortgage lender will order an appraisal (typically only if the buyer is getting a loan). Generally, it will be done within a week or so, unless you live in a particularly rare (and therefore hard to appraise) place.
Monitor the board approval process: Again, it's on the buyer to get the board's green light, but you'll want to make sure your broker is keeping in touch to get things moving along.
Condo: The buyer submits a purchase application to the building's managing agent, who will approve it, and send it to the board—a process that takes about a week and a half. The board has to waive their right to first refusal, essentially saying that they won't exercise their right to buy the condo, which typically takes a couple of days. If the deal is good, condo boards are usually pretty eager to waive the right of first refusal and let it close.
Co-op: This is a lengthy process; plan on four or five weeks from start to finish. First, the seller's broker will submit the buyer's board package to the building's managing agent for review. This can take anywhere from a day to, more often, a couple of weeks, depending on how busy management is. Then it goes to the board. Generally, the board will spend a couple of weeks with the documents before scheduling an interview. 
A couple of days after the interview, you'll get the approval (fingers crossed). But keep in mind that this will vary, depending on the board's schedule. Some boards only interview buyers during their regular board meetings, say every third Thursday of the month, so you may have to wait, while others collect applications for a few co-ops at a time, and interview the buyers in a single day.
Week 29 (or later)
The buyer's final walk-through: The day of the closing (or sometimes the day before), the buyer will inspect the apartment for damage or other issues. This is also when any furniture you rented to stage the apartment goes back to the stager—they tend to leave this to the last minute just in case the deal falls apart. The industry standard for furniture contracts is 90 days.
The closing: Scheduling the closing usually takes a week or two, the main hurdle is aligning the schedules of the buyer, seller, their attorneys and brokers, the bank's attorney, the managing agent (for co-ops) and the seller's bank (if you have a mortgage). Escrow closings became more common during the pandemic but in-person closings have resumed. "Even if the seller and managing agent choose to send their documents in escrow in advance, when the buyer is getting a loan, the signing of the loan documents is generally being handled in person at a closing," Hafif says. The closing itself? Budget a couple of hours.
Brick Underground articles occasionally include the expertise of, or information about, advertising partners when relevant to the story. We will never promote an advertiser's product without making the relationship clear to our readers.