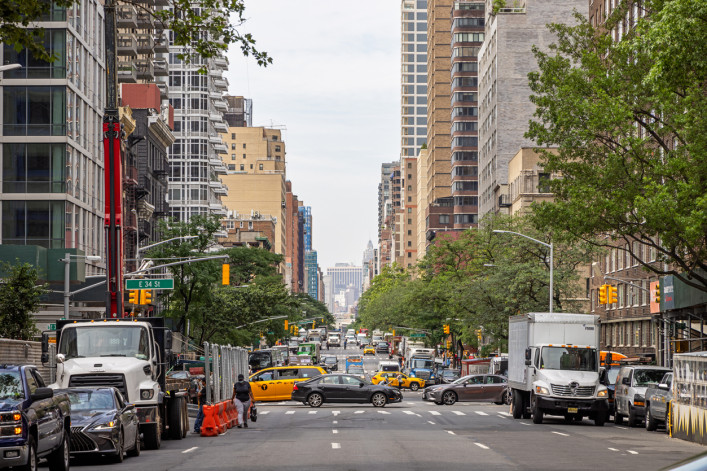 Now that the New York City sales market no longer favors sellers (or buyers really), how are sellers managing to get deals done?
Sellers are dealing with buyers unnerved by an unexpectedly fast rise in mortgage rates, which is stalling sales activity this summer. The number of Manhattan properties in contract for June through August dropped 39 percent compared to last year, according to new data from SERHANT. The shift has occurred as mortgage rates hover around 6 percent, up from last year's 3 percent historic low.
Interestingly, NYC prices have not taken a major hit. The median price of a property in contract has increased just 1 percent from 2021 to $1,159,000, the report says. "This is promising news for homeowners as we have yet to see any major correction in prices due to fewer sales, rising mortgage rates, and economic instability," says Garrett Derderian, director of market intelligence for SERHANT.
So what is working for sellers? What strategies can you glean if you need to put a place on the market now? Brick checked in with brokers to hear about recent successful deals for NYC sellers.
For some, it meant offering the buyer a closing credit or considering paying points, both of which have the advantage of not reducing the price, especially important in a co-op building. Some sellers are fretting about buyers backing out and walking away from their deposits, so they're keep a close watch on deals. For others, it can mean switching a sales listing to the currently red-hot rental market.
And because sellers are under enormous pressure to get their pricing right—they're sweating other sellers' closed deals.
Pro Tip:
To find out what actual buyers are willing to pay for your co-op, condo, or brownstone, consider discreetly "pre-marketing" it. New York City real estate brokerage The Agency has an entire data-driven pre-marketing platform that provides a way to quietly test your asking price and your marketing strategy among real-life qualified buyers before publicly listing your home. There's no charge to participate and no obligation to enter a traditional listing agreement at the end of the pre-marketing period if your place hasn't sold. Click here for more information.
Consider what happened with some sellers on the Upper West Side. They were concerned about a recent sale in their building: A three-plus bedroom apartment in their same line that sold for $1.5 million. Despite being several floors higher, the price was $200,000 less than expected for that floor.
It wasn't clear at first why the price was so much lower. Was it an estate sale or was the place a wreck? Did it sell at a discount because of a divorce? This was not an insignificant discount, says Nicole Beauchamp, a broker at Engel & Völkers. Her clients—the potential sellers—needed her to find out what happened—they would need the information to defend their own pricing. They could count on buyers seeing the discount and questioning their asking price.
"Buyers are the savviest they've been and have a lot of information available to them," Beauchamp says. Plus working from home has been a boon to some buyers.
"A lot of buyers have more time to have conversations, they're having longer conversations and doing more due diligence. They're not traveling and they're much more involved," she says, adding that she recently had to put the kibosh on 1 a.m. text messages.
But just because sales data is readily available doesn't mean buyers get the whole picture.
"If you have clients seeing sales data, you have to provide context," Beauchamp says. "I think now more than ever there is a lot of that context" that you need a broker to dig up.
Saying no to lowball offers
"Rumors of the death of the sales market are overly exaggerated," says Kobi Lahav, senior managing director at Living New York, riffing on one of Mark Twain's famous lines. "The market is not what it was," but sellers are saying: "We want to sell but we don't want to give it away," he says.
Take, for example, his listing on the Lower East Side for a one bedroom with an office. The asking price is $1.3 million and his seller got an offer for $1 million—that was a non-starter.
"You're asking the seller to accept 2008 recession prices," Lahav says. "You're not even getting a counter" with that kind of offer, he says, adding that the buyer needed to get the shock of no response because "we're down a little but were not 2008 down," Lahav says.
While the market may technically favor buyers, they don't have free rein. Prices remain high, mortgage rates are expected to go higher, and as Lahav put it, "there's nothing good in the rental market."
"If a buyer walks away when mortgage rates are 5.5 percent—next month they could be 6.5 percent," Lahav says.
Those rising rates are causing complications for co-op buyers' debt-to-income ratios.
"Co-ops are scrutinizing a buyer's ability to pay monthlies," Lahav says. "If your mortgage was supposed to be $10,000 and now is $14,000, it changes your ability to pay your maintenance."
Paying some closing costs or buying down the rate
Some sellers are taking into account how conditions have changed for buyers and are willing to shoulder some additional closing costs—but only up to a certain point.
"Sellers understand things have changed since buyers may have got into contract," he says.
For example, Lahav says a seller of a $3.5 million apartment is willing to consider paying the $100,000 flip tax in order to get the deal done.
"In the grand scheme of things, they don't want to lose a $3.5 million sale, but if the buyer pushes for the mansion tax too, you can expect the seller to say, 'no you're ridiculous,'" he says.
Offering to pay points on a mortgage as a concession to buyers was discussed on the Talking Manhattan podcast from UrbanDigs. Ace Watanasuparp, executive vice president of Citizens Bank for Residential Lending in New York, says it's a way for sellers to beat what banks are offering and sellers can bring down mortgage costs for buyers significantly. 
Taking listings off the market for now
There are sellers who need to sell no matter what—because of a divorce or maybe it is an estate sale—and those who can afford to wait, like pied-á-terre owners. Those in the latter category—NYC might be their second or even third home—might pull their listing off the market or decide not to list it in the first place—and wait until conditions are more favorable for sellers.
"The recent rate hikes have caused many buyers to rethink their budgets, and the market has noticeably cooled off in the past few months," says Steven Gottlieb, an agent at Coldwell Banker Warburg.
"Many sellers who might have listed their apartments might now be waiting, hoping the market might bounce back once the new interest rates are less shocking and better digested. These sellers are not desperate to sell," he says.
"We have had several sellers decide to hold off listing their properties until the market and buyers get used to the new interest rate environment," says Seth Levin, a broker at Keller Williams NYC.
"Some sellers are also holding off until the stock market rebounds. Those scenarios tend to exist where the sellers didn't have an immediate need to sell," he says.
Switching from a sales to rental listing
Lucy Wu, an agent at BOND New York, had two sellers take their listings off the sales market—and put them up for rent.
One was a one-bedroom condo in Hell's Kitchen, last listed at $1,099,000; it rented for $4,200 a month. The other was a one-bedroom co-op in Midtown South, last listed for $699,000; it rented for $2,950 a month.
Both were snapped up by eager renters: They rented at full ask in less than 20 days with the renters paying a 15 percent broker fee, Wu says.
Being more negotiable
Lindsay Barton Barrett, a broker at Douglas Elliman, says motivated sellers who see which way the wind is blowing are being more negotiable.
"They're recognizing that there is more happening in the market, and there may be fewer buyers [now] vs. what was happening in the spring. Motivated sellers are less likely to say, 'let's wait' and more likely to want to get the deal done," she says.
Being wary of sellers backing out
It's exceedingly rare for a buyer to back out of a contract—after all, when that happens, the seller is entitled to keep the deposit. "Buyers don't walk away from 10 percent, it's painful," Lahav says.
But anecdotally it appears to be happening, according to Curbed, and when it does it can cause a cascade of problems for sellers—especially if they are depending on the deal in order to buy something themselves. For example, Frances Katzen, a broker at Douglas Elliman, told Curbed she had a deal collapse because the buyers lost the buyers of their apartment—they backed out because of an interest-rate hike.
Similarly, Wu has a seller in Forest Hills who is currently in contract on a two bedroom, one bath with a buyer from the building. 
"They're super nervous that the buyer may back out or sabotage their own deal. The sellers keep checking in for status and seem super nervous," she says.
Prepping a place well
Tried-and-true tactics for showcasing an apartment remain as necessary as ever.
"We continue to see renovated properties, with good layouts, in good locations, and priced right sell in this market," says Kimberly Jay, a broker at Compass.
"Sellers should ensure their properties show in the best light possible: Declutter, repaint, refinish the floors, and update kitchen and bathroom hardware; these small investments can make a big difference. If the property needs a full renovation, sellers must be priced for today's market, not yesterday's," she says.
Brick Underground articles occasionally include the expertise of, or information about, advertising partners when relevant to the story. We will never promote an advertiser's product without making the relationship clear to our readers.