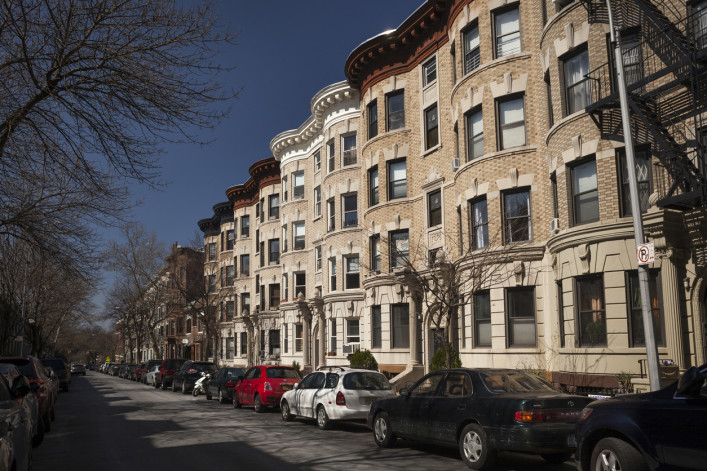 Throughout the pandemic, Brooklyn's sales market behaved as it was coated in Teflon. Although transactions stalled during the second and third quarters, prices held steady, and then as if to prove a point, demand came roaring back at the end of the year, hitting record prices. (It's quite a contrast to Manhattan, which despite an end-of-year surge in sales, is still in recovery mode.)
Now with the perspective of a full year of data—it appears that Brooklyn passed a tipping point and moved from a buyer's to a seller's market—meaning demand outstripped supply in 2020 and will continue to do so in 2021. Why does that matter? Well, if you're a buyer—it means not being in the driver's seat during negotiations with a seller. (A few analysts that Brick to spoke to are not on board with that finding but agree that at least some parts of Brooklyn are definitely heading in that direction.)
John Walkup, co-founder of UrbanDigs, a real estate analytics firm, described what he called a "Brooklyn blowout." In a report, he says that "demand went through the roof to end 2020." His report compared new contracts signed and new listings and found weekly demand outpaced supply by more than two-to-one in late 2020.
His assessment is that Brooklyn remains in a seller's market, however, he says he expects supply and demand to normalize this spring, when more inventory is added.
In fact, Walkup says that Brooklyn was edging toward a seller's market even before the pandemic. Jonathan Miller, president and CEO of real estate appraisal firm Miller Samuel, draws a similar conclusion. He says Brooklyn was in a seller's market for all of 2020.
Fewer Brooklyn listings 
"Price trends have been setting or flirting with records throughout 2020," Miller says. And, significantly, he notes listing inventory has fallen for five consecutive quarters on a year-over-year basis. Sales activity in the fourth quarter rose 5.9 percent after two quarters of falling by half.
The fourth quarter median sales price, $875,000, was a 9.4 percent increase year over year, and the average sales, $1,055,142, an 8.5 percent increase—both prices were new records.
Another metric he points out is the market share of bidding wars in Brooklyn, which was 12.2 percent in the fourth quarter—which represents the share of deals that closed above asking price. A year ago, that number was a lot higher—20.7 percent. But as Miller explains, "The market is still moving very fast."
One way to measure just how fast is to look at months of supply—meaning the number of months it would take to sell all of the existing listings at the current rate of sales. Miller likened it to a food on the shelves of a grocery store—"except townhouses don't spoil."
In the fourth quarter, the months of supply for all types of Brooklyn properties was 2.9 months. That's down from 6.4 months in the third quarter, and a drop compared to 3.6 months in the fourth quarter of 2019.
This is a macro-level look at the Brooklyn market—there are pockets of the borough that are still buyer's markets, but in general, "Brooklyn is behaving like the suburbs," Miller says. "Like a rocket ship."
He cautioned people from reading too much into a recent dip in activity: "Contract activity has cooled, but it is still way up there," after releasing some of the pent-up sales in the wake of the shutdown.
A record-breaking sale
Then there was the recent, record-smashing sale of a Brooklyn Heights mansion for $25.5 million, making it most expensive home ever sold in the borough. The owners, billionaire Vincent Viola and his wife, Theresa, sold 8 Montague Terrace, which was converted from a multi-family rental into a sprawling, single-family home, according to The Real Deal. The sale closed on Christmas Eve.
Lindsay Barton Barrett, a broker at Douglas Elliman, represented the sellers. While she couldn't reveal details about her clients—she says the deal is indicative in general of buyers' desire to live in Brooklyn. She says many buyers are in fact longtime Brooklynites—people who know the neighborhoods and understand the value of living here and who want more space, so they're trading up to a Brooklyn townhouse, which has seen robust demand in the pandemic.
"This is a really great type of housing that's totally underappreciated," she say. Not only do you get more room, outdoor space, and home offices—features more in demand than ever as a result of the pandemic—but taxes are much lower than what you would pay for a similar-sized house in the suburbs.
Thanks to NYC's quirky tax system, "for a $6 million house in a fantastic location in Brooklyn, you could pay $10,000 to $20,000 a year in taxes," she says. For a comparable house in Westchester, you could pay $80,000 a year in taxes," she says.
What to watch 
Michael Sorrentino, regional senior vice president for Manhattan and Brooklyn at The Corcoran Group, says his colleagues had several listings go to contract above $7 million in the fall, including 59 Middagh St., a six-bedroom, single-family townhouse in Brooklyn Heights
Sorrentino says Brooklyn had higher-than-normal levels of apartments on the market in the fall and winter because of the spring shutdown—which pushed the selling season forward.
His take? He agrees the Brooklyn market is "leaning toward" a seller's market—but it is relative to the surrounding areas.
"When I talk to agents in the suburbs, that's where you have a clear seller's market," he says. The suburbs around NYC are seeing a jump in bidding wars and a sharp drop in the supply of houses. "We don't have that problem in Manhattan—we have a glut. And we have an equilibrium in Brooklyn," Sorrentino says.
January and February will be crucial for the direction of the Brooklyn market, he says. February is when inventory starts to pick up in preparation for the spring selling season.
"If the current demand, which is stronger than I think many expected, stays where it is, then I think we could expect to see a seller's market this spring," Sorrentino says. "Assuming of course, interest rates remain largely below 3 percent and we don't see a massive jump in new inventory, say over 4,000 units."
As mortgage rates go up, a buyer's purchasing power goes down, and mortgage rates have already risen off of historic lows. They could stay in their current range for a few months, a mortgage banker tells Brick, then rise after the stimulus package is passed.
The new work-from-home ethos
The issue for buyers looking in Brooklyn used to be: Are you willing to put up with a long commute in exchange for more space? For many buyers, that was a stumbling block—making more far-flung parts of Brooklyn a no-go zone.
The pandemic changed that equation. Not only are many people working from home now—they expect to be working from home in the future, at least most of the week. And if buyers are only going into the week one or two days a week—or a month—the so-called hybrid work option—they're willing to put up with a longer commute—a trend that's helping drive sales in the outer boroughs and the suburbs.
Garrett Derderian, director of market intelligence for SERHANT, still classifies Brooklyn as being a buyer's market. But he says not all parts of Brooklyn have the same amount of supply—so buyers who go deeper into Brooklyn will have the least competition for houses.
South Brooklyn has the most actively listed properties and East Brooklyn has a little less comparatively, while Northwest Brooklyn is in his view the closest to a balanced market, meaning one that favors neither buyers or sellers.
"Keep in mind this also does not consider shadow inventory, which are unsold units currently under construction or recently completed that have yet to come to market," he says. Because of this shadow inventory, "the borough, while still seeing activity at a steady pace, has a way to go before it could be considered a seller's market," Derderian says.
Nancy Wu, an economist at StreetEasy, also sees Brooklyn as still being a buyer's market. For a recent report, she says total sales inventory was higher in Brooklyn in the fourth quarter of 2020 compared to the year-ago quarter, contradicting findings from Douglas Elliman and UrbanDigs.
"There are a ton of great deals in Brooklyn right now, and when sellers price correctly, homes are moving off the market quickly," she tells Brick.
Brick Underground articles occasionally include the expertise of, or information about, advertising partners when relevant to the story. We will never promote an advertiser's product without making the relationship clear to our readers.