Inside Stories
We thought moving to the UWS meant compromising but we lucked out with a condo for rent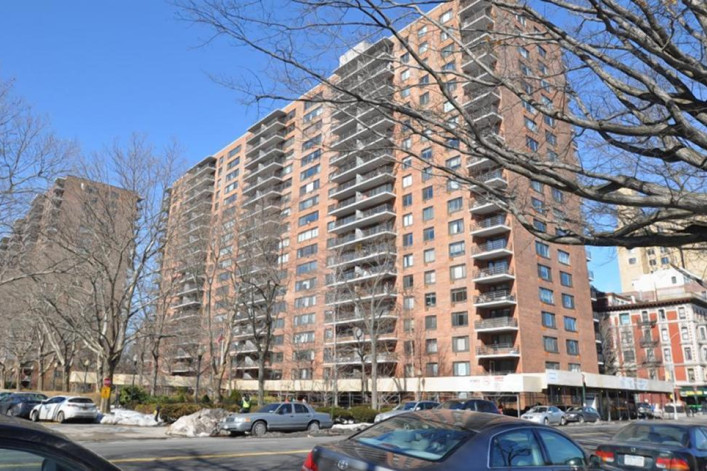 Molly Rosner and Paul Anderson were living in Queens and finalizing their wedding when the pandemic shut down New York. Feeling isolated from family in Manhattan and no longer commuting to jobs in Queens, they realized they had an opportunity to move to the Upper West Side without giving up too many things on their apartment wishlist. They were represented by Sheila Trichter, a broker with Warburg Realty. Here's their story.
Molly: We got married in mid-March right as the pandemic began. We were scheduled to get married in May and celebrate at a restaurant in Brooklyn with around 100 guests but we threw those plans out of the window and went for it. We had a socially distanced wedding in Riverside Park, right outside my parents apartment at 101st Street where I grew up. 
At the time we were living in Sunnyside, Queens and had been there about two and a half years because it was near my work at LaGuardia Community College. Now I'm working remotely, so that took away the only reason we needed to be in Queens. We had been feeling so isolated during the pandemic, and wanted to be near my parents on the Upper West Side and my brother and his family in Harlem, so we started poking around and saw that prices were dropping for rentals in Manhattan and that this might be our chance. 
---
Editor's Note: Brick Underground's Inside Stories features first-person accounts of interesting, real-life New York City real estate experiences. Have a story to share? Drop us an email. We respect all requests for anonymity.
---
Paul: We would have stayed in Queens for a while; we had a beautiful apartment with a great view of the city skyline. I work at home normally so we had plenty of space for both of us, even when the pandemic hit. But in the summer, Molly's parents spent some time upstate and we spent a month at their apartment on the Upper West Side for a change of scene. During that time we were very active looking at apartments. 
Molly: We loved Sunnyside but after being stuck there for six months and the only natural or green space was the waterfront, which was really crowded, we were starting to go crazy. When we started looking for apartments you could definitely sense the difference between looking now and every other time we've looked for an apartment in NYC. 
Paul: Landlords were a little more flexible with rents and they were really trying to get us to commit. Places that might usually have one vacancy were now having dozens of vacancies. 
Molly: One agent was just like, "just make an offer if you're interested." It was so different from every time before when you have no leverage and have to make a decision in an hour. Things were staying on the market and I didn't feel the rush, except for the apartment we ended up taking!
Paul: We looked at lots of apartments and had a good idea of what the inventory was like. Then we found this place at Park West Village and it was an upgrade from our previous apartment—it was in the price range of the other apartments we were looking at but offered a lot more—there's a balcony, an office, and it's right off Central Park. Plus, there's a lot of space—it has four enormous closets, two of which would be bedrooms in Brooklyn! And it's got beautiful amenities. [Editor's note: The couple didn't want to share what they pay in rent but say that even though they are paying more than they did in Queens, comparable places in Manhattan all had asking rents that were about $500 more expensive than the apartment they finally rented.]
Molly: We went into it thinking, no matter what, we are moving to Manhattan. We are going to have to give something up and pay a little more. In the end, we felt we upgraded and although we are paying more than we were in Queens, it has been life changing. I feel much more equipped if there is a second wave and much less isolated.
The building, one of three towers at Park West Village, is all condos and we are renting from the owner of the unit. I saw the listing on a Thursday night and I called the broker and we made an appointment to view it on Friday afternoon. She told us she had 20 inquiries and her whole weekend was booked up. We knew it was a find and we did have to move quickly on it. 
Paul:  I've only ever rented from big management companies. It's nice to know something about the owner—it's a little more personal—it feels people who have come to the building stay for a really long time and that feels like you are joining a community.  
Molly: I was getting very frustrated in my search because every other listing had the net effective rent listed and then offered months free. I didn't want to rent for a year and then have the rent go up by several hundred dollars. The owner did pay the broker fee [and we were not charged any condo fees].
We signed a two-year lease. For us, when we were rationalizing moving to a more expensive place when there's a pandemic and things are very uncertain—we've kept in mind that as we got married in Riverside Park for free, all the money we saved on the wedding, we are putting towards two years of supplementing our rent.
Brick Underground articles occasionally include the expertise of, or information about, advertising partners when relevant to the story. We will never promote an advertiser's product without making the relationship clear to our readers.