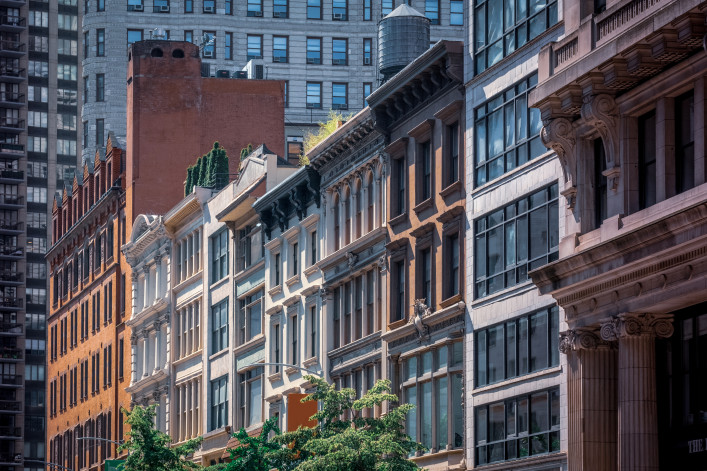 If you're looking for a new rental apartment in New York City right now, you have your work cut out for you. That's because you are facing historically high rents, few available listings, and even bidding wars. 
The reason there's more competition these days is because many renters who got deals during the pandemic are getting steep rent hikes at lease renewal time, so they are looking to move somewhere cheaper. And rising mortgage rates mean some would-be buyers are renting for now, creating more competition for you.
So how can you catch a break if you're on a tight budget? Being flexible about where you're willing to live is the best way to get an edge. Check out outer borough neighborhoods farther from Manhattan—especially if you can work remotely all or part of the week. You should probably give up hopes on amenity-laden buildings too—but what's a better way to get acquainted with your new neighborhood than strolling to the laundromat?
---
[Editor's Note: A previous version of this article ran in April 2022. It has been updated with new information for August 2022.]
---
Another tip: Get ahead of the game so you don't risk losing an apartment. Have all of your paperwork ready so you can apply on the spot. It's a good idea to have both printed copies and a digital file because every broker and landlord has different preferences. 
Keep reading for Brick's best advice on finding an apartment to rent in NYC when you need to stick to a tight budget.
Know how to beat your competition 
Your first step in finding an apartment is knowing how to deal with the competition. These days, an apartment can be listed in the morning and be rented by the evening, especially if it's a good deal—so you must act fast. Some renters are even facing bidding wars (yes, you read that right). How can you prepare? Know what kind of apartment you're looking for (and can afford), gather all of your application documents, be the first to get to showings, and be ready to apply on the spot if you really like the place.
For more tips read: "7 tips for finding a NYC rental when there's lots of competition for apartments'' and "With bidding wars for rentals increasing, here's how to stay on top of the competition." 
Get a roommate
Having a roommate makes living in NYC much more affordable because you can split the rent plus utilities and other shared bills. If you're new to NYC or don't have someone to live with, moving in with a stranger may seem daunting. Don't worry, Brick has you covered with tips on how to find a good match.
Check out: "The 11 best sites for finding a roommate in NYC," "The 21 best questions to ask potential roommates to get the perfect match," "Home sharing with a senior: Roommate matching program makes living in NYC more affordable," and "New Yorkers with bad roommates tell you how to avoid making their mistakes." 
Find a cheaper neighborhood
Rents are soaring across all five boroughs, but there are neighborhoods where you find lower rents. If you're on a tight budget, you should give up on living in most parts of Manhattan and popular parts of Brooklyn like Williamsburg. But that doesn't mean you have to leave the city, you just might have to move further out to neighborhoods like Inwood, Bensonhurst, and Kew Gardens, which are known to be more affordable. 
For more information on affordable neighborhoods, read: "Looking for a cheap apartment? Here are NYC's most affordable neighborhoods for renters,"  "The 10 most affordable neighborhoods for renters in Manhattan, Brooklyn, and Queens," and  "Here are 8 NYC neighborhoods to consider if a quick commute to Manhattan is no longer top priority." You can also check out Brick's "Neighborhood Secrets" column for intel on specific neighborhoods. 
Look for a no-fee rental 
An average broker fee in NYC can be 12 to 15 percent of your annual rent. That means you might have to pay up to $3,600 for a $2,000 a month apartment—on top of your first month's rent and security deposit. To avoid paying a broker fee, focus your search on no-fee listings where the owner pays the broker fee for you. Right now there are 4,808 no-fee rentals listed on StreetEasy. Another way to skip the broker fee is to take over someone else's lease.
For more see: "The best websites for finding a no-fee rental apartment in NYC" and "What's the difference between a sublet and an assignment?" 
Consider a studio vs. a one bedroom 
If you're moving on your own (or with a significant other), you might want to consider a studio if you can't find an affordable one bedroom. These apartments are considerably cheaper even in today's market. In June, the median rent for a Manhattan studio was $2,900 compared to $4,000 for a one bedroom, according to the Elliman Report. 
Worried about living in a small space? Go to: "Considering a NYC studio apartment? Here's how to maximize your layout" and "My boyfriend and I live in a 500-square-foot studio. Here's how we make it work."
Brick Underground articles occasionally include the expertise of, or information about, advertising partners when relevant to the story. We will never promote an advertiser's product without making the relationship clear to our readers.