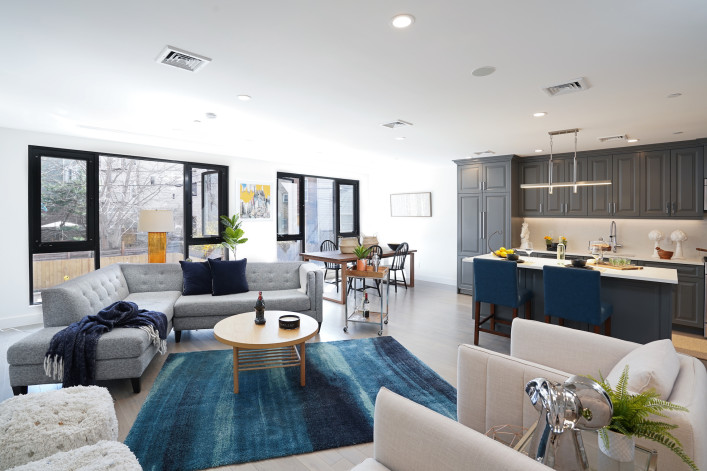 New York City brokers are bracing for an "absolutely dead" sales market this summer but that could be good news for buyers who are unscathed by current economic conditions.
The slowdown—which is already being felt in some segments of the market—is caused by multiple factors, including rising mortgage rates, plunging stock and cryptocurrency values, as well as concerns about layoffs—and causing many NYC buyers to put purchase plans on hold.
Summer is typically a slow time for sales, but this summer feels different, brokers say.
"I am anticipating an absolutely dead summer. It's pretty quiet now and I think it's just going to get worse," says Andrea E. Wernick, an agent at Coldwell Banker Warburg. "There is too much uncertainty in the stock market right now and buyers are taking a break until there is some sort of stability," she says.
Sales are not slowing just because the calendar says it's the end of summer and start of vacations, says Maria E. Daou, a broker at Coldwell Banker Warburg. "I think that all the news, compounded with the Fed's decision to continue raising interest rates, will just solidify the current downturn. My sense is that we are going into a buyer's market for a while," she says.
But if you're a buyer untouched by the financial turmoil (lucky you), this will be your chance to get a deal. With less competition, you'll find sellers more willing to negotiate on price and new condo developers willing to make deals. If you go in with all cash and are willing to work with a seller's timetable, you can bargain even more aggressively.
Brick spoke to brokers about how buyers can turn a summer slowdown to their advantage. Read on.
Find a new condo where the developer is under pressure
Developers of new condo projects kicking off sales this summer are more likely willing to make a deal. Luxury condo developers are seeing sales slow, and they also face unique timeline challenges: Launching sales during the slowest months of the year was probably not part of their original plan, but instead a result of supply chain slowdowns. It means the developer is under even more pressure than usual to meet the 51 percent threshold of condos in contract for the offering plan to be declared effective.
You're not going to know right off the bat whether a developer needs just a couple more units to meet the threshold and is eager to play ball—it's not something that's going to be spelled out on the listing or the building's website. And if you're seeing condos without a buyer's broker, you won't have someone gathering intel for you. That means you need to speak up.
Robert Earl, co-founder of The InHouse Group, a NYC-based brokerage, recommends that when you are looking at new development, you ask two questions: Has the offering plan been declared effective? How many units do you need to be effective?
"If you don't ask you don't get," Earl says. "That's why getting into a new development as soon as it launches" is an advantage, he adds. He represents sales at two boutique condo buildings that launched sales in early June: 373 Palmetto St. in Bushwick and 244 Devoe St. in East Williamsburg. Both are new, ground up construction.
Get out of your comfort zone and explore the outer boroughs
Brooklyn has many buyers from Manhattan, Earl says, and a lot of Manhattan buyers don't know much about Brooklyn so they tend to follow the herd and concentrate on Williamsburg and other well-known destinations, when in fact new development is opening up in neighborhoods further to the east and south, like East Williamsburg, Bushwick, and Bed-Stuy.
New restaurants and cafes are following development in Brooklyn, he says. Even better is the fact that Brooklyn feels "more neighborhood-like," as opposed to Manhattan, which is "more homogenized and losing its character."
"Buyers will start their search in Williamsburg, but [brokers] need to bring them to Bed-Stuy and Crown Heights, where there's beautiful architecture," Earl says, recommending buyers "expand their search" and "get out of your comfort zone."
"You've got to find your neighborhood," he says.
(Want to learn more about off-the-radar neighborhoods in Brooklyn and Queens? New installments of Brick Underground's "Buy Curious" series are published each week.
Look in Manhattan neighborhoods where there is excess inventory
The slowdown is not something spread evenly across the city, points out Garrett Derderian, director of market intelligence at SERHANT. "If you are looking to negotiate a deal in Manhattan, look to Midtown and the Garment District," Derderian says. Both neighborhoods currently have extra inventory, according to his research, which gives you room to bargain.
Other neighborhoods where buyers will have more negotiating power include Inwood, Hell's Kitchen, and the Financial District, he says. Soho also offers opportunities for buyers willing to spend a bit more, Derderian says. That market is "beginning to lean toward favoring buyers over sellers after being a strong seller's market the last year and a half," he says.
Derderian says that Manhattan apartments with four or more bedrooms, which were popular during the height of the pandemic, are starting to pile up as buyers favor more affordable small apartments. Studio and one bedrooms however also have the lowest level of supply now and that category still favor sellers, he says.
Regardless of where you look, don't expect a fire sale, he says.
"It is important to keep in mind that despite some neighborhoods being oversupplied, buyers should not expect discounts in the 20-plus percent range that some were able to secure during the pandemic shutdown. If you can get a discount in the 7-10 percent range, that would be a great deal," Derderian says.
Consider Upper Manhattan too
Here's a tip from Douglas Wagner, manager of brokerage services at BOND New York: If rising mortgage rates have taken away some of your purchasing power, look in Upper Manhattan, where many properties qualify for lower interest rates, which will lower your monthly payments.
"The government incentivizes big lenders to promote home ownership in areas such as Central Harlem and Washington Heights, and banks have mortgage lending programs that offer lower interest rates—currently around 3.75 percent—and in some cases, lower down payments and closing cost assistance, which could save buyers thousands of dollars," he says.
For example, newly launched 1950 Amsterdam Ave. (which Wagner represents) has studios and one bedrooms under $500,000. Your monthly mortgage payment here would resemble what it might cost to rent a similar luxury apartment, he says.
Pick your (re)seller carefully
It's been just about a year since the market started favoring sellers, and "it can take time for sellers to recognize a shifting market," says Mihal Gartenberg, an agent at Coldwell Banker Warburg. For that reason, she recommends buyers stay flexible—don't get hung up on buying a particular apartment if the seller hasn't recognized the change in the market yet.
Your goal is to find "a seller who is eager to sell versus a seller who is stubbornly holding on to their perceived value of the home. This is where a good agent and negotiation strategy really comes into play," she notes, adding that she "was able to score almost 10 percent off a list price for one of my clients recently." 
Go in with all cash, if you can 
Until recently, with interest rates at historic lows for so long, NYC buyers who could afford to buy with all cash still took some financing. Now that the average rate for a 30-year mortgage is hovering around 6 percent, it's a different story.
"Cash buyers will be the first prospective buyers to experience fresh negotiability," says Jeremy A. Kamm, an agent at Coldwell Banker Warburg.
Look for estate sales, unrenovated, and sponsor co-ops…
When it comes to getting a discount, your focus should be on a seller who needs to get out, says Frederick Warburg Peters, president of Coldwell Banker Warburg. "Buyers should be seeking out properties that the sellers need to sell. Estates, relocations, empty apartments—these are the places where the best deals are likely to be found," he says. In addition: "Cooperatives in need of renovation are the big value play," he adds.
And be sure to look for sponsor co-ops, says Rachel Ostow Lustbader, a broker at Coldwell Banker Warburg.
These are apartments being sold by the building's owner or the corporation that established the co-op and don't need board approval, ideal for buyers with less traditional incomes, like freelancers, consultants with contract work or those who are self-employed.
… but be realistic about the price a co-op board will accept
Keep in mind that a co-op board can reject a deal if they think a buyer can get a better price, so very steep discounts are not likely to go through.
While buyers may be able to find deals on co-ops, "however co-op boards usually will not approve sales at large discounts since they are shareholders and don't want to devalue their own investment," says Nicole Gary, a broker at Keller Williams NYC.
Accommodate a distressed seller's timeframe
Sellers who have an urgent need to sell are usually dealing with a tricky schedule. Indicating that you are willing to accommodate their needs—and bidding aggressively—is another way to capitalize on the summer slowdown, says Gerard C. Splendore, a broker at Coldwell Banker Warburg.
It's not always clear if the seller is dealing with a health issue, divorce or job transfer. It's something your broker should sniff out. Splendore suggests asking pointed questions like: "Does the seller need to be out on a certain date?" or, "Does the seller have any time constraints?"
"Sellers may also need to stay in a property post-closing, known as a post-closing possession. Buyers can give the seller an opportunity to stay in the property for as long as necessary, as opposed to a finite amount of time," Splendor says. Other opportunities for negotiation include forgoing or waiving inspections and allowing sellers to remove appliances and light fixtures, without asking for a concession, he adds.
Make an offer for a wallflower listing
Calling the summer slowdown a "window of opportunity," Kimberly Jay, a broker at Compass, says buyers should not "be afraid to make an offer" for listings that are lingering on the market.
"The best buys can likely be had on listings that have been on the market longer, and more specifically, those in need of work," Jay says. She recommends buyers look for properties that have been on the market for a minimum of three months.
"These sellers might be waiting for an offer and can be open to negotiating with interested buyers rather than lowering their listing price," she adds. 
Consider this approach from Ian Katz, a broker at Compass. He suggests focusing on properties that were listed from early March to early May that had price cuts in mid-to-late May.
What's the big deal about these properties? Katz points out this period overlaps with mortgage rate increases and stock market dips.
"Some properties listed during that March-to-May timeframe were released at overly-ambitious pricing under the assumption that buyers would accept record pricing or continue to bid properties up," he says. Instead some listings are "languishing at too-lofty pricing."
Keep your eye on properties listed during that time period that have had price cuts. That means you find "sellers who are accepting realities on the ground, are adjusting expectations, and are more likely to come down during a negotiation," he says.
If you need financing, consider an ARM
Buyers who need financing should get creative, says Kobi Lahav, senior managing director at Living New York.
"With interest rates expected to rise more, buyers will be wise to lock in a rate now, before the rates go even higher as expected in the next few months," he says.
To get a lower rate, buyers should consider going with an ARM or adjustable-rate mortgage, he says. This has an interest rate that adjusts over time based on the market. During the initial period—which can be five, seven, or even 10 years, however, the rate doesn't change—and the advantage here is these rates are very low and can be refinanced into a fixed-rate or another ARM.
A savvy buyer, Lahav says, could go for an ARM combined with a relationship discount and maybe even buy points and lock in a 7- or 10-year ARM below 5 percent, a rate that "will be harder to get once interest rates go up even more."
The final word on the summer slowdown: Stealth
You can expect prices to fall as the number of deals drop, says John Walkup, co-founder of real estate analytics firm UrbanDigs. But it can take months for signed deals to become public record and for sellers to wrap their heads around the new reality, he says.
When lower prices start showing up in the media, "sellers will likely remove their listings, reducing supply," he says.
We're not there, at least not yet, and savvy buyers have the advantage of stealth.
"While there is still a healthy supply and before it's obvious to everyone that the market is softer and listings start disappearing, buyers can take advantage by simply being in the market," he says.
You may not be getting a rock bottom price, but you will have the ability to shop and negotiate "without undue time or price pressure from competing buyers," Walkup says.
Brick Underground articles occasionally include the expertise of, or information about, advertising partners when relevant to the story. We will never promote an advertiser's product without making the relationship clear to our readers.