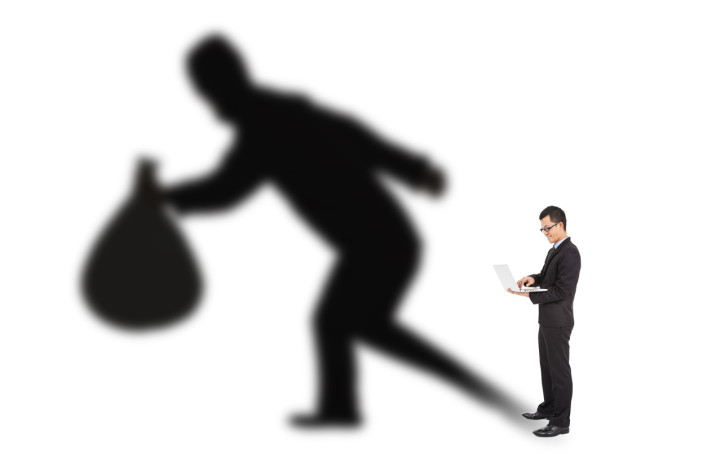 For New York newcomers and those in need of a financial boost to make the rent, roommates are necessary, and hopefully not evil. Searching for both simpatico strangers and a livable apartment to share with them at once can be overwhelming. The dynamics can also make roommate seekers vulnerable to those looking to make a fast buck. i.e., scammers.
We talked to pros in the roommate matching and apartment rental businesses to find out how to avoid roommate scams. Here's what they told us. 
1. Trust your gut
This is the golden rule, now and always.
"There's a surge in the rental market in January. There's a lot of money changing hands and it's an attractive area for scammers," says Matt Hutchinson, director of the roommate finding platform SpareRoom. "If it feels too good to be true, chances are it is."
2. A wire transfer is never a good sign
If you are the one looking for a roommate and a prospective candidate starts talking about wiring money via Western Union or a similar service, run.
"That's a big red flag," Hutchinson says.
Scams often involve a wire transfer or a check for more than the actual amount owed (such as a deposit plus first month's rent) and a request by the scammer to use the overage to pay a third party. Victims send along the payment, only to find out the transfer is bogus, and then they are out the cash. It seems obvious, but "no real renter" is going to ask for such a convoluted transaction, says Nina Furseth, communications analyst at RentHop. 
3. Meet in person
Beware the roomie or person with a room for rent who can't meet up in person. Yes, people live complicated lives and are in and out of town, but on both sides of the arrangement, if someone isn't available to meet in person, it could be a red flag. For example, someone with a room to rent may offer photos, but claim they can't show you the apartment because they are out of town. Likewise, if someone wanting to rent a room in your apartment can't make it because they are traveling, out of the country, etc., be wary. Be especially cautious if your only point of contact is email. 
4. Scrutinize communication and online profiles 
Pay attention to email addresses. RentHop research found that emails from Outlook accounts are 19 times more likely to come from scammers than those from Gmail, Yahoo, and Hotmail accounts. (Gmail used to be less popular, but scammers have now jumped on the Google bandwagon.) If someone is corresponding from a personal domain name, visit it to see if it's legit. Check out social media links as well: do people look like who they claim to be? Does the account have a history i.e., it wasn't set up a month ago?
Content and consistency also matter. If there are spelling and grammatical errors in emails and texts, or an odd change in tone or narrative, that could also be cause for concern. 
5. Double-check the listing
Yes, you could be really lucky, but in general, prices, photos, description should all line up.
"If it's a really nice apartment but the price is super low, that should be a warning," Furseth says. A one-bedroom in Midtown with exceptional views for $1,000? That probably doesn't pass the smell test. 
6. Be prepared to move fast, but not too fast
If you're feeling pressured to move in as soon as possible, or there's an unnecessary sense of urgency, consider pressing pause. The high turnover and limited inventory of the New York market can create the atmosphere of a feeding frenzy, which scammers often use to their advantage. 
"People tend to panic that they're going to miss out," Hutchinson says. "But there will always be another apartment."
7. Use the resources and protections that are available
If you're using an online service to help you find a match, make sure it's reputable. (We compiled some of our favorites here.) In many cases, sites specializing in connecting and matching roommates will pre-screen listings. SpareRoom, which launched in the U.S. in 2011 and has been in the roommate listing business in the U.K. for 20 years, has amassed a database of certain words and phrases often used by scammers, and anything suspect is flagged for review.
"We have a full-time team of moderators looking at submissions," Hutchinson says. "Most suspicious ones don't even make it on the site."
SpareRoom also offers customer support seven days a week, with reps available to review any listings people have concerns about. 
Also, it may sound obvious, but Google could unearth some negative reviews or scandalous news stories about the service you're using that might make you think twice. And the Better Business Bureau is a good resource for looking up the track record of more established businesses. 
If things do go awry, the state Attorney General's Office, the city Department of Consumer Affairs, and even your local police precinct may be options for holding the scammer accountable.
8. Be on the watch for Scam 2.0
Far more convincing than the Nigerian prince or the quiet, non-smoking Swiss doctoral candidate in need of a room is the next wave in roommate and apartment scams, in which con artists are showing prospective renters actual apartments and rooms. The rub: they don't have permission or intent to rent them out. Instead, they take the money and run. (Here's one such horror story.) Short-term sublets, sites like Airbnb, and just plain craftiness make this possible.
"It's rare but on the increase," Hutchinson says. "It's starting to grow."
The moral? Make sure to do your research on places and people. And as Furseth advises, "Always be a little suspicious." 
Brick Underground articles occasionally include the expertise of, or information about, advertising partners when relevant to the story. We will never promote an advertiser's product without making the relationship clear to our readers.