The Market
NYC's Prohibited Buildings List banning short-term rentals goes live
Over 100 applications were submitted in the first two hours that the portal was open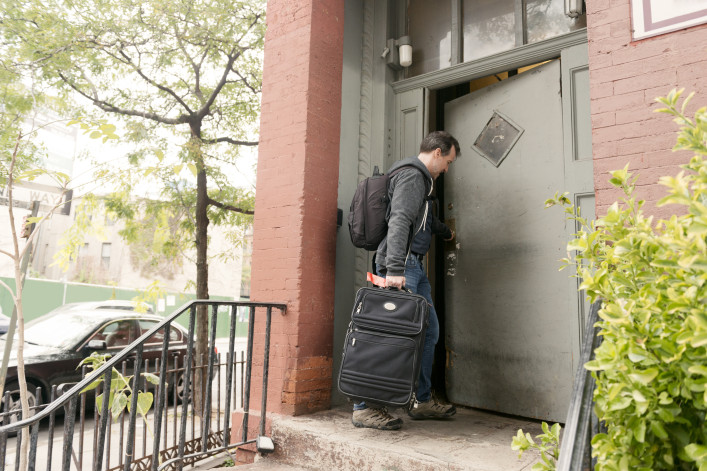 Lorraine Boogich/iStock/Getty Images Plus via Getty Images
Today is the day New York City started accepting applications for its list of buildings where short-term rentals are banned—and it appears that landlords, managers, and co-op and condo boards are eager to sign up.
More than 100 applications were submitted in the first two hours that the portal for the Prohibited Buildings List was open, according to a spokesperson for the Mayor's Office of Special Enforcement (OSE), which regulates short-term rentals and oversees the new registration system. [Editor's Note: Over 350 applications were submitted in the first day, according to an update from OSE.] The list will become available to the public via the Open Data web portal.
The city is embarking on a new approach to combat illegal short-term rentals. NYC's Local Law 18, also known as the Short-Term Rental Registration Law, requires short-term rental hosts to register with OSE—and confirm that they are the owner or tenant through bank statements or utility bills, and that they are not in violation of the lease or the laws governing short-term rentals. Successful applicants receive a registration number to display in listings.
On the flip side, sites such as Airbnb, VRBO, Booking.com, and others can't process transactions without verifying registration status and  can face fines for failing to do so. (The New York Post previously had a response from Airbnb to the registration system created by the new law: "Draconian and unworkable.")
The newly launched Prohibited Buildings List is a database to which owners, managers, building agents and co-op, and condo board members can submit an application. If someone other than the owner submits an application, OSE will notify the building owner of record, giving owners and boards an opportunity to confirm or block the request. 
"Building owners now have an easy way to let the city know short-term rentals are prohibited in their buildings. Once an owner adds their building to the Prohibited Buildings List, the Office of Special Enforcement cannot approve a registration application for that building," says Christian Klossner, executive director of OSE.
Giving owners more control
Sherwin Belkin, founding partner at the real estate law firm Belkin Burden Goldman, says he's not surprised there's enthusiasm for the new banned buildings list.
"I don't have a single client who hasn't expressed interest," he says, and notes that "as laws go, Local Law 18 is pretty straightforward and worded clearly."
The law marks a shift in the way the city handles the problem of illegal short-term rentals. In the past, "NYC would impose fines on the building, even if the building had nothing to do with the rentals and tried to stop them," Belkin notes. "It's a step in the right direction and gives owners greater control and puts those who engage in illegal short-term rentals in the hot seat."
NYC adopted Local Law 18 in 2022 and it is modeled on legislation used in several major U.S. cities. Former council member Ben Kallos was the lead sponsor of the bill, which aims to put apartments "being listed illegally on Airbnb back on the market to help our affordable housing crisis," he said in a statement at the time.
Over 10,000 Airbnb listings "are likely to disappear" as result of the new rules, the Daily News previously reported, citing numbers from Inside Airbnb, an independent watchdog group, which estimates there are nearly 40,000 total Airbnb listing in the city.
How to guard against illegal listings
Belkin says determined hosts who find themselves in buildings on the prohibited list may try a workaround by passing off guests as family members, making enforcement tricky.
He suggests owners put a rider in the lease informing renters of the law's new penalties. Fines for hosts could be as much as $5,000, however penalties will not begin to be assessed until July. There are $1,500 fines for listing sites as well. [Editor's note: There's a new two-month delay from July to September for enforcement of Local Law 18. This was confirmed by City Hall on June 7th and came to light through court filings.] 
And he suggests staffed buildings keep a log of unusual guests who raise suspicions. He will discuss ways to identify and stop illegal short-term rentals at a webinar sponsored by AKAM, the property management services firm, on March 8th at 4 p.m.
"They need to keep a log and note if someone has a different uncle visiting every week," Belkin says.
Brick Underground articles occasionally include the expertise of, or information about, advertising partners when relevant to the story. We will never promote an advertiser's product without making the relationship clear to our readers.