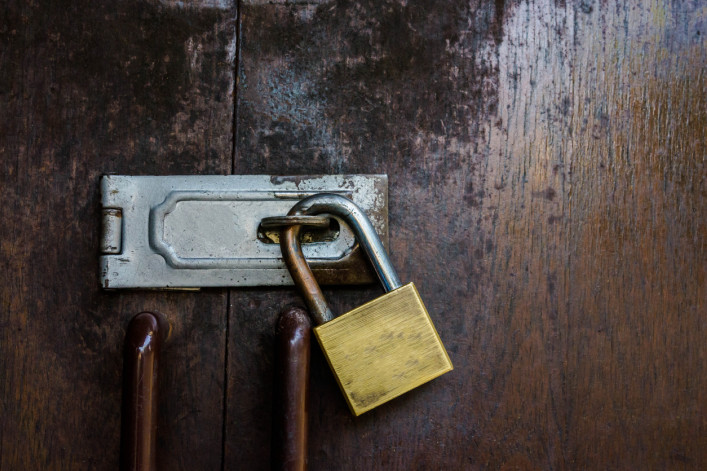 On January 23rd, 2005, a three-alarm fire broke out in a four-story Bronx apartment building. Two firefighters were killed and four others were badly hurt, including one who died years later because of the infamous blaze remembered as Black Sunday. In a subsequent trial, prosecutors argued that the un-permitted walls tenants put up at 236 East 178th St. to add bedrooms made a confusing labyrinth for firefighters responding to the conflagration.
In spite of tragedies like this, the number of illegal apartments uncovered by officials is on the rise in the city. According to data from the Department of Buildings, illegal conversion violations are up 13 percent, with 2,523 violations in 2017, compared to 2,237 the previous year. Staten Island's violations jumped 52 percent, while Queens and Manhattan also saw increases.
"Illegal conversions have been a longtime problem throughout the city, and they are a top enforcement priority for DOB," an agency spokesperson tells us. In addition to creating safety hazards for residents and first responders, illegal apartments offer a way for building and apartment owners to dodge property taxes.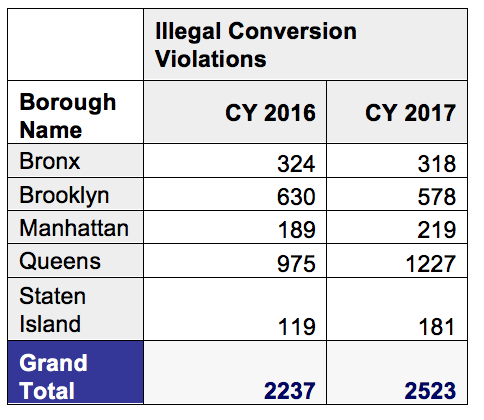 What are signs that an NYC apartment is illegal?
Illegal apartments in New York City often come with red flags making them easy to spot, such as rooms without windows or very small windows. Often the warnings for illegal apartments are built right into the listing itself. The word "flex" in a listing can be a red flag. It implies that an apartment can be converted to a multi-bedroom unit with pressurized walls. The installation and construction of a wall without a permit from the DOB is illegal, though there are some legal types of temporary walls. 
The phrase "utilities included" should also set off alarm bells. An owner of an illegal apartment may not want utilities under another name connected to the building to avoid proof that he is violating the certificate of occupancy of the building, which specifies a certain number of living units. Also, be suspicious of a landlord who won't draw up a lease, requests a month-to-month agreement, or requires cash payments.
Other warning signs to consider: Landlords who want to meet a potential renter at another location before revealing the address, and apartments where you can't have mail delivered. Landlords with illegal apartments will often request that tenants obtain a separate post office box.
And perhaps the biggest clue of them all: A significantly lower rent than the market rate. If it seems too good to be true, it may not be legal. It's best to check out what other apartments are going for in the neighborhood and to look up the median rent for comparable apartments, which you can do on sites such as StreetEasy. If the apartment is rent-stabilized, that's one thing, and hopefully the landlord and/or broker would be up front about that. If it's in a windowless basement room by the boiler, the explanation is likely something else.
If you see something that doesn't look right in a potential new place, don't just take a tenant's, broker's or owner's word that everything is kosher. A little bit of homework can spare you major headaches.
Basement danger
Basements and attics are the spaces that are most commonly converted to illegal apartments, according to the Buildings Department. What makes these particularly dangerous? They can lack two means of egress. The thinking behind this building code requirement is that if there's a fire and one entrance is blocked, you need another way of getting out of your apartment.
The DOB started the Living Safely Campaign with the fire department to raise awareness about the issue of illegal apartments. The information is available in 10 different languages on this page.
The agency advises tenants to look in current and prospective apartments to make sure that there are fire and carbon monoxide detectors, two ways to exit, and access to natural light and ventilation. All bedrooms must have a window. Also, make sure the electricity is not provided by an extension cord, and that the apartment is not locked with a padlock.
Is a 'basement' duplex legal?
Illegal apartments are not just limited to cheap buildings. Even in the city's fancier neighborhoods, owners may try to illicitly increase the square footage of the apartment to charge a higher rent. One way building owners may seek to do this is to rent out the garden level of a house and the basement level below it, even going so far as to call this arrangement a duplex.
However, the city Department of Housing Preservation and Development's rules say basements in one-and two-family homes can never be lawfully rented or occupied for residential use unless the conditions have received approval by the Department of Buildings. What sort of conditions would receive approval?
The DOB's spokesperson tells us that in order to legally convert a space, such as a basement, to a legal dwelling unit, the owner of the building must file a permit application with DOB. The permit application must include plans from a registered architect or a professional engineer that show how the space will meet building code requirements, including proper exits and windows. If the plans are approved, once the work is completed, the owner must then file for an amended certificate of occupancy that reflects the existence of the new unit.
Basement vs. cellar
A basement is defined in New York as having more than half its height above the curb level, whereas a cellar is an enclosed space with more than one-half of its height below the curb level. Cellars in one- and two-family homes can never be lawfully rented or occupied for residential use, full stop.
Figuring out whether or not a basement apartment is allowed is tricky, but there's an extensive breakdown of when it is and isn't okay on the HPD website here. Another good indicator is the ceiling height. The minimum ceiling height for a legal apartment is seven feet. Other warning signs include the lack of full-sized windows in a basement, and exposed boilers. Boilers must be enclosed with fire resistant walls and separated from all living spaces for the basement apartment to be legal.
How to look up a building's certificate of occupancy
Renters can look up a building's certificate of occupancy using the DOB's online Building Information System database. But be aware that not all buildings constructed prior to 1938 are required to have a C of O. In addition to the certificate of occupancy, which should spell out the approved uses for each part of the building, renters can use the DOB data to view permits and violations, which can also indicate illegal units. Another resource is HPD's online database, which can tell you whether a building is registered as a multifamily dwelling, and if it has received any HPD violations for issues such as lack of heat and hot water.
But what if you have already moved into an apartment that you later realize is illegal? The next steps can have serious repercussions, so think it through before you take action.
If you suspect the apartment you are in, or an apartment you are thinking of renting, is illegal, the DOB recommends to report it to 311, which will result in a building inspection. If DOB inspectors find that an apartment is illegal, they will issue a violation to the building owner.
Here's where it gets very serious: If the unit is found to be illegal and unsafe (for example, lacking proper exits or found to have faulty wiring), DOB inspectors may issue a vacate order for the apartment, along with the violation. These vacate orders are only given if there is a direct threat to health and safety. The DOB says that when a vacate order is issued, tenants are offered relocation assistance by the American Red Cross, but this is cold comfort when you have to suddenly trade your apartment for a hotel room out by the airport.
Brick Underground articles occasionally include the expertise of, or information about, advertising partners when relevant to the story. We will never promote an advertiser's product without making the relationship clear to our readers.