Realty Bites
I'm moving out. Do I have to help show my apartment to the next renter?
Most leases will require you to give an agent access to your apartment for prospective tenant showings
You're not obligated to do an agent's job for them or show your apartment in their absence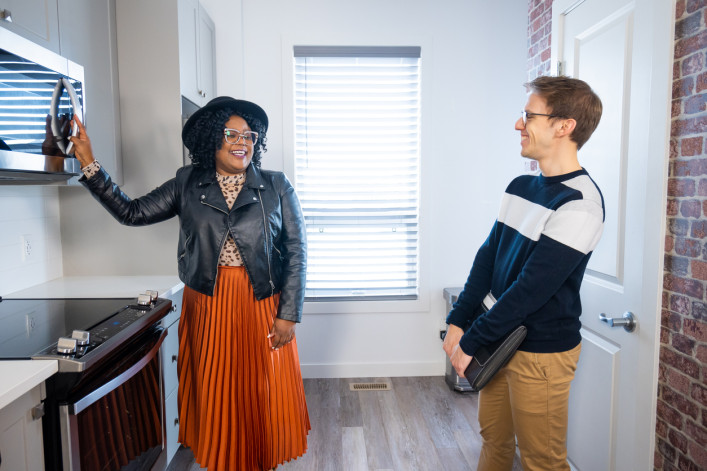 I'm moving out of my apartment at the end of the month, but the landlord's agent has been late to showings, leaving me to give tours of the apartment alone. Is this my job? What are my responsibilities as the outgoing tenant?
Most leases will require you to give an agent access to your apartment to show it to prospective tenants, as long as your landlord (or their agent) gives you reasonable notice of that request. But it's not your responsibility to do an agent's job for them.
"I don't think it's appropriate for tenants to have to do showings," says Molly Franklin, an agent at the Corcoran Group. "[Current residents] are not getting paid for this. We're getting paid, so we should do the work."
Showings are a big reason why a landlord hires a broker—and the burden of paying the broker fee falls on the new renter. A broker fee for a NYC rental ranges from one month's rent up to 15 percent of a year's rent (or $5,400 for an apartment that costs $3,000 a month). 
---
[Editor's Note: Realty Bites tackles your NYC rental questions. Have a query for our experts? Drop us an email. We respect all requests for anonymity.]
---
What landlords expect, when you're expecting to move out
You should make sure to check your lease for your specific responsibilities to your landlord. But in general, leases will include a clause allowing your landlord or their agents to enter your apartment during reasonable hours and with reasonable notice, Franklin says. 
"Reasonable notice" might sound vague, but agents tend to give residents a heads up at least 24 hours in advance of a showing of an apartment, says Adjina Dekidjiev, a broker at Coldwell Banker Warburg.
"I always like to give them as much notice as possible because if I were in this situation I would want as much notice as possible as well, to get the apartment ready and declutter," Dekidjiev says.
If there's a special circumstance—say your family surprised you with a visit for the weekend—Franklin says she'll just reschedule. But if you don't make any time available to show an apartment, you could be in violation of your lease.
In most cases, a lease will allow an agent to show your apartment for up to 90 days before the lease expires. And you don't have to be present during an apartment showing or open house if you don't want to be. Most people elect to take a walk around the block, rather than sit around while a stranger meanders through their home, Dekidjiev says.
"Most people don't want to be there anyway—sometimes they think it's awkward to be there," Dekidjiev says. "If they have a pet, sometimes if it's a large dog they'll take the pet outside for a walk [during the showing]."
What are your rights for apartment showings
If the agent doesn't show up, you're under no obligation to give a prospective tenant a tour yourself, Franklin says. 
"If it wasn't agreed that you would open the door for these people, no, you don't have to let strangers in when you weren't expecting them," Franklin says.
In some cases, your landlord may ask to show the apartment at a time when you are not present. Most lease agreements will still require your landlord to give reasonable notice of a visit, and the only time your landlord can enter your apartment without notice is in the event of an emergency.
If you're uncomfortable with someone seeing your apartment when you're not home, it might be worth contacting your landlord with a request to meet your schedule. Without a specific lease provision forcing your landlord to accommodate you, they would generally not have to do so. 
"Tenants requesting to be present during all showings is not inherently granted and a right unless explicitly stipulated in the lease agreement," says Eric Shostak, an agent at Corcoran. 
Franklin prefers to work with current tenants to find a mutually agreed time to show the apartment if a current tenant isn't going to be there. 
What an agent might ask of you
There's also a handful of other things an agent might request you do, though these aren't likely required under your lease.
Franklin usually tries to get a few open houses scheduled right away, which she says helps rent out an apartment more quickly and helps her get out of a current resident's hair.
"If we can get a time where we can get as many people as possible through, it's usually going to mean you're going to not have repeat asks from us," Franklin says.
Franklin and Dekidjiev also try to give tenants at least 24 hours notice of a showing so they can take larger pets outside and tidy up. 
Cleaning up isn't just for the prospective tenant's sake, Franklin says. You might want to put away any personal items that you wouldn't want a stranger seeing.
"A certain amount of mess is not enough to break your lease, but if you can tidy up it's better," Franklin says. "As brokers walking into homes, we do see illegal substances, we do see personal items of a sexual nature. These are the items you may want to tuck away."
Brick Underground articles occasionally include the expertise of, or information about, advertising partners when relevant to the story. We will never promote an advertiser's product without making the relationship clear to our readers.