The Search
Open house bad behavior: Brokers sound off on what you should not do at a showing
Buyers and renters may not realize they are sabotaging themselves by not knowing or ignoring the rules
Biggest faux pas are showing up without an appointment, bringing a pet, or using the bathroom
Agents (and nanny cams) are the eyes and ears of sellers and owners so keep comments to yourself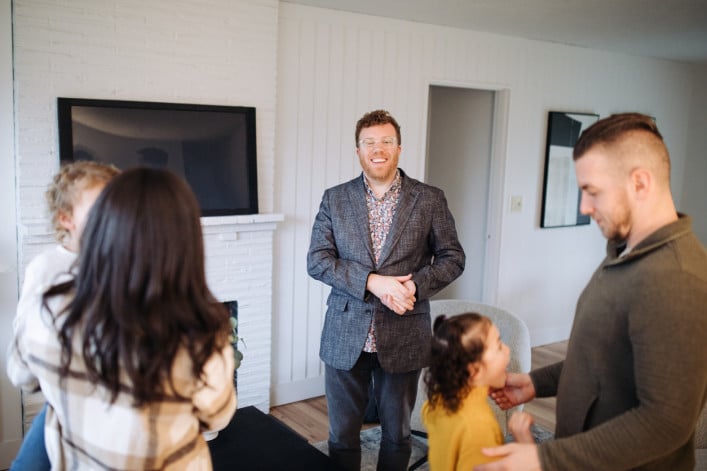 Would you bring a dog to an open house? How about a wet dog? No? Somehow this plan seemed reasonable to a couple who did exactly that when they went to an open house on a day it was pouring out.
Jennifer Hamblin, an agent who is new to Bond New York, represented the sellers. They didn't appreciate the buyers' wet dog padding across their floors and rugs, or the smell of wet fur.
Hamblin and other brokers urge apartment seekers to leave pets at home when visiting an open house—rain or no rain. Even if a building allows dogs—they typically need to be approved, so you don't have the green light to bring them to an open house.
That's the thing about etiquette—it applies to everyone. And sometimes buyers and renters don't realize they are sabotaging themselves by not knowing or ignoring the rules. For example, most New York City open houses are by appointment-only—you can't just show up and expect to be shown around, says Casey Roberts, communications manager at StreetEasy. Many buyers who are new to NYC don't realize this, although it's a smaller faux pas compared to disrespectful behavior like rifling through a seller's medicine cabinet and reading the labels (true story).
Agents are "the eyes and ears" for the sellers or owners, so for that reason you should "make sure you are on your best behavior," Roberts says. And if there isn't an agent in the room consider this: There may be a hidden nanny cam set up to watch over the space.
Here's another tip from StreetEasy: Follow NYC subway rules and wait for others to exit a room before you enter.  
"Apartments are small and open houses are crowded. No one wants to feel like they are being eavesdropped on, so this is a good way to respect the space," Roberts says.
Competition for NYC rentals is fierce these days—and while the sales market is slower, you certainly don't want your offer to be rejected because the seller didn't like something you did. Brick spoke to brokers and agents about open houses. Read on for real life examples of bad behavior to avoid.
Trash the seller's décor decisions
You may not like the owners or sellers' taste in furnishings, but you don't need to say so out loud. And bear in mind that the place may be staged to appeal to broad array of tastes. You can always change things later and make it reflect your personality.
"Keep your cards close to your chest and hold the décor commentary until after you leave," Roberts recommends.
In fact, it's a good idea to keep all your comments to yourself entirely, especially if there are other buyers on hand who are sizing up the competition. So no chatter that reveals your budget or timeline. "You want to make sure you are showing up as the most serious, eligible applicant," she says.
Renters should bear in mind that some rentals will be cluttered and messy.
"We are seeing more and more rentals shown while the previous tenant still has occupancy," says Adam Bokunewicz, a broker at KWNYC. A departing tenant has little incentive to straighten up. "Look past the clutter and try to picture your belongings in the space. The unit will likely be cleaned and painted prior to your move-in," he says.
Use the bathroom
This may sound unreasonable, especially if you're spending the day pounding the pavement, but brokers were unanimous that using the bathroom at an open house is a major faux pas. So try to avoid this if possible.
Ideally you should find a nearby Starbucks, Bokunewicz suggests.
But if you really have to go—and there is more than one bathroom—aim for the powder room and not the primary bath.
Ask what's already in the listing
Read the listing prior to your visit, Bokunewicz says, that way you won't waste time asking redundant questions.
For example, if the listing description states "heat and hot water included with the rent, cable and electricity are not included" there is no need to ask about included utilities.
"This is an instant eye roll to a listing agent," he says.
Likewise, don't waste time asking questions that brokers can't answer because to do so would violate Fair Housing Laws. That means you can't ask if a neighborhood is safe.

Don't be offended when brokers decline to answer, says Lyndsey Wurch, an agent at Bond New York. She recommends doing your own research—check out the neighborhood day and night and look up NYC crime rates online so you can make your own conclusions.
You also can't expect answers to questions like: Are there a lot of college students in this building? How many families? Are there lots of young people or are the majority of the residents older?" Expect the listing agent to dodge your questions, Bokunewicz says.
Take things apart
Maybe you are an expert in something or have some specialized training. Or maybe you know appliances inside and out. That doesn't give you a license to provide a demo. Take what happened to Lucy Wu, an agent at BOND New York.
"I once had a buyer take apart the front of an HVAC unit to prove that the unit was old," she says.
Brokers would prefer you don't touch anything at all, but buyers and renters do need to poke around a little so balance that need with being considerate. And be sure to read Brick's "Open house checklist: How to size up a co-op or condo at a glance."
And as Wu points out, you can ask the listing agent if you have concerns about whether something works and ask them to turn it on for you. Plus there is an inspection process if you move forward with an offer and the offer is accepted.
Sandra Levykh, an agent at Compass, says if you are checking something like water pressure, make sure to turn the faucet all the way off.
"I've seen a buyer turn on a faucet and walk away, leaving the unit without turning the faucet off. Of course, agents are there to make sure things are in order, but we can't be in every room at once," she says.
Unpack your baggage
Seth Levin, a broker at Keller Williams NYC, says in his past two decades in real estate he's seen a lot of interesting behavior at open houses, but the most memorable occurred at a busy open house in Nolita.
A buyer came in and proceeded to empty the contents of her purse on the dining room table, which was staged for the showing. She then went into the only bathroom for a long time, keeping other visitors from viewing it.
"Next she sat at the dining room table, where the contents of her purse were still strewn about, and started making personal phone calls in a very loud voice," Levin recalls.
The behavior was off-putting to everyone. Needless to say, don't do any of this.
Act like you're in your own home
It might seem like too much trouble to take your child out of the stroller, fold it up, and leave it in the hallway, but brokers really recommend it, especially if the weather is bad. Rolling a stroller into the apartment like you already own it makes brokers cringe inside.
Vickey Barron, a broker at Compass, takes a direct approach when things like this happen. "You have to enforce what's important to your sellers. After all, you're responsible for that person's raw silk sofa and carpet," she says. If the stroller can't be folded or the child is napping, she may ask one parent to wait outside or have an associate to stay with the child.
A no-shoe policy is another example that takes some policing. So does keeping food and beverages off the furniture. Barron says buyers will frequently bring an iced coffee or water bottle with them. Putting the beverage down somewhere while you check messages or look up something on the Internet is usually frowned on at luxury listings (because of watermarks on the furniture).
"I'll be direct and say, 'can you not put that down,'" she explains.
Buyers seem to forget boundaries when they're at open houses.
Kimberly Jay, a broker at Compass, hosted an open house where two buyers let their children run around, touching the owners' things. That ended badly—with a broken vase.
Jay also experienced buyers showing up at open houses with dogs.
"The owners asked me not to let people in with their dogs." When Jay tried to enforce the rules, the buyers "started screaming at me, which upset people," Jay says.
Then there are the buyers and renters who make themselves too comfortable at an open house.
Opening and closing a closet is one thing, but Barron found a buyer going through the medicine cabinet and reading the prescriptions.
"I asked her if she had a headache," Barron says.
Another time, a buyer lay down on the bed in the primary bedroom. "What are you thinking? You are in your street clothes," Barron recalls her reaction. "People are funny," she says.
Well, that's one way to put it.
Brick Underground articles occasionally include the expertise of, or information about, advertising partners when relevant to the story. We will never promote an advertiser's product without making the relationship clear to our readers.