For certain subset of buyers, a renovated apartment or house in New York City has always been preferable: You get a finished place without the headache and stress that inevitably comes with updating a condo, co-op, or townhouse. You just need the cash to be able to afford the higher price of an updated space.
Of course, the opposite is also true—lots of buyers go for unrenovated NYC apartments because it's traditionally been a way to get a cheaper place. As an owner, you can have the work done later and with some luck and perseverance, get a place done the way you want it.
But like so many things these days—the pandemic has tossed the old rules aside. Now it's harder than ever to do a renovation, especially in a co-op or condo building. Many buildings limit the number of projects occurring concurrently and cap the number of workers in a building. The cost of materials is rising as well.
Sellers know that it's harder than ever to upgrade now and so they are asking for even more of a premium than usual for a renovated property, at least in Manhattan—bringing pricing up quickly to earlier heights. John Walkup, co-founder of real estate analytics firm UrbanDigs, tracked the spread between the median listing prices for renovated and unrenovated properties in Manhattan and says they are diverging quickly in the first quarter of 2021.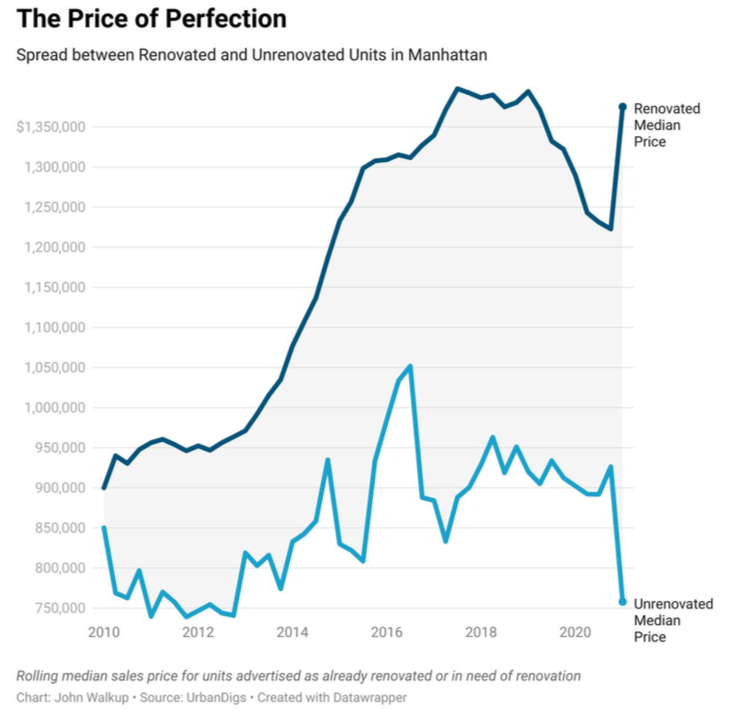 According to Walkup's data, the median asking price for a unrenovated property in Manhattan fell from about $925,000 to just over $750,000, while the median price for a renovated property has zoomed from about $1,225,000 to near $1,375,000.
It's not easy to come by the data—Walkup applied a little creativity and searched for listings with code words that indicated a Manhattan apartment or house was unrenovated ("bring your architect") or renovated ("triplemint") and looked at the spread over the past decade.
In the years after the Financial Crisis, Walkup says, the spread between median asking prices for renovated and unrenovated places was steady, held in check by buyers looking for discounts as prices rose. After the market cooled, from mid-2016 through the end of 2019, the spread widened a little as prices declined and sellers couldn't command the same premiums, while still following the same trend.
Now post pandemic, "the spread appears to have blown out," Walkup says, with sellers of unrenovated spaces pricing them at a discount to reflect the "risk involved" in buyers having to do the work themselves and sellers of renovated properties pricing them at an even higher premium to reflect the investment they've made in upgrades.
An emotional need as well
Brokers are seeing the widening preference for renovated apartments and houses mirrored in recent contract activity as well and say there are emotional needs driving this trend as well.
Buyers "want to move into something completely done," says Shii Ann Huang, a broker at Compass. "They want something easy after the year we've had."
Huang says recent progress with the pandemic and the economy has primed buyers to make a move. "Last year, no one wanted to move. Now, the vaccines are being distributed, people have made money in stocks, and New York City is coming back to life," she says.
She recently sold a completely renovated six-bedroom townhouse at 27 Seventh Ave. in Park Slope that was on the market for just a week. The asking price was $3,995,000—and she received a bid above ask for it—sight unseen—from a buyer in Kenya who reached out via their broker on Facetime after seeing the listing on Huang's Instagram account.
"'It's all done,' that's what everyone said when they walked in and saw the renovated space," Huang says.
She says that properties that were for sale during the pandemic but saw no bids are selling now—sometimes before they are even officially relisted, "the off-market market," she says—where brokers share listings they are about to move forward with.
But there has to be something special about these properties. "They have to be renovated," Huang says.
Contract activity supports these anecdotes: For the third straight month, new signed contracts for Manhattan showed an increase over the same month a year ago, and in Brooklyn, new signed contracts for have risen significantly year over year for eight consecutive months, according to the Elliman Report.
It's a far cry from what brokers and sellers experienced last year.
"We went from zero last year to working 6 a.m. to 12 midnight now," Huang says.
Still an appetite for renovation
A slightly different perspective comes from someone in the renovation business.
Even with the more restrictive requirements and challenges of doing a renovation during a pandemic, Asher Lipman, founder of NYC Renovation Coach, which helps renovators understand design options, budgets, and time frames, says he's been busier than ever.
The pandemic has been an eyeopener, Lipman says, and New Yorkers are retrofitting their apartments to reflect how they exist now in their spaces 24/7—for example, creating "Zoom rooms."
"The pandemic and subsequent building protocols have made it more challenging for some to renovate in NYC," Lipman says. However he thinks the premium for a finished apartment (15 to 25 percent) remains the same as it was in pre-pandemic times.
"If someone has the time and the inclination, an unrenovated apartment can ultimately be a better buy," he says.
Brick Underground articles occasionally include the expertise of, or information about, advertising partners when relevant to the story. We will never promote an advertiser's product without making the relationship clear to our readers.