Sales Market
Buying an apartment for your adult child? 6 things to keep in mind
High NYC rents bolster appeal of buying for children
Co-ops are cheaper than condos but have stricter rules
Some mortgage lenders don't offer 'kiddie loans'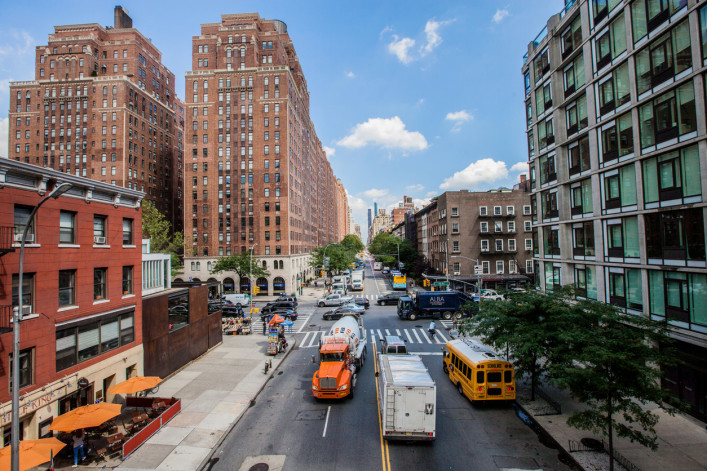 With median rent hovering around $4,000 in Manhattan, many parents who can afford to do so decide that buying a New York City apartment for their adult child is a better option than helping to pay their rent.
Parents ask themselves (not completely tongue in cheek),"'Why would I want to be extorted this way?'" says Frances Katzen, a broker at Douglas Eilliman.
"It's becoming a more typical state of affairs rather than the privilege it was viewed as earlier," says Dean Roberts, a longtime co-op and condo attorney at Norris McLaughlin in Manhattan.
It's also more challenging than a typical purchase. Read on for tips on what to expect and how to prepare, and read Brick Underground's step-by-step guide to buying an apartment in NYC.  
---
[Editor's note: A previous version of this post was published in April 2021. We are presenting it again with updated information for October 2022.]
---
1. Set clear expectations before you begin 
Before you do anything, make sure you and your offspring get clear on some key points. Will your child contribute to the down payment? Who will pay for carrying charges, utilities, and repairs? Will there be roommates, and if so, how will they be selected, and will you have any say in the matter? When mom or dad comes to town, can you crash there? Leave as few gray areas as possible. 
2. Get agreement on the 'must haves' 
Knowing what you and your child definitely need versus what would be nice to have will help you focus your search. Things to consider include what you each want in a neighborhood, access to transit to get to school or job, as well as security issues (for example, is a doorman building a must have)?
Give some thought to amenities as well. What's essential: A gym? A washer/dryer? An outdoor space of some kind? Be realistic about what will actually get used, because you will be paying for it. 
3. Be aware that not all co-ops allow parents to buy for their children
One of the first things you'll notice when looking at NYC real estate is that co-ops are typically significantly cheaper than condos. However, the rules for co-ops tend to be stricter and often allow only the primary owner to live there.
Look at a listing ahead of time and see if it says explicitly allows parents buying for kids. (Many listings will specify this.) If not, don't assume it's not permitted, but make sure before moving ahead so you don't waste your time. 
While there's no hard and fast rule when it comes to which kinds of co-ops are more likely to allow parents buying for kids, the high-end buildings on Park and Fifth avenues and Central Park West are generally less open to it than buildings with not-so-fancy addresses, or smaller co-ops.
"There can be an inherent resentment among board members and tenants who went out, got jobs, and paid for their apartments and now these kids are coming in," Roberts says. "As a result, and wrongfully or not, owners whose parents bought their apartments are often viewed as privileged and there's a real worry that 'the guy's not paying [payments], he's young, he's new to the city and he's going to be throwing all night parties and disrupting our way of life,'" Roberts says.
But often the policy is just about an abundance of caution on the part of co-op boards—entities that tend to be very risk-averse. (Potential buyers aren't just future neighbors, they're fellow shareholders, so there's very real economic self-preservation at play.) 
If you do find a co-op that will allow parents to buy for children, Abra Nicolle Nowitz, an agent at the Corcoran Group, suggests that parents consider co-purchasing with their child rather than simply buying the apartment for them outright, or acting as guarantors (depending on what the building's rules permit).
"Co-purchasing may strengthen the co-op package as it could reassure the board that the responsibility is shared between both parent and child," she says. However, some buildings don't allow co-purchasing.
"I recently had a closing where the parents wanted to buy with the adult child with all of them as owners. But the co-op didn't allow it," says Adam Stone, an attorney at The Stone Law Firm. "The co-op wanted only the adult child to be the owner since he was the only one living there. The co-op preferred to have the parents as guarantors instead. I was surprised by this. From a co-op/landlord's point of view, I thought it would be cleaner to have all of them on the stock and lease.
"The main point is to see what the building prefers or requires so it can be addressed in the very beginning, and everyone agrees early on that this is the right buyer for this apartment," he says.
Co-ops often have restrictions on foreign buyers, so if you're not from the U.S., it's likely you'll have to go the condo route. Not only are condos more flexible when it comes to board approval of new tenants, they also often don't require an in-person interview, which can be a real benefit if you are overseas. 
4. Be upfront with the board
Regardless of whether it's a co-op or condominium, you need to be upfront with the board about what your intentions are from the start. Also, let them know if you and other family members plan to stay there for an extended period of time or whether your child plans to have roommates.
Keep in mind that you risk more than just angering your neighbors if you're not honest about how the apartment will be used and who will live there. Consequences can include a fine or being sued for misrepresenting yourself to the board and for non-compliance with the house rules of a co-op or condo.
5. Find a real estate agent experienced with parents buying for their children
One way to avoid potential problems is to work with a great broker who has lots of experience selling apartments to parents for their kids. You want someone who is very knowledgeable about which buildings will allow this type of purchase.
"If a co-op or condo board has a set policy against such purchases, the board will most likely not change their mind about it, even though I have seen that change happen on occasion," says Barbara Fox, president of Fox Residential, who bought an apartment for her niece.
"A good broker should research a board's requirements and know ahead of time how to avoid a problem," Fox says. 
Pro Tip:
If you're not seeing enough apartments for sale in buildings open to purchases by parents (or not enough in your price range or target neighborhood), consider expanding your search to include "off-market" listings. NYC real estate brokerage The Agency, a Brick Underground partner, uses technology to mine public records and identify owners who may be ready to sell. You'll meet and deal with owners before their apartments hit the market. (Click here to learn more.)
A good broker can also help you assemble an application that has the best chance of being approved. They usually also know particular quirks of different boards and buildings. Most importantly, a broker can flag any possible causes for concern in an application and address them—generally, the fewer questions raised, the better. 
Katzen often works with parents buying for children and encourages them to consider the property very carefully and its resale potential. Two types of housing she won't take her clients to: Walk ups and railroad apartments, because they eliminate many potential future buyers, Katzen says. "Railroad apartments in the East Village are pretty cool, but when I show them what happens with resales they rethink their plan."
6. Co-purchasing with your child makes the most sense—if the board and your lender allow it
Parents should strive to list their children on both the purchasing and loan agreements, rather than just themselves, says Mordy Husarsky, an executive vice president at Federal Savings Bank.
"It presents a lot of challenges [tax deduction-wise] when they don't because by definition this type of an arrangement doesn't technically fall under the category of an investment property or a second home, especially if the parents live out of state," Husarsky says.
Be aware, though, that when a parent helps their child buy, it "puts a liability on their name," Husarsky says. 
"If the parents want to buy another house or refinance, they will have to account for this liability, even if child is the one making the payments," he says. The only time you're not responsible is if your child has been making the last 12 months of payments, he adds.
"Your child should be in their career at least three years before committing to owning equity," Katzen recommends. "People start over—maybe they decide they don't love law school and want to be an actor instead. It behooves them to actually earn and save and contribute along with parents."
In the current sales market, putting down a substantial amount to offset higher mortgage rates is an important strategy that can help reduce the monthly nut your child is responsible for, Katzen says.
Not all co-borrower scenarios will pass muster with a board, however.
Some co-op boards may "insist that both borrowers be on the stock and lease, which may have estate planning implications for everyone," says mortgage loan originator Marc Kunen, managing director of Luxury Mortgage Corp. Others may require that the child meet a certain debt-to-income ratio regardless of the income and asset position of the parent—and this ratio may be different than the bank's requirement.  
Moreover, some lenders simply won't deal in so-called "kiddie" loans, in which parents and child are listed as co-borrowers, Kunen says.
"In order to make this work, you have to find a lender who allows 'non-occupying co-borrowers' to be on the loan," he says. "Each bank uses different rules in approving these cases." Some banks will not do it all, he says, while others require that "the occupying borrower be employed with suitable income." 
In the case of a recent college graduate, he says, "a letter from the employer confirming position, income, and permanency of job is required to assure the lender that the [borrower] has a likelihood of long-term employment."
Alternatively, some lenders will "blend" the debt-to-income ratios of both borrowers and use this blended ratio to qualify the loan.
"The bottom line is to make sure the real estate agent and a mortgage professional advise the buyer of all the buying and borrowing possibilities before signing a contract or loan application," Kunen says. "I have seen too many cases where issues arise after contract signing that should have been vetted if everyone discussed the situation in advance." 
Editor's note: Earlier versions of this article contained reporting and writing by Tripp Whetsell. 
Brick Underground articles occasionally include the expertise of, or information about, advertising partners when relevant to the story. We will never promote an advertiser's product without making the relationship clear to our readers.