The Search
What debt-to-income ratio do you need to buy a co-op in NYC?
Your debt-to-income ratio should be around 25 percent
Improve your debt-to-income ratio by paying down your debts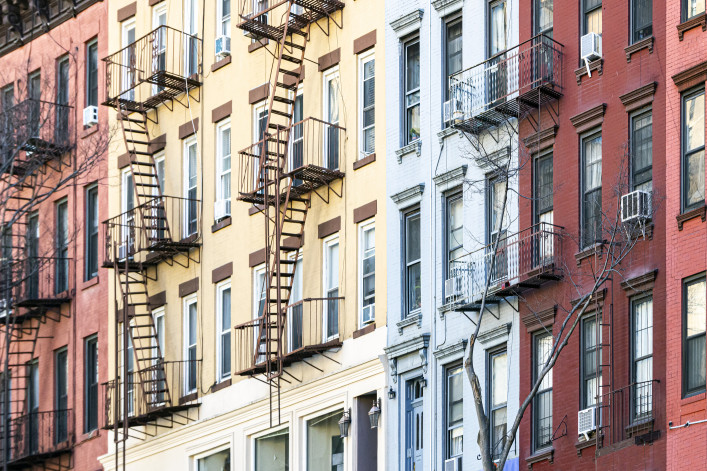 deberar/istock/Getty Images Plus via Getty Images
What debt-to-income ratio do you need to buy a co-op in NYC?
In order to buy a co-op in New York City, your debt-to-income ratio should ideally be in the range of 22 to 24 percent, our experts say. The actual ratio varies depending on the building's requirements because some buildings have more relaxed rules than others. 
"Agents often characterize buildings as being 'easy,' 'moderate,' or 'difficult,'" says Deanna Kory, a broker at Corcoran. In an easy building, the amount of debt you can hold relative to your income could be up to 33 percent. 
"This is calculated as all monthly liabilities—including new potential loan and maintenance fees—divided by your gross monthly income," says Ryan Greer, senior vice president at National Cooperative Bank (a Brick Underground sponsor). 
Aim for a 22 to 24 percent debt-to-income ratio
If your debt-to-income ratio is above 35 percent, your co-op buying options may be reduced.
Unlike a bank, where lending requirements are clearly spelled out, co-op boards don't tend to publicize their requirements. "Some co-op boards want to see buyers with two-times the purchase price left over and a debt-to-income ratio of 22 percent," says Vickey Barron, a broker at Compass. Other co-ops have more flexibility. 
For a building that is considered moderate, boards are looking for a 25 percent debt-to-income ratio, Kory says. "For very tough boards, the debt-to-income ratio is without question below 25 percent and in some cases below 20 percent," she says.
The debt-to-income is an important calculation, particularly for first time buyers who don't usually have liquid assets in the bank. Barron says, this is where a broker can help—using their networks to determine how receptive a co-op board will be to your application based on previous purchases in the building. 
Debt-to-income ratio isn't the only measure a co-op board will use to assess a buyer. Assets, liabilities, work history, and potential future income are also important.
How to improve your debt-to-income ratio
One of the most efficient ways to improve your debt-to-income ratio is to limit or pay down any consumer-related debt. Melissa Cohn, regional vice president of William Raveis Mortgage, warns not to "take another loan or make a large credit card purchase that can cause your debt-to-income to change," as you approach the closing. 
So if you're planning on purchases in addition to your apartment, like leasing a car or taking a vacation, you might want to hold off on putting that on your credit card until the deal is done.
Another consideration would be your student loans, even if you've been allowed to temporarily stop making payments. "Student loans in deferment or forbearance need to be entered into any type of repayment plan to lower the overall monthly student debt requirements," Greer says. 
If you are financing your co-op purchase you might want to consider an adjustable rate mortgage, Kory says. "Shorter term ARMs have the potential to lower your monthly costs. Alternatively, you can take out an interest-only mortgage which lowers monthly cost dramatically," she says. 
Be aware, some boards do not accept interest-only mortgages so check in advance. Another option is a 40-year mortgage, which can lower your monthly payments.
Brick Underground articles occasionally include the expertise of, or information about, advertising partners when relevant to the story. We will never promote an advertiser's product without making the relationship clear to our readers.