Troubleshooting
12 reasons why you should join your co-op or condo board if you can
You can participate in decisions that protect and enhance the value of your investment
Have a pet project in mind? Being on the board can help see that through
Lending your skills and talents is a valuable way to contribute to the community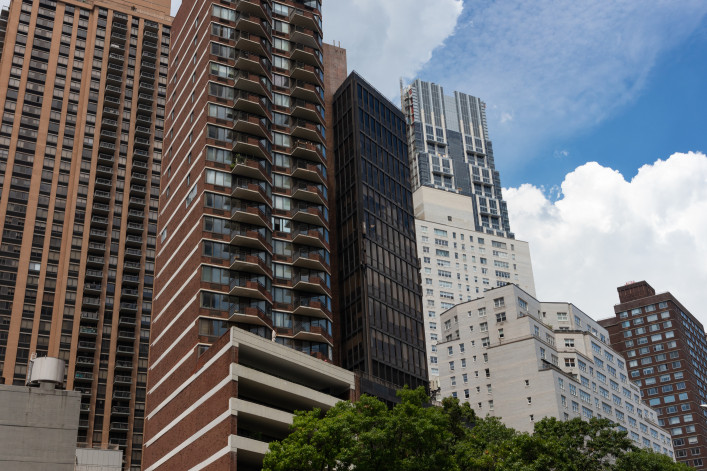 Being on your board means you can have a hand in shaping how your building is run.
We know you're busy. Serving on your co-op or condo board, unless you're naturally the type to gravitate to such commitments, is probably not high on your list of "must-dos." But maybe it should be. Board members can reap benefits ranging from getting a pet project realized and ensuring the building is in good shape financially, not to mention having a say in who lives with you.
You may well wonder how much time you would be signing up for. It depends—every building sets the terms in the by-laws, with some meeting monthly and others quarterly. And if there is a renovation underway or another big project happening, there may be an increased need to meet. (Find out more about the time commitments and responsibilities here.) 
We talked to real estate pros, most of whom are members of their building's board, to find out why it may be in your best interest to serve on yours.
1. Have a say in what you can and can't do
It sounds basic, but co-ops and many condos have rules. Everyone in the building has to abide by them, but just a handful of people, aka the board, actually makes them.
"Many items that affect your day-to-day living experience within the co-op will be put to a vote throughout the year, and most will only require majority board approval (rather than general shareholder input)," says Elizabeth Kohen, managing broker and co-owner of Garfield Realty. "Because a board's voting members—typically just three to seven people—can create or amend the existing house rules and regulations on an ongoing basis, it's valuable to be a part of that decision-making body."
2. Enhance your investment
Serving on your board allows you to have a voice in what improvements are made in the building.
"I tend to focus on issues that I feel enhance the value of our apartments," says Drew Glick, a broker at Brown Harris Stevens, who has served on his co-op board for over 10 years and brings his knowledge of what buyers want to the experience. "I spearheaded new and expanded storage facilities and pushed for lobby and hallway renovations."
According to Vickey Barron, a broker at Compass, says those same issues—deciding whether to add more storage and to spend money on the lobby and hallways—come up all the time in most buildings. (She doesn't serve on her own board because she sells in the building and wants to avoid a conflict of interest). "So many buildings don't want to spend money on the lobby, saying 'we don't live there so why bother.' But the lobby is your curb appeal and an underwhelming one will impact the value of your home. If the board doesn't spend the money to keep the hallways and lobbies up, they are counting the small dollar and forfeiting the large dollar in the long run," she says. 
Whether to allow in-unit washer/dryers in older buildings is another common issue—and one that might resonate with your own wish list.
Convinced life would be so much better if a major amenity was added? "If you have a dream project for the building, such as a roof deck or playroom, being on the board offers you a much stronger opportunity to make that happen," Kohen says.
Ben Willig, director of sales and agent at Elegran Forbes Global Properties, stresses the need to get buy-in from all of the shareholders for any major renovation, including by creating outside committees and getting multiple people involved. "It will be a long time to come to fruition with so many different opinions and not one central ownership. When complete, the enjoyment and value-add to pricing for all shareholders are usually in multiples of the cost, albeit those costs can appear daunting at times." (Read: You will need to stay the course.)
3. Protect your investment
Similarly, being on a board ensures you'll be aware of, and have a say in, decisions that could affect the value of your apartment.
Julia Boland, a broker at Corcoran who has served on her condo board for seven years, says the board is primarily financial stewardship and taking care of the building, and looking ahead and planning what the building needs and how to provide for that. "It can be a thankless job, but a very necessary one to protect your investment value. As a real estate agent, I understand the components of what creates value for the individual units as well as a condominium building and how to protect the value and preserve the building, which is a big part of what you do."
That can include what complying with Local Law 97 entails and how to shore up reserves for that, and (in her case) hosting an all-building Halloween party and trick-or-treating in recognition of all the young children and to create community. "So you go from the tangible of finances to the intangible of community and both of those things create value—you can feel it when you walk through the door when people are happy," she says.  
Protecting your investment extends to approving individual upgrades. Per Barron, "If someone wants to put a Jacuzzi on the terrace, you will help decide the pros and cons—is it going to be a noise factor for surrounding units?" 
4. Understand the finances 
In Boland's experience, most residents get hot and bothered about the maintenance of common spaces, potential renovations, and any expenditure associated with that, in any building. 
For example, when owners in her condo building thought the common charges were "horribly expensive," she was able to lay out a grid of neighborhood buildings and what their carrying costs were on a monthly basis per square foot. "It turned out ours actually aren't expensive. Have they gone up significantly since first opening? Yes. But are they out of whack with the area? No." 
And when a fellow board member claimed the building was spending way too much on landscaping and solicited more quotes, Boland compared those quotes against what they were spending and found big gaps in the quotes in terms of services they would no longer be receiving—which explained why the new quotes were $20,000 to $25,000 less per year. Additionally, when she calculated what the building had already spent maintaining the garden, "we would have been forfeiting that investment if we didn't continue to maintain it, and ultimately impact the value of the building and the units. These things are always subtle and involve the push-and-pull of how much do you improve the building to maintain it as it ages, and what constitutes over-improvement." 
5. Get something fixed
If you are frustrated by a problem that continues to fester, getting on the board might be the only way to solve it.
One agent shared that when her co-op ignored the holes in the cornice and the raccoons that had taken up residence inside, she got on the board to refinance, do capital improvements to install a new cornice and roof, and redo the dilapidated halls. 
6. Help resolve an issue
David Maundrell, Jr., a broker at Corcoran, is president of his Midwood co-op building's board and has served on it for over 10 years. He says it's a process he enjoys, and he's particularly interested in maintaining the quality of life for all residents of the building, respectfully.
One example? Dealing with excessive noise. "You try to address the problem sensitively and responsibly, and fix it—without being antagonistic," he says.
Boland agrees: "Vertical living involves people with different viewpoints and approaches, and the board's job is to figure out how to listen to all these POVs and then come to a decision that benefits the building."
That said, Willig shares that being on a board is "not for the faint of heart. For all the positives, there are going to be people who are not paying their maintenance charges, and you might be starting legal proceedings. Having to come home and see some of these people knowing what is going on can be tough at times. It is your investment, though, and these are the realities of real estate and things that need to be managed."
7. Keep things buttoned up
It's not uncommon for real estate listings to use the term "well-run co-op," which means that yes, some are not, and that can have a ripple effect when it comes to buying, selling, legal matters, assessments and more. Board members can help make sure important details aren't overlooked or ignored.
"You want to make sure the building is run efficiently, effectively, and successfully because that does impact your investment," Barron says. She points to how her board made the decision to have a flip tax in the building a few years ago, which has made a positive impact by helping to shore up the reserve funds. 
Boland says most residents get hot and bothered about the maintenance of common spaces, potential renovations, and any expenditure associated with that, in any building. 
For example, when owners in her condo building thought the common charges were "horribly expensive," she was able to lay out a grid of neighborhood buildings and what their carrying costs were on a monthly basis per square foot. "It turned out ours actually aren't expensive. Have they gone up significantly since first opening? Yes. But are they out of whack with the area? No." 
8. Flex your skills
Are you good with numbers or a born problem-solver? Step right up.
Barron says having a special skill set is a valuable reason to join a board. "One of my clients on the board is financially savvy and makes sure we have enough reserve funds and don't have assessments." 
Boland describes a former board member (who outgrew the apartment and moved to a different building) as "an accomplished attorney and strategic thinker who could break down complex issues into subtle nuances and help us explore our decision-making in a thorough way. Why are we going in this direction and not that one, here's path A, B, and C and the ramifications for following each path. I felt like with his participation, as a board we made excellent decisions." 
Not that you have to match those talents. "Everybody brings something unique, but first you have to have the willingness to serve," she says.
9. Decide who your neighbors will be
If you are in a co-op, you can control who comes into the building. That doesn't happen in a condo, which only has the right of first refusal in buying the unit itself. 
"That's a group of people who got to decide yay or nay. Some people enjoy that but others don't want that responsibility," Barron says, adding that one of her clients was just rejected by a fancy Fifth Avenue building because of their dog. 
And speaking of pets, you can help set the policy around whether or not they are allowed, and if so, the rules about being on elevators and the like. 
10. Create a nicer community 
Be forewarned: You will be bombarded with calls, emails, texts, and elevator conversations about whatever your neighbor's grievance is. How does Boland handle that aspect of the position? "It's about making each person feel heard and explaining why it it's an issue or not an issue or can or can't be done in the way they would like, and then you create a nicer community."
11. Get some extra oomph
Finally, as with life in general, being more than just a name or an apartment number can help when it comes to getting questions or concerns addressed.
"Management also tends to be even more responsive to board members' needs, because they interact with you on a regular basis and know you as a person, not just as a resident with an issue," Kohen says. 
Barron reports noticing first-hand how her clients who serve on boards definitely have a voice—and it doesn't hurt to be recognized by the doorman and building staff.  
12. Expand your social circle
Mike Fabbri, a broker at NestSeekers, says being on a board "is like joining a private club with others of shared interests. As you get older, it gets harder and harder to meet new people. Joining a board offers the ability to build connections with other residents in the building and leads to friendships and business opportunities."
Brick Underground articles occasionally include the expertise of, or information about, advertising partners when relevant to the story. We will never promote an advertiser's product without making the relationship clear to our readers.