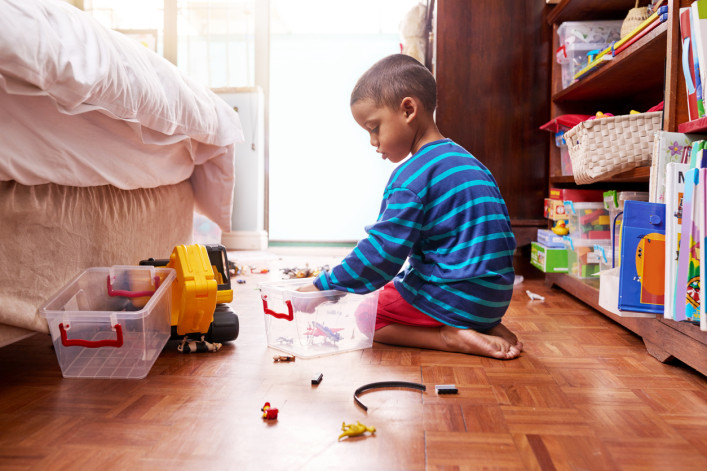 New Yorkers are experts at putting every square inch of living space to use, but the pandemic has made apartment living even harder. It's been tough to carve out space for work and school as well as exercise—especially if you have kids who need to burn off energy without driving the neighbors crazy now that it's too cold to play outside for very long.
It would be nice to have access to a sprawling themed playroom like those at 100 Barclay or The Easton. Even if your building has amenity spaces, you might not feel comfortable letting your children play there and you may be looking for creative solutions to stop everyone from climbing the walls, unless of course, that's your intention—which some experts say shouldn't be ruled out.
"Think vertically," says Amanda Wiss, founder of Urban Clarity, a professional NYC organizing company. She says the first thing to do is maximize a child's bedroom: "Really delineate how much you can fit into a kid's room to start with. Can you go vertical with a loft bed? Can you put a crib in a closet so you can create more floor space?"
---
[Editor's note: An earlier version of this article was published in November 2018. We are presenting it again here with updated information for January 2021.] 
---
Get creative with closet space
Wiss warns against a half-hearted clean out of that second bedroom before the baby's arrival. "First-time parents often think they don't have to give up the closet space in their child's room but they need to clear out and remove their bulky items."
Closets, if they are big enough, can make a cozy play space.
"One time we turned the top part of a closet into a fort," says former teacher Karri Bowen-Poole, now the owner of Smart Playrooms, a design company that's helped parents create play spaces in the tight quarters of their New York City apartments. "We took off the closet door and made a platform that was secure and full of cushions." She says this kind of custom build is a great alternative to teepees and tents that just take up too much space.
Another option is to fully customize the closet for kids' clothes, eliminating the need for bulky dressers. "If you put all your clothes in the closet, there's floor space for play," says Bowen-Poole. 
"Take out the rod and put it lower so kids can access their things and build lots of shelves above or to the side so it can be used for the maximum of storage." She also warns against putting a desk in a child's room, however small, until they reach 12 years old. "If you get it too early it becomes a catch-all and they won't be doing their homework there, that happens in the kitchen," she says.
Wiss goes as far as recommending the kids get the bigger room in a two-bedroom unit. "As kids grow, they're very active," she says. "I've seen people have gym mats in their kids' bedrooms because there's room for it and the parents have a comparatively smaller bedroom. It sounds counterintuitive but it works."
A kitchen corner for toddlers
Who are we kidding? Play is never going to be confined to a child's bedroom. For the zero-to-three age group, Bowen-Poole prioritizes floor space in the kitchen.
"I also recommend a child-sized table and chairs, 18 inches high, so they can put their feet on the floor. Little ones can get busy with fine motor skills like puzzles and drawing." she says.
As a former teacher, she emphasizes the importance of toys that promote open-ended play so rather than art kits, she suggests a small selection of tape, glue and construction paper. She's also a fan of blocks, animals, and cars over battery operated toys that only do one thing.
"Parents end up accumulating a lot of stuff and the toys just don't engage. The kids lose interest. Declutter and take things out.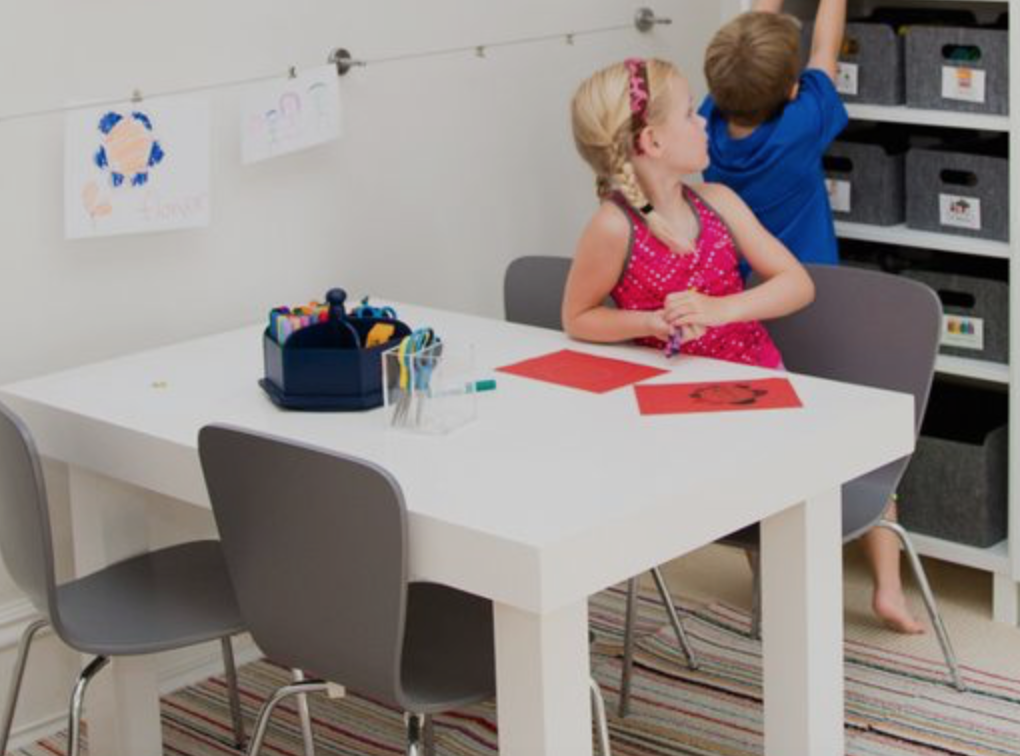 If you can spare a drawer in the kitchen that's within the child's reach, it's a great place for them to easily access small toys. Wiss also emphasizes the importance of toy rotation. In a small unit, you want luxuriously large floor space, but that's not always practical, so if there are certain toys for special occasions, the train set or the puppet center can come out but kids need to know it gets folded up and put away.
A bean bag or other soft cozy seating can also calm kids or encourage them to jump in a quiet way. 
Make use of the walls
As kids get older, physical play replaces floor play. "It's the physical play that requires more space," says Bowen-Poole. She recommends a basketball hoop over a door, with soft sponge balls to throw. Another space saver is wall ladders. "They take up no space at all, older kids can do pull-ups. You can also attach things to it, like basketball hoops or trapeze bars.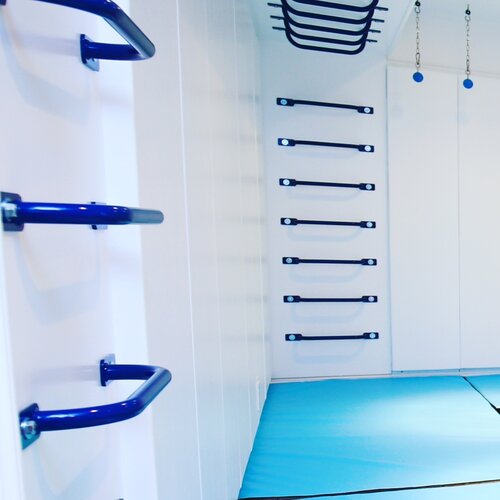 There are plenty of pictures online of rock walls in kids' rooms, but that won't always cut it with your landlord. Something that's definitely doable for renters is hanging a magnetic board or a magnetic dry erase board on the wall. Bowen Poole says it can serve two purposes.
"It can be used for pretend play—kids love being the teacher—and for drawing. We use the walls a lot," she says. "Wall baskets to store things to get them off the floor, Lego mats on the walls, you can also be clever at finding the right book ledges that don't take up a lot of space."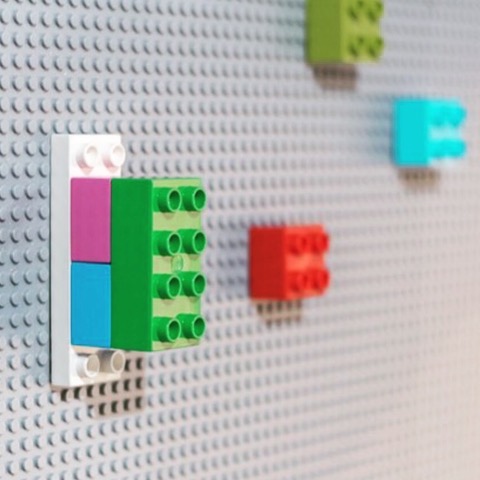 Repurposed hallways and door frames
Sponge balls can be used in hallways but to give an indoor ball game some boundaries, Bowen-Poole recommends copper tape or one with velcro on one side. "They come in different colors and you put it right on the carpet and make your own score court." Another option is painter's tape marking out a goal on a wall at the end of a corridor.
You might not think of a doorway as having the scope for play but Bowen-Poole recently installed a pull up bar for an active eight-year-old in a New York apartment. "We custom measured the width and installed it like a shower curtain and then put a mat underneath."
Bowen-Poole is also a fan of gym mats and says they can transform a space. She bought an Air Tracks mat for her 12 year old during the pandemic who uses it to do somersaults and jumps and back handstands between the kitchen and the living room. "You bring out a gym mat into your space and the kids will do something different with the space." 
Ceiling mounts
Does your tiny New York apartment have room for a swinging chair? Bowen-Poole says the swinging motion can be really calming for kids and says adding ceiling mounts is an option in either a bedroom or living space. "You can hook and unhook things to them. It can be awesome. Sensory equipment like swings and hammocks can be clipped in. It doesn't have to be up the whole time."
If you take this route, be sure to get a contractor to help you with installing the fixtures in the ceiling joists. 
Look for nooks and crannies
One other tip is to look for alcoves that could be put to use as play nooks.
"When you don't have a playroom you can maximize any space and make it fantasy-like," says Wiss. "Many apartments don't have formal dining rooms but I'm a fan of putting a fort under the dining table with cushions that can live there. It's a way to use a space that is not used every day. In a duplex there might be under-stair space that can be used. Sometimes an alcove just needs a rug and some toys."
New York City offers activities—even in a pandemic
The pandemic has certainly reduced the number of activities available in NYC but if you're suffering from playroom envy when you think of your suburban friends, Wiss points out the grass might not be greener in the 'burbs. 
"When you live in the suburbs you need that bouncy house in your basement but in New York, the city is your playground. I'm not saying don't have a Nerf war in your apartment, but you can walk outside and there's things to do." 
Another perk of urban living could come in the form of neighbors. There are plenty of examples of schooling pods or pandemic bubbles being formed so families can share the childcare. "Make friends with people in your building so you can play in the corridors," says Wiss. You're not supposed to have everything in your living space, she says, "that's why we live here."
Brick Underground articles occasionally include the expertise of, or information about, advertising partners when relevant to the story. We will never promote an advertiser's product without making the relationship clear to our readers.