Products + Services
How to save money on your NYC bathroom renovation: Where to skimp and where to splurge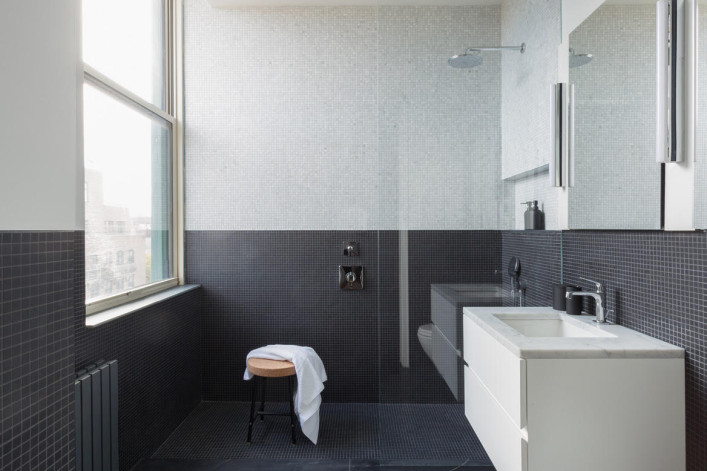 Renovating a New York City bathroom on a budget is no easy feat: It's a usually tight and awkward space that has to work hard and yet pamper you too. And it has to last a long time. So figuring out where to spend and where to save is often the first (and biggest) hurdle to getting the result you want. 
Yaiza Armbruster, founder of design studio Atelier Armbruster, renovated her own townhouse a year ago and recalls picking these exact battles. She cautions those who live in a classic townhouse or prewar building to make sure the plumbing is replaced back to the main plumbing line. (Your co-op board may also require this.) "Otherwise you may have to rip everything out in a few years due to damage," she says. Armbruster also recommends spending money on the fixtures and fittings, which she calls the "workhorses of the bathroom," because you don't want to have to replace those. 
In a similar vein, Jorge Fontan, founder of Fontan Architecture, says the last thing he would save money on would be the contractor. His advice? Save money on the tiles, something all those interviewed here agreed on. "But a bathroom with inconsistencies in the grout lines will look horrible, so pay for a good contractor to make sure those details are done right," he adds.
Guy Kohn, founder of Kohn Architecture who works mostly in commercial development, also spent a lot of time redoing his own bathroom "based on using economical materials but in a way that made it look very rich." So he chose a high end vanity and tub and revolved the rest of the project around that selection.
Once you've earmarked funds for these "essentials," it's time to budget for all the rest.
Here's what the experts have to say about to splurging vs. skimping in a NYC bathroom renovation––and even how to cut costs on your big spends.
Splurge-worthy bathroom updates
Showers and doors: A double shower that's big enough to have two showerheads is such a luxury, says Armbruster, who installed one in her own master bath. She also designed the spacious shower for a client in the photo at top. All have glass doors or panes.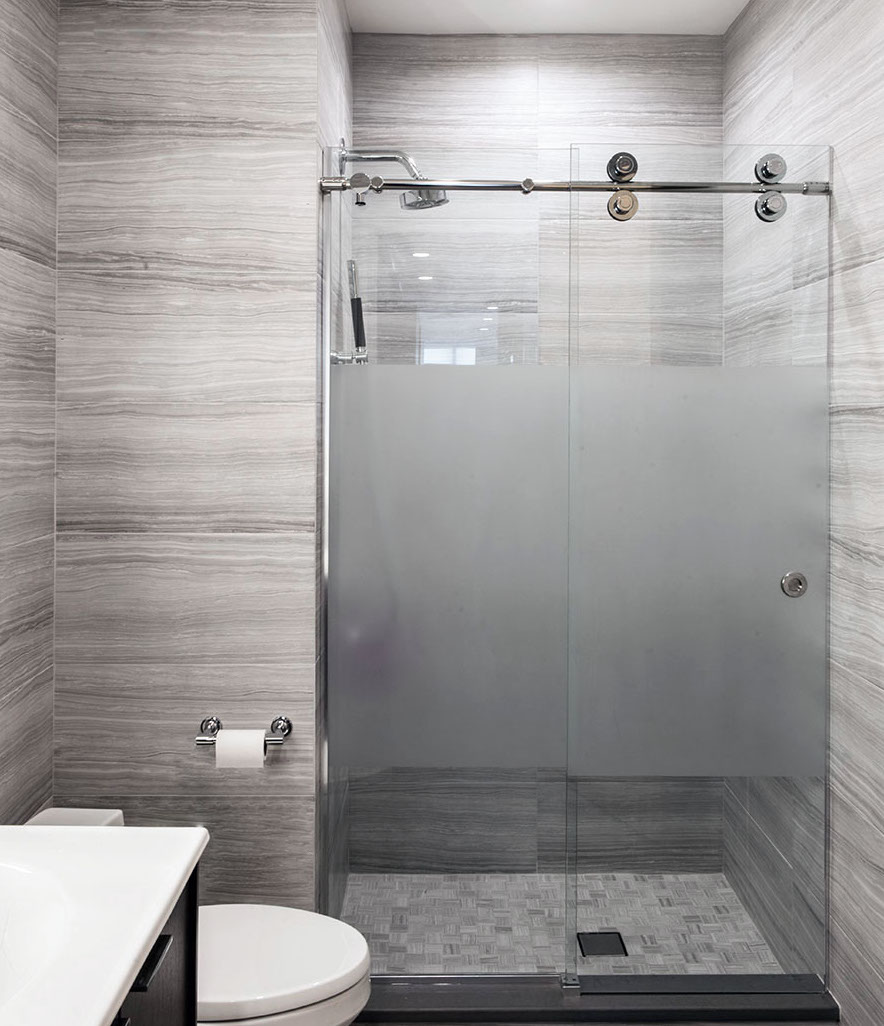 A frameless shower door with ultra-clear glass and modern hinges is where Fontan would spend money, emphasizing that hardware "is a real aesthetic point of a bathroom." (Here's his go-to source.)
Dan DiClerico, home expert at HomeAdvisor, says glass doors are indeed a smart splurge because they make the shower feel bigger and less claustrophobic (the average cost to install a glass shower door is $900). Plus they make any bathroom instantly more modern. 
A lot of homeowners are doing away with the door completely as part of the "wet room" trend, he notes. "It's a very space-efficient strategy, since it allows you to cram more functionality—open shower, tub, toilet, vanity—into the same amount of space." You'll save on the cost of the shower door, but labor costs throughout the bathroom tend to be higher because everything has to be water-tight.
On the flip side, he advises to think twice about steam in the shower. "The concept is a little dated at this point, plus the maintenance concerns are a turnoff with a lot of buyers."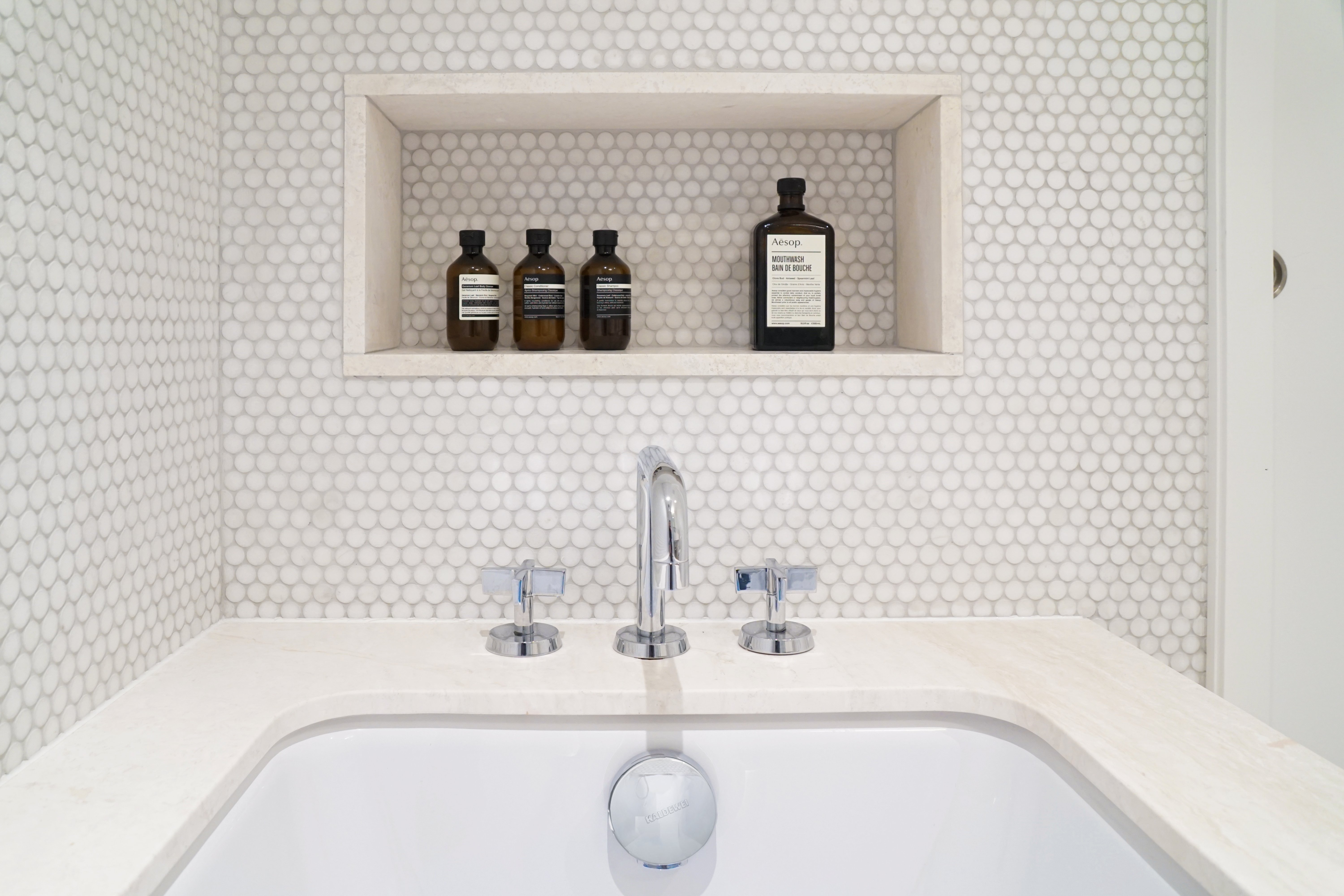 Other worthwhile shower updates, per DiClerico, include built-in benches (in keeping with the aging-in-place trend) and storage niches for soaps and shampoos. Bathroom storage on the whole tends to be limited, so these custom solutions are generally money well spent.
Soaking tubs: When space allows (or when you have two bathrooms), Meret Lenzlinger, founder of Lenzlinger Architecture (formerly Local Brooklyn), always suggests putting in a real soaking tub "because most older tubs are only 14 inches high and the water will barely cover you." She likes the Lacey model from Hydrosystems for its "good height-to-depth ratio." (Apparently not all deep tubs hold high water levels.)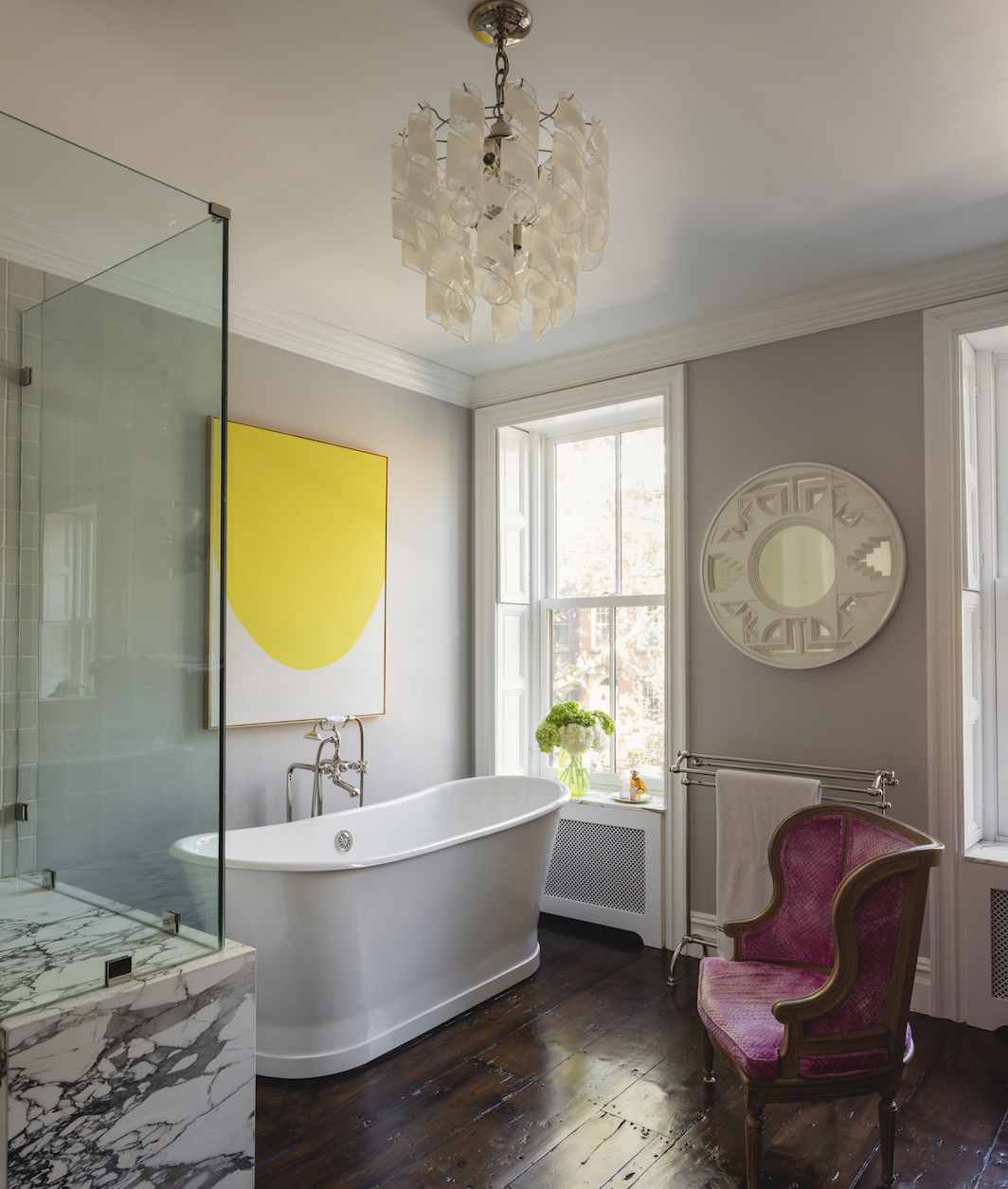 Lauren Stern, founder of Lauren Stern Design, is another fan of having a separate tub and a shower when possible and of buying the best quality your budget will allow. She says Sunrise Specialty has gorgeous products like the one pictured here at a relatively moderate price point. (Here's another tip: Find a piece of contemporary art that you like and copy it. She painted the cheery artwork on a plain canvas "in less than half an hour" to brighten this bathroom.)
Or if you have an existing cast-iron tub and it will fit the new configuration, she suggests having it re-enameled and perhaps the outside repainted. "They'll do a really nice job and it's better for the environment than tossing it out." 
Kohn went for what he described as a very simple and straightforward Kohler Tea-for-Two soaking tub in his own home that was "neither too big or too small."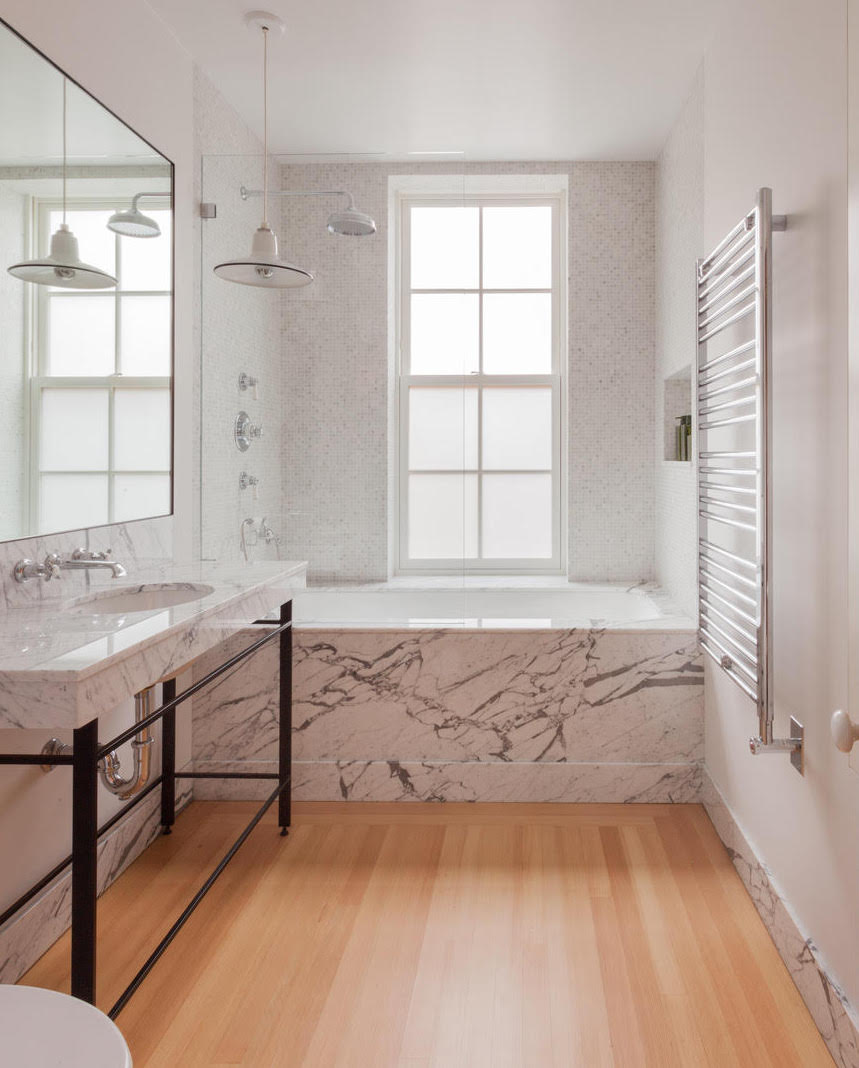 If you want both a shower and tub in a smaller space, you can make a combo unit more luxurious with a glass panel (no shower curtain) and a custom facade (like the marble above). 
Plumbing fixtures: Stern, who works mostly with Kohler products, says there's a noticeable difference in quality among the price points. "You want it to function the way it is intended to, with good water pressure and temperature." 
Armbruster likes those Axor and Watermark and says that even premium brands like Waterworks offer affordable lines. The shower column shown below (in the Surfaces section) is from Porcelanosa and combines showerhead, hand shower, body jet, and massage sprays in one.
DiClerico also endorses splurging on a luxurious showerhead, especially rain showerheads, and installing a thermostatic shower valve (in case your showerhead doesn't come with one). "That upgrade will add a few hundred dollars to the total plumbing costs but will be well worth it for everyday enjoyment."
Vanity: Assuming you have room for a vanity in your bathroom, all experts agree that this should take top priority in terms of spending––and that usually means going with custom made.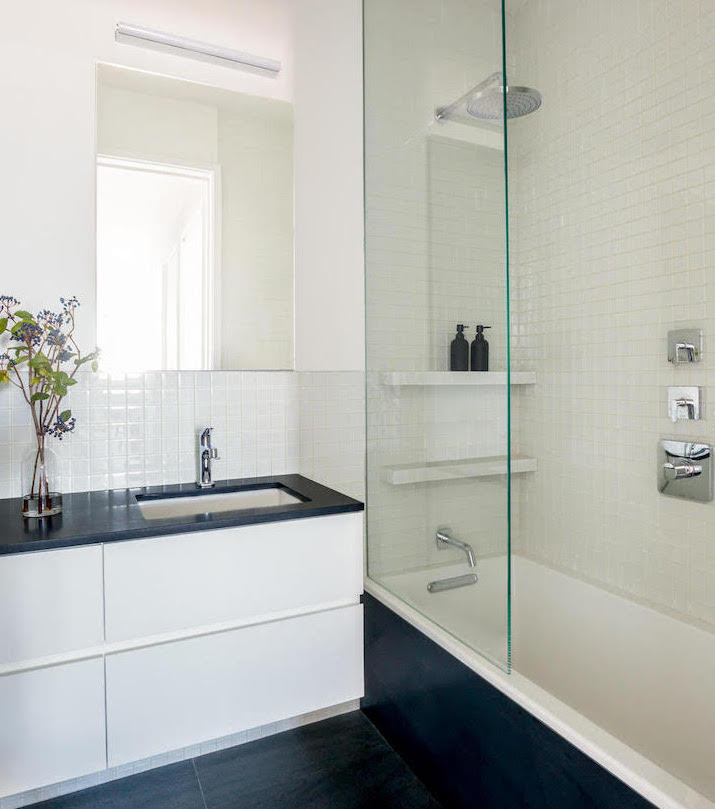 Armbruster finds off-the-shelf units are typically too deep or massive for NYC bathrooms and says she mostly installs her own custom designs; same for sink enclosures or other setups.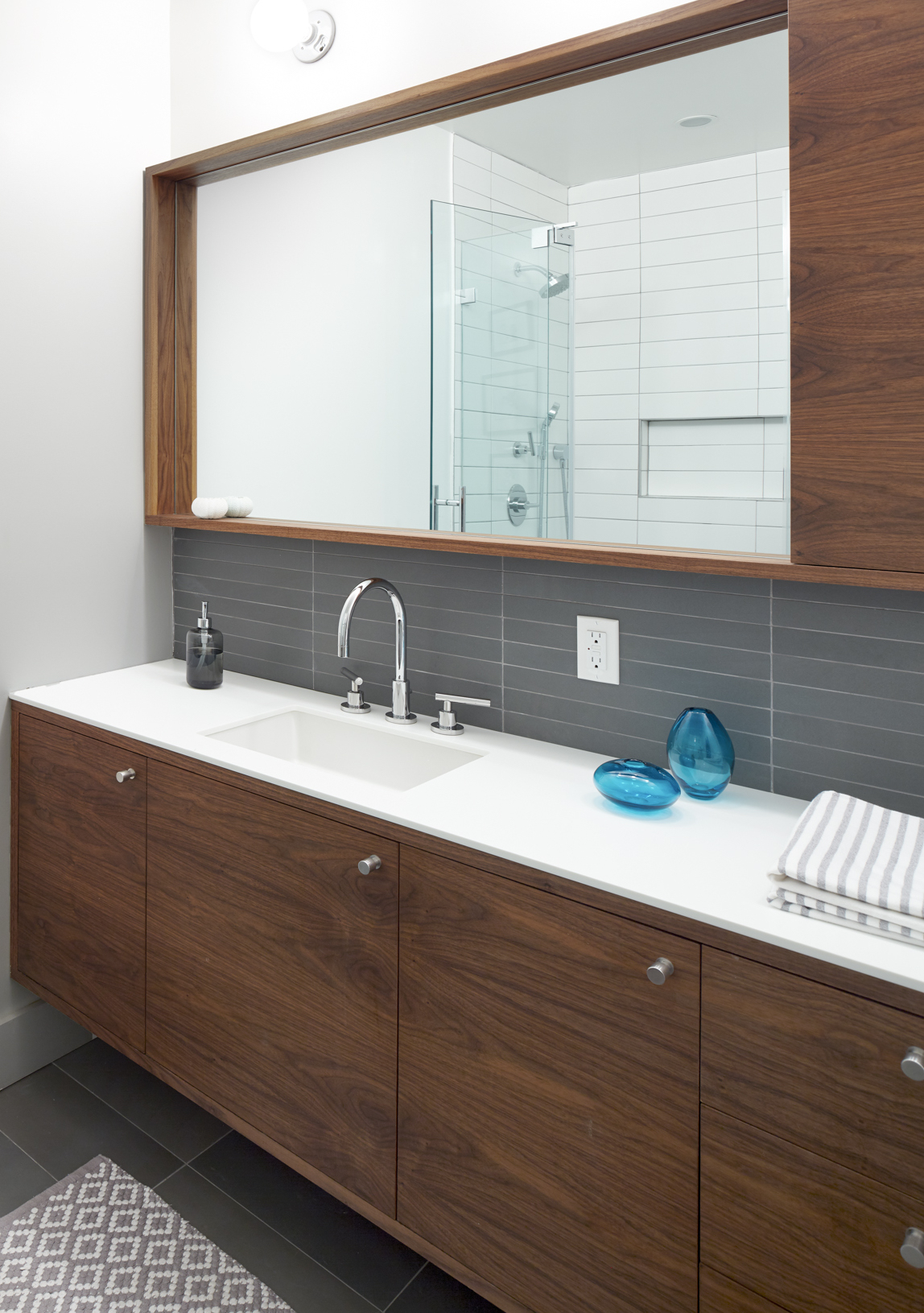 They also tend to be expensive. "So for not much more money you can have exactly what you want," says Lenzlinger, an important consideration in awkward layouts. With a custom vanity the sink can also be the entire top.
For these two architects, Ikea cabinets are the only exception to their custom-only rule. Lenzlinger finds them to be sturdy and will even use the faux-wood fronts, while Armbruster tends to use only the carcass then install custom doors from Semihandmade. 
Kohn chose a Restoration Hardware vanity for his own bathroom. "The shop is very service-oriented and the product was ready quickly." 
Stern like real wood for imparting warmth in a bathroom "where there's a lot of cold materials." She especially likes to repurpose an existing piece of furniture, such as a chest of drawers, for the vanity. (Tip: So long as it has the right proportions, you can always adjust the height below or by varying the thickness of the countertop.) "It can make your bathroom feel really special and more like the rest of your home." (Same for parking an upholstered chair here, as in the photo above.)
If you do go with a cabinet from a kitchen company, Fontan cautions that you should never buy one without going to the showroom and giving it a test run, saying a cheap vanity feels cheap when you touch them. "You can tell the difference between a well-built vanity and one that's not by literally jiggling the drawer and seeing how much movement there is." His top pick is Cesar NYC.
Bonus: Radiant floor heating: DiClerico (and others interviewed here) find radiant floor heating in the bathroom to be a very smart splurge. For starters, a warm floor feels very good underfoot. Then there's the safety benefit, since they dry the floor quickly, reducing the likelihood of slips and falls, he adds. The cost to install radiant flooring in the bathroom ranges from $1,500 to $5,000, depending on the size of the space. 
He does however find heated towel bars to be "overkill." (See this article for an opposing opinion on these hotel-at-home amenities.)
Where you can skimp
Surfaces: If you love a high-end material, don't assume it's out of budge––by using only a small quantity you can keep the price more reasonable, and these special touches will result in a design that you truly love, says Stern. In the photo of the soaking tub above, for example, the marble veining wraps the shower bench and continues on the bathroom vanity. "It was selected for the high-impact, high-contrast pop."
Both Stern and Armbruster suggest going to a stone yard in Queens or Brooklyn and asking if they have a remnant piece that's left over from a project. "It could be the exact size you need for your vanity or some other spot, and you can find something you thought you couldn't afford," says Armbruster.
Certainly expensive marble is worth it if you have a bottomless budget, says Fontan, though he finds that even higher end clients are no longer "being precious about the materials." He is a proponent of faux-marble porcelain tiles, which can cost much less than natural stone. (Porcelanosa and Florim are two local sources.)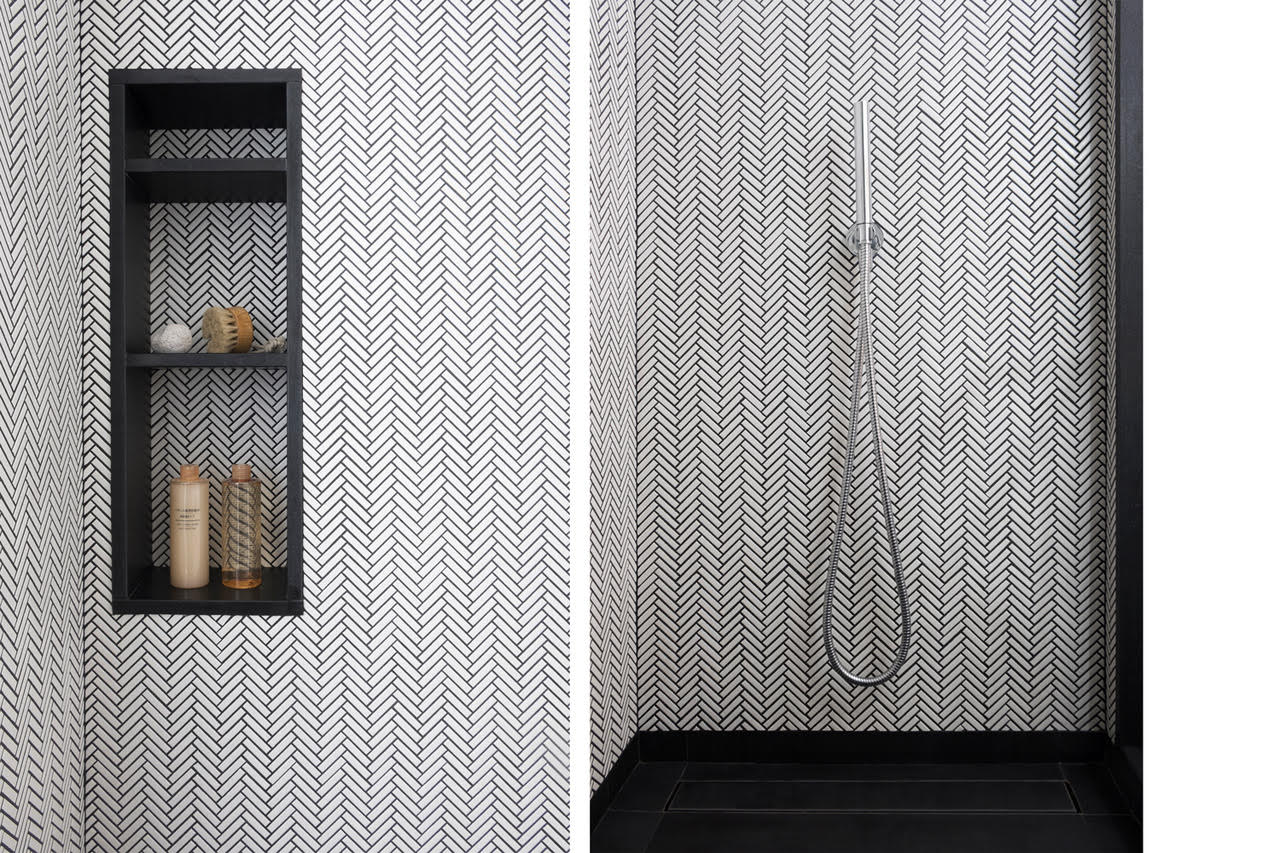 Armbruster says there are many fantastic materials (including porcelain tiles) that you can save on, including from Lowes and Home Depot as well as in-stock options from Nemo (shown above).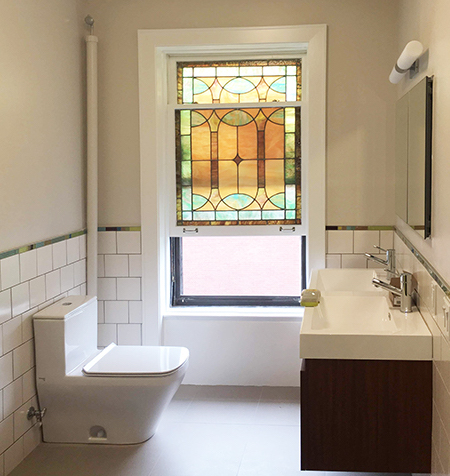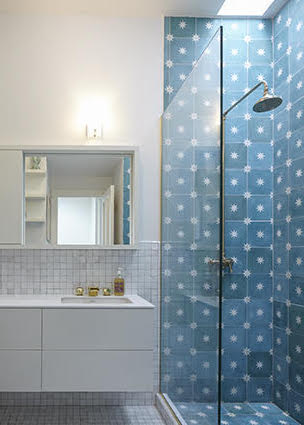 Lenzlinger has also been doing "fun patterns" with inexpensive ones, such as in the accent strip above that was inspired by the original stained glass windows and with contrasting blue tiles in a shower stall. In her own beach cottage bathroom, she installed 4-by-12 tiles that run vertically rather than horizontally for more visual interest.
According to DiClerico, choosing a simple white ceramic tile is definitely a great way to save, compared with expensive glass or natural stone, and "it can still deliver a very elegant look for a fraction of the cost." For instance, ceramic might cost as little as $1 per square foot, while designer glass or slate might run as high as $15 per square foot.
Penny tiles are another way to play with pattern or color. Armbruster likes the idea of having mostly white but with a few contrasting tiles for pops of color here and there, and finds that using a colorful grout can look chic. In one recent project she combined red and blue grout with plain white tiles. "Suddenly the very rigorous grid became interesting because it had color." 
Just be sure to shop around for pennies, says Kohn. When researching pricing for his own renovation, he discovered that the exact same tile that a "fancy tile shop" quoted at some outrageous price was available at Lowe's for a mere $3.99 per square foot. "If you don't do your homework, you'll pay a lot more than you should." 
Medicine cabinet: Lots of designers prefer to use a mirror above the sink. "But in a small bathroom that's short on other storage options, a medicine cabinet will help all your toiletries out of sight, says Stern.
The good news is there are affordable options for both recessed and mounted models, including at Pottery Barn and Restoration Hardware. 
Stern also likes to keep a mirror above the sink and have an inexpensive custom recessed cabinet to the side. "Your contractor can just build it into the wall and then all you need to buy is the magnetic hinge that allows the wall to pop open when pushed," she says. 
Lighting: Lenzlinger says it's important to have enough lighting in a bathroom, often by using LED lighting or adding a sconce or two next to the mirror, but you don't need to spend big bucks to achieve that. "Just be sure to find one that's flattering so you don't look reddish or greenish." 
Stern says a lot of companies are making stylish lights that functionally give you the light you need in a bathroom at a better price point. For example, she has found simple and nicely designed lights like sconces at Dutton Brown.
Toilet: There's no reason to spend thousands of dollars on a toilet when there are plenty of good options (even by Toto) that cost $600, says Fontan. 
Kohn discovered a brand (Swiss Madison) for his own home that he describes as very simple and modern.
That said, Armbruster is willing to spend on wall-mounted models for tight spaces, as they tend to have a shallow footprint and are easier to clean around than floor models.
Accessories: Overall, Stern says to keep it minimal and don't spend money on a bunch of things you don't need. 
And forget about having to match towel rods and robe hooks to your fixtures, something Armbruster says has been a trend for too long. They need not even be the same brand or even the same finish, so why not work in some matte black or copper-colored accessories for added visual interest (such as from CB2). She also recommends scouring Etsy for metal workers who offer might even customize these items for you––for instance by making a shorter than usual towel bar that fits your wall space.

All experts agree that Overstock.com is a good source for accessories but also tile, faucets, and even sinks and tubs, and in a range of prices and even from high-end brands at a discount. Who knows––you just might find enough scores to allow you an extra splurge or two. 
Brick Underground articles occasionally include the expertise of, or information about, advertising partners when relevant to the story. We will never promote an advertiser's product without making the relationship clear to our readers.