Design + Architecture
8 NYC bathroom renovations that will improve your life—and your apartment's resale value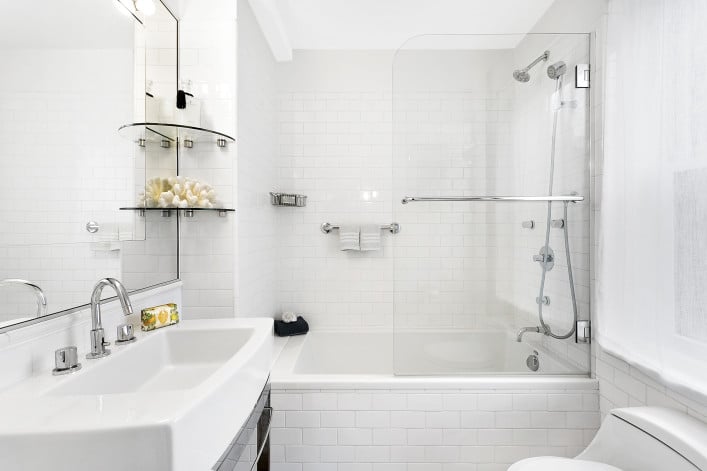 Michael J. Franco/Compass
The typical New York City bathroom can leave a lot to be desired—it's either too small or has an awkward layout, and/or is sorely outdated. But renovations don't come cheap, so you are right in wondering about the best way to update this hard-working space.
The starting price for a standard NYC bathroom renovation is $25,000—with an emphasis on "starting." Costs can easily soar, depending on the scope and quality of the improvements, all the way to more than $60,000 on average. If it's your only bathroom, you'll also have to pay for a short-term rental while work is being done. 
Unless you have endless funds (and even if you do), you'll want to put your money where it matters most. 
"Where" that is depends on your renovation rationale. Are you pining to transform your master bath into a lavish "wet room" with a rain shower and deep soaking tub? Or does the second bath (a luxury in its own right) need to be more functional for a growing gaggle of kids?
Because pricing is mostly based on square footage, any conversation around renovation begins with the size of the bathroom, with five by seven feet being the accepted average. Nothing about NYC bathrooms are average, however, so how you choose to spend that $100 to $200 per square foot (another accepted average) is what will determine how happy you are with the outcome.  
And for the most part experts suggest renovating with your own desires in mind. After all, you'll be the one using the bathroom day in and day out for as long as you'll be living there, whether it's for one year or 10. 
"I never design for resale," says Meret Lenzlinger, principal at Lenzlinger Architecture (formerly LOCALBrooklyn). But if the client wants to keep that in mind, "radiant floors are fabulous and heated towel racks are sweet and easy." (More on those below.) You'll be able to enjoy those features yourself too, for a win-win. 
"Buyers are certainly looking at the condition of a bathroom as it's a major renovation to do themselves," says Robert Rahmanian, co-founder of REAL New York. They appreciate updated, well-designed bathrooms and sometimes it can even be a deal-breaker in a home sale, he adds.
"In my experience the condition of at least the master bathroom is important, though sometimes buyers will live with a less than great secondary bath," says Rachel Ostow Lustbader, a broker with Warburg Realty. 
Jonathan Miller, president and CEO of real estate appraisal firm Miller Samuel, puts it this way: The bathroom and kitchen are the most costly rooms to renovate and as a result, they are significant to the overall property value. "I know it sounds a bit simplistic but a bathroom that is modern yet fits the aesthetics of a building will contribute the most value." In other words, a bathroom in a prewar apartment should, at a distance, have the appearance of prewar but be modern in functionality.
In that spirit, Brick Underground spoke to brokers, designers, and architects to find out their top recs for bathroom renovations that take both immediate enjoyment and future resale to the next level. 
1) Radiant-heat flooring
Of all the improvements mentioned, this one seems to be the one that most satisfies. 
"Radiant heated flooring is a luxurious and cost-efficient added bathroom perk," says Adam Meshberg, founder of Meshberg Group, an architecture and design firm. 
Broker Michael J. Franco of Compass Realty agrees, pointing out how low cost it is to install relative to other bathroom renovations, particularly when you are already re-tiling the floor.
It's true that prices are getting more and more affordable, says Rahmanian. Expect to spend at least $10 per square foot for the heating mat with installation being extra–a small price to pay for something that brings warmth and comfort and provides energy savings in the long run. This is because radiant heating only needs to run at half the temperature of traditional baseboard heating (85 degrees compared to 160-plus degrees) to heat up a room effectively. Plus there's no cold spots or heat losses from ducts.
Feeling the warmth underfoot is also pretty wonderful.
"The resale value alone will be worth the investment as a heated floor is very welcoming for new homeowners," he says. (For a dissenting opinion, see this Brick Underground post.) 
Though radiant heat works with pretty much any floor surface, ceramic tiles are still reputed to conduct the heat more readily than natural stone or cement (and they are much cheaper). 
2) Heated towel bars 
These hotel must-haves instantly elevate even plain bathrooms. 
"They'll not only warm up your towels but the bathroom," says Meshberg. Meaning they could pay for themselves through reduced energy costs. 
Other touted benefits include keeping your towels fresher through faster drying and doing double-duty as a drying rack for clothes. 
Sara Ianniciello, director of design at Whitehall Interiors, finds them to be an amazing luxe touch, as long as you have enough space. You don't want to "compromise the proper space needed for towel rods and robe hooks," she says. 
You can find them in a range of prices and from a variety of sources, including inexpensive plug-in models from Pottery Barrn (who knew?) and high-end warmers that integrate more seamlessly into your design and require professional installation. Some even come with extra amenities like aromatherapy (such as the Broadway Collection from Mr. Steam). 
3) Lighting
Lighting a bathroom can be tricky. Too bright is just as bad as too dim.  
"Good lighting is important because you are going to be looking at yourself," says Lenzlinger, who discredits any idea of a one-size-fits-all formula and points instead to the size and layout as being the ultimate arbiters. For example, in a tiny bathroom an overhead light might bounce the light enough that you don't need a frontal light, whereas having only a frontal light (e.g., a sconce) can be harsh. 
When using frontal lights, she suggests having at least one on each side of the mirror, rather than only one above the mirror. She also suggests putting the overhead and sconces on separate switches so you could have the sconces on when you want softer light (better for applying make-up) and the overhead when you want as much light as possible—say, when cleaning. Lenzlinger will also create mood lighting, such as putting a recessed light over the shower or tub (for reading) and have an otherwise dark bathroom. 
And if you live in a penthouse apartment or a brownstone, Lenzlinger likes to add a skylight. Putting it in the middle of a room can make the ceiling feel dark in contrast and the light has to travel across the space to the floor (often the darkest surface material) to get reflected. "If we put the skylight tight up against a wall, then the light can bounce into the space off the wall instead of the floor."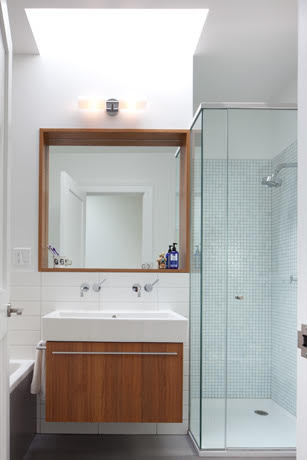 4)

Extra-large mirrored medicine cabinets

"Optimal reflectivity and storage goes a long way," says Ianniciello.

Franco counts recessed cabinets that are mirrored on the inside and out among his top recommendations. 

Of course you don't want a too-large cabinet in a tight space, but the idea is to get the biggest one that your bathroom will accommodate. 

Meshberg is a fan of utilizing LED strips around the mirror to create indirect light. "This adds another level of sophistication to your bathroom renovation."

Backlighting a mirror avoids getting shadows on your face, Lenzlinger says. Just make sure not to go too bright. "What's so confusing about LED lights is that what's called daylight is in the 5,000 Kelvins, when we think of sunlight as being very warm, but it will look blue," she cautions. (Her advice? Don't go over 3,000 Kelvins.)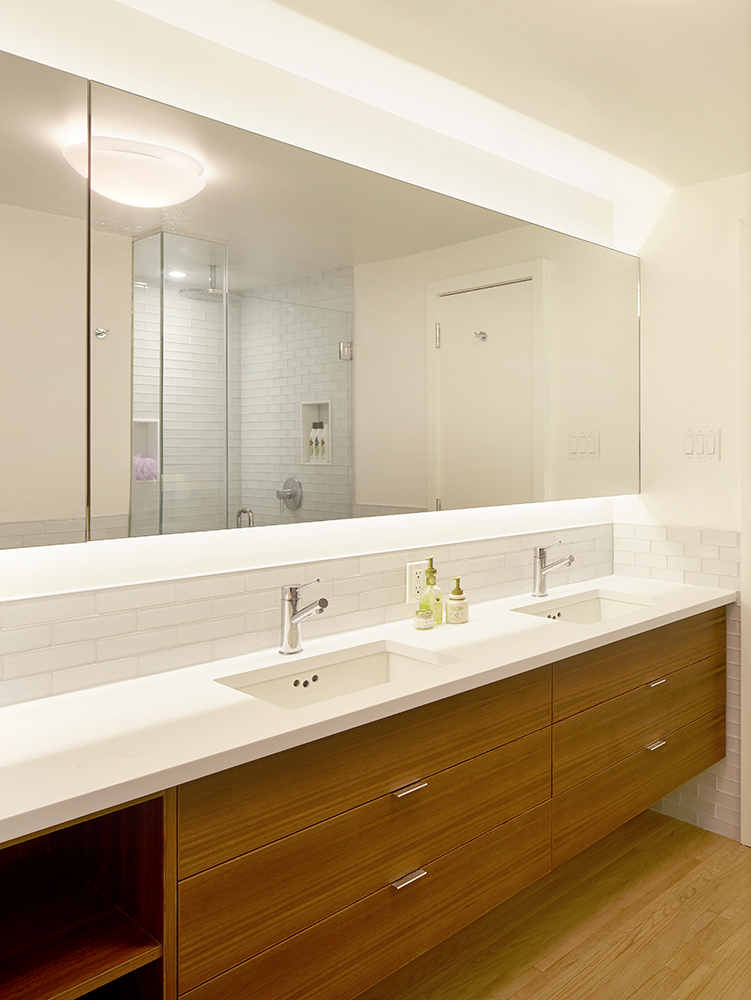 5) Custom vanity 
Contrary to what you might think, "custom" is not a watchword for architects and designers.
"Other than Ikea, store-bought vanities tend to be quite expensive," says Lenzlinger. Combine that with having to figure out ways to work in the typical small and awkward NYC bathroom and it's often worth getting a custom one made—and to have a sink that functions as the whole top (as shown in the photo with the skylight above).
Sometimes it is very custom, which was the case in a penthouse in Brooklyn where the bathroom off the husband's study featured a vanity crafted from the same walnut (actually from the same tree!) as the study's windows. As Lenzlinger describes it, the vanity is centered on the bathroom's window (seen in the mirror below), which is one of the few spots in the apartment with a view of the Manhattan skyline; the vanity also covers a radiator (you can see the grille on top of the vanity to the rear right) and provides maximum storage in a small space.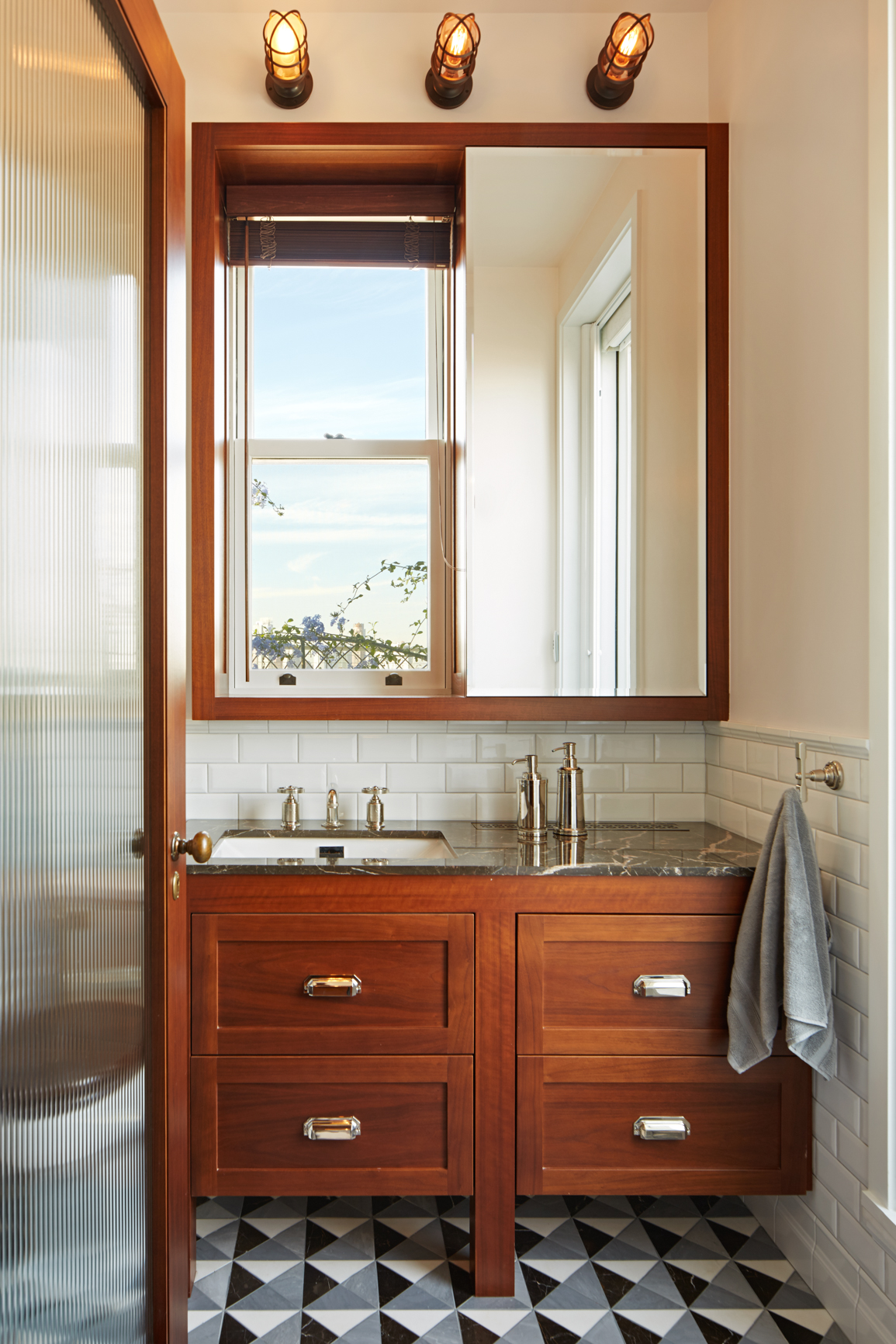 Custom or not, Franco finds double-sink vanities to be extremely appealing. "Even if you are not partnered or married you must plan for it and that person will come!"
A double sink can also make a big impact in a family bathroom. 
But not every bathroom can fit a two-sink setup, and even when it can, you may decide to forego that option.
"Maximum countertop space is always much more important and practical than double sinks," counters Ianniciello.
Bonus: Adding a filter will provide you with filtered drinking water from your bathroom faucet, says Meshberg.
6) Tiling the entire wall
Painting is of course passable but why stop there? Instead, Ianniciello recommends having floor-to-ceiling slab or tile on the vanity wall. "It will help make a bathroom look more polished than a wall that's painted or has half-height tile." 
Or go ahead and cover all the walls with the same surface as the countertop for a super sumptuous effect.
Meshberg used European Granite & Marble Group's honed Calacatta marble on all the walls of friend and fellow designer Laura Garcia's Brooklyn bathroom renovation (shown below). He also recommends faux stone porcelain tiles (such as by Porcelanosa) for "giving the look of marble but at a lower cost."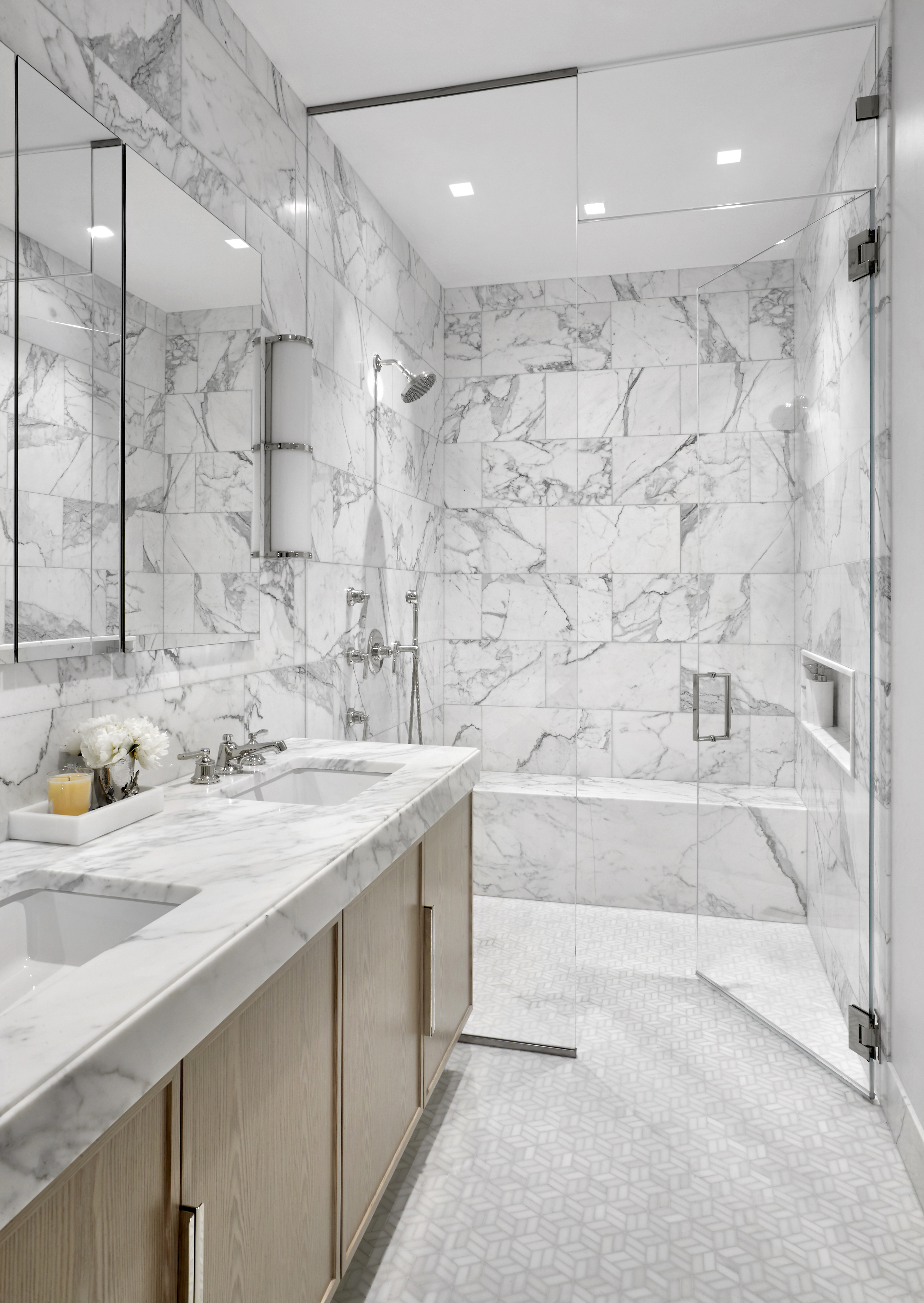 7) Walk-in shower
A glass-enclosed walk-in shower is for many the epitome of what a modern bathroom should be. Think of it as bringing the resort experience to your very own loo. 
Up the ante by making it a steam shower, something Meshberg did in the example above (using a Mr. Steam feature). 
Another popular upgrade is swapping out a standard fitting with a rainfall shower head, such as by Hansgrohe or Grohe. Some of these require alterations to the plumbing so it may not be worth installing one if you live in a co-op or condo, where any alterations to your own plumbing could open up the door to more extensive changes to the building's system.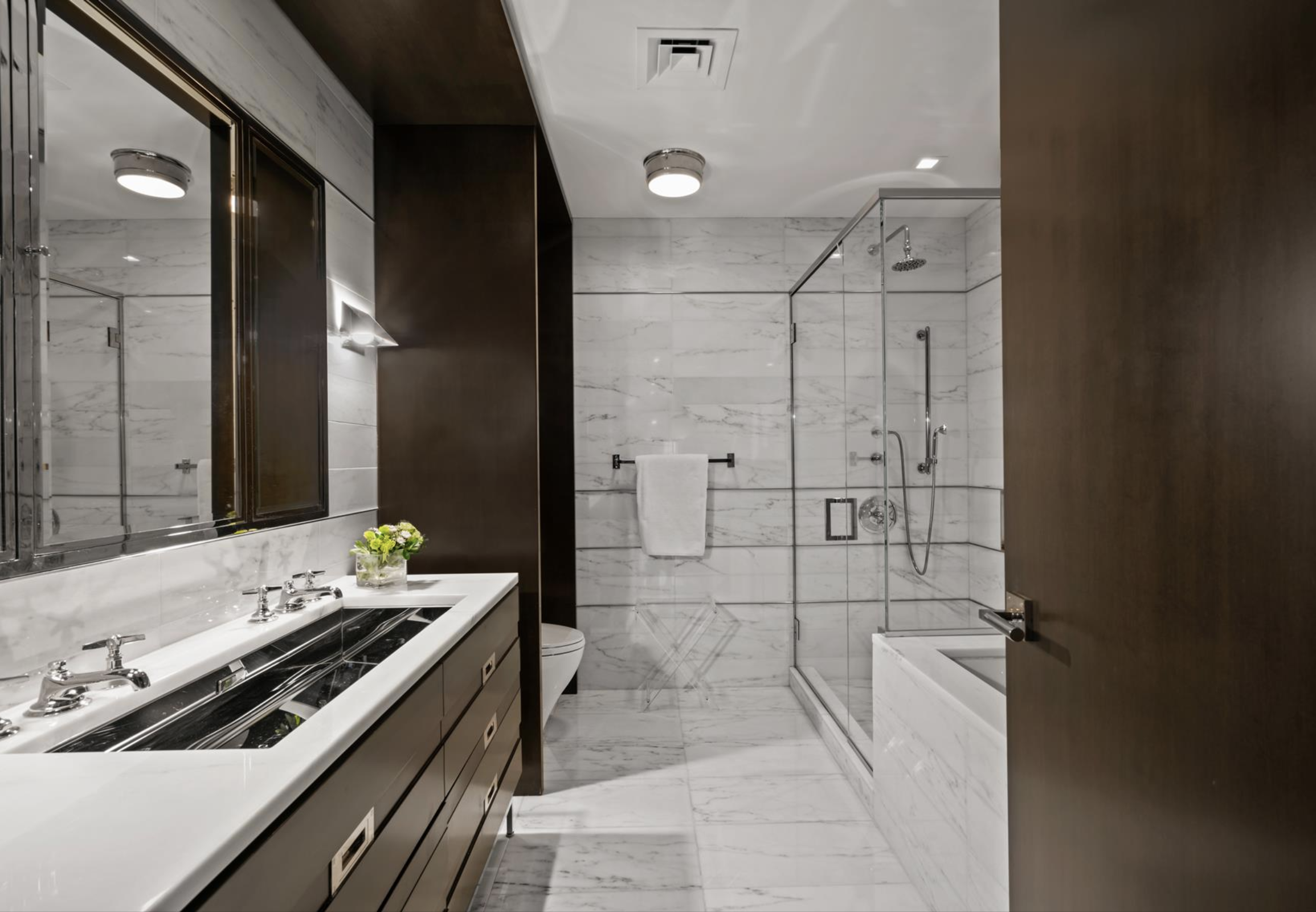 Franco suggests putting in a stall shower for two that's large enough for shower heads on each end of the shower. "Multiple shower heads are nice and luxurious."
Lustbader sees a more practical side to these features in making bathrooms more accessible. "Many adults are complaining more and more about the inconvenience and difficulty of climbing over the side of a bathtub." Sometimes this can be a necessity due to infirmity or the aging process, and sometimes it's just a matter of comfort, she adds.
Case in point: One recent buyer nixed a deal because the "beautifully renovated bathroom" had a bathtub rather than a walk-in shower. 
8) Soaking tub
Assuming you can fit a soaking tub in addition to a walk-in shower, Franco says it is definitely worth considering.
Lenzinger always advises putting in a separate tub, either in a second bathroom or in the same room as the shower when space allows—especially if you plan on having kids. 
Though not everyone takes her advice. "I had clients in a one bedroom who went with a shower only and said they would just get a bassinet for the baby," she says. 
A tub and shower combo is always an option too (see photo at top), but Lenzlinger for one is not a fan. "The tub never seems big enough to actually use." 
On the flip side, it might be the only feasible way to satisfy different folks with different strokes in a one-bedroom apartment, especially if it's a family bathroom. 
Honorary mention: The toilet
Whether it's simply too taboo or utilitarian to rank, this essential fixture was mentioned (and barely at that) by just one of those interviewed. 
It can however make or break your space—and the bank, with state-of-the-art options costing well into the five figures when they are equipped with amenities like touchless lids and heated seats and bidets. (Check out Toto's Neorest and Kohler's Intelligent series.) 
Meshberg's advice? Add an outlet near the toilet to plug in a heated seat: "It's cheaper to buy an aftermarket heated toilet seat and add it to your toilet."
If you're treating yourself (and future owners) to heated floors and towel racks, why not add this practical perk to your bathroom reno list?
Brick Underground articles occasionally include the expertise of, or information about, advertising partners when relevant to the story. We will never promote an advertiser's product without making the relationship clear to our readers.