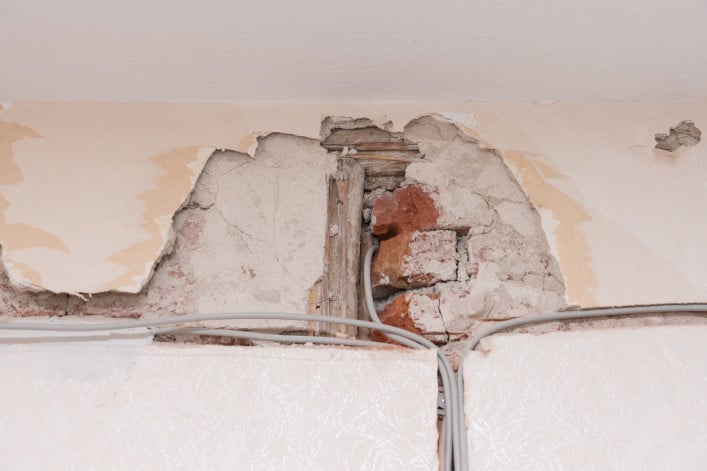 Let's say you're a buyer having trouble finding a place in New York City. Your broker tells you about a newly gut-renovated townhouse that's within your budget—but there's a catch: The place hasn't had the relevant permits filed with the Department of Buildings. Is this a way to get an upgraded place in exchange for some legwork—or should you steer clear?
In a situation like this you need to establish what work has been done and why permits haven't been filed. In some cases it's because builders are flipping a place and they don't want to deal with all the administrative issues of opening and closing permits. In theory, permits could have been opened because the work would be permissible. As a buyer, you would still be responsible for getting retroactive permits. 
In other cases, a permit could never have been issued—for example for the conversion of a cellar into a living space, because that is never allowed for safety reasons. That means as the owner you would be required to remove the illegal work.  
Another category would be work where a permit is opened but the work never received final approval. It would then come down to a negotiation between the buyer and seller how this would be dealt with and the permit closed out. 
Where builders skip the permit process
Non-permitted work is more likely to crop up in a house or townhouse. That's because co-ops and condos have lots of rules about renovations—you have to submit an alteration agreement, get a certificate of insurance, and demonstrate to the board that you've opened and closed the relevant permits. 
It's not unheard of for a super to do work in an apartment without pulling a permit, but with a single- or two-family house "the temptation is greater to do work without filing since there is no board that can notice work," says Kobi Lahav, director of sales at Living New York. 
Non-permitted work is also more common in the outer boroughs, says attorney Michael Feldman, a partner at Romer Debbas. He says builders might try to flip a townhouse by doing work without a permit and then putting it up for sale. "Now you have this pristine townhouse: Beautiful finishes, beautiful fixtures, but nothing has been permitted and the concern there is—what's behind the walls?" he asks.
Mark Martov, an agent at Corcoran who specializes in sales in Bedford-Stuyvesant and Bushwick, estimates 10 percent of renovated houses in these neighborhoods have had no permits pulled. It's no surprise there are builders that don't want to deal with the headache of pulling permits and have a fair amount of scorn for the Department of Buildings, but what does that mean for a buyer? "Most of the work is done by licensed guys who have insurance, they just don't go the extra step," Martov says.
You can bet a builder who gut renovates without permits has considered the fact that a buyer might be put off by a lack of permits. "You'd be surprised how many people buy homes [with] no permits. The market is way too hot. There's always somebody who buys it," Martov says. So don't hold out for a discount either. 
However, when it is your turn to sell the place, keep in mind that your concerns about a lack of permits will be mirrored by a potential buyer. 
Who to turn to if there's a permit problem
A broker is required to disclose any non-permitted work. Your attorney will also know if there's been a major renovation that permits would be required. 
"If you have a new renovation with no permits pulled to me that's a red flag," Feldman says.
"It's the latent problems in houses that create issues, not the things that you can see. And when you have non-permitted work you just don't know what's behind the walls and you are not going to start ripping out your brand new kitchen to find out," he says. 
As an owner, if you do any work in the future that involves a contractor, you run the risk of a Department of Buildings inspection that could unearth work that needs additional permits. "It could open up a Pandora's box when they see a townhouse renovated with no permits," Feldman says. 
What to do if you discover illegal work
It's the current owner who's legally responsible for keeping their place safe and code compliant. If you discover illegal work was performed before you became an owner, you can apply for a waiver of civil penalties. According to the Department of Buildings, even if the penalties are waived, you still need to correct the illegal conditions, which might mean getting work permits for the illegal work, or removing what's been done illegally and returning it to its prior legal condition.
The problem then is finding a licensed architect, plumber, or electrician to take ownership of someone else's work, says architect Chris Alker, who's also vice president of building operations at property management firm AKAM. 
"This can be costly as it may entail invasive inspections and retroactive filings with the city. If anything is discovered that is unsafe or not constructed to code, then work will need to be redone at the owner's expense," he says. 
Why a lack of permits can be a safety issue 
Leaks and electrical problems as a result of shoddy work are a headache—and can lead to more serious concerns about safety and even the loss of life. That's why, for example, the conversion of a cellar into living space or bedroom is never allowed. 
Another example of an illegal conversion is a house used as a single room occupancy-style dwelling, which can put residents in danger if there's a fire. That was the case with a fire in Elmhurst where three people died: The entire house was illegally subdivided into apartments with six units in the cellar alone.
"There are reasons that certain types of work requires permits: Safety for the owners and their neighbors," Lahav says.
If you're a buyer, Martov urges caution and recommends hiring an engineer, a home inspector, and an architect during your due diligence period. An inspector will check the electric panel, make sure the right wiring and breakers are installed. "I've had buyers turn up with three different inspectors," he says. 
If an alteration was made to an apartment and the permit was never filed, Lahav recommends walking away or closing "with enough escrow that if the seller doesn't deal with it after closing then you have enough cushion to deal with it yourself."
This is common practice if there are open permits. Feldman is currently working on an $13 million deal with a cash buyer who is pushing for $200,000 in escrow so the seller will be incentivized to close an open permit for an interior renovation so the deal can go ahead. 
Why the certificate of occupancy matters
One major concern if there is non-permitted work is whether there's been change in use as a result of the new construction, which affects the certificate of occupancy. 
Making changes to the layout or use of an apartment or house can result in the need for a new C of O and this is crucial if you need financing to complete your deal: If the paperwork doesn't match your plans, the bank won't approve a mortgage. A cash purchase avoids the scrutiny of a bank but the easiest solution is to hire an experienced expeditor to help speed up the paperwork. It's another situation where you may want to negotiate putting money in escrow while the problem is fixed.
As well as making sure the certificate of occupancy matches the property, your lender—if you are using one—will be looking for open permits and violations. It's these infractions that could tank your financing, not so much whether permits have been pulled at all. 
"There's no request from a bank ever [saying] please send me your electrical permit, please send me your plumbing permit, you stuccoed the exterior of the house, send us a permit," Martov says.
So in addition to making an assessment of your employment history, credit, and assets, lenders want to see that the C of O is in order, there are no other claims on the property, there are no violations or open permits, and the appraisal is in line with the sales price.
How permits can affect insurance coverage
If the work is not properly permitted, you may have to shop around to get insurance coverage. Jeff Schneider, president of Gotham Brokerage (a Brick Underground sponsor), says a bigger issue might be after a serious loss when you were looking to rebuild. "If additional costs are incurred to get permits up to date or bring standards up to code, the insurer might have grounds not to pay the additional charges," he says.
There is usually some coverage within a policy for situations like this—so if your old bathroom is destroyed and the new one must have additional accessibility requirements for example, you may be covered. However, if you know about non-permitted work that wasn't up to code, you could find yourself on the hook with the insurer paying to replace what was there prior to the renovation. 
Brick Underground articles occasionally include the expertise of, or information about, advertising partners when relevant to the story. We will never promote an advertiser's product without making the relationship clear to our readers.