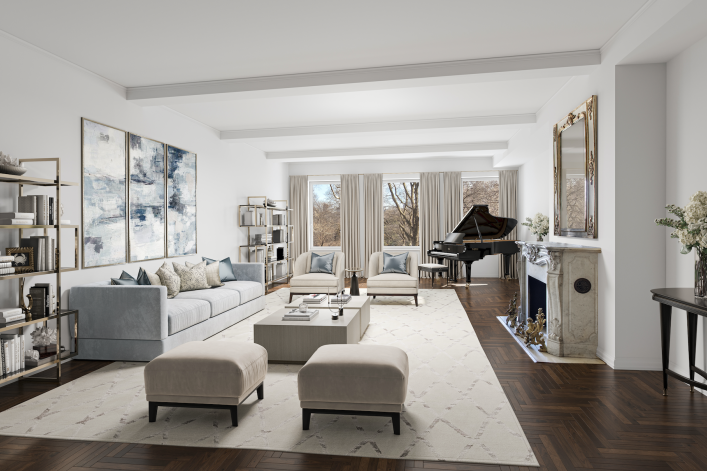 I'm selling an alcove studio on the Upper East Side and need to close before the lease begins on our rent-stabilized apartment. Getting professional listing photos done would take about two weeks. If I take photos on my iPhone, will those work?
When you sell your apartment, listing photos are the first impression you give buyers, and for the New York City sales market, high-quality images are the rule. So if you use your own photos, you'll be competing at a disadvantage. There's also no financial incentive to skimp on pictures—photography is included in the services offered by your broker. 
Even so, impatient sellers don't like to hear that it can take up to two weeks to get listing photos prepared. This timeframe depends on the level of post production used.
---
[Editor's note: A previous version of this post was published in March 2022. We are presenting it again in case you missed it.]
---
Smartphone photo capabilities are "absolutely amazing," says Michael Weinstein, photographer and owner of MW Studio, but the techniques his team uses "can get very sophisticated," he says.  
Capturing an image is only half the job of professional listing photography, says Leon Cato of Leon Cato Photography. "The final image you see is a combination of technical know-how, experience, and creative skill both behind the camera and the computer screen," he says.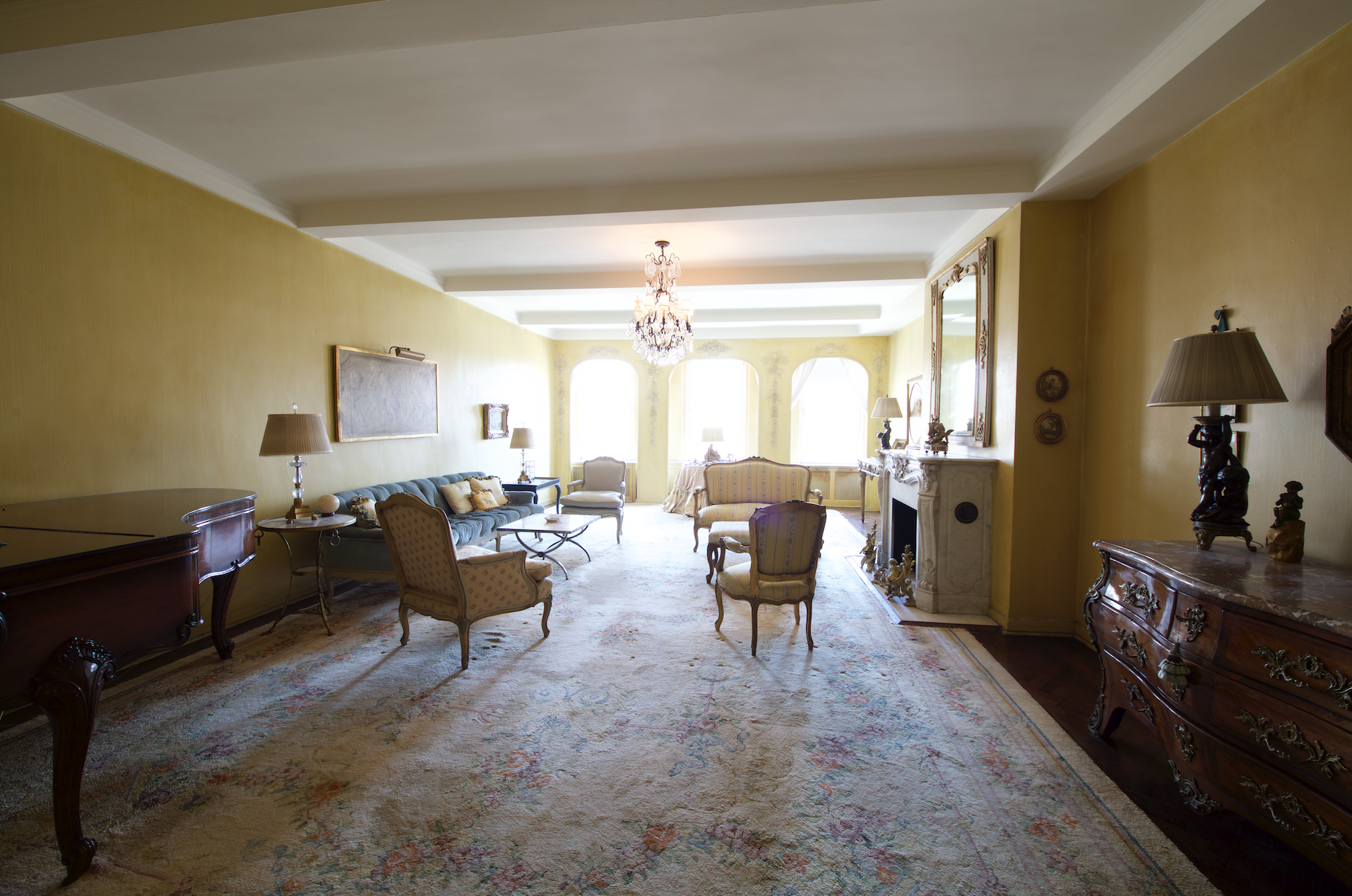 Professional photos require a layered technique
Give this a try—take a photo of your living room in daylight. Notice the shadows and how the windows become a blizzard of white. 
A professional photographer doesn't just take that one shot and move on to the kitchen. Instead they take multiple photos of the same room from a similar angle but for different purposes and with different lighting—one will be taken to show off the room, one will show off the view, and one will draw attention to the built-in storage space or the marble fireplace. 
"Sometimes we can use four or five files for the same room, so it is not a simple process," Weinstein says.
Cato shoots a minimum of three exposures for each photograph. "This captures the details in the shadows, as well as mid-tones and highlights, plus a separate exposure for the window view if necessary." 
That layered photo results in a picture that's much more appealing for a buyer. Both Cato and Weinstein do this process manually so they aren't relying on software to combine the exposures. "Manually processing each image creates a natural and realistic aesthetic," Cato says.
In the picture below, you can see the view, and the walls are bright. The room shows off the ceiling height—something that isn't achieved by the raw photo and the picture subtly highlights the period mantelpiece.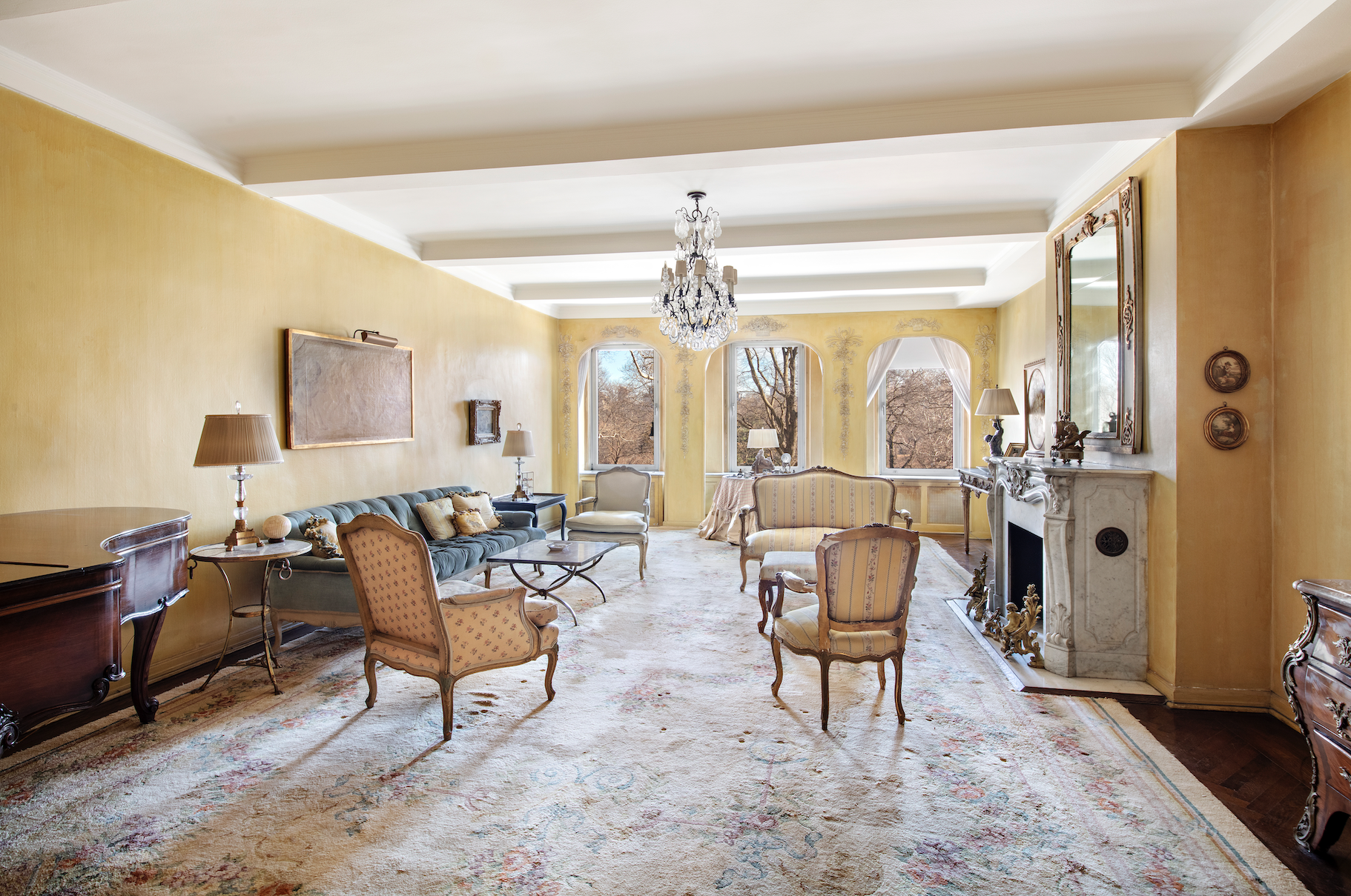 Declutter before you have photos taken
On top of the digital layering techniques, post production can include virtual decluttering or virtual staging. Weinstein says virtual staging over the past few years "is a huge advancement for real estate photography." 
His company deals with a lot of Park Avenue and Fifth Avenue estate sales with period details where the furniture shows a lot of wear and tear and often the scale of pieces is dated and doesn't fit a contemporary aesthetic. "We do a lot of [digital] removal of furniture and then, depending on the property we will virtually re-stage it," he says.
Monique Laloli is a senior retoucher at MW studio and says one of the biggest challenges is removing objects. She encourages sellers to do as much decluttering as possible before a photo session. Laloli spends up to 30 minutes on each photo, sometimes more. "The most common fixes to photos include balancing the lighting, so that details are seen—lightening shadowed areas, and brushing in overexposed areas," she says.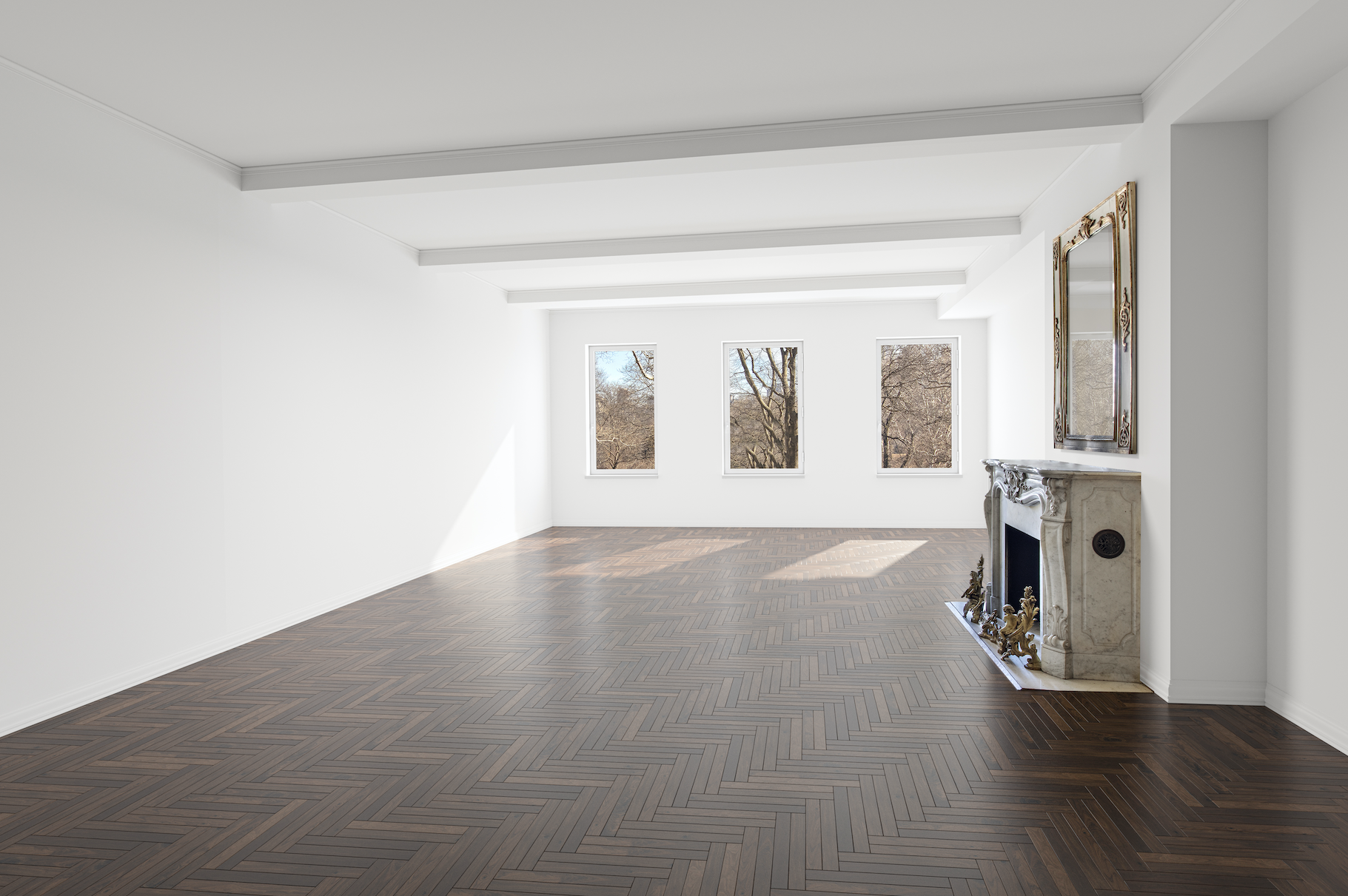 Virtual staging shows what's possible
In the photo above, the room was not just emptied of furniture but the walls made a bright white, the chandelier was removed, as was the 25-foot valance framing the windows in the living room. Laloli also recreated the flooring, covered by a rug in the original photos. She says the result is "a mixture of copy and pasting and then cloning to get it looking as natural as possible." 
In many ways the pandemic was a boom time for real estate photography—buyers had limited access to see places in person and there was a demand instead for 360-degree virtual tours and lots of virtual staging. In-person viewing is no longer restricted but professional photography is still important regardless of market conditions: In a buyer's market you want to stand out from the crowd. In a seller's market, as it is now, where inventory is low, it's just as important to "generate buzz and increase traffic," says Corcoran's Eileen Teich, the seller's agent for 101 Central Park West, #3F. 
Supply chain issues and rising construction costs are making buyers reluctant to take a chance on places that need a major renovation. In cases where the apartment needs work, Teich says, "buyers need 'vision'—it's imperative to have virtual staging on hand to show what is possible."
Virtual staging—with abstract art, clean lines and a complementary color scheme—creates a contemporary interior layered on top of that decluttered digital image of a room. (If you're buying be sure you know the difference between digital marketing material and the actual condition of the apartment before you set up your viewing).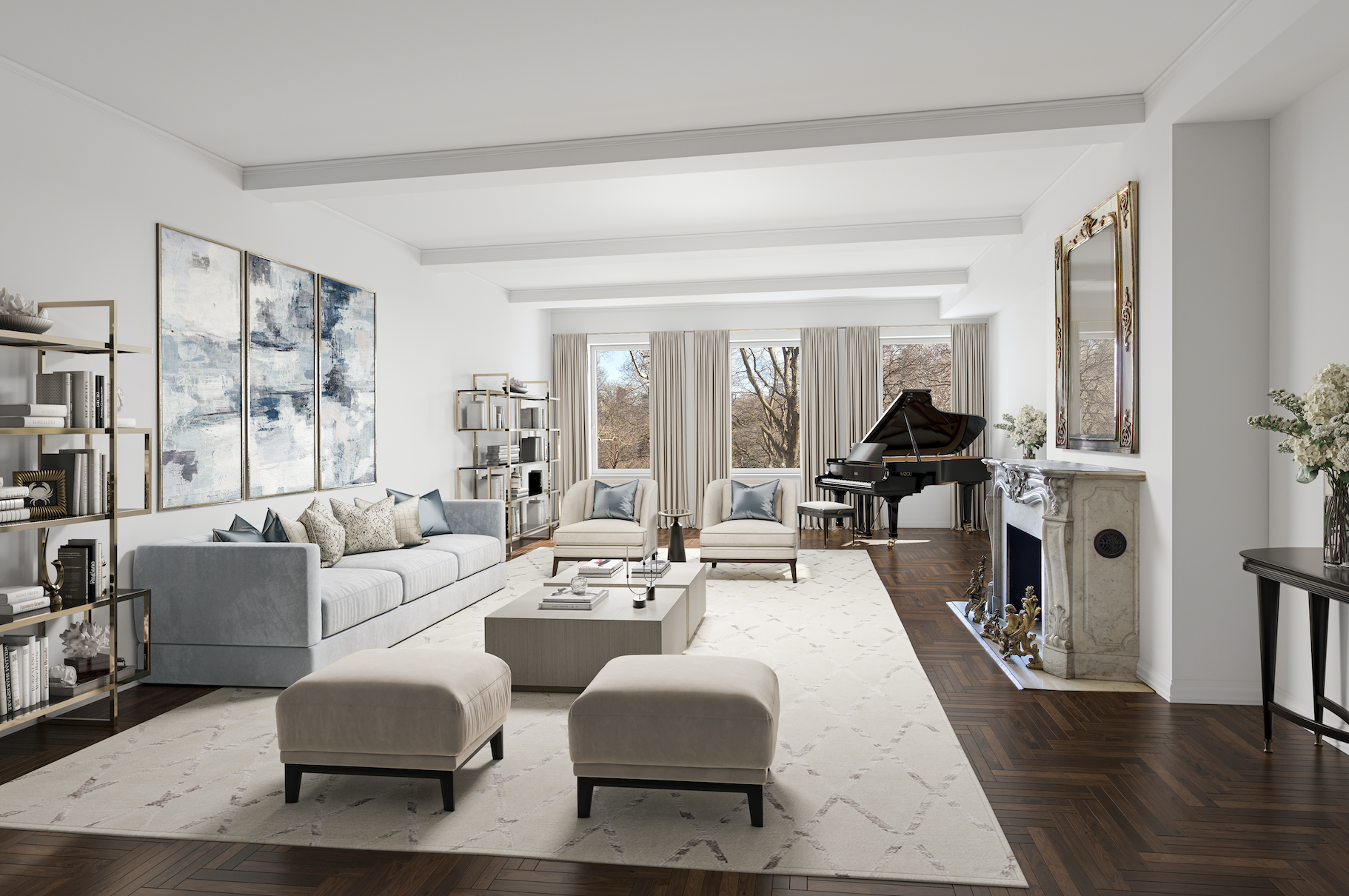 New trends in real estate photography
The past few years have ushered in other changes for professional real estate photographers: Weinstein says he's being asked to provide lots more photographs for each listing including pictures of potential office space. 
"The desk has become a key feature in an apartment," Weinstein says. He might photograph a kitchen island with a computer on it or create a work office in a corner of a room. He's also being asked to provide pictures of an apartment's washer/dryer.
"We used to never shoot washer/dryers—people could refer to the floor plan but now the washer/dryer is important," he says.
How do you make laundry machines bright and attractive? "You just take a nice clean photo—get all the detergent out of the area and take a nice picture of a washer/dryer," he says.
There's also the obvious reason not to believe you can use your own pictures and follow up later with better material: There is no additional cost to the seller. "It is part of our services and preparation for the sale of a property," Teich says.
Brick Underground articles occasionally include the expertise of, or information about, advertising partners when relevant to the story. We will never promote an advertiser's product without making the relationship clear to our readers.