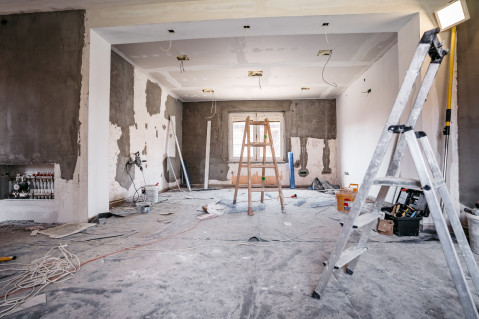 How to Renovate in New York City
How long does it take to renovate in NYC?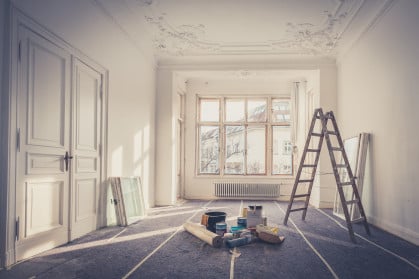 Average renovation times: Brownstones, co-ops & condos, kitchens and bathrooms, combinations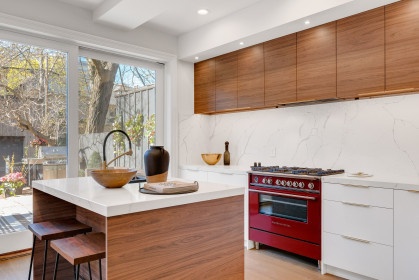 Renovation times will vary by project but there are accepted averages for brownstones versus co-ops and condos, and for one-off projects like renovating a kitchen or bathroom. Keep in mind that the active construction or "build" time--demolition, framing, plumbing, electrical work, tiling, and installing fixtures and finishes--is only one part of the nose-to-tail renovation process.
Brownstone renovation time: It's safe to say you are looking at six to eight months of active build time, with rooftop or rear extensions (such as expanding the kitchen in the back or building a structure up top) taking longer. Start to finish, most brownstone renovations require a minimum of twelve months to complete. The more changes you make to the layout—and reconfigure systems like HVAC, electrical, and plumbing—the more regulatory challenges you'll encounter, which eat up time. Roofing and structural repairs will add time too, as will obtaining any Landmark Commission approvals.
Co-op and condo renovation time: Plan on four to six months construction time (and keep in mind that many co-op and condo buildings restrict project length to 4 months, levying a daily fine on projects that take longer). Although the work is typically less involved than brownstones (no roofing or foundational concerns, for example), the added layer of approvals tends and restricted work hours tend to make up for any reduced build-phase time, such that twelve months is the average start-to-finish time.
Kitchens: Upgrading cabinets, countertops, and/or fixtures might take only a matter of weeks. But if you're completely renovating your kitchen, plan on more like ten to twelve weeks for the active build phase, and total of six months from planning to completion.
Bathrooms: The construction time for a typical reno is four to six weeks, with the total process taking about four months. This also applies to the addition of another bathroom.
Combinations: Safe to say vertical combinations will take longer than horizontal ones in terms of getting board approvals, DOB permits and inspections, and fabrication and installation of the staircase. Expect at least six months for those. But also note that some co-op boards limit combinations to one per year, so you may have to get on a waiting list. Co-op boards usually require you to combine the units within a certain time or face a penalty, in case you were planning on putting off the work for a while. Condos don't generally have those restrictions but there'll be more red tape in a condo because you have to change the declaration and also file for a new tax lot with the Department of Finance before you file a permit with the DOB. 
Renovation timeline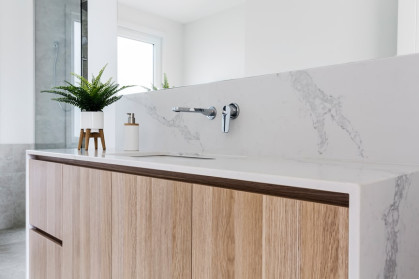 Every New York City renovation is unique and yet the underlying process is the same. Think of this as your reno roadmap:
1. First is the ever-important planning stage, where you come up with your goals and estimate costs and hire an architect, which can take days, weeks, or months depending on your motivation, scope of project, and your capacity to rebound from sticker shock.
2. Next comes the design phase, where your architect will be reviewing your property and working with you to discuss your goals and budget, and to help decide between must-haves and all the rest. You will also need to select all materials and products that will be installed.
3. Your architect will also be seeking board approvals and DOB permitting. This step can take a minimum of 2 to 4 months, longer for more complicated projects. (On average, half of a 12-month renovation will be spent in the design phase.) You will also be working together to select the products that will be installed.
If your apartment or brownstone is located within one of the city's historic districts, anticipate extra time for getting Landmark Commission approvals. Interior-only renovations can be fast-tracked within a week or so but some exterior renovations can add months to the process.
Note: Here's where hiring an architect who has experience with your specific property and project type is key in being able to negotiate with boards and the DOB in a timely manner.
4. Approvals and permits in hand, your architect can bid out the project to contractors, who will obtain the permits and procure all the materials. Nothing like work being held up because some appliance or surface doesn't arrive on time. Things have to happen in a very specific order.
5. Next is the demolition stage, requiring the implementation of protections around your worksite and any shared areas in your building that will be affected.
6. Then the build or construction phase begins—and where unplanned repairs, failed DOB plumbing and electrical inspections, and any other change orders can cause further delays.
7. Once work is completed, it's time for the final DOB inspection, contractor cleanup, and your own walk-through to address the punch list.
Common reasons for renovation delays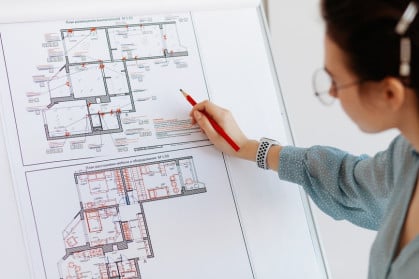 Just as with cost overruns, scheduling set-backs are practically bound to happen whether you're renovating here in New York City or elsewhere. Most experts advise adding one-third of the overall timeline to the original estimate. That means a 12 month renovation may very well take more like 15 months, and that's being conservative. 
What can cause delays?
The timing of your renovation can play a role in how long it will take, though that can be hard to control. When possible, you may want to start your approval process in the spring to avoid the winter-to-spring backlogs at the DOB.
If your board meets infrequently or takes a hiatus over the holidays or during summer, that can cause the approval process to stall, as can a rigorous review by the building's own architect, who is tasked with ensuring the work will in no way negatively compromise the entire property, not just your own unit.
When submitting plans to the DOB, your architect may discover illegal or sub-par renovations by previous owners, adding months to the front end.
During the construction phase (after demolition), the DOB will inspect plumbing and electrical work, resulting in delays if the work fails to pass muster. Your licensed plumber and electrician can opt to self-certify these inspections instead, but if the DOB fails the work on a spot check, you may have to open up the walls again––and that puts an end to future self-certification.
Custom finishes are not only more expensive, they usually have long lead times. And if they aren't delivered in a timely manner, that can hold up progress. Installation can also prove trickier for these.
Contractors and subcontractors who do not show up on time or leave early or drag their heels for whatever reason are another common culprit of slow-downs. That's why it is imperative to keep the lines of communication open and build some leverage into your contract, such as making the payment schedule contingent on meeting certain milestones and imposing penalties for work that is not finished in a timely manner.
If materials are not delivered on time and in good condition, that can obviously throw a wrench in the schedule. And so on...all the way to the end, when you may not be completely satisfied with the level of work during the final walk-through.
First-time renovation mistakes

When embarking on your first (or second, or third) NYC renovation, it helps to learn from the mistakes of your fellow first-timers. Here are nine common pitfalls to avoid.
Rushing through the planning phase such that you end up not getting the updates you desire, or immediately regretting some decision as soon as the work is done. (Hint: Avoid following the latest trends.)
Assuming you know all the board rules, even if you serve on the board. Do your homework--you and your architect should comb through your building's alteration agreement--and find out all the necessary prerequisites (asbestos removal and mandatory window replacements, for example) before you proceed.
Not asking around for architect/designer/contractor referrals, especially from your own building. Hands down, it always pays to work with someone who is familiar with the building, or at least who comes to you on solid recommendation. Check references too.
Getting only one bid or going with the lowest. You get what you pay for.
Buying materials yourself when your contractor or architect or interior designer can usually obtain them at a substantial to-the-trade discount.
Living in the apartment throughout the renovation. Besides driving up costs and posing health hazards, dealing with the mess day in and day out causes undue stress and strain and can test even the strongest of relationships.
Skimping and splurging in the wrong places. It's not worth having Calacatta Gold marble in the bathroom if that precludes you from fixing an awkward layout. Likewise, it may not be worth spending the majority of your budget on top-of-the-line kitchen appliances when you don't cook, or when that means getting lesser quality countertops or cabinetry.
Thinking you know your apartment better than the contractor. No amount of HGTV or YouTube videos will make you more of an expert than a seasoned pro. It's fine to question certain decisions and then do independent research, but in the end it's probably worth trusting their judgment (at least unless you find evidence not to)—especially if you avoided mistake #3.
Deciding not to fix existing problems as they arise. It's easy to become overwhelmed by all the decisions and expenditures during a lengthy renovation. Hoping that certain things that could create bigger problems down the road (like the presence of water damage or shoddy subflooring) will just go away isn't the answer. Face these repairs head on and be prepared to forego something that's non-essential elsewhere to stay on budget.