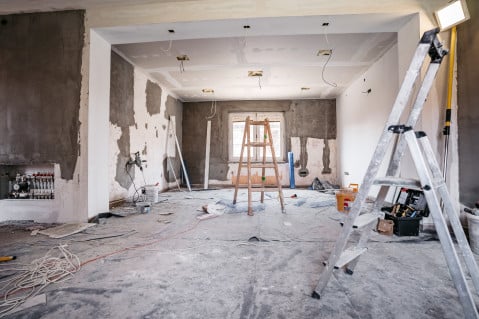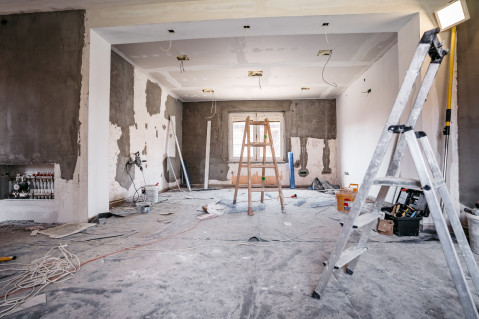 How to Renovate in New York City
Hiring the right renovation team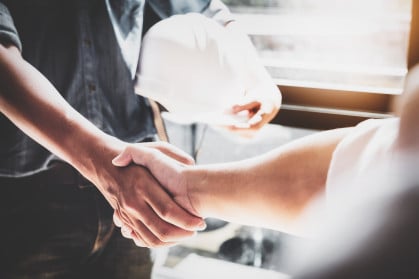 Do you need an architect and/or an interior designer, as well as a contractor? What's a design-build firm?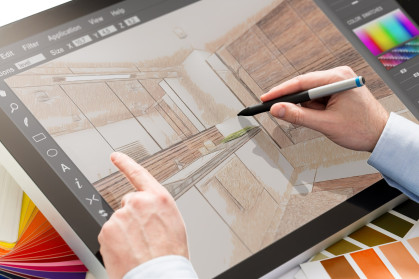 Hiring the right team for your NYC renovation is essential. Which professionals you enlist, and whether you go with an architect plus contractor or a one-stop design-build firm, depends on the type and scope of your project and your own comfort level with the whole ordeal. To get you started, it helps to know what each pro does, when you will need them, and what/how they charge.
Architects
If you are embarking on an extensive renovation, such as changing the layout or structure of a property, you may have no choice but to hire an architect (or engineer) to draw up and submit the plans. Even when that is not the case, a skilled architect can maximize the functionality and aesthetics of the space by applying universal design principles.
Generally speaking, an architect provides design and construction services including:
consultation and evaluation
planning and preliminary studies
drawing and submitting designs
administrating construction contracts
managing contractors/subcontractors
Other potential benefits of hiring an architect include:
Creative problem-solving: Whatever your need or desire––an open kitchen or a home office––an architect can provide you with design alternatives that you may never have thought of (or dreamed of). They can also maximize every square inch of your tiny New York City bathroom or kitchen--practically worth its weight in gold.
Built-in connections: Rather than having to find a contractor and other professionals on your own, an architect will have established contacts and can suggest the best people to hire for your particular project.  They will, in theory, also have leverage over them too--in the form of repeat referral business--should something on your project go awry.
Extensive sourcing: Architects have relationships with manufacturers and distributors of surfaces (stone and tile and flooring), granting you access to a wider variety of options than you could find on your own––and at a discounted price.
Smoothing out the process: Besides knowing how to navigate the Department of Buildings permitting process, an architect can monitor the construction phase to make sure the work is being done correctly and according to plan (before it is too late), and to keep the project on schedule.
You must hire an architect for any project requiring a buildings permit, such as:
gutting an entire apartment or brownstone
gutting the kitchen and/or bathroom(s)
adding a bathroom
making structural and layout changes (such as opening the kitchen)
combining two apartments
moving plumbing or gas lines
making electrical upgrades
adding an extension to a brownstone/townhome or penthouse apartment
doing any kind of interior or exterior work in a landmarked residence
You may want an architect and/or designer is for improved results and professional oversight if you are:
replacing finishes such as kitchen cabinets, countertops, and backsplashes
updating kitchen appliances (but not changing plumbing or gas lines)
swapping out bathroom fixtures
replacing or refinishing floors
upgrading lighting
adding architectural details such as crown molding or wainscotting
painting and wallpapering.
Some renovators on a limited budget will hire an architect to draw up designs and then work directly with the contractor on the rest. Not all architects are on board with this practice however because they will not be able to monitor how their designs are implemented, and their reputation will still be at stake.
Interior designers
Contrary to popular opinion, interior designers are not merely decorators but are trained to visualize a space in terms of both function and aesthetics and can be the lead in a smaller scale renovation, in lieu of an architect (when DOB permitting is not required).
For more extensive renovations where an architect is required, whether you need both of these professionals depends on your architect's willingness to handle the A to Z of designing the interior. Some do but many (most) do not.
In the case of a major gut renovation, for example, there's something to be said for paying architects for their particular skill set (creating the spatial design and structure) and interior designers for theirs (creating a cohesive aesthetic within that structure). Wisdom has it that a collaboration of the two will produce the greatest pay-off. An interior designer will also be there after the reno work is finished in tending to all the finishing touches.
Other potential benefits of hiring an interior designer include:
Sourcing: Similar to architects, interior designers will have access to a much greater supply base of "to the trade" materials, and at a discount. This applies to surfaces (countertops and backsplashes), lighting, textiles, furnishings, and accessories––the whole gamut. Plus they can get samples to test out in real time and can use their connections to smooth out any hiccups.
Choosing: There are countless decisions to make in any renovation and a designer can help you hone in on the selections (paint colors, faucets, etc.) that match your goals, saving you much time and energy in the process.
Understanding value: Designers know what's selling and what's not, and while you may not be planning a move for a while, it can be helpful to have someone on your team with that kind of input.
Design-build firms
As the name implies, a design-build firm is a one-stop shop for architects as well as contractors and specialists, with the goal of providing a more efficient experience for everyone involved. Some design-build firms handle all types of renovations while others specialize in kitchens and bathrooms.
One key advantage of working with a design-build firm is that instead of contracting with an architect and a contractor separately (even if the architect brings the contractor on board), you will just have to manage the one contractual relationship––and skip the contractor bidding process. On the flip side, they could end up working in cahoots to their ultimate benefit, not yours, so here as always, be sure to do a thorough reference check including clients whose projects have withstood the test of time.
Other potential benefits of hiring a design-build firm:
Streamlined process: Everything is handled in house, from start to finish, reducing the risks of the usual communication and scheduling snafus.
Inherent collaboration: You'll have a project team that routinely works together and, as a single source of responsibility, be incentivized to finish on time and to your satisfaction.
Cost savings: You may be able to save money working with a design-build firm. Compare bids to find out.
Pro Tip:
With more than 50,000 square feet renovated in NYC, Bolster understands how to guide New Yorkers through any renovation challenge, from navigating Landmarks to recreating pre-war details, and gives them full visibility into project milestones. "Bolster is the only renovation firm to offer a fixed-price cost up-front. Once we perform due diligence and verify the existing conditions of your property, we absorb unforeseen project costs," says Bolster's CEO and co-founder Anna Karp. Ready to start your renovation? Learn more >>
Contractors
Unlike when you're repairing or replacing a few fixtures or refreshing the paint and flooring and can rely on a competent handyperson, a licensed general contractor (aka GC) has the expertise to oversee an entire renovation project.
Contractors work with architects to implement the design plans or can devise their own when an architect is not warranted (such as when not opening up any walls or changing the layout).
Contractors obtain the DOB permits generated by the design plans; they can also self-certify final inspections.
Having this point person is critical in creating the build or construction schedule and then procuring the materials and finishes and overseeing the necessary subcontractors (plumbers, electricians, countertop fabricators, etc.). Things have to happen in a sequence and an experienced contractor knows how to make that happen.
How (and how much) do NYC designers, architects, contractors and design-build firms charge for their services?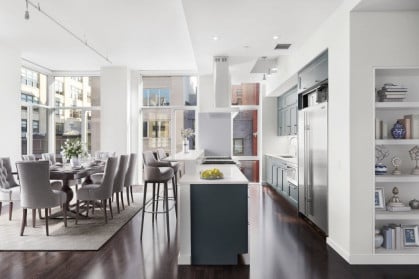 Here's what to expect in terms of fees and fee structures when you hire a designer, architect, contractor or design/build firm for your New York City renovation. 
Architects: The two most common payment structures are a fixed fee or a percentage of your overall construction costs. Some architects charge by the hour, or a combination of these options. No matter the payment structure, be prepared for a sliding scale, with more prestigious firms charging as much as double that of less established ones.
A fixed fee is often based on the total square footage subject to renovation. This might be the preferred option when the scope of the work is clearly defined, such as adding a bathroom or opening up a kitchen. For more extensive renovations, the fee is typically based on a percentage of total construction costs (based on the accepted bid), with 15 to 25 percent being the norm in NYC. It's important to nail down whether materials are included or will be extra. Some firms keep these separate (called "cost-plus"), others bake them in.
Some architects choose to stick to an hourly fee for all or part of a renovation, $100 to $250 on average in NYC. Others may charge on an hourly basis for very specific work like moving a gas line or for work that exceeds the scope of a larger renovation (such as dealing with DOB permits instead of hiring an expeditor). It's also common for an architect to charge an hourly rate in the beginning while figuring out what the project will entail before shifting to a fixed-fee or percentage arrangement.
Some combination of the above might also be the case. For example, an architect might charge a fixed fee for drawing up plans and meeting co-op/condo board requirements for asbestos testing and charge an hourly rate for obtaining permits and sourcing materials, tacking on a markup for those (or passing on part or all of their trade discount).
Whatever the case, you and your architect should work together to come up with a suitable structure. Always ask for a detailed explanation and make sure you understand what's included and what's not. For example, if "fixtures and finishes" is line-itemed in a fixed-fee situation, clarify what those actually are.
The initial proposal is a starting point and an invitation to revisit your wish list and look for opportunities to scale back. In general, however, a firm is probably not going to budge on the fee by more than 5 percent. And the more well-defined you can be about your project, the better position you will be in when negotiating fees.
Pro Tip:
With more than 50,000 square feet renovated in NYC, Bolster understands how to guide New Yorkers through any renovation challenge, from navigating Landmarks to recreating pre-war details, and gives them full visibility into project milestones. "Bolster is the only renovation firm to offer a fixed-price cost up-front. Once we perform due diligence and verify the existing conditions of your property, we absorb unforeseen project costs," says Bolster's CEO and co-founder Anna Karp. Ready to start your renovation? Learn more >>
Interior designers: How and what designers charge also varies but there are some discernible trends, with some combination of the following:
Most NYC designers will charge a fixed fee for design and consultation as well as on-site project management based on square footage (anywhere from $10 to $100)
If they are choosing the materials, expect to pay a percentage markup of those (with 10 percent being common practice)
There might also be separate hourly or project fees for other services such as contract administration and installation.
Design-build firms: Because part of the ethos is transparency in pricing, most of these full-service companies provide detailed pricing information on their websites. Pricing is typically based on square footage, with $200 to $400 per square foot as the median baseline. This soup-to-nuts fee includes architectural designs, all third-party services, and total build costs (including materials).
Contractors: A traditional bid is based on a fixed-price rate though in rare occasions (for smaller jobs or ones where the scope is still undefined) they may charge for time plus materials using an hourly rate. In a fixed-price arrangement, a contractor will charge 10 to 30 percent of the total project cost, inclusive of labor and materials. Day rates can often crop up should the job go well beyond the projected timeline (through no fault of theirs), starting around $400, plus $150 on up for each worker. Hourly rates also range anywhere from $35 to $100 depending on experience and the work being done
Other renovation specialists you may need—or want—to hire
Besides having an architect, contractor, and or interior designer on your renovation team, your project will call for a fuller cast of professionals––engineers, plumbers, electricians, for example––to get the job done. Your architect and/or contractor will likely have a short list of at least some of the specialists in their arsenal, but it helps to know who else might be involved (and where your money is being spent).
Structural engineer: An engineer has the ultimate responsibility of making sure your apartment or townhouse is structurally sound from top to bottom by ensuring the architect's plans can be done safely and comply with code. In a co-op or condo that typically means you will need an engineer when removing a wall (in case it is load bearing) or even modifying doors and windows; same for installing central air conditioning in a prewar apartment. An engineer will also be essential when combining two apartments, and especially when creating a duplex. Structural issues come up much more frequently in brownstone/townhome renovations where roofing, foundational concerns, and multiple floors  are at play. Any additions to the top or the back will also require an engineer.
HVAC technician: If you are installing or upgrading your heating or cooling systems, you'll need one of these pros to do the work. A renovation is a good time to consider updating to energy-efficient systems and/or to create zoning for more even temperature and also cost savings.
Renewable energy experts: If you are considering switching to solar for your electricity, doing so during a renovation will ensure you can make the most of the investment. Though traditionally designed for pitched roofs, NYC-based companies have created solar canopies and other workarounds for flat roofs and water towers and other common (and previously prohibitive) structural issues.
Smart home specialist: Incorporating smart home technology in NYC renovations is becoming increasingly common for the improved convenience and sustainability that these features offer. Many architects and designers recommend lighting, window shades, and thermostat controls as basic smart home investments, though smart faucets and appliances and of course audio-video are other options. (In fact, many former audiovisual companies have transformed into full-service smart technology providers.)
Lighting specialist: It's easy to underestimate the importance of lighting, but architects and designers consistently rank it at the top of any home-renovation checklist. It's not just a matter of having enough light but the right kind and balance of light in any given room. There's also the need to strike a balance between ambient, or general, lighting (think recessed lights) and accent or task lighting, such as what might spotlight a focal feature in a room or help make a room more functional, such as having pendants over a kitchen island. Many architects and designers are adept at doing this on their own, while others will hire a lighting specialist, who will arguably be on top of the latest tools and techniques, to spec out the space.
Home security installer: These days there are plenty of DIY wireless security systems––complete with motion sensors, video doorbells, Wi-Fi-enabled door locks, and even smart light switches–– that do not require any installation (the keypad is mounted to the wall with adhesives or screws). But if you want something that's more elaborate (say, with CCTV surveillance cameras), or if you prefer to leave it to the experts, you may want to have a traditional company create a site-specific system, many of which are now also wireless. You may also feel better about having the 24/7 monitoring done by a local operation.
Facade restoration specialist: Brownstones are subject to cracking and other signs of wear and tear, and will require maintenance and possible extensive repairs over time. That's where an exterior architect can help (not all architects go beyond interiors) and certainly a specialist must do the actual work. This is particularly so if the building is in a historic district and must (usually) be restored to its original appearance.
Window and door professional: Landmarked homes will also need to comply with strict requirements when replacing/upgrading any visible windows and exterior doors, so your architect may enlist the services of specialists to ensure the best results.
Landscape architect: If you have a brownstone or penthouse apartment, you may want to enlist the services of this expert in creating a top-notch garden, in case this falls outside your own area of expertise or comfort level. You can even hire one to design the plans and purchase the plants (at a discount), and then do the rest yourself––or hire a more affordable gardener to do that for you. (Plants are expensive, so it pays to get the right ones and in the right spots.)
How to find the best architect, designer, contractor and/or design/build firm for your NYC renovation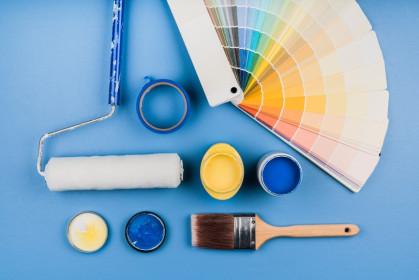 Finding reputable professionals, be they architects, designers, contractors, or design-build firms, is a critical first step in any NYC renovation. Do your homework and ask the right questions. Ultimately, it's important to find people that you trust and actually enjoy working with.
Get recommendations
Start by canvassing your network, as word of mouth is usually the best route to success.
Check with your condo/co-op board and super to see if they have any recommendations for people with experience in the building (this can also be helpful in ruling out anyone).
If you are in a brownstone or townhome, find out who did any recent renovations you like––either ask the homeowner or check the DOB's Buildings Information System online search portal (or go directly to the Building on My Block site). 
You can find member professionals through the Landmarks Conservancy, including architects and general contractors and exterior facade restoration (and you can hire them even if you are not in a historic district).
Ask friends, colleagues, relatives, neighbors, and anyone else whose opinion you trust. Real estate agents can also be good resources
Ask these questions before hiring anyone
Once you've come up with a list of potential candidates, call them up and ask if they're interested in your particular project. Describe what you are aiming for and the desired time frame. If the answer is yes, ask them to send you their qualifications and relevant experience. Based on this initial inquiry, you should be able to narrow the field to two or three candidates at most.  (You should also screen an architect, contractor or designer by their website; if it seems outdated or the aesthetic doesn't match yours, that's a big red flag.)
Pro Tip:
With more than 50,000 square feet renovated in NYC, Bolster understands how to guide New Yorkers through any renovation challenge, from navigating Landmarks to recreating pre-war details, and gives them full visibility into project milestones. "Bolster is the only renovation firm to offer a fixed-price cost up-front. Once we perform due diligence and verify the existing conditions of your property, we absorb unforeseen project costs," says Bolster's CEO and co-founder Anna Karp. Ready to start your renovation? Learn more >>
Even if some information is provided on their website, call them up and ask the questions below. You can discern a lot from having the question answered in real time.
How long have you been in business? The answer is not meant to rule out less experienced candidates but to give you some context. Upstarts may devote extra time and energy to your project to help burnish their reputation. It's just one piece of the puzzle.
Where do you do most of your work? Do they only dabble with high-end projects within the five boroughs? Do they focus mostly on the Hamptons or Miami?
How many projects have you completed in [your particular borough]? NYC is by no means an equal playing field. Someone who works exclusively/primarily in a Queens co-op might not be a good fit for a Brooklyn brownstone reno, as different types of properties are prone to different issues and also have unique features (plus just knowing the ins and outs of parking and also what's being done in similar nearby properties will be a boon to your project). Same for someone who mostly works in Upper East Side penthouses as opposed to Tribeca lofts.
What percentage of your work is for individual homeowners as opposed to new developments or non-residential properties? Many pros focus on one or the other.
How many projects like mine have you completed? Be specific in your wants and needs. If you are in a brownstone/townhouse, ask to make sure they have experience in that type of property (and vice versa for co-ops/condos).
How many projects do you take on at any given time? There's no right or wrong answer here, but even asking this question can trigger some enlightening responses. What you are gunning for is some indication that your project will hold just as much priority as the others.
How many projects do you have lined up for the next six/twelve months? Based on the answer to the above question, this can be an indicator of whether or not they can truly take on your renovation.
Who will actually be handling the job? If you hear lots of "we" that can indicate the architect or contractor will be delegating the work. The ideal answer to this question is "me" (including when interviewing the contractor at a design-build firm).
What are your typical work hours? Find out specific start and stop times, keeping your own building's limits in mind. Also ask about breaks for workers throughout the day.
What do your services include? For an architect, you want to make sure it's not limited to just the design phase unless you are okay with that. For example, once they submit the plans to the DOB, will they be responsible for steering them through the review process? Once the contractor is in place, will the architect manage the project? This is a critical question to put to an interior designer too, as you may expect that person to take the management lead in lieu of an architect.
What role will you play in choosing/procuring the fixtures and finishes? You can never assume that an architect will handle these critical tasks. If you sense any hesitation, ask to walk through a "typical" kitchen renovation where you go through all the different selections (countertops, appliances, etc). Same for an interior designer.
How do you typically charge for this type of work? See How (and how much) do NYC designers, architects, contractors and design-build firms charge? for what to expect.
Do you include materials in your base cost or will they be extra?
How do you prefer to communicate with clients once work begins? Find out the mode (phone call/email/text/in person) and also the frequency.
Do you schedule regular meetings with clients throughout the renovation? These can be weekly or biweekly, or maybe it fluctuates during the different phases. But some form of routine face-to-face is warranted.
How do you bill clients? It's helpful to know if they do this by email or snail mail and what are the terms, as in payment expected within 10 days or upon receipt.
What types of payment do you accept? It's helpful to pay by credit card for tracking purposes and if you are able to build up reward points.
What is your track record with staying on schedule? Watch out for answers like "impeccable." That just isn't the reality. Honesty here goes a long way toward establishing trust.
What happens if the job goes over budget? Ditto. "In all my years that's never happened" is NOT an answer. Renovations pretty much always go over budget, so acknowledging that is also part of the screening.
What are some problems that have cropped up in previous renovations? How did you resolve them? Again, creating the opportunity for more open-ended answers can be enlightening. What you want to hear is (a) XYZ problems happened that (b) weren't always someone else's fault and (c) were resolved by taking these steps to minimize the impact for the client. If they insist no problems ever happen, scratch them off your list.
If at any time you don't fully understand the answer or find it lacking, dig deeper.  Besides testing their patience and explanatory abilities, you'll be signaling a no-holds-barred attitude. And if they aren't comfortable with that give-and-take, better to find out before you sign any contract.
If after asking all the above (and your own inquiries) you still aren't satisfied, consider crossing this professional off your list. That's a clue as to how that person or firm will communicate throughout.
How to check a contractor's references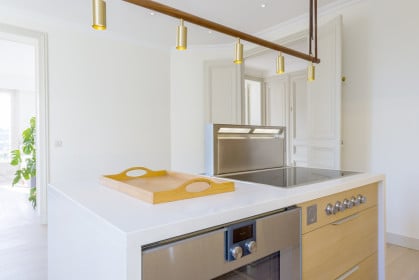 As you compare bids from contractors (more on that below), get references for any that you like. Always ask a prospective contractor for a minimum of three former clients, preferably within the past two or three years; some experts suggest calling on the three most recent projects.
Renovations from long ago may not be true indicators of present work product (maybe a prospective contractor was just starting out and eager to please back then). Realize too that while negative references are unlikely to be provided,  you can still glean a lot from asking the right questions, most of which can be adapted when checking references for an architect or designer.  Ask the questions below (adjusting as necessary if you're checking references on an architect):
1.  What kind of property did you renovate?
It's always better if a reference renovated a property that's similar to yours––whether that's a two bedroom in a co-op or condo versus a single-family brownstone. Even if not, you can get an idea of the general progression of the project. But if none of the references seem to match up, you should go back and specify this request or drop this contractor from your list.
2. What kind of renovation did you do? 
Similar to above, you'll want to find out specifically what the scope of the project was to see if it aligns with yours. Did they simply have the walls skim coated and painted? Did they update the kitchen or do a gut renovation of that space? Or was it a more thorough gut renovation of the entire condo or co-op?
3. Why did you choose this particular contractor?
Knowing why this contractor was hired in the first place, which might include an excellent reputation or being able to complete on time and on budget, can be informative. Perhaps the contractor was recommended by the co-op board based on past experience in the building. If the connection is mostly familial, that might be a red flag.
4. How long did it take? Did the project finish on time?
You'll want a contractor who stays on task, on schedule, and gets in and out. Remember that the more time it takes, the more money it costs.
That said, the "twice as long" rule of renovation can rear its ugly head in even the best of circumstances, so if it didn't finish on time, probe deeper to find out why. If the workers took too many breaks and long lunches, or if the contractor wasn't as hands-on as they would have liked, then that is certainly cause for concern. You need to know the bad habits and idiosyncrasies before you sign on the dotted line, so at the very least you can stay on top of them.
But if the culprit was beyond anyone's control and the contractor had no reason to anticipate it (whether faulty wiring or a record-breaking snowstorm), then you can weigh this in light of the other two references to determine if there is a pattern of coming in way late.
5. Did the final cost match the original bid?
If the answer to this question is "it cost twice as much," that's a huge red flag, especially if all three references had a similar response. That could be standard practice for this contractor and you should not expect to be an exception. Either the contractor has a habit of low-balling the pricing to get the job, or they aren't experienced enough to factor in what could potentially happen, or they are simply inefficient. 
So long as the scope of the project doesn't change, it should come in as close to budget as possible.
6. How did the contractor communicate with you? Did you feel like there was a good rapport?
You want to discover the means as well as the frequency of communication, whether it was a daily or weekly email summary or a more spotty text or phone call. The tenor is also important, as in, was the person responsive and open to what you had to say? Or rushed and dismissive?
Also worth asking is whether they lived there during the renovation or relocated for all or part of the time. If it was the latter, how did they monitor the work? Did they arrange for weekly site visits? Was the contractor open to that?
7. Did the renovation go as expected?
No project is without flaws or the unexpected, but knowing that others have had a relatively drama-free experience with their contractor may seal the deal on your decision.
A "not really" answer is not necessarily a dealbreaker and could in fact be a plus if it turns out the contractor was able to finesse some situation with more than satisfactory results. Twists and turns are bound to happen and it's how the person navigates those that matters in the end.
8. Are you happy with the result?
Don't commit to any contractor whose clients didn't love the finished product. If there is even the slightest hesitation, that's your cue to go elsewhere.
9. Was there anything you did you not like about your contractor?
Perhaps he took too many smoke breaks, long lunches, or maybe he wasn't as hands-on as they would have liked, stopping by the job site only weekly.
You need to know the bad habits and idiosyncrasies before you sign on the dotted line, so at the very least you can stay on top of them. Your relationship with your contractor will feel like a marriage for the duration of the project.
10. How did the work hold up over time? How did the contractor respond to any subsequent problems?
Don't commit to any contractor whose work did not stand the test of time (same for your haircut and color!). What's more, if a contractor was the least bit hesitant to return and resolve any outstanding issues, strike this business off your list.
11. Would you hire the contractor again?
This is the most obvious and important question. If someone wouldn't hire again, you shouldn't hire for the first time.
Besides clients, you may want to ask for subcontractors and supplier references as well to make sure they are paying them appropriately (and actually doing the kind of work they say they are).
Along with checking references, be sure to  verify the credentials of all candidates:
How to get and understand renovation bids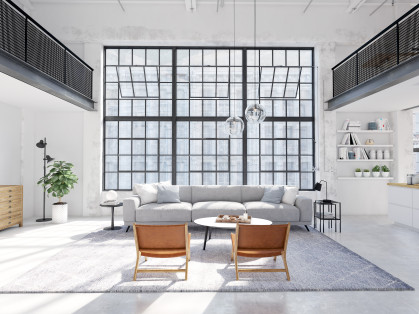 Before you hire a contractor, you'll need to solicit a few bids so you can decide between businesses––be wary of any that are too high or (worse) too low. The surest way to get accurate bids is to prepare a detailed project brief that clearly outlines your objectives, preferred timeline, deliverables, and total budget. (Keep in mind: The bid is just one part of the equation. References and the outcome of your Q and A are also key factors to consider.)
Preparing the brief
Your architect will typically provide a detailed explanation of your project––complete with drawings, materials lists, and product names—to avoid having wildly divergent bids (and too many change orders down the line). This exercise also signals your commitment to the project and provides a convenient guide for interviewing candidates and doing a walk-through of your space.
Include basic information such as your name, address, the type of property, the desired start (and end) date, and your total budget.
Include a budget range for your materials to guard against scope creep, not just to keep the contractor (and designer) in check but in case you end up falling for fancier stuff once the work has begun. If your total budget is $500,000, for example, your budget range for materials might be $100,000.
Create a material sheet for each room or space you want to remodel, including appliances, lighting, cabinetry, surfaces (countertops and backsplashes), flooring, sinks, and any other components you plan to add during the renovation. (You'll need to do this eventually or your contractor will—and you'll be handing over some control of the details.)
Reference the actual fixtures and fittings that you have in mind, whether by including tear sheets or product catalogs (print or online) or links to your Pinterest boards.
Items in the material sheet can look like this: "guest bathroom 1x Kohler faucet @ $600 (with visual), 1 x Grohe rainfall showerhead @ $750 (with visual)," and so on. Even if you haven't yet picked out the precise make and model, at least find a good representative of the quality and price range (and then update this document when you land on the final picks).
Put together a binder of blueprints, floor plans, photographs, and any relevant drawings that show your space and the work you want done. (Or create a digital folder that you can share, understanding that not all contractors will be equally tech savvy––though that in itself might be a prerequisite for you.) 
Annotate the floor plan, writing down and describing every single task you want done in each room. Use an active voice; for example, "remove existing light fixture," "install a washer/dryer." "upgrade windows." Name the rooms too—"master bedroom," "home office"—to make it easier to communicate with the contractor once the job gets underway.
How many bids should you get?
Three bids seem to be the magic number. Any fewer and you will be comparing apples to oranges with no way to determine which is more accurate. Any more and you risk wasting your time and theirs.
The only caveat is if only one out of three bids even comes close to matching your budget or is not alarmingly low. Then you may need to revisit your shortlist and solicit one or two additional bids. What you want to end up with are three bids that are within the realm of reason.
Always be sure to supply the same information to each contractor.
What should be in your contractor's bid
A solid contractor bid thoroughly outlines every aspect of the job. Though bids will vary depending on the type of project, these are the basic requirements:
overall project cost
proposed start date
project duration
type of contract (their own or a standard one from the American Institute of Architects) line-item budget that includes the dollar amounts for labor, materials (these should match your brief), taxes, permit processing, and insurance surcharges expiration date (usually 30 days, as the price of materials can continue to rise or fluctuate)
list of contractor licenses and insurance policies; you may want to ask for a copy of their licenses and insurance policies at this point too (especially to check insurance expiration dates)
any drawings or concepts that the contractor may have created (though whether you get these will depend on the type and size of project you are undertaking)
How to compare multiple bids
Low pricing does not often equate to the best value. Indeed, a significantly lower price could indicate the contractor is not properly set up to do business (and will end up unable to complete the job, or at least to your satisfaction).
Similarly a higher than usual price could indicate the contractor is not going to be so interested or hands on unless your project is extensive or potentially notable enough.
The common wisdom? Rule out any of the lowball and highball offers and focus on those that are competitively priced.
Besides making sure each bid meets the baseline requirements, you should be looking for:
how closely the bid matches your detailed brief
a milestone-based payment proposal (this can include a reasonable deposit to cover materials and labor to get started, followed by payments once the contractor hits certain goals in the job)
a detailed timeframe linked to milestones
feedback on whether the materials you want are available or knowledge of similar products that could be used to replace them
good chemistry––you will spend a lot of time with the contractor and his or her crew.
Keep in mind the bid is only factor (albeit it a big one) in choosing a contractor. Experience and communication style are others. That's where doing a thorough walk-through your home is essential in gauging these and other qualities.
Do they ask the right questions and have the right demeanor? Did they point out a structural issue that you know about?
No one knows what's behind a wall until you open it up. What you want is for the contractor to at least explain the potential worst-case scenario.
Red flags in a bid
It's not just the numbers but how they are presented. A general sloppiness and lack of attention to detail are in themselves warning signals.
look out for "exclusions" for things like permit processing fees
some contractors include overhead or profit as a separate line item, but if not be sure to ask for those to be broken out so you know what they are (and are not being overcharged)
beware of unrealistic timelines when you know it will take much longer
make sure general liability coverage is not less than $1 million and preferably not less than the value of your property
too many items being ignored from your project brief is cause for concern
a bid that's wildly out of whack with others in terms of pricing should be carefully scrutinized; low bids could be a sign of cutting corners (or omitting items just to get the job, with lots of change orders ahead), while high bids could mean your contractor is only interested in jobs in that price range (and is adding in costs that aren't reflected in the brief) or is not familiar with what's being asked (and will not be the most cost-efficient choice in that case).
How to negotiate with a contractor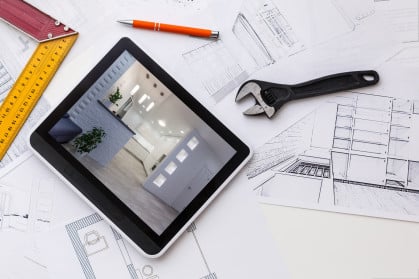 Negotiating a contractor's bid is an acceptable part of the process so long as you are not being unreasonable or unrealistic, and especially if the pricing seems too high or you are uncomfortable with any of the details.  Enlist a design professional (such as your architect) if you have one. What you want to avoid is creating a hostile environment or sending a message that cutting corners will be okay. Have a target number in mind before you sit down at the bargaining table––and be prepared to meet somewhere in the middle.
Have your architect or designer review the bid and highlight any areas that might be bloated so you know specifically what to ask your contractor for. The bid is technically between you and the contractor, but these design pros can walk you through the process.
It's usually better to negotiate in person, preferably at your project site, and not over the phone or via email. This way you can walk through the space to get clarification on the specifics and see if there is any wiggle room as you go.
Research the industry standard for your type of project in NYC and be prepared to offer up that precedent at the bargaining table. Ask friends and relatives for what they paid on a similar project. Speak to brokers and others who are familiar with project costs. Also revisit your material costs and make sure the bid is not overstating those.
Rather than asking outright for a price drop, see if the contractor can suggest ways to shave costs without compromising your goals, perhaps by using a more affordable material or changing the HVAC system. Tapping into that person's expertise will get you farther than challenging the price point.
If you have three bids that vary greatly in amounts, you can use that as leverage to get a higher quote dropped.
If any of the references had anything negative to report, by all means mention that tactfully––and be prepared for a rebuttal. Still, if communication was lacking and that's important to you, or if there were other sticking points that might keep you from hiring that contractor, it's worth discussing these now.
It's important to remember that contractors carry a lot of overhead, including insurance, taxes, labor burden (payroll, worker's comp, benefits), equipment, transportation, brick-and-mortar offices and staff, communication, and warranty of work (that comes out of their own pocket). Plus they need to earn a decent salary. What you don't want to happen is to put such a strain on their resources that they cannot complete the job at a quality level.
What should be in a renovation contract?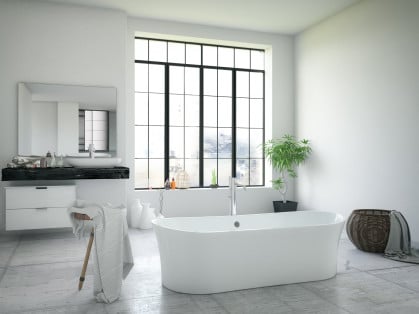 Once you've solicited a few bids and decided on the right contractor for your renovation, the next step is to consecrate the arrangement in writing. The contract is your roadmap to success, so the more detailed and exhaustive it is, the better. Do your due diligence before signing the bottom line.
Must-haves for a written contract with your contractor include the following:
A preamble/introduction: This part may seem perfunctory but it should still be precise in setting forth:
the names, addresses, and contact information for all parties to the agreement, plus the contractor's federal tax id and license number
a statement that the contractor is an independent contractor (and not an employee, for liability purposes)
the total expected payment
Detailed project description: Be comprehensive, as anything that's not included here may be considered a change order and subject to an extra charge. Make sure this section covers:
an outline of the specific work to be done, including what will be demolished and what will be newly constructed
a breakdown of all the requisite labor and materials and associated costs for each task
a statement that the work will be done in compliance with all building code and zoning regulations
who will be responsible for submitting plans and obtaining all permits and inspections (either the architect or contractor) and closing them out by getting the certificates of occupancy
a statement that the contractor will provide for the safe and appropriate removal of all debris during the demolition phase
specific instructions for using and maintaining the premises during construction, such as any applicable work hours and freight elevator usage set by the building, where equipment is to be stored when not in use, noise level restrictions, parking, etc.
the contractor's warranty that all workers involved are covered by the contractor's general liability and worker's compensation insurance policies; you should also stipulate that you (and your co-op/condo board) be listed as an additional insured
Project schedule: The goal is not to hold a contractor to any exact end date and to allow for the inevitable delays that are out of everyone's control. That said, be sure to stipulate:
the start and approximate end date, taking into account any building holidays or other known instances when work will not be allowed
interim completion dates (roughly) for important phases of the project, and penalties for failing to meet those
a stipulation of instances where the contractor will need your approval before proceeding (such as when sampling materials) so that work won't stall while you are on vacation
Payment schedule: The total amount is important but so is how that will be paid out over the course of the project, including:
the amount and terms of each installment plan, preferably tying those to the completion of certain milestones (e.g., demolition, flooring, cabinetry)
the initial payment should not exceed 10 percent of the project cost
the final installment (also around 10 percent) should be payable only upon the satisfactory completion of the punch list
how payment is to be remitted (check or credit card)
Lien waivers: Even if you paid your contractor for all work done, all the employees and subcontractors who did work on your property––electricians, plumbers, painters, etc.––can claim they weren't and place a lien on your property. To legally protect yourself:
the contract should require the contractor to provide a lien waiver for each installment payment made before you pay the next one
this effectively means that every invoice for every payment must include a signed statement from the contractor indicating the payment was in fact used to pay for the labor and materials in the invoice
Protocol for change orders: Changes are bound to happen, so it's important to anticipate them by having a plan in the contract. Before any changes can occur:
the contractor should provide a description of what the new work will cost and how it will impact the schedule
the contractor must obtain your written approval, and state whether that can be by text, email, or pen and ink
Guarantees and warranties:   Many contractors offer warranties of one year after a project is completed or occupied, but there is no requirement that they do this, nor is there a standard warranty policy in the construction industry.  You'll want to work with your attorney in putting the precise warranty terms in the contract, including the start and stop dates so it doesn't start too soon. For example, it can take time for you to reasonably notice any problems, so having the start date be a month after you take occupancy (and not after project completion) is a wise choice.

You'll also want to be covered for any shoddy work or sub-par materials by including:
a contractor's guarantee that all materials were purchased new and with the manufacturer's warranties intact
a warranty that covers all labor and materials necessary to perform the work and all protective measures and ancillary measures that might be needed (such as scaffolding)
a contractor's warranty, usually for no less than one year from the completion date, that provides for reimbursement of any and all expenses paid should something go wrong (this does not relieve your right to sue if you discover a problem after that stated time)
the name and address of the individual or company who will be responsible
the specific start and end dates of the warranty period (so make sure it doesn't start too soon)
Legal disputes: If the architect/contractor violates the contract and you are required to pursue legal action, you can write in a provision for the recovery of attorney fees in case you prevail. You can also agree to resolve disputes through mediation or arbitration by spelling that out in the contract.
Cancellation clause: Life happens and sometimes your best-laid plans are derailed for one reason or another. Fortunately, New York is one of many states that provide for a three-day "cooling off" period in which you can cancel a signed contract without penalty. Even if this is the law, it doesn't hurt to write this escape clause explicitly into the contract.
Signatures: It may seem too obvious to say, but a contract is only binding when it is signed and dated by all parties.
Typical payment schedules
The general of thumb is to never pay for anything that hasn't been finished, the exception being the initial payment when the contract is signed––usually no more than 10 percent.
The standard payment schedule is tied to separate phases and/or specific milestones, which is what the contracts created by the American Institute of Architects call for.
A common scenario is for payments of 10 to 15 percent to be pegged to city inspections and approvals for such work as foundation and framing, electrical, plumbing, and HVAC. Later in the renovation the milestones might include completion of the drywall, carpentry, and painting.
The final payment should never be paid out until after the punch list is completed and be at least 10 percent of the total cost––anything less is not incentive enough to ensure these items are fully addressed. .
For smaller jobs (say, when the cost is less than $50,000), some contractors may request a one-third payment plan, where the total bill is divided into three equal payment––usually on signing the contract, then the midway point, and upon completion of the punch list. This might suffice for small, shorter stints, but not for longer renovations where a more detailed schedule and payment plan is advisable.
Nice-to-have additions
Most contracts will be fairly comprehensive, but if you are doing an extensive (and expensive) renovation, there may be a couple items that you may want to include. Talk to your attorney.
Consider having a provision requiring your architect to approve the work as a condition to your contractor's right to payment. This will ensure that everything is to spec as the job progresses––and before too much longer after the fact. The caveat being not all architects will be willing or the best person to effectively take on the role of project manager, so be sure to discuss this with your architect before putting anything in writing. For example, you could limit the architect's scope approval to include structural work or customizations.
In addition, it's worth having a clause whereby you can stop making payments if work has not been properly performed or the contractor is otherwise in breach of the agreement.
It's always worth trying to get an extended warranty beyond the standard year.
Finally, it's a good idea to have a clause stating the contractor acknowledges and understands the co-op/condo board rules and agrees to abide by them and will reimburse you for any breach of those rules. Otherwise you'll get stuck paying for any of the contractor's screwups.
Should you have an attorney review your renovation contract?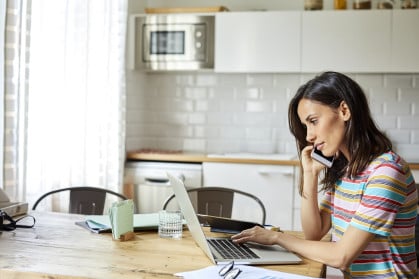 Some contractors rely on contracts provided by the American Institute of Architects while others draft theirs from scratch. In either case you'll want to have an experienced real estate attorney review the language to make sure you understand all your rights and are appropriately protected. Some attorneys will suggest using their own contract forms as an alternative to the AIA's; others will use riders to modify certain AIA terms. 
Attorney fees will run about $1,500 but may save you thousands in the long run. (As with anything, the cost will vary depending on the complexity of the project and the particulars of the board/building.) This is especially important if you are a first-time renovator and are understandably unfamiliar with the terminology and what could go wrong.
Here are the more common potential problems that can crop up during a renovation––and that a qualified attorney will know how to avoid:
your contractor demands payment for work that hasn't been done, either in the form of advance payments or additional interim payments
your contractor uses sub-par materials rather than what you asked for
the scope of the work ends up deviating from the agreed-upon specifications
the contractor fails to supervise employees and subcontractors
the project ends up costing more than the agreed upon price, even in the absence of change orders
likewise, the contractor makes unexpected changes––and charges you for them––without prior notice or approval
the contractor claims materials and labor costs were not included in the project fee but you understood that was not the case, and stops all work until you fork over payment
the work product fails to meet your expectations
the work causes damage to your property, either during the project or a few months after completion
the contractor fails to pay the subcontractors, who attempt to put a lien on your property (even though you paid the contractor in full)
the architect/contractor fails to obtain the proper DOB permits and inspections
a worker is injured while on the job and you are liable for damages
the contractor's insurance is not sufficient (attorneys recommend that buildings have their insurance broker vet the policies)
Bottom line: According to the NYC department of consumer affairs, complaints filed against home renovation contractors consistently rank among the top five complaint categories. Spare yourself the stress and strain.