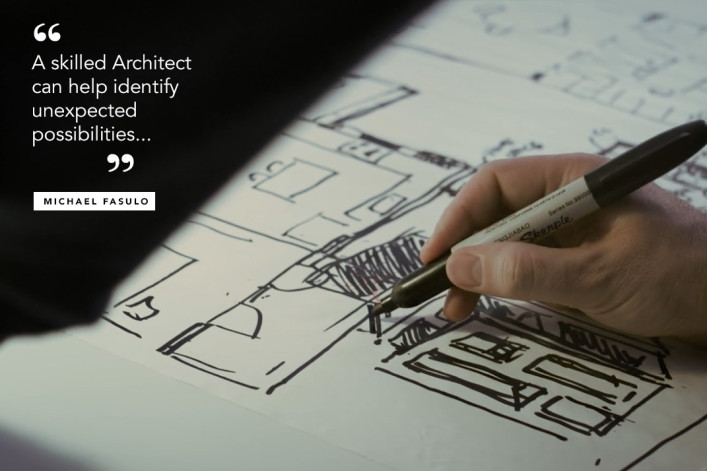 New Yorkers are famously opinionated, and NYC homeowners often approach their own renovations armed with plenty of information and ideas. So many ideas, in fact, that they may wonder if they really need to consult an architect at all.
But even if you have an eye for design and a clear vision for how you want to transform your place into a dream home, you'll find that an architect is indispensable to the process.
"Plain and simple, all successful home renovations require an architect to ensure your design is compliant and can be built on time and on budget," says Anna Karp, Co-Founder of Bolster, a New York City based Smart renovation company that empowers homeowners to control their major renovation by delivering industry-leading expertise via a radically transparent online platform.
Bolster Architect Michael Fasulo, AIA, concurs. "A skilled architect can help identify unexpected possibilities, like identifying abandoned shafts that can be added to square footage or finding ways to connect apartments by adding or cutting beams."
Your architect will also help with the essential work of organizing the project and coordinating with other members of the renovation team.
Bolster Architect Agustin Ayuso, RA, LEED adds, "In the traditional model, when a contractor comes in to price the job, they need to have a clear set of instructions in front of them on how to proceed, so that they can give an accurate price on the project and subsequently be able to build from the specifications.  In Bolster, the pre-construction process is essential, and all the aspects of the project are decided in advance, before construction starts. The construction team has a deep understanding of the project from the get-go and there are no gaps that need to be filled."
In addition to producing that important documentation, an architect takes on many other responsibilities. Renovating a home is an intricate and complicated process–and your architect takes charge of more than you'd think.
Pro Tip:
With more than 50,000 square feet renovated in NYC, Bolster understands how to guide New Yorkers through any renovation challenge, from navigating Landmarks to recreating pre-war details, and gives them full visibility into project milestones. "Bolster is the only renovation firm to offer a fixed-price cost up-front. Once we perform due diligence and verify the existing conditions of your property, we absorb unforeseen project costs," says Bolster's CEO and co-founder Anna Karp. Ready to start your renovation? Learn more >>
Schematic Design
In the initial phases of a renovation, an architect does a lot more than simply produce drawings. He or she will survey your space to determine its exact dimensions, and will be able to create different layout options. The result is a schematic design set, a highly technical overview of your apartment that takes into account its shape, perimeter, and pre-existing structural and design elements, and all the ways the space can be subdivided and laid out.
"People often come forward with preconceived ideas of what they want their space to be like, but they don't always really know what they like and don't like until we visualize and discuss their options," Agustin says.
Your architect can also develop plans that go beyond the two-dimensional, like 3D computer models and more elaborate hand sketches, helping you to better visualize what the finished product will look like. "These modes of communication help take away some of the uncertainty about what is being built" says architect Michael Fasulo.
At the end of the schematic process, you and your architect will make a detailed and accurate game plan for where rooms go, where walls are built or removed, and so on. It's a game plan you can trust.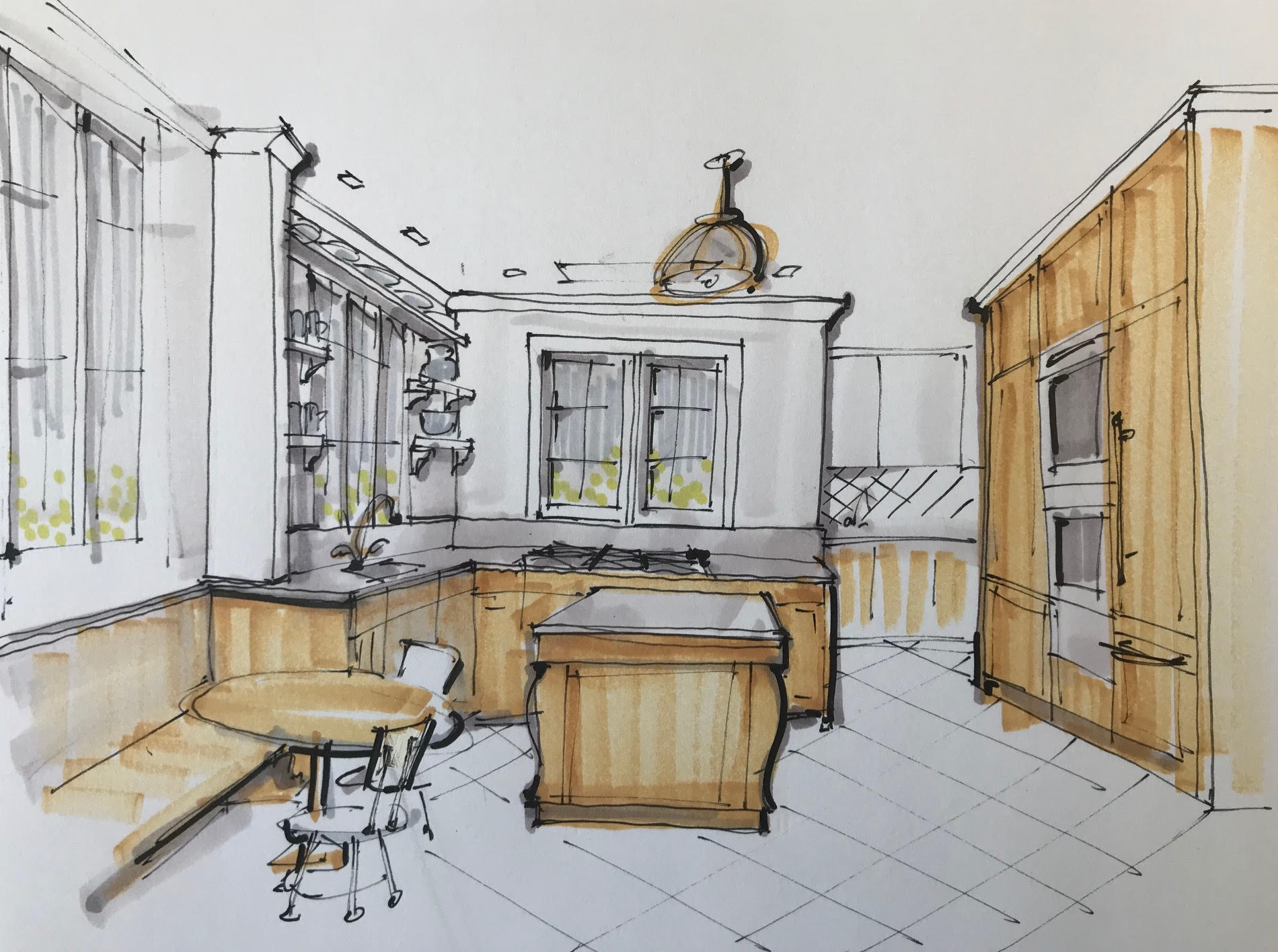 Design Development
The design development stage of a renovation can be daunting, as it involves consulting with third party engineers, getting the necessary permits and approvals from city agencies, and finalizing your design plans.
However, if you've hired a quality architect, you can relax: They will oversee this entire process.
"We've been through it so many times that we know how to organize the items that different entities need to grant the approval," Agustin says. 
During this stage, your architect will produce a set of plans for approval by your building management (if applicable), the Department of Buildings, and the Landmarks Preservation Commission (if your building is landmarked or in a historic district). Here in NYC, many different parties need to give that seal of approval before construction can begin.
To ensure your designs are compliant and engineered correctly, your architect will coordinate as needed with third party experts, including structural engineers, expeditors, and mechanical, electrical, and plumbing engineers.
For example, Agustin says, "If you want to move a load-bearing wall, you'll need to consult with a structural engineer."
These third parties are critical to the design development process, as they provide required calculations and plans needed to build. If you're installing HVAC, for instance, you're going to need to know how much electricity is required to power it, and how exactly to wire it.
Agustin compares it to the process of consulting with medical professionals. "You go to a family doctor, who refers you to specialists as needed," he says.
Along with these logistical tasks, architects also guide the discussion around finishes. With Bolster, your build estimate will include "allowances," your shopping budget for materials like tiles and trim.
For many homeowners, making these choices is the fun part, and your architect will help you with selections. He or she can present you with materials and building technologies that you may not have realized are available to you, like "windows with better acoustics, different paint sheens, millwork cabinetry detailing and inserts that help maximize valuable space in tiny city apartments, and different types of tile," Michael says.
You can determine their level of involvement and receive finish recommendations in a number of ways, depending on the way you'd like to work, whether it's through showroom visits or Pinterest binges.
"Sometimes there's a gap between what people want and like and what people can afford," Agustin points out. "A Bolster architect can also guide you in designing the project to budget because the Bolster model allows for granular, iterative pricing at key stages of design."
Construction Documentation
Your architect will compile in one place all the relevant documentation relating to the build, for a holistic master plan. This will include plans, schedules, and specifications necessary to successfully deliver your renovation, along with recommendations from engineers or the Department of Buildings. Expect this plan to amount to fifteen to twenty pages–it's a set of instructions that must be extremely detailed to ensure a successful and accurate build.
"The level of detail and amount of thought that goes into producing a quality set of construction documents is what separates a true high-end residence from a builder-grade reno," says Bolster Architect Paul Capece.
Construction Administration
Once construction is underway, a good architect will visit your home regularly to ensure everything is going to plan, and to provide supporting documentation as needed. Should you decide to make changes to the renovation plan at this point, your architect will produce new drawings or schematics, if necessary.
He or she can also keep the lines of communication open among everyone involved in the project.
"Sometimes it's as though contractors and homeowners speak different languages," Agustin says. "It's great to have an intermediary. An architect can serve as translator and problem solver."
So when planning your renovation, an important first step is to consider a good Design and Build firm. Having a good architect on your side will go a long way toward ensuring that your renovation is beautiful and compliant, and working with a good Design and Build firm will allow for a more streamlined process.
---
Every year, New Yorkers waste over $700M following the usual renovation process.
Bolster has uncovered the drivers behind these inefficiencies and has developed a proprietary solution that applies to every home renovation project. Bolster is the first company to bring radical transparency, analytics, and accountability to the entire process. They promise that every project is thoughtfully designed and beautifully delivered for a fair price, on time, and on budget. To start your major home renovation project, visit bolster.us
The Bolster Promise video
Bolster from Fraser Patterson on Vimeo.
Brick Underground articles occasionally include the expertise of, or information about, advertising partners when relevant to the story. We will never promote an advertiser's product without making the relationship clear to our readers.