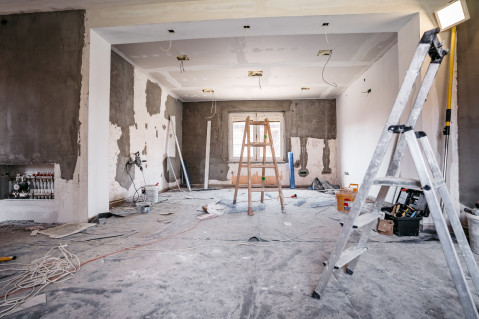 How to Renovate in New York City
How much does it cost to renovate in NYC?
Average NYC renovation cost per square foot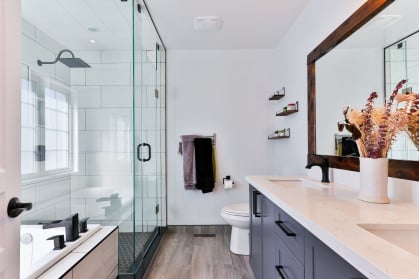 Whether you're renovating an entire New York City brownstone or a studio apartment, the cost is based on the square footage of the space being renovated, the level of finishes, plus additional costs including any co-op/condo board fees and temporary housing. 
For a basic gut or non-gut renovation, the average cost in NYC is $100 to $200 per square foot, including labor and stock materials (with gut renos at the higher end). Expect to spend $200 to $400 per square foot for higher end renovations and all the way to $800 per square foot in extreme cases—depending on the quality of finishes and fixtures and the extent of customizations. 
This figure also depends on the current state of the property, with prewar co-ops and brownstones often posing their own unique problems, such as awkward layouts that don't work well with modern lifestyles and/or outdated plumbing and wiring. 
As no two projects are going to be exactly the same, per-square-foot averages are slightly less predictive. That said, understanding how the per square foot number is computed helps you appreciate what you will be paying for—and what's going to be extra. 
Your cost may vary depending on:
time spent on the designs
complexity of approvals and permits
skilled labor and actual construction costs
materials and finishes
amount of customizations 
unspoken costs (see below).
Pro Tip:
With more than 50,000 square feet renovated in NYC, Bolster understands how to guide New Yorkers through any renovation challenge, from navigating Landmarks to recreating pre-war details, and gives them full visibility into project milestones. "Bolster is the only renovation firm to offer a fixed-price cost up-front. Once we perform due diligence and verify the existing conditions of your property, we absorb unforeseen project costs," says Bolster's CEO and co-founder Anna Karp. Ready to start your renovation? Learn more >>
Cost of renovating a brownstone vs. a condo or co-op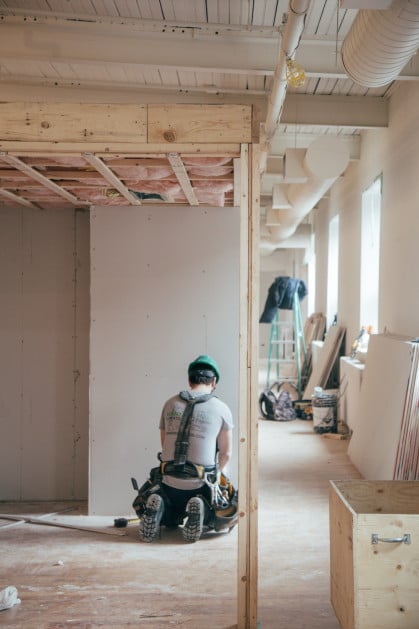 Though renovating a condo or coop apartment in New York City doesn't typically involve the level of work that brownstones do, the obstacles that co-op and condo boards and buildings present may offset any cost savings, including:
A multi-stage approval process which can take several months. 
Stringent liability insurance requirements imposed on contractors of anywhere from $1 to $5 million, plus some buildings require $1 million on the contractor's vehicles too. 
Higher labor costs, as boards require licensed professionals to do even small jobs. 
Strict start and stop times, restricting what can get done in a given day or week. Same for prohibiting work on holidays and weekends. 
Dealing with multiple neighbors and building staff (and tipping the latter as needed).
Building rules that may require you to update the plumbing lines when replacing fixtures, sometimes at your expense. 
Possible late fees for going beyond the stipulated end date. 
If you're renovating a brownstone, even though there's no board to contend with and you are more free in what you can do (barring any applicable landmark district restrictions), your renovation will likely go far beyond what's involved in an interior apartment remodel, potentially including:
Repairs to the structure and roof.
Exterior updates, including facade restoration and painting the stoop and railings.
HVAC upgrades.
Electrical upgrades.
More extensive layout changes.
Building out or up, with garden-level or roof-top extensions.
Therefore the average cost per square foot tends to fall in the same range for coops, condos, and brownstones and ultimately depends on the level of renovation you are pursuing. 
Besides expenses that are baked into the above square-footage formula, other costs are involved in the renovation of a co-op or condo. Ultimately you will need to check with your own board to determine what fees (and potential fines) are involved, as they can vary greatly across different buildings. At a minimum you can expect to pay upfront fees of anywhere from $250 to $500, or the board may require a nonrefundable deposit that's based on a percentage of the total cost of the renovation. (For example, 1 percent of a $750,000 renovation would be $7,500.)
Pro Tip:
Whether you're renovating a two-bedroom prewar co-op or a 4,000-square-foot brownstone, Bolster guarantees a beautifully designed home renovation risk-free and on-budget. "Expect flawless communication, white-glove service, and absolutely no surprise costs," says Bolster's CEO and co-founder Anna Karp. Ready to start your renovation? Learn more >>
Some boards also pass along the cost of having their architect review your plans at a specified hourly or project rate, for a total of around $1,000 to $2,000. Occasionally, a building will require you to pay for the building's architect to keep an eye on your renovation from start to finish, inspecting at key junctures such as before walls are closed, and report back to the board. That can add another $8,000 to $12,000 to your reno tab. You may also be assessed a fee (say, $50) for every day the crew is moving equipment in and out as well as a penalty for projects that go beyond the original end date. (Suggestion: Have the architect build this into the contractor agreement so your contractor is liable for being late.)
Gut renovation costs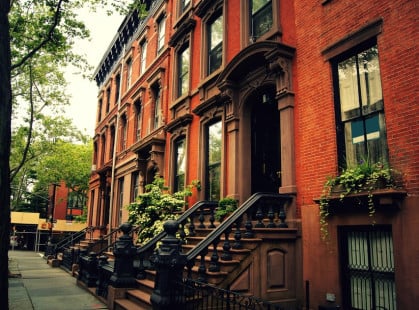 Planning to gut renovate your apartment or brownstone––i.e., take the existing space down to the studs, plumbing, and wiring? If so, the potential costs tend to be higher than for non-gut ("cosmetic") upgrades like replacing kitchen cabinets and/or bathroom fixtures due to the need for more complex planning (by an architect) and Department of Buildings permitting.  
The average cost per square foot for a gut-renovation using mid-range materials is $250 to $300 per square foot. 
To gut renovate a 2,500 square foot prewar apartment, for example, you should plan to spend around $625,000 to $750,000. Double that figure for top-of-the-line upgrades. 
Pro Tip:
With more than 50,000 square feet renovated in NYC, Bolster understands how to guide New Yorkers through any renovation challenge, from navigating Landmarks to recreating pre-war details, and gives them full visibility into project milestones. "Bolster is the only renovation firm to offer a fixed-price cost up-front. Once we perform due diligence and verify the existing conditions of your property, we absorb unforeseen project costs," says Bolster's CEO and co-founder Anna Karp. Ready to start your renovation? Learn more >>
Similarly, renovating a 3,200 square foot brownstone averages around $800,000 to $960,000 and will cover updating the mechanicals, replacing the kitchen and bathrooms, refinishing the flooring, and updating the roof, windows, and facade. But if you are making major structural changes (such as building out the back or adding to the top) and selecting the highest-level finishes and furnishings, your total cost may be closer to $1.6 million. When renovating a brownstone in a historic district, Landmarks Commission approvals will push the total closer to $2 million-plus. 
Though these figures might seem like a lot, a complete gut renovation of your entire apartment or brownstone may give you the greatest payoff, especially if you plan to stay in the home for at least five years. Renovation costs (labor and materials) will only rise over time, and doing work in a piecemeal fashion will end up costing you more in money and inconvenience. Larger jobs are more attractive to quality architects and contractors too, some of whom will not accept anything but.
Kitchen and bathroom renovation costs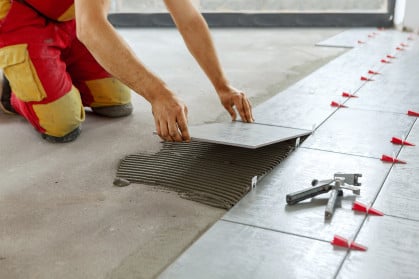 While New York City kitchens and bathrooms may be small, the cost of renovating them is not.
How much does it cost to renovate a NYC kitchen?
Expect to pay $25,000 to $40,000 for a mid-range kitchen renovation, and much higher (as in $90,000 and up) depending on size and finish levels.
The size of your kitchen is just one factor, as there are generally plumbing, electric, and construction matters (taking down walls, for example) to contend with.
Pro Tip:
"To accurately price your new kitchen, figure out the cabinetry, stone, and appliances first. The total amount usually exceeds the costs of construction. For example, you can easily spend $30,000 to $50,000 on stone, cabinetry and appliances for a galley-sized New York City kitchen where the construction cost is $25,000," says David Ackerman, a New York City general contractor whose renovation company Urban Standard has revamped dozens of kitchens in Manhattan and Brooklyn.

Remember that time is money too, especially if you're paying to live somewhere else during your renovation, says Ackerman: "My number one piece of advice there is to use a cabinet fabricator that your contractor works with constantly so that they can reliably forecast the lead time."  Have more questions about doing a kitchen renovation? Schedule a complimentary on-site visit or telephone consultation with the renovation experts at Urban Standard.>>
The choice of fixtures and finishes are the biggest driver of overall cost. A small kitchen with high-end materials and appliances could end up costing more to renovate than a larger kitchen with budget-friendlier options.
If you stick with stock (e.g. from big-box stores like Home Depot or Lowes) options such as GE or Frigidaire, expect to spend anywhere from $400 to $3,000 for each appliance. Designer ranges (e.g., Wolf and Viking) and refrigerators (Sub-Zero and Liebherr) will cost more like $6,000 to well over $10,000, especially for custom integrations.
Countertops and backsplashes span the same gamut, with stock subway tiles being much less expensive than marble or quartz and other made-to-order materials. Plan on about $25 per square foot total (with installation) for subway tiles and over $100 for the latter. 
The cost to renovate a typical NYC bathroom
The starting point for a typical 5-by-7-foot bathroom gut renovation in NYC is $25,000, moving closer to $50,000 depending on materials and whether the tub will be replaced. (Note: You may be able to gain significant cost savings by renovating two or more bathrooms at the same time.)
The high cost given the relatively low square footage is in part because these spaces involve more than the usual plumbing work, particularly in cases where you are rejiggering the placement of the fixtures (toilets, sinks and tubs). Surfaces—flooring, tiling, and countertops—will also contribute to price creep as will fittings (the term for faucets and showerheads) and fixtures.
Take toilets, for example. Your run-of-the-mill variety can cost as little as $400 while state-of-the art models with heated seats and other bells and whistles will set you back over $3,000. Sinks fall in a similar price range, with custom being even higher.
As with kitchens, tiles and other surfaces run the gamut, except here you may be using them to cover entire shower walls and the floor as well as a custom vanity.
Radiant flooring is yet another common upgrade, at an average of $20 to $25 per square foot including installation.
The cost of adding a second bathroom
Unlike when renovating an existing bathroom, adding a new one usually involves extensive plumbing and electrical work—meaning more time getting DOB permits and inspections as well as board approvals if you are in a co-op or condo. So expect it to start at around $50,000 and go up from there depending on the quality of the finishes (see above).
Pro Tip:
 "Most of the extra cost of a new bathroom has to do with the new plumbing work," says David Ackerman, president of the New York City-based renovation company Urban Standard.  "So assuming your co-op or condo building allows wet over dry renovations—meaning that your new bathroom may be located above a 'dry' room like a bedroom or living room—you need to pick a location somewhat near a plumbing riser where the drain and supply lines can be tied into. It's also important to specify the type of tiles, stone and plumbing fixtures you want before you finalize the project, so you can confirm that the total cost is comfortably within your budget."

Have more questions about adding a bathroom or renovating your current one? Schedule a complimentary on-site visit or telephone consultation with the renovation experts at Urban Standard.>>
 
Cost of combining apartments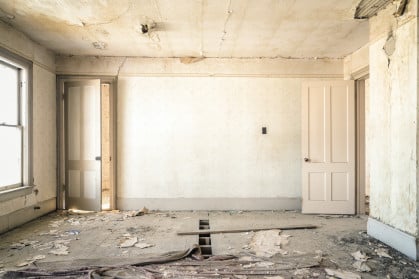 If you keep everything as is and just put a door in between, your main cost will be filing for permits and the construction (mostly demoing the extra kitchen) for a total cost of less than $10,000.
A vertical connection however will require a structural engineer and more filings plus expeditors and special inspections. Plan to spend around $60,000, including for the stair. This might possibly give a co-op or condo board pause and will require more time and effort getting approvals.
Pro Tip:
"The easiest combinations involve adding a small apartment to a big apartment, so that what you're really creating is a master suite," says David Ackerman, whose renovation company Urban Standard has combined co-ops and condos across Manhattan and Brooklyn. "The hardest and typically most expensive is combining similar sized apartments, because then you need to completely reimagine living and sleeping spaces."

You can shorten some of this process by checking whether similar units have been combined in the building: "Assuming you like the layout, you'll also get some assurance that the board will approve your combination," Ackerman notes.  Have questions about combining apartments? Schedule a complimentary on-site visit or telephone consultation with the experts at Urban Standard. >>
Everything else (upgrading the kitchens, baths, etc.) is just like any other renovation and will depend on the quality of the materials.
You'll also have to contact ConEd to have the electrical panels combined or keep the two panels (and have two bills).
Unexpected renovation costs
Just like anywhere else, a NYC renovation is subject to the universal rule of pricing: You should always budget for at least 15 percent more than the original estimate. 
Here are some common budget busters:
Even with the most experienced team, unexpected problems can and mostly do crop up during a renovation. Because these often involve outdated plumbing and electrical systems (and structural concerns in a brownstone), you'll want to address any issues as they arise and do so in the right way. 
There's also the "while you're at it" principle at play, meaning once you've exposed the wiring and plumbing, it often makes good sense to plan for anything you might want to do in the near future—like arranging the plumbing for the addition of a second bathroom or a washer/dryer at some point in the future (or to tack that on now, budget allowing). Most experts suggest creating a "change order" line item in your original budget, equal to an extra 5 to 10 percent of the total estimate. Better to pad it from the get-go so you are prepared if and when change orders occur (and they always do). 
The cost of fabrication––templating and cutting whatever material you are using on your countertops, bathtub surround, and shower walls––is often not baked into the quoted cost of those materials; same for installation. This can add an additional 10 percent to that initial price. Be sure to ask your architect for a breakdown of the costs at the outset, as you may want/need to go with a more affordable material. 
Similarly, many (most) big-ticket items such as appliances have hefty delivery fees and sales tax that you may not have accounted for in the pricing—yet another reason (besides the trade discount) to have your contractor order all these items directly. It's also worth asking your architect to review your budget and flag any missing costs.
The cost of temporary housing in NYC (and the price of staying put)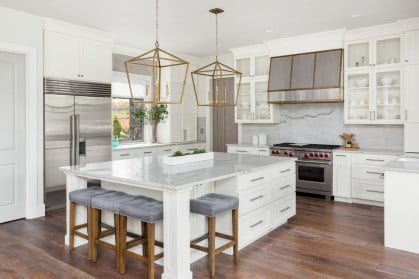 If you are doing a gut renovation, it's wise to vacate the premises for at least the duration of the demo phase, for your own health and safety as well as to keep the project going apace. The good news is finding a short-term rental is getting easier and (somewhat) more affordable, and if you remain within your own neighborhood, it will be more convenient and less disruptive to your everyday routine. 
What to budget for a temporary rental depends on how much space you need, but safe to say it will cost you at least $3,000 per month for a furnished one-bedroom. You'll also need to consider removing your belongings, especially if you'll be refinishing or replacing flooring. When possible, you may be able to gather everything into a spare bedroom while work is done elsewhere. Otherwise budget for a moving company to pack up everything and store it for at least part of the time, for several hundred dollars per month. 
Intent on staying put? Factor in these considerations:
Your contractor will have to implement precautions and take extra steps to protect you from dust and toxins, all adding to the cost (and time). Some architects and contractors will even build in a buffer of 20 to 40 percent for clients who insist on remaining on site for the duration. 
Even if your contractor makes every effort to contain the dust with plastic barriers, you're still taking a risk—especially if young children or older adults will be living there. (Same for staying during pregnancy.)
Staying put is a more realistic option if you are able to stage the construction on one level or section of your apartment while living in another, though doing so will drive up costs, potentially above and beyond the cost of a short-term rental. 
If you are only renovating the kitchen, you might easily be able to stay and work your meals around that. Likewise if you are renovating one of two (or more) bathrooms, or even adding a new bathroom.
You may not need to stay elsewhere when adding a bedroom or combining apartments, depending on the extent of other renovations. 
There's often no getting around vacating if you are replacing or refinishing floors, which takes one or two weeks. Likewise if you are doing plaster wall repairs, as that stirs up a lot of dust and takes anywhere from five to 10 days.