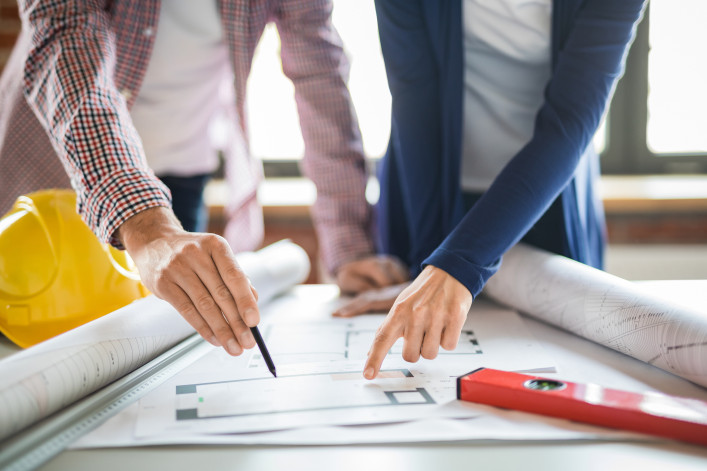 Alex Wallin combined not two but three apartments in her Brooklyn Heights building to create the living space she and her husband wanted for their growing family.
"Once in a while, someone asks me about combining apartments and I think I generally scare them off it! But I do love our apartment and would do it again in a heartbeat," she says.
In a city of eight million, where one-bedroom apartments can be under 500 square feet, it's no wonder New Yorkers dream of smashing through a wall to eke out more space for themselves. We spoke to owners who had done just that. They had these tips to share.
1. Do the homework
Wallin, who requested we use a pseudonym, originally bought a two bedroom and a studio that had been crudely joined together by the previous owner. The prewar building had been through financial difficulties in the '80s and she reckons the seller picked up the studio for a steal, but the two apartments weren't properly combined. "There was just a hole poked through a wall, so we went through the process of making it legal." In this case, it was getting the correct permit from the city and taking out the second kitchen. 
When Wallin decided to add a third apartment to make the space a four-bedroom unit she did her homework, looking at every single aspect of the remodel before going through with it. She scoured listing agents for four-bedroom apartments in Brooklyn Heights and visited open houses to see what else you could buy for a similar price, determining whether the project would hold its value. Factoring in the cost of the additional apartment, the renovation expenses and permit requirements, the numbers told her the project would make financial sense. She says she wouldn't have gone through with it otherwise.
2. Be financially prepared
Renovating is expensive. There's no getting around it. Demolishing walls and moving materials in an apartment building is complicated. For Wallin, all the debris from the renovation needed to go through the elevator in her 11-story co-op building. There was no service elevator, so they had to arrange for one elevator to be shut down while she juggled the use of it with her neighbor, who was also getting work done.
And she also found the longer a project takes, the longer the workers are on the payroll. She advises factoring in the fees, permits, inspections, material costs, change orders and temporary digs while the work gets done, and you'll close in on a figure and be able to work out if you can afford it.
3. See if you can buy some hallway
One obvious issue when combining apartments is the proportions can feel off. "The living room of our two bedroom was going to be too small for our new family-sized apartment and it was my mom who came up with the idea of buying some hallway," Wallin says.
Her mother has some architectural experience but it turns out most buildings are open to selling hallway space, as long as it doesn't interfere with access to stairwells or garbage chutes. In return, the building gets some cash. The cost to the buyer is usually a calculation of the square footage of the hallway your apartment will be swallowing, multiplied by a value. New shares can be issued in a co-op or a new deed written in a condo. Bear in mind this additional space can impact your maintenance or common charges. For Wallin, it was worth it to open up the layout.
4. Tread carefully with a co-op or condo board
In Manhattan, Linda Smith owned a one-bedroom co-op in a building near Union Square and when she and her husband began looking for something bigger, they figured it was cheaper to buy the apartment below. The two units would give them a 1,600-square-foot, two bedroom with an office.
Getting approval was straightforward, but she was told to keep in mind that if the board wanted to separate the units at the point of sale, that would be on her. Undaunted, Smith made sure everything was done to code and when she did end up selling three years ago, the board had no problem with it being marketed as one unit. "It was totally worth it. We were so happy with the space and would do it again," she says.
The back and forth for approval with a condo or co-op board on architectural details, including appliances and materials, surprised Martha Flores, an owner who is about to combine two condos in Battery Park City. "The building has its own independent architect who needs to approve all the designs and sometimes they can be very strict, asking for a lot of details."
5. Consider wet-over-dry rules in your remodel
One of the reasons combined apartments can end up with funky footprints is because of rules like wet-over-dry, a very common building prohibition that prevents you from installing your bathroom above a living room or bedroom in order to prevent leaks.
"It's not a white canvas," says Flores. "We are going to get rid of a bathroom and use [the pipes] for the water in the kitchen." Wallin in Brooklyn Heights did something similar, expanding the kitchen by putting the dishwasher within the footprint of the old bathroom.
When you combine apartments, you are required to remove the second kitchen. "We could have kept the sink and dishwasher and just closed it off, creating a kosher kitchen," says Wallin, "but the requirement still meant we'd have had to remove the stove."
Smith wasn't able to move the location of the kitchen but she was able to expand it. Her renovation created a duplex, which not all buildings allow. "We put the bedrooms downstairs so in the evenings we didn't hear anything from the neighbors. It was like having a mini house in the city."
6. Stairs are another (huge) expense
Putting in stairs has its own challenges. "Stairs take up tons and tons of space," says Wallin, "and the price can be eye-watering." The process will likely require an architect and structural engineer as well as asbestos inspection plus building and city approvals. Spiral stairways can often be the most space-efficient option and it's the direction Linda Smith took.
"In Manhattan, every inch of space is used," she says. Even though she loves her spiral stair, when she came to sell, she noticed it wasn't for everyone. "The spiral stairs didn't always appeal to buyers with kids."
7. Watch your footing
Even if the apartment you expand into is beautifully finished, it's likely you'll have to put new flooring down to create a natural flow to your remodeled layout. Flores is redoing the flooring throughout. "Both apartments have bamboo which hasn't held up well to traffic and wasn't properly installed in the first place. We want the combination of the two apartments to be seamless."
The partial demolition of the apartment you're expanding into is probably a given, even if it is beautifully finished. Wallin was combining a property that had been recently renovated. "He had put in a 60-inch TV and a beautiful bar but it had to go because it was exactly where we needed to break the wall down." 
8. Don't move back in too early
It sounds easy to live in one bedroom while the finishing touches to your new family-sized apartment are done but it can be messy, especially with little ones. "We were so keen to move back in," says Wallin, "but it was months before the work was finished."
9. Consider an entirely different approach
Another approach is to combine two apartments with as little disruption as possible, simply creating an opening between them. One family in Manhattan did just that, keeping the dimensions of the original apartments, creating an oversized doorway and removing the stove from the second kitchen. While it works for some, if you want to increase both value and functionality, most buyers find themselves taking on a bigger renovation and combining apartments into a more practical unit that operates as one.
Brick Underground articles occasionally include the expertise of, or information about, advertising partners when relevant to the story. We will never promote an advertiser's product without making the relationship clear to our readers.