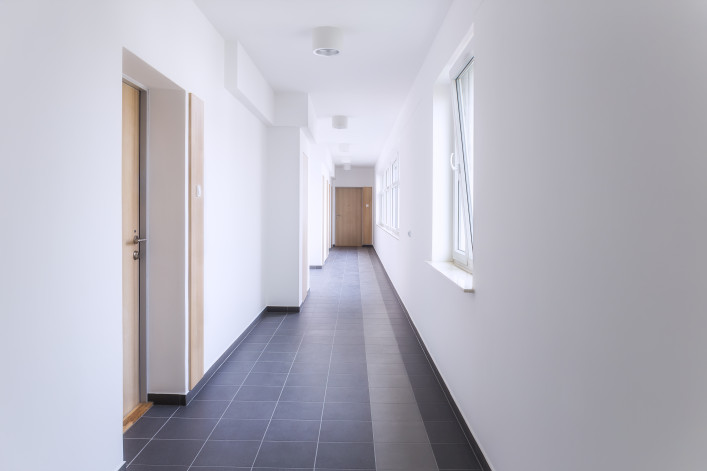 I'm thinking of combining two apartments. How do I go about that, in terms of buying hallway space? How do I proceed and how much does that cost?
There are many moving parts to this kind of project. Our experts say your first step should be having a licensed architect draw up and present your renovation plans to the city Department of Buildings, as well as to your co-op or condo board. 
The good news is that most buildings will be willing to sell you hallway space, as long as it doesn't prevent other residents and staff from accessing apartments or shared areas like stairwells and garbage chutes, according to Deanna Kory, a broker with Corcoran.
Know the rules for co-ops versus condos
What you end up paying for hallway space depends on whether you own a co-op or condo, according to Jeffrey Reich, partner at Schwartz Sladkus Reich Greenberg Atlas LLP.
In a co-op, the board decides whether or not to sell you the hallway space, and at what price.
"The sale of hallway space in a cooperative generally entails the issuance of shares to be allocated to the hallway space, and either the issuance of a proprietary lease or a modification of a shareholder's proprietary lease to include the use of the hallway space," Reich says. "In order to determine the appropriate price and the number of shares to be allocated to hallway space, many boards will rely on the opinion of a qualified appraiser." 
In a condo, on the other hand, this might be a lot easier, and cheaper. Some condos' rules allow owners of two or more units at the end of a hall to simply incorporate that hall space, although they might require such an owner to pay a fee. 
If there are no provisions in place for the purchase of hall space, it's again up to the board. 
"A board can decide to license a portion of a hallway to a unit owner," Reich says. "However, in order to truly sell a portion of hallway space in a condominium, it would require the unanimous consent and participation of all the condominium unit owners, as the unit owners collectively own the common elements of a condominium."
Get an appraisal
"The important thing is the establishment of value of the desired hall space," Kory says. "Typically the building hires an appraiser and assesses the value based on whatever the appraiser deems is the value of each interior square foot of the resulting larger apartment."
Jonathan Miller, real estate appraiser and author of the Douglas Elliman market reports, says that because there's no predetermined market value for hallways, you will need to get the space appraised for its "value in use."
"The fee is determined by the complexity of the common area being purchased," he says. "The fees generally run higher than a typical bank appraisal."
You'll be expected to pay for the appraisal, but your board should engage the appraiser directly in order to perform its due diligence. The transaction is ultimately a win for everyone, Miller says.
"The shareholder improves the layout of their living area and the corporation receives income in perpetuity for the new maintenance, and raises cash from selling off an unused asset," he explains.
Be prepared to negotiate on price 
"The upshot is that you have to be prepared for any outcome," Kory says. 
Upon your initial inquiry about purchasing the hallway space, she explains, your board may opt to sell you the space on a price per square foot basis, which can lead to new shares being issued in a co-op, or a new deed in a condo, which could lead in turn to additional maintenance or common charges. 
"Some buildings hire appraisers who assess the value [of the hall space] on a significantly higher price per square foot. Other buildings will clearly state that they want a certain percentage more per square foot, and yet other buildings may have a strict policy, or sell for what your appraiser assesses because there is a pro-combining apartment atmosphere in the building," she says. "Depending on the building, you might have to enter into a negotiation." 
Update your insurance coverage 
You'll need to let your insurer know about the renovation, and most likely, increase your coverage. Expanding your apartment's square footage should also increase its value, and your current policy may come up short. 
"Depending on the scope of the job, you could void your policy," says Jeffrey Schneider of Gotham Brokerage (a Brick sponsor.) "If you will not be residing in the apartment and the work will take more than a few weeks, that can be an issue that needs to be addressed." 
As discussed in a previous Ask an Expert column, you might need a policy to protect yourself in the event of damages that could occur during the renovation, the cost of which would vary depending on the scope of the work. You may also want to take out temporary renter's insurance if you'll be renting elsewhere short-term as the work goes on. 
---
Trouble at home? Get your NYC apartment-dweller questions answered by an expert! Send us your questions at [email protected].
For more Ask an Expert questions and answers, click here.
Brick Underground articles occasionally include the expertise of, or information about, advertising partners when relevant to the story. We will never promote an advertiser's product without making the relationship clear to our readers.