How much does it cost to combine apartments in New York City?
Technically and legally, combining co-op or condo apartments usually just requires removing a kitchen and creating a doorway-sized opening in a wall to join the two units.
"You could get that done for around $5,000 to $10,000," says Fraser Patterson, a former general contractor and the founder of Bolster, which matches homeowners to reliable contractors and architects, vastly simplifies the bidding process, and financially guarantees that each project is completed satisfactorily. "But to create something that will be worth more than the sum of its parts on resale and actually feels like a home in terms of flow, functionality and durability, most people undertake pretty extensive renovations."
For example, one Bolster client on the Upper West Side is spending $860,000, or about $436 per square foot, to combine three adjacent co-op apartments (two one-bedroom apartments and a studio) into a 1,970-square-foot four-bedroom. (Click here to see the winning bid.) "That's about 20% of what they spent to buy the apartments," says Patterson.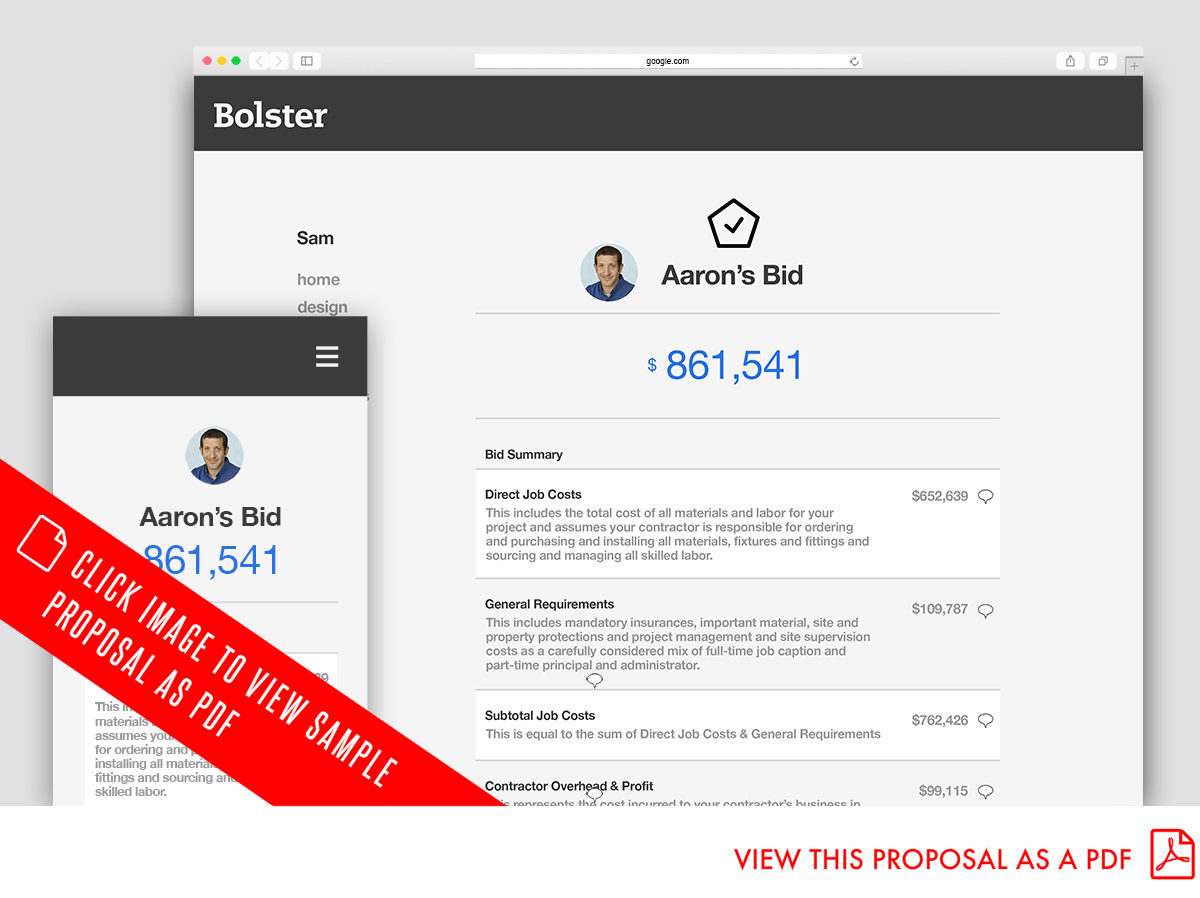 While gut renovations in New York City typically run anywhere from $150 to $500 per square foot depending on the level of luxury and craftsmanship involved, there are some other variables to consider when combining apartments that can drive the project to the higher end of that range, explains David Yum. a Bolster architect who has designed and supervised around 15 apartment combinations in Manhattan and Brooklyn.
The layout of the combination makes a big difference
A duplex combination, Yum says, will be much more expensive than a so-called 'adjacent' apartment combination, where the apartments are side-by-side on the same floor. If you're joining apartments vertically, "you will need to build a staircase and do serious structural work almost 100 percent of the time," he says. The project will necessitate demolishing floors, as well as putting in new steel, which homeowners will likely need to hire a structural engineer to handle. A vertical combination like this can add another $30,000 to $100,000 to your project.
And even with apartments that share a wall, there may be discrepancies that make the costs add up. The amount of overlap between apartments can vary, and "a small adjacency between apartments is a big design challenge," Yum says. While 18 to 30 feet of adjacency leaves contractors with plenty to work with, 12 feet or less gets tricky. "But ultimately, it's worthwhile to be in a place you love," he adds.
Keep an eye out for mismatches in quality and level
Combining apartments that are mismatched in quality—that is, if one has been renovated and one hasn't—will pose additional design challenges. You'll want to match the level of finish in the apartments you're combining so that you don't feel like you're walking from a beautiful renovation into a mediocre one.
Yum says another hurdle can be homes that have a small amount of circulation area, as is the case with many post-war apartments, which means less space to play with. A common design feature of pre-war buildings, on the other hand, are corridors and formal entry ways. "All of those little things give you room to play and tend to be easier to combine," Yum says.
You may also encounter another mismatch in the levels of your spaces. Art Deco apartments, for instance, frequently feature sunken living rooms. If your living room goes down, remember that means that the apartment of your neighbor above also goes down, so combinations in these instances will involve matching ceiling planes. "People look at floors and forget ceilings," Yum says.
Know the rules for kitchens and bedrooms
As mentioned above, New Yorkers are only permitted one kitchen per apartment—although an exception may be made you have a letter from a rabbi saying that you need a separate, kosher kitchen. A kitchen demolition runs anywhere from $5,000 to $8,000. On the bright side, Yum says this can present exciting opportunities to change the flow of space and consider new floor plans.
Note that there are also legal requirements for creating an extra bedroom. There are minimum size requirements (typically 8 x 8 x 8 feet) as well as rules for natural light and ventilation. You can't build windowless bedrooms.
The ins and outs of new windows
Replacing windows is fairly easy, costing around $1,500 to $3,000 per window, says Yum. If your apartment is in a landmark building, you may need to ensure that your windows conform to landmark preservation rules. (Windows on a public façade must conform to a landmarks-approved window replacement scheme. If it doesn't, your window supplier will have to submit an application to Landmarks showing how the new window design closely reflects the existing conditions.) Creating a new window opening in a wall is often an option, too, in older buildings that have side or rear exposure to take advantage of. You'll need a skilled architect to help win board approval for this; expect to pay around $3,000 for the new opening.
Gas and plumbing lines could present challenges
Plumbing risers, Yum cautions, are "the most expensive thing to move around." If one apartment has a bathroom that lines up to the other apartment's kitchen, you won't necessarily be able to blast through the wall to create a giant kitchen or bathroom. The risers—which begin in the basement and end at the top floor--may serve a whole line of apartments, so building managers often forbid moving them for safety reasons and because in past renovations, they've been moved improperly in a way that's caused problems in the building. If you are allowed to shift the riser line, it will cost around $10,000 to $15,000.
Consider installing an HVAC system
If your building allows it, you will probably want to install an HVAC system for central air conditioning: At the new price point your combined apartments will command, it's an amenity future buyers may expect as they compare your home to similarly priced but more modern condominiums. Expect to pay around $40,000 to $80,000 excluding carpentry expenses to make the HVAC system disappear into the aesthetics of your apartment. While some air conditioning companies provide an in-house engineer to install it, Yum recommends hiring a mechanical engineer for the job. "A mechanical engineer will make it more well-integrated," he says. "It will take up less space and you'll see it less."
Millwork may be your largest expense
You'll want to make sure the apartments blend seamlessly, which almost always requires updates to trim, moldings, doors and windows. That, along with cabinetry including any built-ins, will probably be the largest expense in a gut renovation budget, and can vary significantly depending on the level of quality you're seeking, Yum says. Custom or semi-custom millwork requires skilled labor, and can get quite pricey—but such details can make a space feel much larger. For high-end custom millwork assuming full height bookcases, storage, cabinets or elaborate wall panels, prices can range from $200 per linear foot to $800 per linear foot. This ranges enormously depending on the type of wood and veneer and how elaborate the interiors are divided and broken up into drawers, shelves, etc.
Architect fees
Apartment combinations nearly always require an architect—an experienced one who will be able to handle the whole scope of the project, from bidding through overseeing the job's management. Expect to pay anywhere from 10 to 20 percent of your project's total cost (including labor, materials and appliances) depending on your architect's skill and level of experience. (Note: A good architect can often integrate interior design for a more efficient process and synthesized design.)
Extra costs to look out for
Unexpected little extras can add up, so here are a few to look out for: You will need an expeditor ($1,000 to $3,000 depending upon level of service) to help navigate city bureaucracy. And along those lines, you will also have to pay fees for city permits and asbestos inspections; the latter may require a third party monitor, if a significant amount of asbestos is found.
There will probably also be a number of payments to make to your building, for protection of hallways, doors, and elevators ($800 is not unusual), for any water or gas shut offs a renovation requires (some buildings charge $500 per shutoff, while others charge nothing), a general construction charge to the building (anywhere from $2,000 - $6,000 per month or a percentage of your total construction costs), and penalties for going over the scheduled renovation time ($50 - $200 or more per day).
Then there are the change orders—last-minute changes to the project can add up to 10% of its total cost—but these eleventh hour alterations are almost always initiated by owners, says Bolster's Patterson. While many people recommend setting aside 20% extra to include 'surprises', Patterson maintains that this shouldn't happen if a competent architect and general contractor are involved (and engaged / paid) who do adequate due diligence beforehand.
To see a step-by-step Bolster breakdown of a real-life bid including a competitive bid for a 1,970 square foot Upper West Side apartment combination, click here.

---
Every year, New Yorkers waste over $700M following the usual renovation process. Bolster is different, using a scientific approach to match you with the highest-quality professionals and financially guarantee your project is delivered beautifully for a fair price - all at no extra cost.
To start your major home renovation project, visit bolster.us or call (929) BOLSTER.
Related:
Here's how much it costs to renovate a prewar 3-bedroom co-op in Cobble Hill, Brooklyn [sponsored]