Instead of packing up and moving your growing family to the 'burbs when you realize you need more space than your New York City apartment has to offer, one option, for those with the cash and the stomach for an elaborate renovation, is to buy two apartments, one on top of the other, and create a duplex. It is not a cheap route by any means, but it will give you something approximating that house feel without robbing you of all the conveniences that the city has to offer. In this week's Buy Curious, Adam Franklin of Citi Habitats and Peter Sommer of Triplemint (a Brick Underground sponsor, FYI) tell you exactly what you need to know before embarking on such an undertaking.
The proposition
My family really needs more space and the apartment above me is for sale. Should I buy it to create a duplex? How hard is it to do this?  
The reality
There are a variety of reasons that someone would choose to do this, but it mostly boils down to the location vs. space conundrum, and wanting to have the best of both.
"Maybe [the prospective buyers] are really in love with a particular building or neighborhood," Franklin says, and no single apartment in their target area offers the amount of living space they need. "However, they can get the space (and location) they desire by combining units."
They may also choose to go this route because they simply don't like anything else on the market at the moment.
"By combining units, the buyer gets to create a unique, custom apartment that is truly one-of-a-kind," Franklin says. "They get to choose the final floor plan, fixtures, and finishes, so the home will reflect their personal tastes."
Sommer adds that many New Yorkers shudder at the very thought of having to move, so if they can purchase the apartment above or below the one that they currently own in order to get more space, they'd jump at the chance.
Does a duplex have more value than two side-by-side combined apartments?
Sommer says yes, because having the living and sleeping areas on separate floors provides more peace and privacy for bedrooms. 
Plus, "a staircase also makes the apartment feel more like a single-family home," Franklin says, noting that this can be especially appealing to those who are moving to the city from the suburbs "and aren't ready to give up that house feel." He also thinks it's good for the resale value.
"Walking into an apartment with a grand staircase leading upstairs can really leave a lasting positive impression," he says.
Which is more expensive?
Converting to a duplex is typically a pricier endeavor than combining with the apartment next door, Sommer says. 
"You need to make an opening in the floor above or below, and install staircase," he says. "With a side-by-side, it's mostly just cutting through sheetrock and rearranging the metal studs."
And that's not all: "Removing a section of the building's floor requires the expertise of a structural engineer," which can be pricey, Franklin says. You may need additional steel or concrete bracing to make sure the newly combined apartment remains structurally sound.
Will all buildings allow this practice?
Definitely not. It hinges entirely on the building.
"It depends on how the building is constructed and the general attitude of the board," Franklin says, noting that many boards are quicker to approve the easier side-by-side combos than the more involved upstairs-downstairs ones. Before considering making an offer on that neighboring apartment, it's probably a good idea to research whether there's precedent for this kind of combination in your building, and find out what the building bylaws say about construction.
What's the first step?
Franklin says the first step is to hire an architect to draw up preliminary plans. Most likely structural work will be required, so the architect will need to consult with an engineer. The final plans will then be submitted to the building's management, and their engineer, and after that approval, a Department of Buildings application will be made. An asbestos test is also mandatory. After all is approved, the construction can finally begin.
Sommer adds that you'll likely also have to submit an alteration agreement to the board. This document must be presented to the board before any architectural changes can be made to your apartment.
Where can things go wrong?
"Many buildings prohibit 'wet-over-dry' renovations, meaning the creation of a kitchen or bathroom over 'dry' living space—like a bedroom or living area," Franklin explains. "This can cause significant limitations on how your floor plan can be arranged."
That said, sometimes boards can be convinced to make exceptions to these rules if the plans include features designed to stop leaks, "like a moisture barrier and an alarm that signals if there's water where it shouldn't be," Franklin says.
Sommer also points out that it's important to "find a location on the floor that can accommodate a staircase and not interfere with any of the building's mechanicals—in particular the sprinkler system, electrical, or plumbing."
How long will the entire process take?
This can vary from project to project, of course, but Franklin says it should take about four to six months of construction, plus another couple of months to secure all necessary permits.
In Sommer's experience, it can take a little longer. "Best case is six months to a year—from purchase to completion," he says.
Will you be able to live there while the work is being done?
In some cases, yes, "But you will likely need to be willing to live without a kitchen for a few months," Franklin says.
For Sommer it all depends on your threshold for noise, dust, and all that comes with a major construction project.
"If possible, I think it best to sublet elsewhere while the work is performed," he says.
Intrigued? Check out these listings of potential duplex combination projects around the city: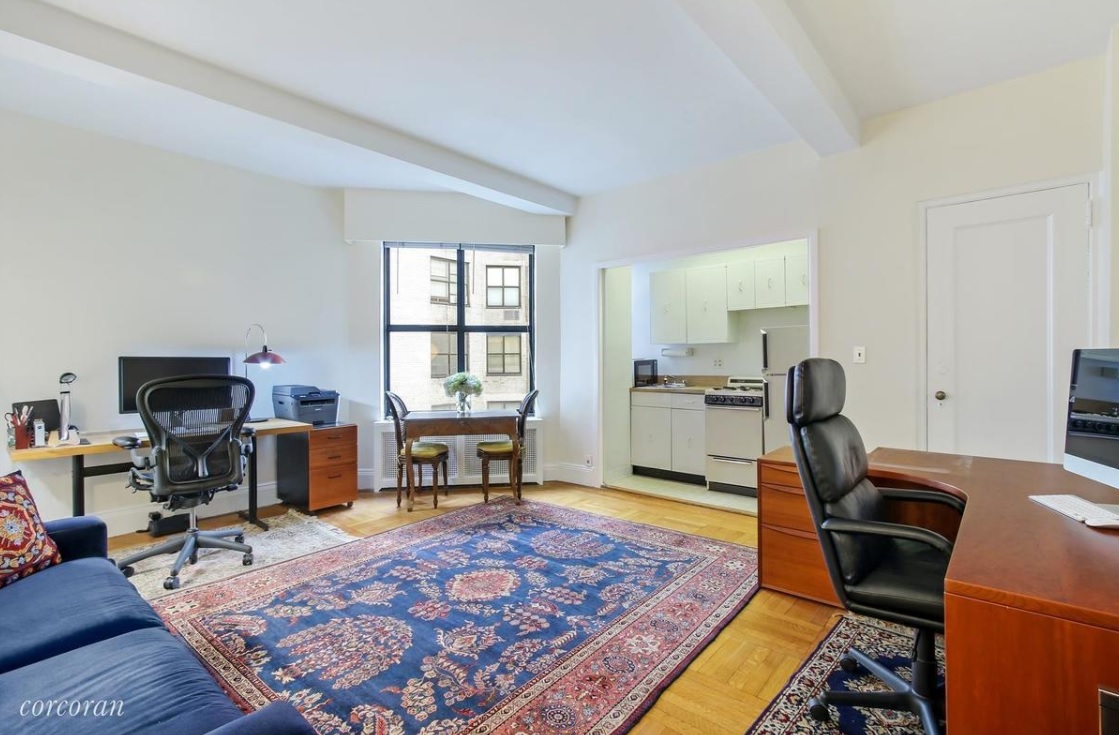 Apartment #1008 is a studio with a large closet in the entry foyer, as well as a walk-in closet. Apartment #1108 (shown here) is a one bedroom with an open kitchen with a south-facing window, custom cabinetry, stainless steel appliances, and a dishwasher. The one bedroom also has hardwood floors, nine-foot beamed ceilings, crown moldings, two walk-in closets, and a washer/dryer. Add a staircase between the two to create a two bedroom, two-and-a-half-bath duplex. They're located in the Alden, a pet-friendly co-op building with a doorman, a bike room, a live-in super, and a roof deck. Listed together for a combined $1,425,000. Maintenance is $2,907 a month.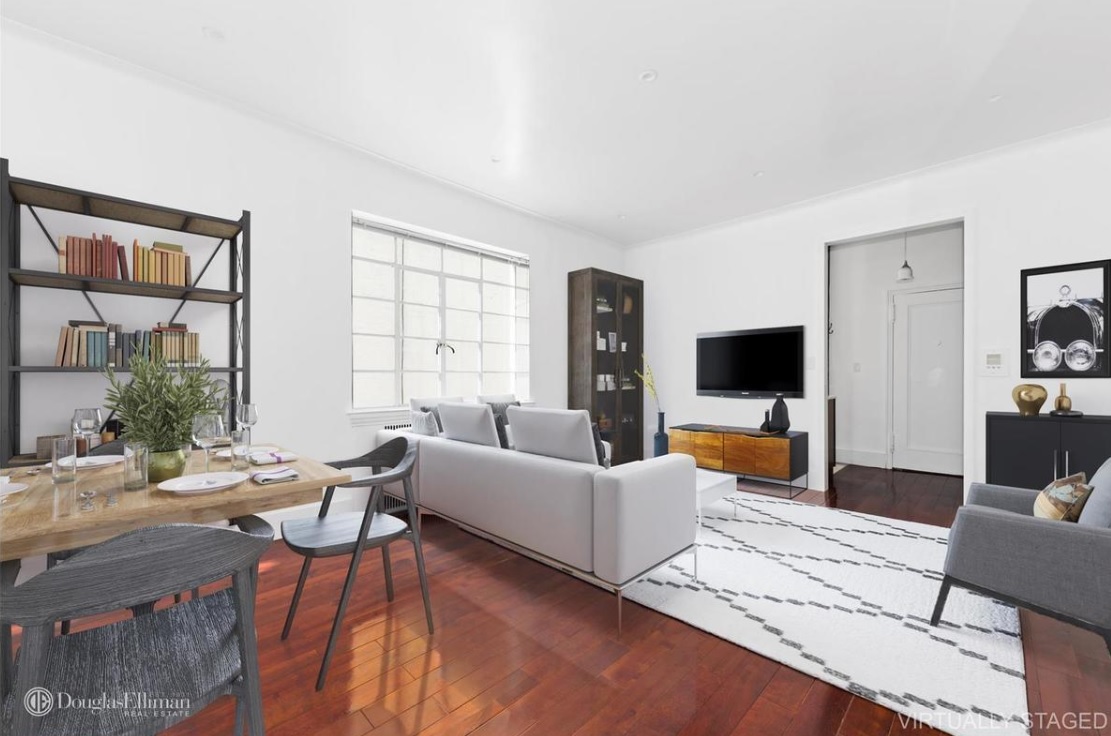 Combine two renovated junior-fours into a duplex unit with at least two bedrooms (or three or four) and two bathrooms. The bedrooms currently have enough room for king-sized beds, dressers, and desks. They're in a pet-friendly co-op building with a laundry room, bike storage, and a new roof. The exterior has been painted and redone, and the hallways will soon be renovated. The board allows subletting for two out of five years. The two apartments are listed for a combined $1,250,000. Maintenance is $3,052 a month.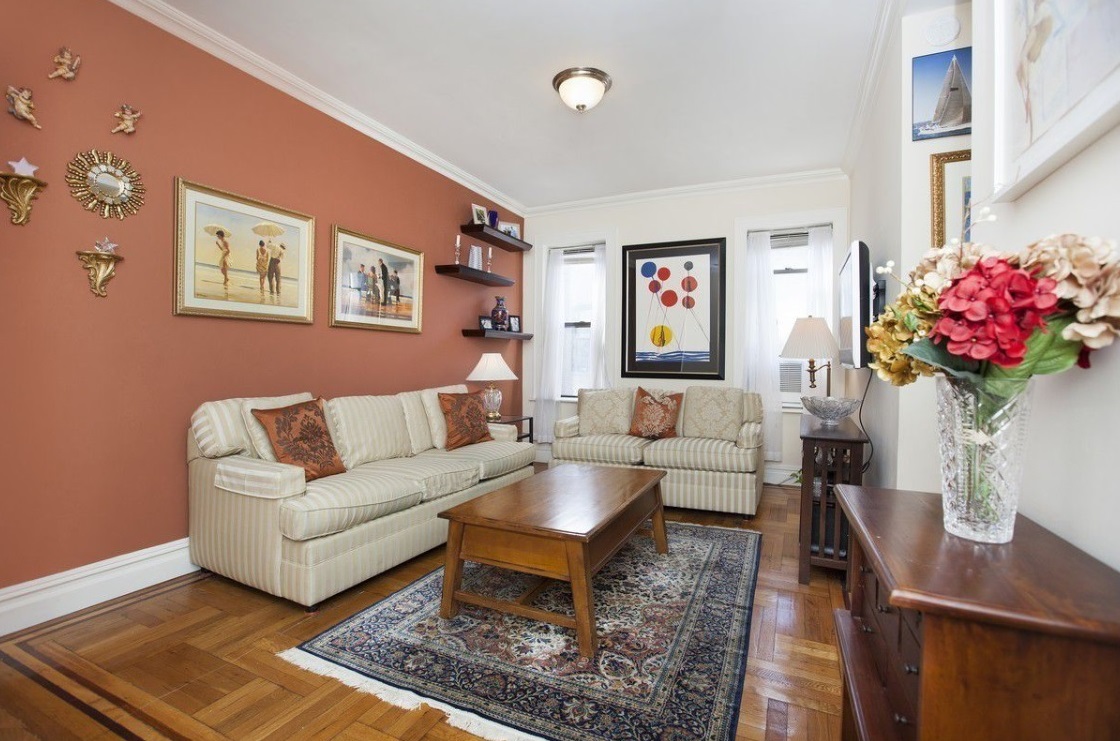 Join these two one-bedroom, one-bath co-ops into a duplex with three bedrooms, two bathrooms, a living room, and a dining room. They are priced at a combined $1,650,000, and are located in a building with a bike room, a live-in super, a laundry room, a package room, and a storage room. Maintenance is $1,989 a month.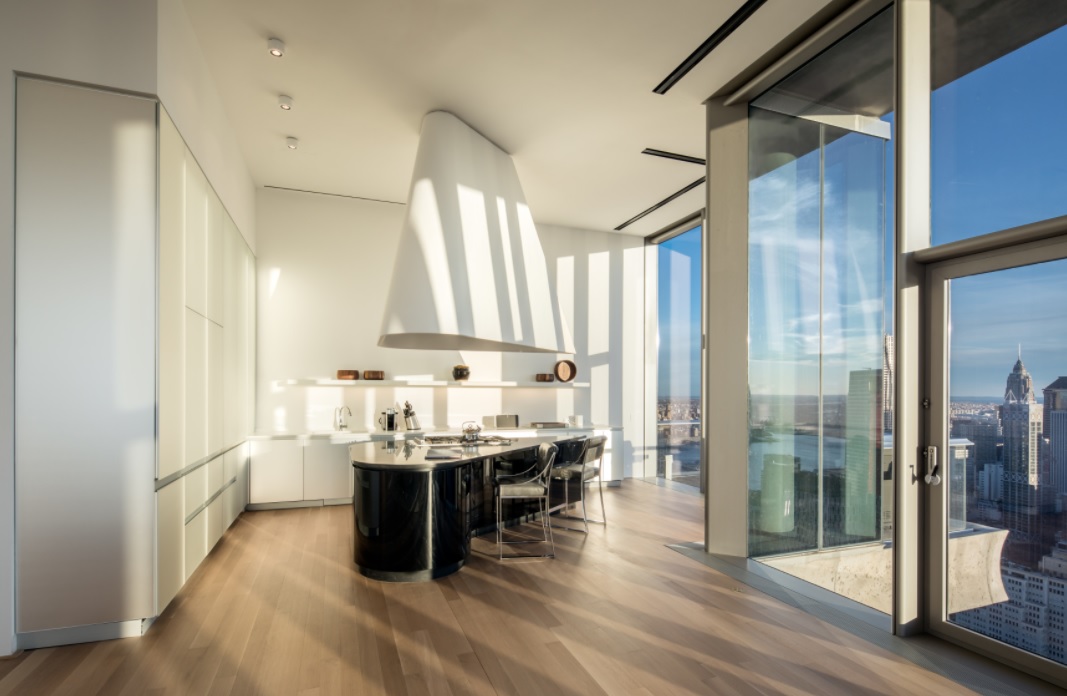 56 Leonard St., #PH53/54, Tribeca
Combine 53rd and 54th floor-through condos to create a 12,000-square-foot duplex with multiple terraces, 14-foot ceilings, floor-to-ceiling windows, two wood-burning fireplaces, and anywhere from four to six bedrooms. They're in a full-service building with a 24-hour attended lobby, a gym, a 75-foot swimming pool, and a children's playroom. They are listed for a combined $55,600,000. Common charges are $14,274 a month. Taxes are $6,025 a month.
Brick Underground articles occasionally include the expertise of, or information about, advertising partners when relevant to the story. We will never promote an advertiser's product without making the relationship clear to our readers.