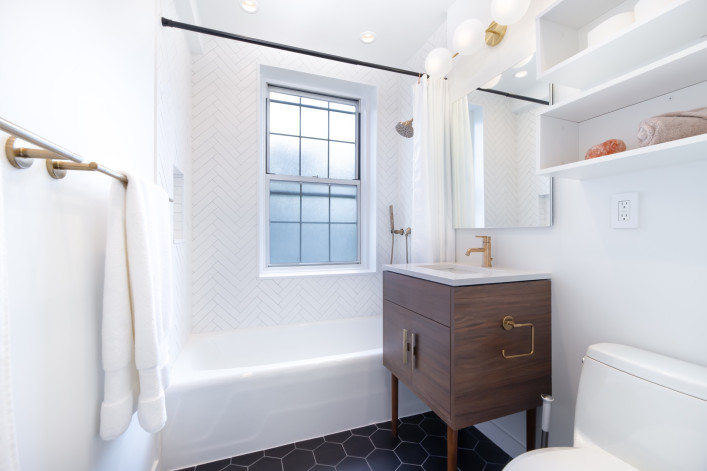 Q. I'm renovating my bathroom on a budget. As far as aesthetics, where should I splurge, and where can I get away with saving?

A. There are lots of different ways to dress up or dress down a bathroom, whether you're planning a full renovation for yourself or just planning to stage it for resale.

Either way, you'll want to spend most of your time and money on the shower, say the urban renovation experts we spoke to.

"People are looking for a spa-like experience in the shower," says Erica Lugbill of Lugbill Designs, "that gives them an outdoor, more luxurious feeling."

Lugbill recommends fully tiling the shower instead of opting for a plastic two-fer tub/shower combo. Using a simple ceramic tile on two walls, then a more expensive glass tile for an accent wall, for example, is a great way to save money while maintaining a more expensive look.
 
If you already have a cast iron tub in the bathroom, don't throw it away, says  Lauren Stern of Lauren Stern Designs. Instead, take the time and spend the few extra bucks to refinish it. If you're selling, it is a classic piece that buyers will certainly appreciate.

For the showerhead, Lugbill recommends a hand-mounted design versus the standard wall mount. The hand-held design, she says, is a perfect utilitarian piece for cleaning day, kids or pets. 

Contractor Jeff Streich of Prime Renovations recommends adding a bit of fancy and luxury to the overall experience  by installing a thermostatic valve instead of the standard pressure valve.

"Thermostatic allows you to pre-set a preferred water temperature, and it stays constant," Streich says. "With a standard pressure valve, you change the flow (pressure) of hot and cold to get the desired temperature. For the master bathroom or a bathroom that is used a lot, it's the way to go."

In addition, there are several places in the bathroom where a little tweak can make a big difference.
"If the tile isnt cracked, an inexpensive way of making the bathroom nice is to stain the grout," says Streich. "Laticrete makes stains that not only changes the color but also it is an epoxy so it is harder to stain or crack. You scrub it on the grout using the bottle it comes in--it has a wheel on top--and once it soaks into the porous grout you simply clean it off. It's a good DIY and it's cheaper and easier than re-grouting."
If you're re-tiling, Lugbill recommends buying larger tiles, which are cheaper than smaller sizes, and cutting them, or just smashing them to create a custom mosaic. Purchasing custom mosaic tiles could cost about $40 per tile, depending on the size of the design, where smashing a larger tile and rearranging the pieces would cost only about $5.

Stern likes to repurpose an existing piece of furniture, like a chest of drawers, to use as a new vanity (if you're lucky enough to have room for one in your bathroom).
"Using pieces of furniture not intended for a bathroom makes it feel like the rest of your home," she says.

Lastly, all of our experts agree that Overstock.com is a great place to shop for a renovation. You can find tile; cabinet hardware like knobs and pulls in almost any material and design; or even larger items like toilets, sinks, and shower heads. The site sells products from high-end manufacturers that are either discontinued or just surplus. A search for keyword "tile," brings up  everything from custom tiger's eye mosaic river tile to generic white subway tile. 
---
Wondering about renovating? We want to answer your Renovation Qs. Just send us an email!
Related posts:
NYC Renovation Chronicles: A pre-renovation checklist for your contractor
NYC Renovation Chronicles: 4 unanticipated costs that can really add up
NYC Renovation Chornicles: 3 DIY-friendly projects for apartment dwellers
NYC Real(i)ty Speaks: Renovation regrets
Brick Underground articles occasionally include the expertise of, or information about, advertising partners when relevant to the story. We will never promote an advertiser's product without making the relationship clear to our readers.