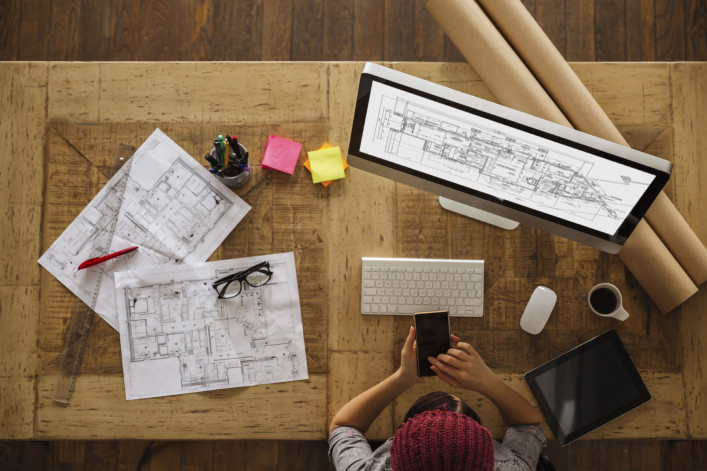 Q. How are architects compensated? Do they negotiate their fees?
A. Methods of compensation vary depending on the architect.
The two most common options are a fixed fee or a percentage of the cost of construction.
Occasionally, architects will charge hourly. Usually that's just for smaller projects or in the interim until the scope is accurately defined, or it can be for work outside the scope of the project.
Pricing can vary drastically among firms. Less experienced firms with a smaller portfolio of work will more than likely have lower fees (possibly as much as 25 to 50 percent lower) than an AD100 architect (top firms selected by Architectural Digest).
Fixed fees
Architects Anthony Paul Arnold and Bryon Thomas Russell of Manhattan-based Syndicate Architecture say fixed fees are their preference.
"We decide to use a fixed fee when the scope of services can be precisely defined, our client understands what is and is not included, and our firm is confident that the services can be managed within a given budget," says Arnold.
When the scope is less clear, the firm proposes a fixed fee initially, and will later use add-on fees for anything not included in the original agreement. 
Cost-plus
Gordon Kahn of Manhattan-based GK Associates prefers to use "percentage of the cost of construction and materials specified under the direction of the architect."  This may is sometimes referred to as a "cost-plus."
His firm charges 20 percent, which is average. This percentage is on top of the actual cost of the renovation and the materials specified by the architect and approved by the client.  If, for example, the total cost of  your renovation is $200,000, your final cost including architects' fees would be $240,000.
"Because we place a strong emphasis on project budgets--soft costs as well as hard costs--we find it's the most straightforward way to arrive at an initial project budget for the client as well as for ourselves," says Matt Seidel, R.A., partner at Mabbott Seidel Architecture PLLC.
Some clients object to using the cost-of-construction method, feeling that it compromises an architect's incentive to help control construction costs. They also object to paying an architect 20% of the cost of materials when the amount of work is the same, for example, to spec out a $1,000 GE refrigerator versus a $10,000 Subzero.
From an architect's perspective, the commission on product is a routine part of working with a designer or architect and often an important part of their compensation. Additionally, you may be getting a dealer price that you wouldn't be eligible to receive otherwise if  you purchased the appliance on your own. 
"Honestly, we've never been asked to change to a fixed fee for something like an expensive refrigerator," says Seidel. "In most projects you can find at least one or two instances where you could note that an architect made a 'killing' and other instances where they were 'fleeced.'"
Not everything is necessarily subject to 'commissioning,' though.
"If we select the refrigerator, take the client to see it, and detail its installation on our drawings, we commission it," says Kahn.  "If the client is working with a kitchen designer, we don't commission that which the designer has specified."
Hourly fees
Some architects refrain from charging hourly because clients can feel they are being "nickeled and dimed" when every meeting, phone call, or moment spent on a project is invoiced.
While Kahn doesn't bill hourly for this reason, Arnold says his firm will "incorporate hourly billing when the tasks or services are unknown."  If your project is not clearly outlined, expect an architect to bill hourly for time in the beginning, until the parameters have been set.
Not unlike a law firm, Arnold's firm charges between $80-$250 per hour, depending on who in the company does the work -- admin, design, architect, or partner.
"Our agreements generally convert from hourly rate to stipulated sum once the full scope of services is understood," he says.
Although actual hourly fees may vary by firm, a sliding scale like this is standard in the industry.
"Hourly rates for architects can range anywhere from $100 - $250 depending on the office and type of work," says Seidel.
Design vs. management
Often architects are sought out primarily for their design expertise, as well as their knowledge of city building codes and permitting.  Beyond that, it's not uncommon for a client to hire the firm to manage the construction as well.
"We are often asked to oversee construction progress," says March Chadwick, AIA of DQ+M.Arch. "We offer a construction administration fee at the beginning of our contract."
Chadwick's team visits the apartment daily while under construction, and gets compensated as an additional service beyond the design fees.  Some architects set a fixed fee; others charge by the hour.
Some architects, including Seidel's firm, won't take a project without managing the construction.
"We've seen too many instances where well-intentioned designs are lost in execution or contractors make changes that adversely affect the quality of construction and the final product," he says.
Fee structure
Architects typically break their fees down into project phases.
"We prefer to use the traditional family of contracts created by the American Institute of Architects," says Seidel. "In these documents the project is split into separate phases beginning with Schematic Design and progressing through Construction Administration."
Fees follow each project phase and the client pays for a phase once it's completed. The percentages will vary by architect, but here's an example of a typical phase/percentage structure:
20% Schematic design (measure existing conditions, design plan of space based on programor requirements, as well as budget and time schedule in relation to each other)
10% Design development (draw interior views and identify materials)
40% Construction documents (drawings required by the building's board, the Department of Buildings and to obtain complete pricing from Contractor.  These serve as an instruction manual used by the Contractor to build the project and must be complete to avoid delays and extra charges)
5% Bidding and Negotiating (send drawings to several contracts, get pricing, do spreadsheet comparison of bids line by line)
25% Construction Administration (observe and oversee construction and administer the contract for construction between the owner and the contractor)
Can you afford it?
For some aspects of your job, you probably can't afford not to hire an architect.
"The cost of not hiring an architect and performing work without a permit is that it's illegal" says Arnold. "Resulting violations far outweigh the cost of hiring an architect." 
Beyond the basic permitting needs, a certain amount of risk exists when you attempt to design and build a space without professional help.
You may very well find  that those additional costs are well worth the burden to your bank account, just to have the peace of mind that every last detail in your project will be addressed properly.
You might even find that an architect can save you money by advising you on how to creatively scale back.
"Necessity is the mother of invention," says Chadwick. "We work with strict client budgets all the time."
Some clients want a lot of guidance, decisions and suggestions, while others have a firm idea about what they want and simply need an architect to execute, says Sebastian Donovan of ICO, an agency that represents architects and contractors in NYC.  "Everyone knows the challenges of working for a boss whose instructions are vague but whose expectations are high." 
If your project's scope is too generic or you require more hand-holding, mostly likely your costs will be higher than if you hold onto a clear vision and make firm decisions during each phase of the project.
Negotiating costs
Many clients try to negotiate fees, say the architects we spoke to. 
"We are in New York, which is the most expensive city in the world, but this does not preclude wealthy clients from seeking the best value for their money," says Chadwick.
Don't expect that negotiating will lead to an architect cutting his fees in half.
"We don't usually vary down much from our standard fee," says Kahn. "Depending upon the project and the client, we may reduce our fee from 20 percent to a lower percentage."  For example, if the project is of a substantial size, lowering from 20 percent to 15 percent may be agreeable.
Even though there's always room for some negotiation, be honest about your bottom line when you're interviewing architects.
"We have learned that if both the owner and architect stick to their guns, both get shot," says Arnold. "One party may win the battle but then lose the war."
If you get your first proposal from an architect and you get sticker shock along with it, you are probably not alone.
"Providing an initial proposal is always difficult for an architect," says Seidel. "We're typically the first cost a potential client receives and it can be shocking."
According to Arnold, "Rather than bargaining over positions, we discuss our clients' interests making sure they understand what it will require in terms of resources from our firm."
The more well-defined you can be about the project, the better position you will be in when negotiating fees.
"It also enables you to streamline your interactions with potential architects and meet more of them," Donovan explains. This will only increase the chance of finding an architect who is the right match for your project.
No matter which architectural firm you choose as a partner for your NYC apartment renovation, you should feel just as comfortable discussing the finances as the design, and have a clear understanding why it will cost a certain amount.
_______________________________________________________________
Tracy Kaler was a designer, decorator and renovator in her last life. Before working as a freelance writer, she held several furniture sales jobs in the Big Apple and purchased a new wardrobe. Now she works in her pajamas and commutes two feet to her desk each day. This is one of the few advantages of living in a New York apartment, and well, so much for that wardrobe.
Related posts:
Can't afford/find a two bedroom apartment? The right one-bedroom just might work
How much does it cost to combine apartments in NYC? (sponsored)
NYC Renovation Chronicles: 6 architects to avoid
Brick Underground articles occasionally include the expertise of, or information about, advertising partners when relevant to the story. We will never promote an advertiser's product without making the relationship clear to our readers.