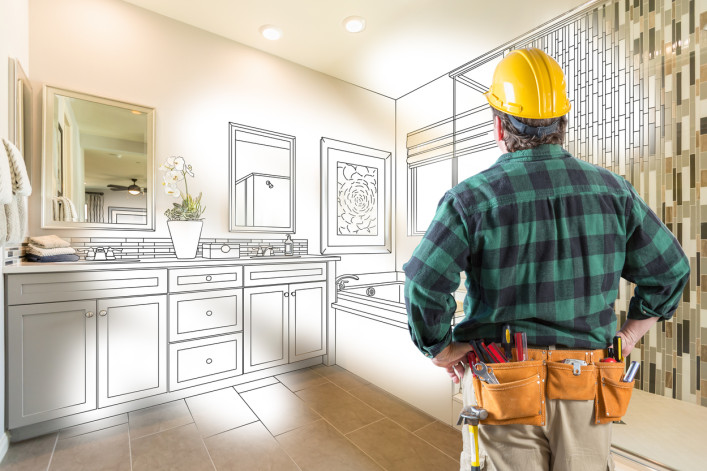 I thought I had the renovation of my New York City co-op bath planned out to the last detail, but even though I serve on the board and did my homework, it was a big pain.
I made careful plans to be out of my apartment for the month that the work was scheduled, which included calling all of my out-of-state friends and relatives and asking if I could visit. Then off I went to Florida; Washington, D.C.; New Orleans; and Fairfax, Virginia. I was excited about my trips but also looked forward to returning home to a beautiful new bathroom.
I had moved into my one bedroom on the Upper East Side 20 years ago and it was just what I always wanted—850 square feet just large enough for me. I was newly divorced and looked forward to living on my own in the city, so I could indulge my passions for theater, movies, museums, and walking through Central Park. 
My co-op was built in the 1950s and my bathroom had never been renovated. I recently began having some plumbing issues and after every $500 plumber visit, I still wound up with an old and ugly bathroom. So, I finally decided to spend my children's inheritance—a total of about $25,000—and get the bathroom I always wanted.
---
Editor's Note: Brick Underground's Inside Stories features first-person accounts of dramatic, real-life New York City real estate experiences. Have a story to share? Drop us an email. We respect all requests for anonymity. This article previously ran in September, 2018. It is being presented again in case you missed it.
---
Even though I am a woman of a certain age (74), I have a boyfriend who offered to share his apartment while the work was being done. I told him that I appreciated his gesture, but I was sure that when I returned from my travels, I would be able to move right back into my place.
So you can imagine my surprise when I arrived home to find the toilet smack in the middle of my living room. There was enough dust on the surfaces to build a person.
The contractor had told me it would take three to four weeks and I had been gone for over four. What I had not counted on was the amount of time the management company would take to approve the plans, get back to me, approve new plans, get back to me again and then send everything back to the board for final approval. 
So, I moved in with Charlie and drove us both crazy for another month. Why he didn't throw me off his balcony, I'll never know. 
Here's what I wish I had known, including a few things that I did manage to get right.
1) Know the rules
Each co-op building has a different set of rules for construction and each management company has their own set of rules (and prices for those rules.)  Even though I serve on my board and had spoken to many of my neighbors, the management company that was in place was a new one and had its own set of obligations that I needed to follow. It never occurred to me, for instance, that I would need an asbestos test. It also never occurred to me that it would take over a month to get approval from both the management company and the board.
2) If possible, use someone who has worked in the building before
They will know the allowed work times, use of elevator rules and what tools they may use so as not to disrupt the neighbors. I used my own contractor—someone who had done many jobs for me over the years. His bid came in lower than another contractor who works frequently in my building. While he did a great job, the other person would have actually saved me money. My guy didn't know that we would need an asbestos test or that we would need not one but three architectural reviews at a cost of $600 each.
3) Allow more time 
I thought a month was going to be enough. Clearly it was not. Whatever you are told or however long you think it is going to take, double it.
4) Assume you know nothing
While I agree with the writer who says that every woman should own a drill and a black lace bra, know your limitations. While I have both the drill and the bra, the bra is the only thing I know how to operate. Trust the professionals. Do not attempt to do anything yourself. Listen to the professional unless you are an architect, builder or contractor yourself. These people really do know what they are doing.
5) Get the discount
Ask your contractors if they can buy the paint or toilet, vanity, or mirror because they may get a professional discount. My guy was able to buy all of the painting supplies for me.
6) Bring the contractor to the store with you
Do this when you are choosing your tile, toilet or tub. If I had not had my contractor with me, I would have wound up with a toilet that didn't allow me to close the door. It was the one thing I did right.
7) Visit your neighbors and look at their new bathrooms
This helped give me ideas and I was able to see what could and what could not fit. Also, consider not removing the tub but putting in a fitted cover or reglazing the old tub, as I did. Pulling out a tub is a very big job and this is one area where you could actually save money.
So two months later I was back in my apartment with a perfectly beautiful and very functional bathroom. And Charlie still loves me. Maybe because once in a while I will let him use the shower and step onto the heated floor.
Brick Underground articles occasionally include the expertise of, or information about, advertising partners when relevant to the story. We will never promote an advertiser's product without making the relationship clear to our readers.