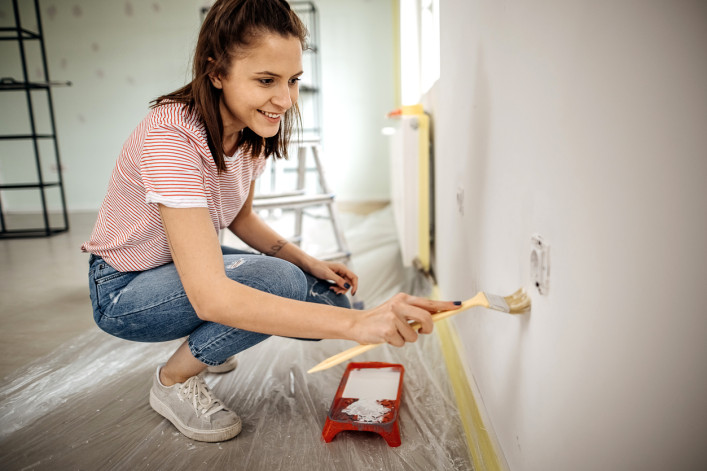 It's moving season in New York City and if you're one of the many renters settling into a new place, you might need some inspiration for sprucing up what is likely a plain white box of an apartment. 
It makes sense if you want to decorate your apartment to reflect your own style, especially if you plan on living there for a few years. Maybe you want to paint your bedroom a different color, add statement wallpaper to your bathroom, or find a way to get more lighting. Keep in mind that as a renter, there are some restrictions on the upgrades you can make without losing your security deposit. 
Your best bet is to check your lease for the improvements you are allowed to do, and it's always a good idea to double check with your landlord. For temporary upgrades, you will likely be fine, but prepare to restore the apartment to its original condition before you move out. And when it comes to hanging art or shelves on your walls, you are generally in the clear but it is a good idea to patch the holes yourself before you move out to protect your security deposit.
Keep reading for Brick's best advice for renter-friendly ways to make a new space your own.
Paint your walls a different color
Your apartment walls are probably white, or that light shade of gray that's been popular the last few years. Sprucing up your place with a different color can change the vibe, but you should check in with your landlord before painting it a non-neutral color. You can likely get approval to paint the walls, as long as you return them to their original color before moving out. 
Need help planning your paint job? Read: "Satin? Glossy? Eggshell? How to choose a finish when painting a NYC apartment" and "How much will it cost to paint my NYC apartment?" Another option is to see if your place is due for a fresh coat of paint courtesy of the owner. Check out: "My apartment really needs to be painted. How can I get my landlord to do it?" (Tip: They're required to paint every three years.) 
Go bold with temporary wallpaper
Statement wallpaper is very trendy these days. You can cover an entire room or just an accent wall for a pop of color (and personality) in your space. For renters, your best option is temporary, peel-and-stick wallpaper so you can remove it without damaging the walls (and losing your security deposit).
To try this trend, read "Want to try wallpaper in your NYC apartment or brownstone? Here's what you need to know" and "Chic and lease friendly: 6 sites to shop for peel-and-stick wallpaper for your NYC rental." And if your apartment already has wallpaper that you want to get rid of, check out: "I hate the wallpaper in my NYC rental. What can I do?"  
Add landlord-friendly light fixtures
NYC rentals are notorious for having bad light—some apartments don't even have ceiling lights. So there's a good chance you might need a way to add more light, especially if your apartment lacks natural light. You can't drill holes and hardwire light fixtures in a rental, but there are landlord-friendly methods to get it done. Read: "How to get more light in your NYC rental apartment." 
Customize your layout with temporary walls
Did you move into a studio and want a separate sleep space? Do you have a small area that you want to use as an office? Or maybe you have a roomie? If your landlord approves, you can have temporary pressurized walls installed to make your space's layout work best for you. 
To get this done, read "From 1 room to 2: The insider's guide to temporary pressurized walls,"  "Working from home in the Covid era? Here's how to use pressurized walls to make an office," and "5 temporary bookshelf walls you can live with legally: A guide for NYC renters."  
Buy one-of-a-kind wall art 
An easy and lease-friendly way to spruce up your rental is to buy unique wall art for your walls—you do live in one of the art capitals of the world after all. You don't have to take the easy (and boring) route with the same IKEA prints that your friends have, not when sites like Society6 and events like the Affordable Art Fair give you many unique options. For more, here's "Where to buy one-of-a-kind wall art for your NYC apartment."
Brick Underground articles occasionally include the expertise of, or information about, advertising partners when relevant to the story. We will never promote an advertiser's product without making the relationship clear to our readers.