Products + Services
Want to try wallpaper in your NYC apartment or brownstone? Here's what you need to know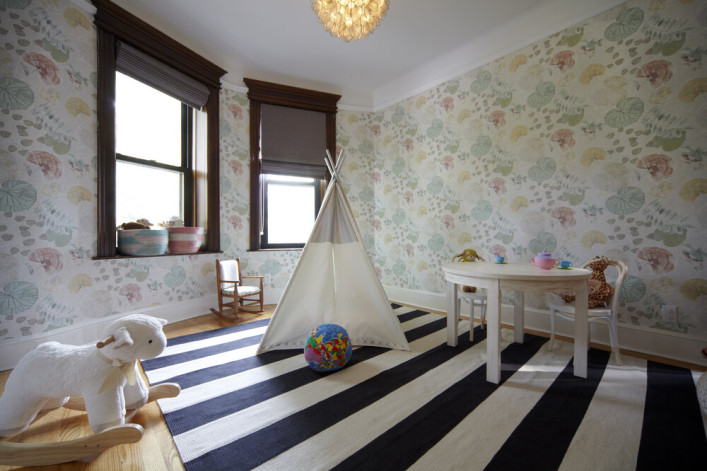 Looking for a way to perk up your New York City apartment or brownstone beyond a fresh coat of paint? That's understandable—spending more time at home may have you craving something with a bit more pizzazz, including in your new home office. Say hello to wallpaper, which instantly takes a space from flat to fabulous. 
Advances in production and application mean today's wallpaper is not your grandmother's (or even mother's) wallpaper. You'll have your choice of up-to-date palettes and patterns and even textures to suit your taste, whether it's clean and spare or bold and maximalist. 
"We've been using more vibrant wall covering in our projects as a way to give our clients something unique, while also having more access to interesting and affordable local suppliers," says Maryana Grinshpun, principle of Mammoth Projects, a full-service architectural and design firm. "Digital printing has made this a more accessible tool for us, as the hand-painted iteration was out of reach for most clients." One of her sources is Wallpaper Projects, a Brooklyn-based, custom wallpaper design studio.
Can't commit? You can find a surprising number of stylish and affordable removable wallpapers that allow for semi-permanent panache—perfect for renters or if you envision selling down the line (or are a serial re-decorator!).  
One dilemma still remains: Deciding on the best wallpaper for your situation (so many to sift through). For example, not all types of wallpaper can withstand the high humidity of a bathroom or laundry room.
Figuring out the costs can also seem daunting for the uninitiated: How much wallpaper will you need? What can you expect to pay for installation? 
Brick unravels this old-school/new-school design treatment so you can determine whether wallpaper is the right choice for you. Read on for more about your options and how to plan your own project.

What are the different types and costs of wallpaper?
Getting started can seem overwhelming. Because contrary to its name, wallpaper is not always made of paper, though that is certainly the standard bearer. And pricing can range from $15 a roll to more than $5,000, depending on the material and how it will be hung.
There are basically three application methods: Traditional wallpaper requires a (messy) paste for it to adhere and is the most tedious and expensive to install, though that strong glue tends to hold up best over time. Pre-pasted wallpaper is a "just add water" application, making it easier to hang but less long-lasting. Self-adhesive (or removable) wallpaper works by peeling off a backing and sticking it to the wall—hence the nickname peel and stick. That translates into lower labor costs (more on those below).
For the most part, you can find paper, fabric, grasscloth, and vinyl wallpaper in all three of the above formats. 
Paper wallpaper can be digitally printed (cheaper) or hand-blocked or -screened (more expensive); either way, the ink can be smudged if it gets splashed with water and lower-quality papers are prone to rips and tears during installation. 
Metallic or foil wallpapers, which are having a major moment, highlight imperfections in the wall and therefore require extra prep work and extra care when installing, but might be worth the extra costs for glam appeal (as in the above dining room). 
Three-dimensional embossed wallpaper on the other hand hides imperfections, in case your walls are less than ideal. Though generally on the higher end, the new "paintable" embossed wallpaper starts at around $25 for a double roll (covering 56 square feet) at Home Depot. 
Fabric wallpaper (think linen, cotton, silk) and grasscloth are typically more expensive and difficult to hang; these are also porous and therefore susceptible to moisture and odors, though you can find many coated fabric papers that are more durable—and even more costly. (A hemp version by Obsidian in either white or gray sells for $499 a roll at CB2.) 
Vinyl is the easiest to hang and remove and also maintain (just wipe it clean); it can also be used in damp areas like bathrooms and kitchens. Note that sometimes this goes by "washable" wallpaper.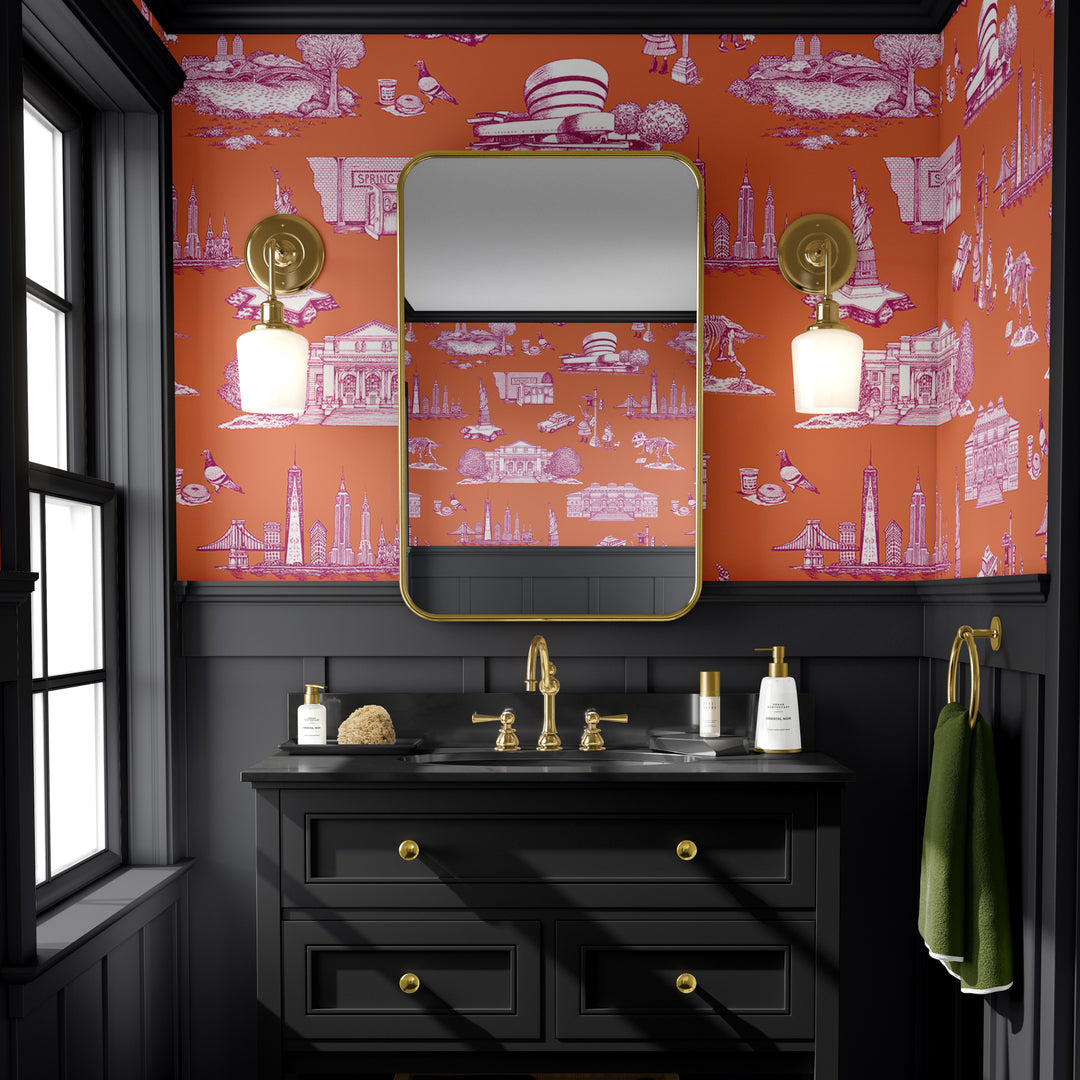 Where can you find removable wallpaper?
Kudos to whoever came up with the idea of "peel-and-stick" wallpapers—possibly the neatest decorating invention in terms of delivering luxe style and fluid design for budget-conscious and/or low-commitment shoppers. 
Pricing for Tempaper, the leader of the flock, ranges from $43 for single rolls to $125 for double rolls. (This is the brand sold by West Elm and numerous online sources). Other makers include Spoonflower ($112 for a 2-by-12-foot roll), Rifle Paper Co. ($65 for a 2.25–by-20-foot roll), and Lillian August ($68 for an 18-by-27-inch roll). Love vs. Design is a custom producer of fabric or vinyl removable papers where you can create your own combinations.  
Like the New York Toile shown at top? You can buy it from Austin designer Katie Kime ($128 to $198 for a 2-by-12-foot roll depending on color choice), 
Even high-end companies like Hygge and West offer a limited selection of removable designs in addition to its more extensive traditional and pre-pasted options ($195 per 27-by-30-inch roll).  
You can also shop across brands of removable wallpapers via online sources like Wallshoppe and Perigold. 
As with any wallpaper purchase, it's worth the $3-to-$10 price for a sample to see how the covering will look in your own space.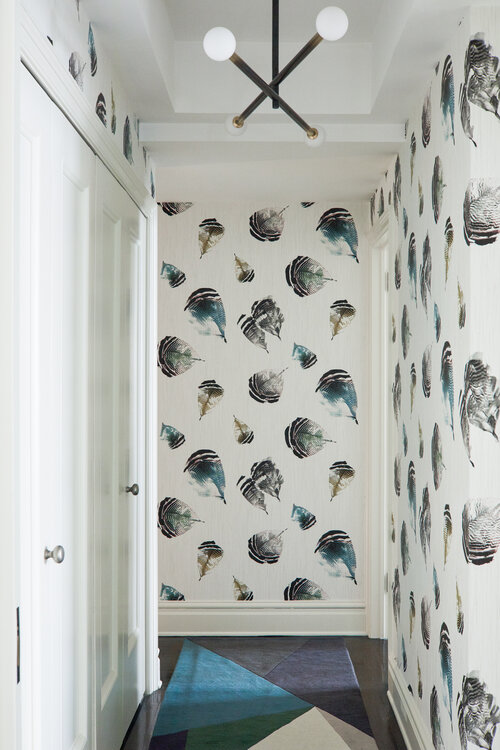 How much wallpaper will you need? 
Similar to calculating the amount of paint you would need to cover a room, the amount of wallpaper is based on square footage. And as with paint, it's important to order enough rolls to complete the job because only then can you ensure they come from the same lot. (Note: Every roll of wallpaper is identified by a dye lot number, which ensures that all of your paper will carry the same shade and ink qualities.)
Here's a refresher course in figuring out square footage: First measure the length of the surface you plan to wallpaper, then multiple that by the height of the wall. For example, a 13-by-11-foot room with 8-foot-high ceilings will have 384 square feet of wall space. (If you are covering a ceiling, replace the height by the width.)
The standard coverage for a single roll of wallpaper depends on the size of the roll, which can vary by manufacturer. But a general rule of thumb is that a standard roll (around 21 inches wide by 16.5 feet long) will cover approximately 28 square feet. 
Many makers price wallpaper as single rolls but package it as "double rolls," meaning you have to buy in multiples of two (or end up paying for more than you need). Others sell true double rolls that are the equivalent of two single rolls, covering about 56 square feet. Make sure you know what you are paying for.
If all this seems confusing, hire a pro: Designers are fluent in the different ways wallpaper is sold and can best anticipate when more wallpaper might be needed, such as when a pattern has to be matched at the seams. That "repeat" value (provided on the sample) can add up to lots of waste, so to save on costs you might want to stick with a solid print or a random pattern that can have seams anywhere.
Prefer to DIY? Many makers provide an online calculator that tallies up how many rolls you need when you enter your room's dimensions.

How much does it cost to have wallpaper installed? 
In general, wallpaper installers charge by the roll ($35 to $100) or square foot ($2 to $15), though some pros charge by the hour ($50 to more than $100). The lower range is for self-adhesive and the top for the traditional paste application, with pre-pasted falling in between.
That's just for basic hanging. Expect to pay more for necessary repairs to the walls, such as filling in lots of holes or sealing up cracks. Hanging traditional or pre-pasted grasscloth or hemp coverings will also increase labor costs, as those coverings are tricky if they get wet.
The target surface also matters: It's much harder to apply wallpaper to a ceiling than on a vertical surface, where gravity works with and not against you. Likewise if you are covering a wall with a vaulted ceiling that requires working from a tall ladder. Awkward spaces with sharp angles or lots of windows or other areas that call for the paper to be cut away will also up the cost. 
Patterns that must be matched at the seams will typically cost more than solid or random patterns too. 
Pro tip: If you have your heart set on a wallpaper that is not removable, you can ask your installer to use a special primer that makes it easier to remove without nearly as much mess or damage to your wall.

What are some strategic ways to use wallpaper?
Unless you have an endless budget, you'll want to know how to get the biggest impact from your wallpaper investment. 
For sure putting graphic wallpaper in an entry creates a strong first impression. 
Likewise, doing a bold (or expensive) paper in a small space like a closet or powder room can create "an immersive, impactful experience," says Jennifer Morris, principal of boutique interior design firm JMorris Design. For instance, she used a colorful floral pattern in a Lefferts Garden bathroom, above. "And because you don't spend a lot of time in these spaces, you are less likely to get tired of the look," she says. 
On the other hand, a larger space can soften bold patterns so they feel more like texture, such as in the playroom at top (that wallpaper is Dardanella in coral/mint by Harlequin; $160 per single roll.)
Don't overlook the ceiling either. "You spend so much time lying down in a bedroom that a ceiling paper makes so much sense here," Morris says. It can also work in other spaces where the pattern might overwhelm when on a wall.
Morris chose the trompe l'oeil-like paper in the nursery above because of how it makes it feel as if you are under a tree filled with birds and butterflies. (The same Schumacher wallpaper costs $532 for a double roll at Perigold.) "One of my favorite client stories is hearing how one of her daughter's first words was 'tweet tweet' while pointing to the ceiling," she says. 
How does wallpaper impact resale value? 
The brokers Brick spoke to agree: If the wallpaper is stylish and not too specific, it can make your home even more attractive to buyers.
"There are certain parts of a home where wallpaper can be very chic. A powder room or a bathroom can feel updated and modern with certain styles of wallpaper, for example," says Kimberly Jay, a broker at Compass. 
Interior hallways and small nooks are prime for "a fun decor moment and not visually overwhelming for a potential buyer," says Steven Gottlieb, an agent at Coldwell Banker Warburg.  
Using wallpaper to add texture and dimension without color or pattern is very much on trend and so can appeal to buyers. "A neutral-toned grasscloth, for example, likely isn't distracting or polarizing," Gottieb says.
Or follow Grinshpun's lead in using a creamy shade of linen fabric wallpaper in the living room and bedroom (above) of a Union Avenue loft in Williamsburg. (Given the supply chain shortages, she chose this product because it was in stock and able to be shipped from Europe super quickly.). 
For a similar look, check out Tempaper's peel-and-stick burlap wallpaper ($43 for a single roll). 
But Kay cautions that having patterned wallpaper throughout your living room, kitchen, or dining room may turn buyers off. Ask yourself if the look and design is universal.
Gerard Splendore, a broker at Coldwell Banker Warburg, agrees. "As a realtor with an interior design background, I personally like wallpaper and have lived with it my whole life. However, I am always a little bit anxious when selling a property because it can personalize it to such a degree that some buyers may not even consider viewing the listing."
His ultimate advice? Lean into the modern movement of using temporary peel-and-stick wallcovering, which can easily be removed by sellers before listing. "There will always be diehard traditionalists who will prefer the original wallpaper, but temporary wall decor is becoming more common and is available in many styles," he says.
Brick Underground articles occasionally include the expertise of, or information about, advertising partners when relevant to the story. We will never promote an advertiser's product without making the relationship clear to our readers.