Products + Services
What you need to know about installing a closet system in your NYC apartment or brownstone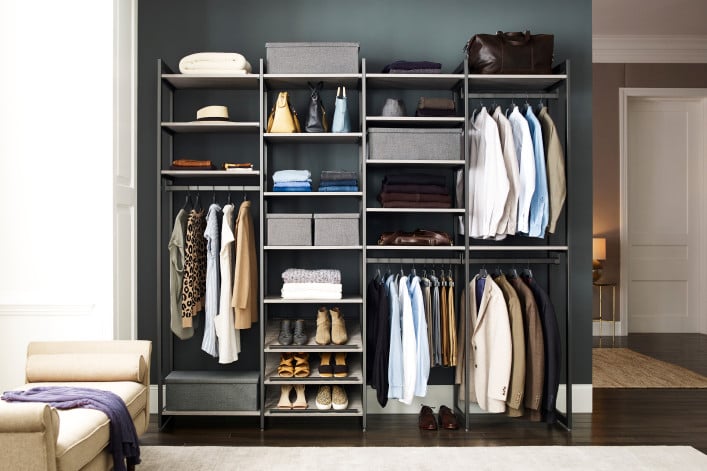 California Closet Company
Tired of living with a chaotic closet—or no real closet at all? Prewar apartments and brownstones notoriously lack closet space (turn-of-the-last-century New Yorkers used armoires to store their clothes, for easier transporting). Even your average, post-war building comes up short with limited wardrobe space.
On the other hand, bigger is not always better—walk-in closets can end up being a dumping ground for all your belongings. Making matters worse, the typical NYC closet is fitted out with a single hanging rod and one or two shelves up top, leaving lots of wasted space.
That's where a hardworking closet system can save the day (no more hunting down your favorite sweater in the morning rush).
There's a mix-and-match solution for most closet conundrums, whether you are planning a walk-in closet as part of a renovation or just looking to make your current reach-in closet more functional. Or maybe you turned your closet into a home office and now need a place to stash your wardrobe—a pandemic-era dilemma. You don't have to spend a fortune, either. There are plenty of budget-friendly options, including for rentals. (One industrious Food52 columnist updated her "messy closet" for nothing.)
Besides improving your own everyday life, a well-designed closet will appeal to future buyers. Call it the Kondo effect: People desire uncluttered spaces, even if they don't subscribe to the purge principle. And not everyone can "see" the potential organization possibilities of a standard closet.
"For sure not having sufficient closet space can be a deal breaker," says Lindsay Barton Barrett, a broker at Douglas Elliman. "The key is to maximize the storage without compromising living space, which is also in short supply." That translates to making the most of your designated closet space when there's no room to expand it.
Trust Brick to delve deep into the ever-expanding world of modular closet systems so you can find a solution to solve your own closet conundrums.

Can you do it yourself?
Sure, if you are handy with a measuring tape and a power drill—and want to join the legions of people who share their projects on Instagram. 
What's great about this route is that the modular systems are designed to be adjustable, so you can change the configuration as your needs change over time—a good thing since it can be hard deciding which components (drawers, rods, shelves) to go with. 
Michael J. Franco, a broker at Compass (and a serial renovator) recommends sticking with a reliable system that provides detailed instructions for installation, like the signature line of Elfa products from the Container Store. This erstwhile utilitarian system now comes in real wood and other nifty finishes and in endless mix-and-match configurations. (Tip: Use the store's free design service to avoid feeling overwhelmed.)
Prices for the systems range from $459 for the Elfa Décor 3-foot White Reach-In Closet to $3,456 for the Elfa Décor 8-foot gray and platinum reach-in closet. (You can also have the store install your new system for you for a minimum fee of $180 or 25 percent of the regular price of your Elfa purchase.) 
Home Depot's CLOSETS by LIBERTY system is available in four lengths and can either fit within an existing closet or along a wall. Installation is easy—unlike wall-mounted models (like Elfa) these floor-based systems only require anchoring to the wall to prevent tipping over. Prices start at around $700 and go up to over $2,400, depending on size and components. 
Modular Closets is yet another (and more affordable) option—fill out the online form and you'll get a free design that you can adjust yourself or on a phone consult with a company rep. All wall-mounted systems are 14 inches deep. Pricing ranges from $400 to $850 for pre-designed closets and over $1,000 for your own designs (including shipping). 

What about custom closet professionals?
Hiring a pro can certainly be a good option if you want start-to-finish guidance and a top-notch result that mines every inch of space. Even architects and interior designers turn to the experts when it comes to getting a closet with the utmost functionality.
Indeed, for some people hiring a professional is the only way to go.
"Professional closet designers are always preferable to doing it yourself," says Rachel Lustbader, a broker at Coldwell Banker Warburg. "A good one takes stock of your wardrobe and designs the closet accordingly." 
Her go-to choice? She uses California Closets for herself and her customers. This company is for sure the most well-known name in the industry and has two showrooms in NYC. 
"Small spaces can be tricky as can irregular spaces," says a design consultant from California Closets New York. "We often see the overlooked potential in a space and create custom solutions that optimize every inch."
Besides more elaborate (and costly) custom systems, the company has teamed up with Martha Stewart to launch The Everyday System, a modular quick-ship offering that can be self-installed (and is apparently inspired by Martha's own homes). You can shop from pre-configured reach-in and walk-in systems online or customize your own using the new online design tool. 
According to the consultant, this collection is well-suited for renters and homeowners alike. "It can be quickly adjusted to grow with your needs, and it can be moved from room to room, or home to home,". Pricing starts at around $800 for smaller options and tops out at around $4,000 for a larger size with all the bells and whistles. 
The Container Store launched its own exclusive Laren Custom Closets—a sure sign of the growing demand for systems that are equal parts form and function, with luxe finishes, LED lighting, and glass fronts. Pricing starts at $2,900 for its Essential line and $7,800 for the Exceptional system (installation included). 
Prefer to keep your business local? One source swears by Creative Closets, which has offices in Manhattan and Westchester County. Smart Closets and Custom Closets and More are both family-owned operations that serve all or part of the five boroughs and beyond,
Boundless budget? Lustbader points to high-end cabinet makers such as Poliform that also offer custom-design closets and wardrobes. Check out the Italian company's Senzafine Walk-in Closet and coordinating "island" chest of drawers (pricing available only upon request—and best handled with a design pro). 

Does it add to resale? 
Definitely—the brokers Brick spoke to all agree on this point. "Especially if they are modular so that they can be adjusted to suit the buyer's needs," Lustbader says.
The smaller the apartment, the more valuable it might be. Kate Wollman-Mahan, an agent at Coldwell Banker Warburg, finds that buyers of larger apartments are often more willing to take on the headaches of a renovation or a project because they feel they are investing for the long run.
"A smaller unit may be a starter home and if the owner only intends to live there for five years they are less willing to spend time renovating. Or it may be a pied-à-terre, in which case the owner does not even live in the city, and so managing a project is even more challenging." 
Case in point: Barrett sees the built-in closet (above) as a draw for potential buyers of a four-bedroom, five bathroom townhouse at 608 5th St. in Park Slope. A large, custom walk-in closet and dressing room connects the bedrooms.
In Franco's opinion, the investment is well worth it. "Every time I have personally bought, renovated, and flipped an apartment I have installed a closet system and I feel confident it makes a big difference on resale." 
And remember: Your potential buyers may be shopping among new high-end developments, where a WIC is the default. 
"Closets are a top priority of people at the top of the market for a family-size home," says Nancy Packes, founder of Nancy Packes Inc., a firm that designs, markets, and manages buildings for new developments. For example, the larger units at luxury rental One Boerum Place feature WICs that are fitted out with double hanging rods and lots of built-in shelves and cubbies. 
For Barrett, the WIC closet has replaced "massive bathrooms" as the definition of luxury, but it still has to be functional. "Not infrequently we've seen bedrooms that have been converted into a closet, often with a desk to tackle certain things so it's multipurpose," she says.
Indeed, "many NYC clients contact California Closets to transform an entire room into a beautiful custom walk-in closet that is the epitome of organization," says Masha Alimova, director of information technology and marketing. "We also notice that many clients' needs turn into multi-functional designs meant for a dual storage purpose, such as wall beds and home offices so it works as a guest room when needed, but also having a workspace for daily use." 
How you choose to market that bedroom-slash-closet depends but generally having more bedrooms trumps a WIC in terms of asking price. "But if it's a swanky two-bedroom apartment that merits having a WIC, then we'd probably just run with it," Barrett says.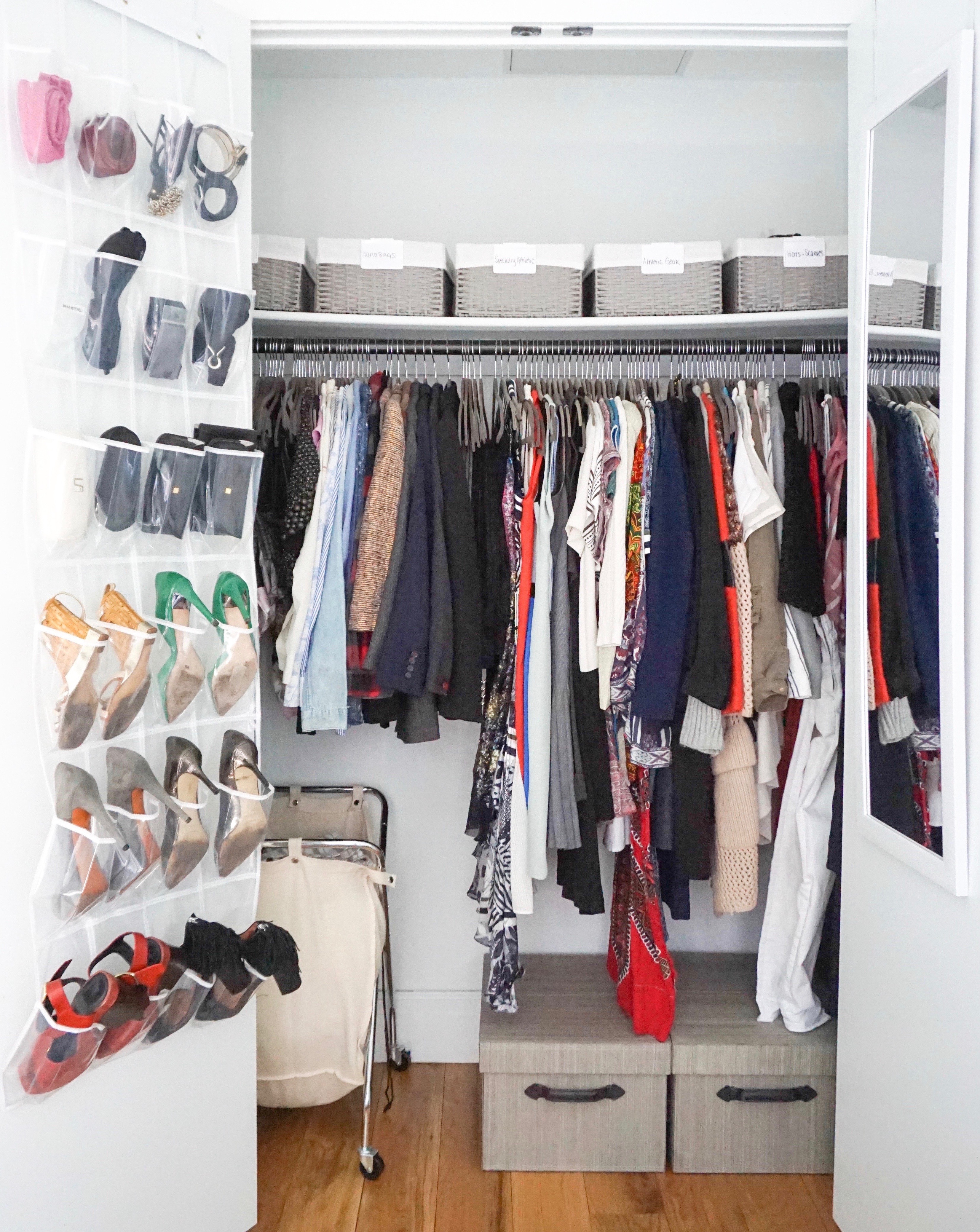 How to optimize the space
You can have the greatest closet system in the world and still have it end up being disheveled, so be sure to do a little prep work.
For guidance, Brick turned to Jamie Hord, founder of Horderly, a professional organizing service.
"When organizing any space it's important to declutter, edit, and take inventory of your belongings before figuring out the best way to store and contain them." She also offered the following closet wisdom: 
If you're thinking about revamping your closet space, first take out all items and sort them into piles by category, then decide which items to keep, toss, or donate. Once you know what you're keeping, then you can strategize the best way to organize that space.

Create zones in your closet to store similar items together. 

Use slim hangers to maximize space on hanging rods.

If your closet is going to be visible at all times, consider putting doors over your hanging space to create a cost-effective built-in look. 

If you have open shelving and don't want to install doors, use decorative bins and baskets to group like items such as accessories. Also, when displaying your belongings on open shelving, store similar items together and color-coordinate to create a functional yet aesthetically pleasing display! 
And check this out: You may not need to invest in a system at all if you are able to streamline what you are storing, as in the example above, which is fitted out with a shoe organizer, labeled bins (athletic gear, scarves and hats), and a hamper (sigh!).
Brick Underground articles occasionally include the expertise of, or information about, advertising partners when relevant to the story. We will never promote an advertiser's product without making the relationship clear to our readers.