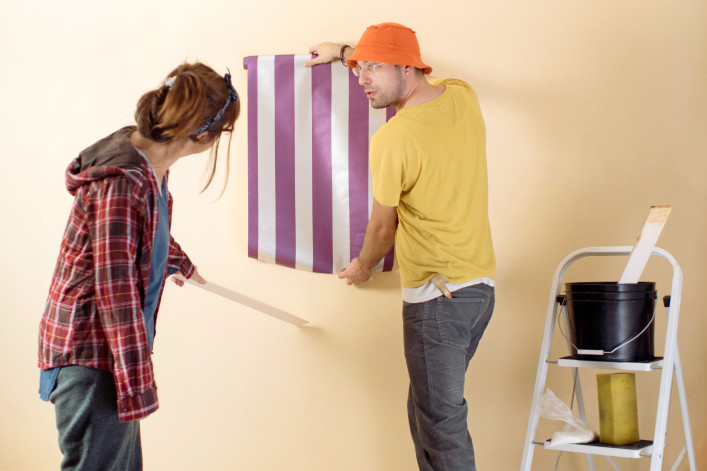 An accent wall in my NYC rental is wallpapered with a large, bright, oversized pattern that I've grown to hate. I was so desperate to land an apartment when I moved in that I didn't say anything, but I would really like to cover it somehow. What are my options?
Your first step is to reach out to your landlord and ask if they will remove the wallpaper and repaint the wall. Per NYC's Housing Maintenance Code, landlords are required to paint or cover walls with wallpaper every three years. However, it's more common for landlords to paint or replace wallpaper between tenants, despite how recently the apartment was painted.
Arik Lifshitz, CEO of DSA Property Group, a property management and development firm, says that they always paint an apartment after a tenant vacates, except in rare circumstances like when a new tenant is taking over a lease and needs to move in quickly.
"I would caution any tenant who is looking at a vacant apartment that needs to be painted to look elsewhere," Lifshitz says. "If the landlord is unwilling to paint, then imagine what else they're unwilling to do." 
If you still have your heart set on a new apartment that needs paint or wallpapering, be sure to ask a landlord to take care of it before you sign the lease. There's lots of vacant rental apartments on the market, so renters have lots of leverage these days to ask landlords to get things done.
If you've already moved in, and the apartment is not due to be painted or wallpapered but you want to recover the walls, try negotiating.
For example: You can offer to do the work if they provide the paint and supplies. Or you could offer to buy the supplies and do the work—if they reimburse you for the costs with a rent credit. It gets you what you want and saves them money on a painter.
One option to cover up existing wallpaper is peel-and-stick wallpaper, which doesn't damage walls when you remove it. Bonus: It's much easier to install than traditional wallpaper and there's lots of colors and patterns available. For example, this Stripes Away pattern from Chasing Paper is available in four colors, which has a calculator that tells you how much you will need. It also sells samples for $6. 
[A tip from a Brick Underground writer who recently installed some peel and stick wallpaper in a child's room: Try living with the sample on the wall to see if you like it before committing to this route. The writer ended up with an accent wall with lots of air bubbles that no amount of work could remove. Her child doesn't notice them, but if this is something that would drive you batty, steer clear.]
Keep in mind that your lease might prohibit you from installing traditional wallpaper. Doing so could be grounds for losing your security deposit or having your lease terminated, Jeffrey Reich, an attorney at Schwartz Sladkus Reich Greenberg Atlas, recently told Brick. So be sure to ask your landlord for permission, preferably in writing, before you install or remove wallpaper.
Even if they approve the wallpaper, it will likely have to be taken down before you move out, Dennis R. Hughes, a broker with Corcoran, recently told Brick. 
You could also try to paint over the wallpaper, but you should use a neutral color or you might have to repaint before you move out. It's an easier process than removing wallpaper and sanding the drywall. According to The Spruce, wallpaper should be in good condition for this process to work. If any portions of the wallpaper are peeling, it's best to remove that section. The website cautions that paint will not stick to plastic-coated removable wallpaper.
So, while you have some relatively easy options to cover your unfavorable wallpaper, the most important step is to try to have your landlord fix the issue first, and if not, get approval before making any changes.
Brick Underground articles occasionally include the expertise of, or information about, advertising partners when relevant to the story. We will never promote an advertiser's product without making the relationship clear to our readers.