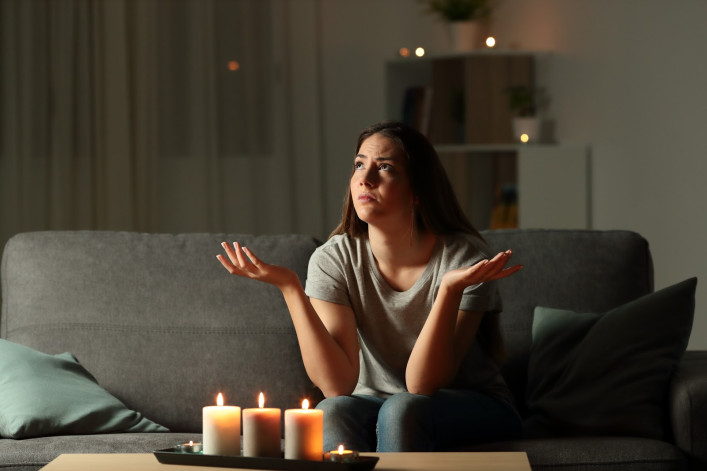 Lots of New York City rental apartments have bad lighting because of windows that face another building or a lack of overhead lighting. The concrete ceilings found in many rentals make overhead lighting difficult to install.
If you're finding it hard to see in your place, there are landlord-friendly ways that you can improve your apartment's lighting. Some solutions require a little handy work to hang ceiling or wall lights but there are also interior design tricks that can help too.
Brick Underground talked to Jamie Alexander, an architect and the founder of interior design firm Design-Bite, to find out the easiest ways to improve the lighting in your NYC rental. Read on.
How to hang lights that won't make you lose your security deposit 
One of the best options for getting more overhead light is to install a pendant light with a cord that plugs into a wall outlet. You will have to drill at least one hole in your ceiling for a hook to suspend the light (be prepared to patch the hole when you move out). Alexander is using this method for a renovation in Westhampton—the owner wants to add lighting without having to open up the walls and ceiling to hardwire the lights.
A pendant light is good solution because it can be customized for your space, for example, the height can be adjusted by the length of the cord. And if you have a large room and want the light fixture to hang from the center of the ceiling, you can just add more hardware to anchor the cord to the ceiling. 
Alexander suggests Color Cord Company, which sells pendant lights, custom cords, and kits for hanging the fixtures. They have over 100 color options and you buy the cloth-covered lamp cords by the foot. For example, this warm tweed cord is $1.50 per foot and the rated voltage, which is the maximum voltage that your light can operate safely, is 300 volts. 
Many pendant light fixtures use a single bulb, so to maximize brightness, you should look for fixtures with sockets that are compatible with a high-wattage bulb. Alexander suggests looking at fixtures at The California Workshop, and says there are kits available to convert these into plug-in lighting.
The Spruce also suggests a way to hang sconces or wall lamps that requires no electrical work. Attach a wireless remote-controlled light, like this one on Amazon ($36 for a six pack) to a sconce with Velcro and then hang on the wall—no electrician needed. You can watch a step-by-step tutorial on this method by Brooke Christen, a home decor blogger at Nesting with Grace. 
Use the right light bulbs
To maximize the lighting in your apartment, Alexander says eco-friendly LED light bulbs are the way to go.
"LED lights have evolved over the last couple of years," she says, improving their light output and ability to control brightness and colors from either a smartphone or a dimmer switch. 
You can use standard LED light bulbs if you just want optimum brightness, but if you want a more custom industrial aesthetic, you can go for Edison-style LED bulbs.
Smart light bulbs give you the ability to control the color and brightness of your light bulbs from your smartphone. These typically require a wifi connection and a hub connected to your modem. You can buy a smart-bulb starter kit, like this Philip Hue white and color ambiance starter kit for $200, which comes with four energy-efficient LED light bulbs and a hub. They also sell a white-only starter kit if colorful lights aren't your thing.
Maximize your natural light
If you have natural light, there are a couple of interior design tricks to maximize it. 
Mirrors are a good option. If you place a mirror within 10 feet of your window on a perpendicular wall, the light will hit the mirror and bounce the reflection throughout the room.
Alexander also says highly reflective surfaces, like metal fixtures, that will give your room the appearance of being brighter as well.
Brick Underground articles occasionally include the expertise of, or information about, advertising partners when relevant to the story. We will never promote an advertiser's product without making the relationship clear to our readers.