Design + Architecture
10 renovation ideas to create a sustainable kitchen in your NYC apartment or brownstone
If you are among the many people who are planning a kitchen renovation in 2022, you may well be wondering how you can make this hard-working space not just stylish and functional, but more sustainable and healthy as well.
Going green is more than a passing fad—it has become a priority for many people (including buyers) who are looking to improve indoor air quality for personal health and reduce energy usage for cost savings—and to save the environment.
New residential developments must meet sustainability standards under New York State's carbon-neutral initiative, creating an expectation among buyers, especially millenials. So being able to tout eco-friendly features in your own home will be helpful when it is time to sell.
Having recently constructed and designed his own home to Passive House standards with an all-electric kitchen, Wayne Turett, founder and principal of NYC-based architecture and design firm The Turett Collaborative, shares insights on how to create a more sustainable home, starting with the kitchen—the heart and hub of any home.  
But you don't have to go to Passive House lengths to improve your environmental impact. Instead, pick and choose among the following tips from Turett and other like-minded architects in designing a kitchen that's healthy, sustainable, energy efficient—and beautiful. (Brick has a greenrenovation guide for ways to make your entire apartment or brownstone more sustainable too.)
Know that all the "little" steps you take add up in the long run, and in more ways than one. Climate change gets all the attention, but indoor air quality—and your personal well-being—as well as water and energy conservation are ways that you can make a difference. Breathe easy and read on for more intel.
1. Repurpose what you have
Right off the bat, it's important to appreciate that renovating a historic brownstone or prewar co-op is itself a sustainable process, so long as you attempt to preserve and/or repurpose as much as you can of what's there.
"The greenest materials are the ones that already exist," says David Bergman of DavidBergmanEco, who runs a Masters-degree program on sustainability at the New York School of Interior Design. 
Turett sees upcycling and repurposing original materials as a sustainable and budget-friendly choice. "Mix-matching old and new materials can even add a certain design edge to your space, and scrapped materials can be repurposed for alternative uses throughout the house, e.g. using old marble as a fire surround in the living room," he says.
The same goes for updating, rather than replacing, tired surfaces. Maybe you could get by with refinishing and resealing your existing countertop and painting your cabinets, or removing and/or replacing only the fronts. 
Jorge Fontan, founder and principle of Fontan Architecture, also advises reducing your job site waste by making sure the contractor recycles the materials during construction. You can also donate appliances to places like Big Reuse. 
2. Prioritize salvaged materials
Again, existing materials are greener than anything brand new because you'll be diverting usable stuff from landfills and avoiding depleting natural resources. (This is also a good way to skirt ongoing supply chain issues.) Indeed, NYC is a treasure trove of "architectural salvage" for your home renovation. 
"There are all sorts of materials that are recycled, reclaimed, and reused, including steel made from recycled metals, recycled drywall materials, and reclaimed wood, bricks, and stone," Fontan says. 
Along the same lines, better-quality materials are built to last and therefore more sustainable in not needing replacing any time soon (unless you rip out perfectly good surfaces every five years, regardless of their condition).
The ultimate takeaway? Purchase the best quality that fits within your budget. Buying from local sources also helps reduce fossil fuel emissions. 
3.  Opt for eco-friendly countertops
Studies show that countertops are a major priority for kitchen renovators—and among the most difficult decisions to make given the need to balance form and function. 
"Provided it's easy to mine and sourced locally, on-trend stone countertops are fairly sustainable options due to the material's longevity," Turett says. 
Otherwise, and better yet, look for Greenguard-certified quartz countertops, such as by Corian, Cambria, and Ceasarstone, or quartz made from recycled content, including by Green Goods. (Read more about quartz and other alternatives to marble and granite.)
Other recycled materials include no-VOC Alemi acrylic (made from scrap metals) and Richlite, a recycled-paper (yes, paper!) composite—both touted as durable and easy to maintain.
Even laminate has become legit. Turett used countertops from Abet Laminati in his own kitchen, and even Formica is sustainable these days. 
"Not always thought of as a sought-after material, laminate is durable, easy to clean, reliable, and can be both a cost-saving and environmentally friendly option," Turett says.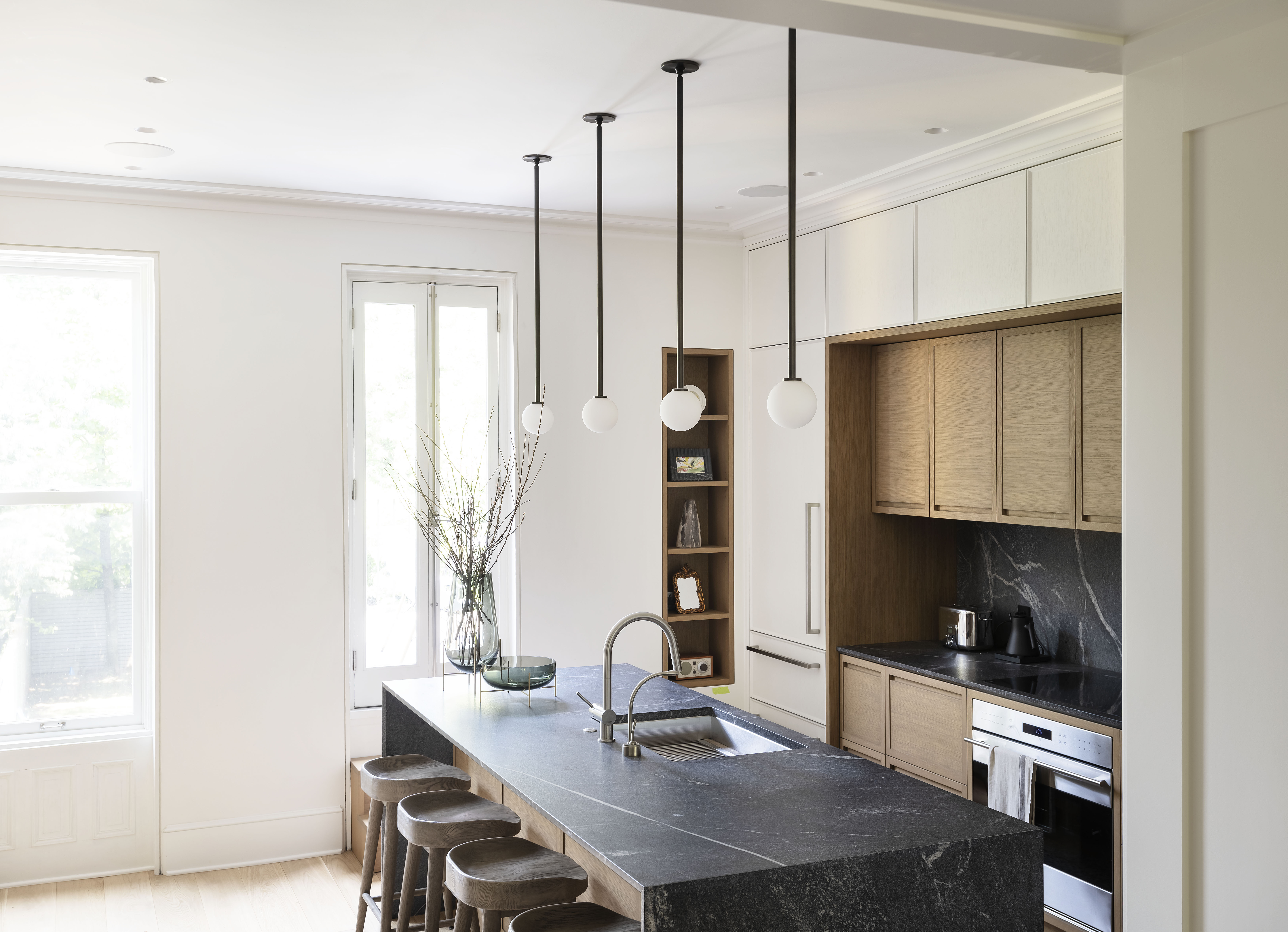 4. Buy cabinetry that's safe (for indoor air quality) and sustainable 
Two concerns crop up with cabinetry—off-gassing from resins and glues used in engineered materials and the sustainability of natural materials for the fronts. 
Breathing in volatile organic compounds, or VOCs, has been linked to adverse short- and long-term health effects. There are now many paint brands that offer low- or no-VOC products, including big names Benjamin Moore and Sherwin Williams as well as smaller companies like Backdrop and Clare.  
But it can be harder to rule out VOC-emitting resins or glues used in the construction of cabinetry and other surfaces. For example, particleboard (aka MDF) and plywood traditionally involve using glue containing formaldehyde, so it's important to look for products with "no added formaldehyde"—or NAF.
Some modern cabinet makers are skipping adhesives altogether. For example, Turett installed a modular cabinet system by Valcucine that's connected by mechanical joints. Besides being formaldehyde free, "this kind of system can be dismantled, reassembled, and even expanded over the years with new components"—offering longevity in spades. 
Similar systems are available from UK-based Holte, which is compatible with Ikea base cabinets for affordability. (By the way, Ikea is making strides to be "climate positive" by 2030.)
If you are set on getting custom wood cabinetry, look for a fabricator (like Brooklyn-based Cabinet Maker NYC) that uses only wood certified by the Forest Stewardship Council, which means it comes from sustainably managed forests, where the eco-system and wildlife are protected throughout the harvesting process.
Luxury kitchen manufacturer Cesar NYC  makes wood panels that are low VOC and FSC certified. 
Rutt HandCrafted Cabinetry is certified by the Environmental Stewardship Program, which sets standards for the kitchen and bath cabinet industry around air quality and resource management.
5.

Don't overlook environmentally sound flooring

If refinishing your wood floors is not an option, you may want to consider wood-look alternatives like cork, bamboo, and especially linoleum, all of which get a big green thumbs up for sustainability. (Check out Evoke and Forbo, both offering easy-to-install, click-tile linoleum systems.)

Turett points to flooring made from naturally occurring raw materials, such as porcelain and ceramic tile, as two great options.

"Porcelain tile is especially known for its durable, stain-resistant, and non-porous nature, making it great for use in moisture–prone and high-traffic areas of the home like the kitchen, while ceramic tile's indestructible properties also allow it to contribute to waste reduction, with the ability to survive fire and floods, withstand fading, be installed over existing tile, and be salvaged or disposed of easily," he says. They're healthy too with anti-microbial properties and no VOCs.

So long as it is sustainably harvested (or reclaimed!), natural wood is another option. "Just make sure to avoid polyurethane finishes, which are high in VOCs and potentially hazardous," Turett says. He used a low-VOC, plant-based finish by Woca on his own hardwood flooring. The company also makes environmentally safe products to help keep your floors in tip-top shape.
6. Use

Energy Star appliances 

Most new appliances—refrigerators, freezers, dishwashers, and washer/dryers—have Energy Star certification, meaning they meet energy saving-standards set by the U.S. Environmental Protection Agency.

"But if you want to substantially reduce your energy consumption and really save on the power bill, you will need to research how much each appliance costs to run versus its competitors," Turett says. 

According to his research, Gaggenau, Miele, Bosch, Samsung, and LG are some of the best appliance brands when it comes to sustainability. (He went with a Samsung refrigerator.) Just using an Energy Star dishwasher can save more than 8,000 gallons of water per year as well as $130 in energy bills—and conserve more water than washing by hand. 

Relatedly, look into water-efficient faucets by Moen, Delta, and Kohler; touchless models reduce the spread of bacteria. 

Note that Energy Star does not certify ovens or ranges, covered in the next section.
7. Swap out your gas oven and range
There are many reasons to give up on gas cooking in favor of electric or induction. 
For starters, gas ovens and ranges are a leading cause of harmful indoor air pollution according to the World Health Organization. And gas leaks are a major concern in NYC. Plus there's the whole movement away from relying on fossil fuels in lowering your carbon footprint. 
Finally, induction ranges at least are fast becoming the model of choice (even by chefs) because they offer more control over your cooking—that they heat up and cool down quickly also makes them more energy efficient. 
Turett says the Fisher & Paykel Induction Smoothtop Cooktop is easy to clean and provides additional counter space when not in use. He opted for a Gaggenau oven and microwave; the cooktop is by Samsung.
For the inside scoop on other electric and induction cooktops, check out Brick's in-depth post.  
Not ready to invest in induction just yet? Turett suggests using steam ovens (his is by Gaggenau), instant pots, or crock pots, which use less energy by reducing cook time, water consumption, or electricity usage, respectively.

8. Install an exhaust hood for your cooktop
Hoods are only required by law if you have a gas oven or range, but all the pros Brick spoke to encourage installing a hood no matter what type of cooking you do to properly ventilate the air to the outside. 
In addition to his columnar hood, Turett installed a motorized damper exhaust duct to regulate airflow in the kitchen and bring the smells out and up rather than down to the bedrooms. 
If you live in a small city apartment and don't have vented exhaust, Turett encourages putting an additional exhaust fan in the window to improve ventilation. 
Running a freestanding HEPA air filter—and cracking your windows open during cooking—are other helpful steps. 
9. Switch to LED lighting
"Really, no new lighting should be anything other than LED," Bergman says. That's because unlike incandescent bulbs, LEDs can last for at least 10,000 hours. Making the switch from incandescent and halogen to LED bulbs is among the easiest steps you can take to reduce your energy usage. 
When installing new fixtures, make sure they are LED compatible, and add dimmer switches so you can control the output, for more cost savings (and atmosphere). 
Be sure to factor in ways to have different light sources for different areas of the kitchen—over an island, under the cabinets—and keep recessed lighting (and their wattage) to a minimum. 
(Brick's deep dive into lighting your home offers other ideas.)
10. Insulate when possible
"Good insulation is one of the most important energy-efficient ideas to implement," Fontan says. "Heating and air conditioning represent the largest percentage of energy use and the biggest drain on your energy bill." Ergo, the better insulation you have, the less energy you will use.
A note of caution from Bergman: "Just be aware there are better and worse types of insulation, so be sure and talk to your architect to find the most sustainable one for your project." 
Obviously you would only consider adding insulation in the case of a gut renovation or if you are opening up the walls in your kitchen for other reasons (or building from scratch).
But even if you aren't undertaking that level of work, you can at least seal windows, doors, vents, electrical conduits, and any other holes and penetrations through caulking or other methods. And if you live in a brownstone, you may want to find a home energy company conduct a blower door test.to determine if there are any air leaks and at what rate—and then take corrective steps.
Creating an airtight "envelope" is one of the most significant features of Passive House design. "Whether or not you're designing to Passive House standards, insulation is key to energy savings," Turett says. 
"To reduce air infiltration, take extra care to seal up areas when installing new appliances and around exterior walls and windows. According to the Insulation Institute, insulation reduces emissions of pollutants such as carbon dioxide, sulfur oxide, and nitrogen oxide by eliminating the need for excess use of natural gas, propane, fuel oil, and electricity for heating and cooling. It is great for your wallet, too." 
Brick Underground articles occasionally include the expertise of, or information about, advertising partners when relevant to the story. We will never promote an advertiser's product without making the relationship clear to our readers.