Neighborhood Intel
Live near a NYC construction site? Here's how to troubleshoot excessive noise, after-hours work, and more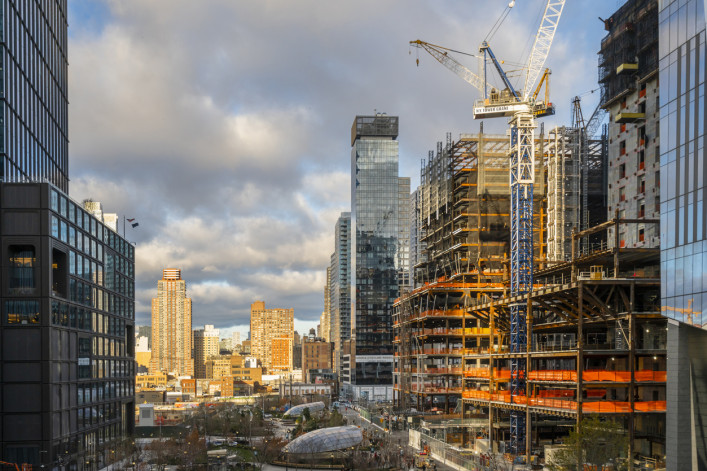 When my boyfriend and I visited what would be our next apartment, we worried the empty lot across the street meant major construction was coming—but the place was too good to pass up. It turns out, we were right: A few months later, permits were filed for an eight-story apartment building, and a few weeks ago, there were inspectors at the site. Construction is likely to start soon.
Living in New York, a city that's always changing, invariably means living near construction. There are almost 200,000,000 square feet of active construction sites in the city, according to the Department of Buildings. For most projects, especially with today's supply chain issues causing major delays, it's a headache you'll deal with for months—or years. 
However, moving to a new apartment isn't an option for most of us, so you have to learn to deal with it. For example, you should know who to contact if there's unauthorized after-hours construction keeping you awake. Another trick: Install soundproof window inserts to muffle the racket while you work from home during the day.
For your sanity, here's how to prepare for living near a construction site in NYC.
Know who to contact 
It's important to know who to contact if something goes wrong, like if the work is starting too early. Look at the signage at the construction site for a manager's contact information. There are also websites where you can check if after-hours or weekend construction permits are approved. Read "7 ways to tell if construction is coming to your NYC neighborhood" and "How can I tell if the after-hours or weekend construction work on my NYC block is allowed?" 
Unite with your neighbors 
You're not the only one impacted by construction—your neighbors will also be affected, especially if they work from home. To protect everyone's quality of life, keep clear communication between your neighbors and decide who will speak for the building when an issue arises. Check out "Is construction coming to your NYC block? Here's how to organize your building and protect your quality of life."  
Soundproof your space 
Noise will likely be the biggest headache during construction. Soundproofing your apartment can help. If you live near a massive, ongoing project, adding soundproof window inserts might be a good long-term solution—they work with your current windows, making them an option for both renters and owners. Look into "What you need to know about soundproofing the windows in your NYC apartment or brownstone" and "Need help with soundproofing your NYC apartment? Here's Brick's best advice."  
Prepare to battle more pests 
You might not expect it, but nearby construction will bring out pests, who might find a new home in your building—or apartment. If you're a renter, your landlord is required to take care of the issue and for owners, ask for an extermination plan. Read "How to get rid of rats in your NYC apartment or outdoor space" and "Have a rat problem? This electrified trap could zap it away."  
Get ready to clean (more) 
Expect more dust in your apartment during this time, especially if you have windows that face the active construction. To reduce this as much as possible, keep your windows closed and remove unused AC units if possible. You might also want to invest in an air purifier. Check out "6 ways to fight dust in your NYC apartment" and "The best cleaning supply subscriptions and websites: Grove, CleanCult, The Honest Company, Jet, & more." 
Brick Underground articles occasionally include the expertise of, or information about, advertising partners when relevant to the story. We will never promote an advertiser's product without making the relationship clear to our readers.