Living Next To
These three Upper West Siders live next door to a hellish construction project. Here's what it's like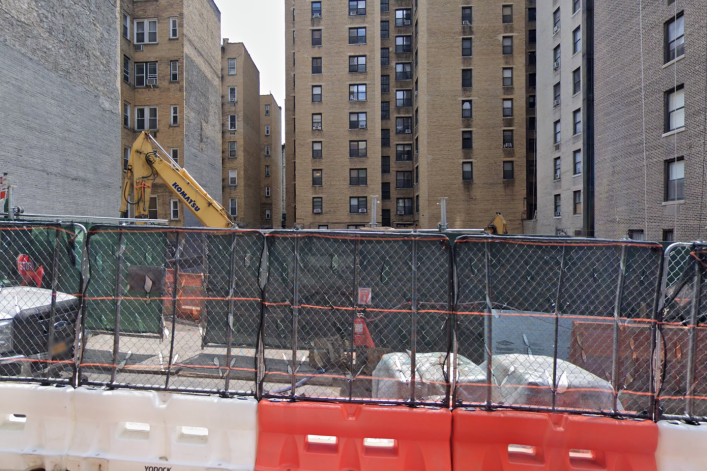 For most New Yorkers, construction projects are a daily annoyance, but something brief—you walk under a sidewalk shed or skirt machinery blocking a sidewalk—and continue on your way. But if you live near a construction project, it can be a completely different, never-ending "hellish" experience. Brick Underground reached out to three people who live next to the site of Shaare Zedek, a nearly 100-year-old synagogue at 212 West 93rd St. on the Upper West Side, which was torn down at the end of 2018 to make way for a 14-story, luxury condo building. (The congregation will move into the new building, occupying the first three floors.) Living with the ongoing work, which involved excavating into bedrock, has been unbearable, they say. Their advice to anyone who finds out about a major project coming to your area is: Leave if you can. But if you can't, like these three, here's how to cope.
Read on for first-person accounts from Jay, who has been trying to conduct a job search from his apartment; Ronna, a writer who works at home; and Martee, whose husband often works at night and (tries to) sleep during the day.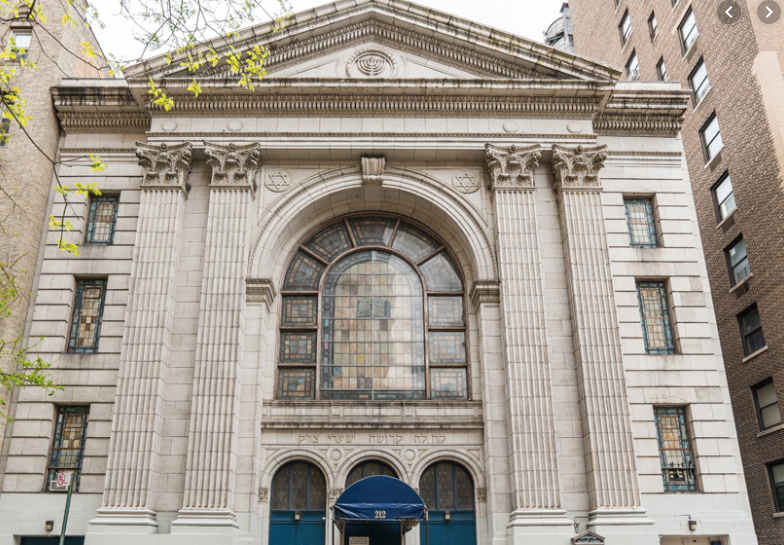 ---
[Editor's Note: Brick Underground's series "Living Next to" features first-person accounts of what it's like to have an iconic or unusual New York City neighbor. Have a story to share? Drop us an email. We respect all requests for anonymity.]
---
Jay's story 
I've lived here since 1975. The street has always been a quiet one and although I've always had limited sun, I did have some. I was upset when I heard that the project was scheduled, but it's turned out to be worse than I ever thought it would be.
When I heard that a group of people from the co-op next to me were organizing to have the synagogue landmarked, I had a lot of hope that  somehow this wouldn't happen. I joined them. I felt I had no choice but to fight. I'm stuck here because of economics—my apartment is rent stabilized. I can't imagine why anyone who could leave wouldn't go. The woman in the apartment below me is in a wheelchair and doesn't get out much. It must be horrible for her.
Lots of people in my building have big apartments and can escape to other rooms when the noise gets bad. The apartments in my line bear the brunt of it. Every room in my apartment faces the site. It's in my front yard and it's eating up my life.
This summer, when they were excavating the rock, the pounding was unbearable. According to the construction company, the rock was deeper and more difficult to drill than expected so months were added on to the excavation part—the worst part of all. The unpredictability of the noise was awful. The pounding would stop for a short time but I never knew when it would start up again. Having no control over the peace and quiet in your own apartment is unhealthy. 
I did everything I could to muffle the noise. I set up a workspace in my small front hallway. It was windowless and airless. I bought blankets and hung them on every window hoping they would provide soundproofing. On some I hung two. Then I added cushions from my couch to the padding. The improvement was pretty modest and of course it meant that I was living in a total black-out zone.
This summer the weather was often stifling so in order to get some cool into my hallway 'workspace' I bought five box fans and put them on the floor by one of my air conditioners. I did this to try to push some cool air through to my airless hall.
I wear earplugs and over them, headphones. There is a decibel level that construction isn't supposed to exceed but it is so high that it is useless.
When the actual excavation was over, I thought it would be more of a relief than it has been. It's slightly better in terms of intensity by there's still no pattern. Excavation was steady, intense vibration and noise. Now it's a cacophony with somewhat less vibration.
The hammering is much louder than I thought it would be. It's not just the sound of hammering. Each new floor that goes up involves half a dozen workers pounding building materials and rebar into place. It's like living next to a shooting range. And then there's also the sound of power saws cutting metal and wood and during what seems to be the never-ending cycles of unloading building materials, air horns are constantly blasting.  
Another construction company has broken ground on a site diagonally across the street from me on Broadway. That noise travels across the street and is always in the background but it gets mostly masked by the noise next door.
When people think that this is just about losing a view, they have absolutely no idea of what it's like.
Ronna's story
I've lived here for six years. For most of that time, my apartment was phenomenally wonderful. Quiet, peaceful, lots of light in the bedroom and living room. It had a lovely, expansive feeling. That's what drew me to it. 
My apartment is behind the construction site and I look into the hole. I keep my blinds closed during the week and open them on weekends.
I work at home—I'm a writer-so it's a nightmare. This summer the noise was unbelievable. Things in my apartment shook. It was pretty tough. I sometimes had to go to a coffee shop to work. I wore earphones at home. It was difficult to talk on the phone so I went someplace else to make calls or waited until the evening. It was very unsettling, intrusive. The noise of the excavation would make an ideal torture. It was all that my neighbors talked about. 
And in the beginning, the developer didn't tell us anything about what was being done or what the end point was. They weren't at all transparent.
When we first heard about the demolition/construction plans, we organized our neighbors. One of them suggested that we work to have the synagogue landmarked. I thought 'oh this won't be complicated.' It turned out to be very involved and in the process I learned a lot about local government. We raised funds and hired an expert to write a history of the synagogue to include in the landmarkingapplication. He wrote a remarkable history for us which made it even more upsetting and heartbreaking when our landmarking application was denied. We also hired an expert to do zoning challenges. It was a pretty costly effort.
When the noise was at its worst this summer, if you called in a complaint you never knew when inspectors were going to come. The allowed decibel level of 85 is much too high.
The noise isn't as bad now but I still have to wear a noise canceling device while they're working. After the failure of the landmarking effort and since the construction began, Linda Rosenthal, our assemblymember and her staff have been phenomenal in helping us set up communication with the developer and construction company.
All of this has made it clear to me that a major problem in the city is the lack of adequate regulations for construction projects and lack of oversight of developers. People who will be directly affected by a project should have input from the beginning.
Martee's story
Our bedroom window is about 10 feet from the construction site. It's like we're in the hole with them. This summer, when they were excavating, I wrote an email to the construction company that said, 'keep digging and when you reach hell, then you'll know what it's like for us!' No response yet. Once this summer I went over to complain about the noise and was told there was a 'blanket' on the excavator to muffle the sound. There was no blanket.
My husband is a lighting guy. Sometimes he goes to work at 11:30 at night, gets home about 4:30 in the morning, and goes to bed. The noise wakes him up at 7:00 when they start working. Every day he's home it's hell for him.
He bought headphones so he can watch tv. The noise drives him crazy but we have to live with it. When he tries to do his work on the computer, he can't think. He's become better friends with Ketel One than he used to be. 
We moved here in 2016. The synagogue blocked most of our light but we could see the sky through two buildings. We're on the first floor and our window faces the place where they stored the garbage bags but we love our 'cave.' And it used to be quiet. We moved here from 19th Street because of construction in our building. We were so happy to have quiet. Then in the summer, that all ended. 
The drilling made stuff fall out of our medicine cabinet. Don't know whether we got any new cracks in the walls because we have so many already. Didn't have a problem with dust, though. I'm a clean freak and so I stay on top of it.
Whenever I checked the decibel level on my app, no matter how awful it was, it never went above the allowed level. Still, it's much too high.
Now that the excavating is done, it's a different kind of noise. It's like the workers are in our bedroom. They yell at each other, hammer, drop steel and there's noise from the machines they use too. They're never late, start on the dot of 7:00 and it feels like they never take breaks.
Brick Underground articles occasionally include the expertise of, or information about, advertising partners when relevant to the story. We will never promote an advertiser's product without making the relationship clear to our readers.