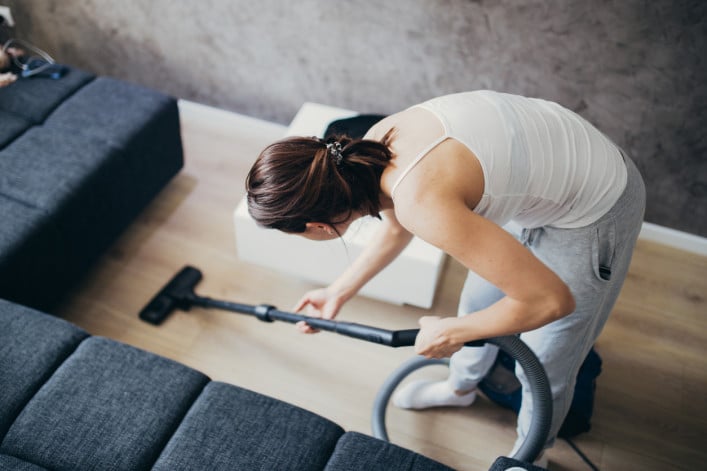 Longer days are a welcome sign of spring but the increased sunlight can also highlight the dust bunnies breeding under your bed. Dust, along with other factors like humidity, smoke, pollutants, and ventilation have an impact on your apartment's indoor air quality.  At its worst, poor indoor air quality can cause headaches, dizziness, nausea, irritated eyes, an itchy nose, and a sore throat according to NYC Department of Health.
Low-level household dust isn't generally a health problem but high levels of it, or long-term exposure, can trigger asthma, pet allergies and might even be the cause for you or your partner's snoring. A build-up of dust can also affect how well your appliances work, including your air conditioning system, which traps you in a cycle, making it harder to improve air quality.
Regular cleaning is an obvious dust-busting strategy, but you can also boost your air quality with a few other strategies, including investigating your building's ventilation system and investing in an air purifier. 
1) Declutter
Clutter can trap dust. "The less you keep on surfaces, including windowsills, the floor and the bottom of closets, the easier it is to get to the area to dust, " says Amanda Wiss, a professional organizer in NYC and founder of Urban Clarity.
Under-bed storage is the absolute worst for attracting dust she says, but if you do need to use the space, put things in containers and pull them out regularly to vacuum underneath. Wiss also suggests putting small items on your countertop in a tray. That way "you can lift them all up together in one fell swoop to dust."
2) Remove area rugs
Another tip is to reduce the amount of floor space covered with area rugs. Rental leases often require you to cover 80 percent of the floor with area rugs or carpeting, but they are a dust magnets, says Andre Rouach, co-owner of Manhattan cleaning company, Obsessive Cleaning. 
"Dust gets held up in a resistant surface. It becomes an entire ecosystem. Do not have wall to wall carpeting if you have pets," he says. The Department of Health also recommends using microfiber or wet cloths to remove dust.
3) Know your ventilation system
Find out what kind of ventilation system is installed in your building or unit. The filters in an air conditioning system should be replaced at least once a month. If your building uses forced air, the filters should be changed once a season.
"Inquire with the super and find out what you are dealing with. In older buildings where the air filtration system hasn't been cleaned for a while it can be a problem." says Rouach. He also recommends cleaning the fans in baths and kitchens, which can get clogged when dust combines with moisture.
4) Get a vacuum with a HEPA filter
Sweeping can spread dust around rather than remove it. If you're looking for a vacuum, Miele regularly comes top of the list of brands.
Steve at Brooke's Appliance Brothers in Brooklyn, recommends the C3 series. "It has by far the highest level of filtering ability. That's going to suck all the dust up," he says.
Most top brands come with a high-efficiency particulate air (HEPA) filter which Rouach says is better than the regular filter because it has an exhaust and doesn't regurgitate the dust that's sucked in. His staff use Hoover vacuums which he says can handle post-construction cleanups.  
5) Invest in an air purifier
An air purifier can absorb dust, and prevent it from accumulating. The difference might not be noticeable on a daily basis, but when you change the filters, you can see the dust that's been collected. Rouach says purifiers can also help combat bad odors and fight dust in between regular cleans. 
The Department of Health points out that construction dust can sometimes contain lead, which is dangerous if it's swallowed. If construction or renovation work in your apartment building or home is generating a lot of dust, you can call 311 to report it. 
6) Clean regularly
Cleaning your apartment every three months, regardless of the vacuum you've chosen or the purifier you've installed, won't keep you on top of a dust problem. Only regular cleaning will do that. "If there's been construction, the dust can resurface in a couple of hours," says Rouach. He recommends a thorough cleaning every two or three weeks.
"If you don't, after six weeks you'll be back where you were, and after three months you are back to allergy attacks," he says.   
Vacuuming bots can help in between cleanings, although you have to have the right conditions for them and they don't go everywhere. Not all of them have HEPA filters. Rouach says a vacuum bot is better than nothing but warns users to watch out for corners where dust naturally accumulates, and which the robot can't reach.
Brick Underground articles occasionally include the expertise of, or information about, advertising partners when relevant to the story. We will never promote an advertiser's product without making the relationship clear to our readers.