Small Projects + DIY
5 ways to improve the air quality inside your NYC apartment
Canadian wildfire smoke is likely to return to NYC this summer, underscoring the need for healthy air
Be sure to seal any gaps around your AC, reduce your gas stove use, and consider investing in an air purifier
You can make your own air cleaning system with a simple box fan, four MERV-13 filters, and a cardboard base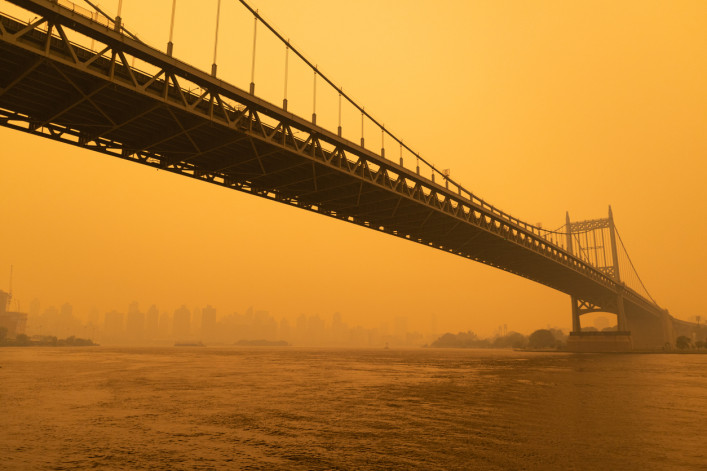 The smoke from the Canadian wildfires that hit New York City in late June was a wake up call: Many New Yorkers who tried to avoid the harmful smoke still smelled it inside their apartments. With more wildfire smoke expected to impact the city again this summer, it's important to stay inside when air quality conditions are bad and to know how to keep the air inside your apartment safe from smoke as well as other pollutants.
Wildfire smoke can cause health conditions like respiratory problems, especially for those with asthma, says Terry Gordon, a professor of environmental medicine at New York University's Grossman School of Medicine. NYC's hospitals saw the highest number of emergency room visits for asthma-related conditions this year on June 7th when wildfire smoke blanketed the sky.
"There's clear evidence that airborne particles can have adverse health effects, primarily in our cardiovascular system, but also in the respiratory system," Gordon says. "[You may have] to take medication and start to wheeze if you're asthmatic, and that's what we should be most concerned about."
Air quality is certainly not a new topic—the Covid-19 pandemic has helped push building owners to invest in filtration systems to keep their properties safe from the airborne virus, says Michael Leone, a managing partner at ads Engineers, an NYC-based engineering consultancy that advises on heating, ventilation, and air-conditioning (HVAC) systems for residential and commercial buildings.
"There was a strong focus during and shortly after the pandemic when people were investing a lot of money to enhance their filtration systems," Leone says. "We, as standard as an engineering firm, always put in high efficiency filters." 
When it comes to individual New Yorkers, there are a few, fairly intuitive measures you can take to stay safe, like wearing a mask when outdoors, and staying inside when the air quality is low. (An air quality index (AQI) reading of above 50 is poor for those in sensitive groups, and most start noticing the effects of poor air for AQIs above 151.) 
And while you're stuck inside, sealing up your apartment, avoiding other pollutants and investing in an air purifier can help keep you safe. For more ways to keep the air in your apartment safe, read on.
1. Seal up your space
One of the easiest ways to keep poor air out of your home is to seal your apartment. Keep your doors and windows closed, and use rags to block air entering through the bottom of your doors. 
If you're in an older building, make sure to check for cracks and leaks that could be allowing air to sneak into your home, and plug those spaces with towels or other cloths as well.
2. Cycle air within your apartment with your AC
Both window and portable air conditioners take air from within your home and cool it. Contrary to what you might think, AC units do not pull in air from the outdoors, making them safe to use even if the air quality outdoors is poor. (Though it is worth making sure that the spaces where your AC unit meets your window are sealed up tight.)
For the lucky few with central air, your HVAC system should include an air filter that helps keep dust, debris, and smoke out of your home. Running your central AC should help keep your apartment's air clean, as long as you regularly check the filter to see when it needs to be replaced. (Consumer Reports recommends a thicker filter, which removes more particles from the air and needs to be replaced less frequently.)
3. Invest in an air purifier, or make your own
If you can afford it, air purifiers can help keep a room clean of not only smoky air, but other allergens like pollen and dust. Make sure to choose a portable air cleaner that has a clean air delivery rate (CADR) that fits the size of the room you plan to put it in. Air filters with higher CADRs can filter more particles and larger spaces, according to the Environmental Protection Agency.
Portable air cleaners filter air using high-efficiency particulate air (HEPA) filters, which do have to be replaced after extended use. Air cleaners don't come cheap either, ranging from $100 to thousands for pricier models. The least expensive model Consumer Reports recommends, the Winix 9800, comes in at just under $280.   
Interior designer Jennifer Morris recommends using the Molekule air filters because of their portable design, she says. Their least expensive model is $359.
"What I suggest is building in air filtration systems like a standalone air filter, almost like a humidifier," Morris says. "What I like about the Molekule system is that, though it's a little space-agey, it's round and it tucks away and doesn't take up a big, blocky space."
If you do have a portable air cleaner, keep it close, Gordon says.
"If you can have a HEPA filter in your apartment, put it in the bedroom or wherever you spend the most time," Gordon says. "They really do remove well over 90 percent of the particles from the air."
You can also make your own air cleaning system at home with a simple box fan, four MERV-13 filters, and a cardboard base, according to a guide from the University of California-Davis. It's best to use a fan built after 2012 and to keep it clean and away from curtains to avoid fire hazards, according to air quality specialist Sarah Coefield, who offers her own guide on a $40, handmade air cleaner, The City reports. 
4. Avoid adding pollutants to your home
Cooking with a gas stove or gas oven, no matter how beloved by New Yorkers, can cause a spike in nitrogen dioxide and carbon monoxide emissions levels in your apartment, harming your respiratory health in the process. 
New York became the first state to ban natural gas stoves in most new buildings in May, with a few exceptions for large commercial and industrial properties. In general, you should try to reduce cooking with gas, particularly when the air quality is poor. When you do cook with a gas stove, always turn on the exhaust fan or add your own fan to disperse some of the pollutants.
5. Keep an eye on your health, and the AQI
When the AQI reaches 151 to 200, most people will begin to notice minor impacts of poor air, like a scratchy nose, runny throat or even nausea. At AQI of 201 to 300, everyone will have increased health risks and you may notice coughing, but should keep an eye out for more serious symptoms, like labored breathing. Everyone is likely to experience some smoke-related health issue when the AQI surpasses 301. 
You should make sure to keep track of any symptoms you experience, like eye, nose and throat irritation, cough, phlegm, chest tightness and shortness of breath. While these symptoms should go away when the air quality improves, make sure to contact your doctor if you're experiencing persistent health problems, according to AirNow, a government partnership that tracks air quality data. And as always, call 911 if you have an emergency.
Brick Underground articles occasionally include the expertise of, or information about, advertising partners when relevant to the story. We will never promote an advertiser's product without making the relationship clear to our readers.