Live
Is construction coming to your NYC block? Here's how to organize your building and protect your quality of life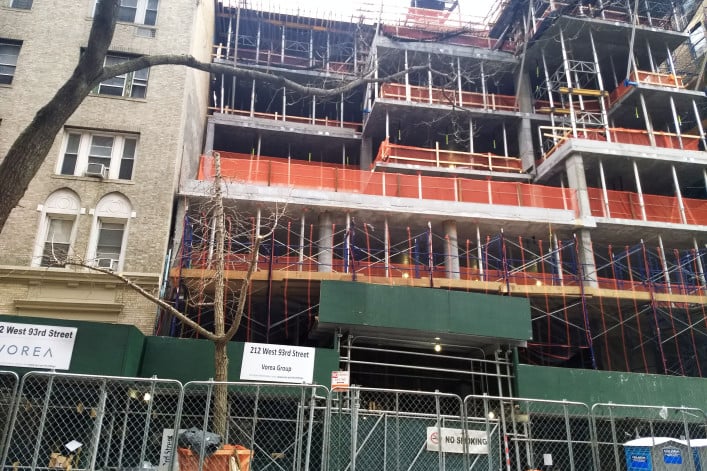 Marjorie Cohen for Brick Underground
When my neighbors and I heard that Shaare Zedek—a synagogue that had been standing flush against our Upper West Side building for almost 100 years—was going to be torn down and replaced by a 14-story luxury condo, we knew we had to take action. As a veteran of many community-organizing efforts over the years, I knew that living next to a demolition, excavation, and construction of a new building would be a major ordeal.
If you're in a similar situation, complaining to neighbors in the elevator is not the way to go. Don't get mad, get organized, which is what we did.
No matter what, living next to construction is going to involve some degree of discomfort, but there are some steps you can take to minimize the pain. Maintaining clear communication, connecting with elected officials and city agencies, doing research, and learning about your rights are just some of the steps. Here's what else I learned.
Create a listserv and enlist your local representative
Fortunately for the tenants in our building, the residents of the building next door to us took on the important work of creating and maintaining a listserv that has kept everyone up to date on what is happening in and around "the hole," as the pit at 212 West 93nd St. became known.
And one other lucky break for us: Our state assembly member, Linda Rosenthal, has acted as our energetic advocate every step of the way. We could not have accomplished what we have without her help and the help of her staff.  
What 'as of right' means
If you have an "as of right" construction project coming to a site near you, you're in good company. Most construction in New York City is "as of right," which means it complies with the property's zoning requirements and is not subject to the city's Uniform Land Use Review Process (ULURP), a standardized procedure whereby applications affecting the land use of the city are publicly reviewed. In other words, it's a done deal.  
Developers are not obligated to notify the community that an "as of right" project is coming or to engage with the community at all. But, developers are eager to finish a project as fast as they can, and don't want to be held up by stop work orders initiated by disgruntled neighbors. It's in their best interest to work with you, and most reputable builders will engage, at least to some extent, with the community. 
According to the Department of Buildings' website, there are 4,200 active new building permits now in play in NYC and it's most likely that soon there'll be more. (There are a number of useful tools for researching projects that may not have reached the permitting stage but may be in the pipeline. (You can also read Brick Underground's "6 ways to tell if construction is coming to your NYC neighborhood.")
Collect the facts
As soon as you find out that a construction project is about to enter your life, the first thing to do is to find out as much as you can about what's coming and who's coming with it—how tall the building will be, what kind of building it will be, who the developer is and the name of the construction company that will be on site. 
Elected officials and/or your community board may be able to help get that information for you. You'll need to know which community board is yours, and you should contact the district manager. 
Is the project name shielded by an LLC? Check out Brick Underground's step-by-step guide, "How to find out the name of a developer behind a LLC."
When reading about the project in trade publications or newspapers, always check facts and eliminate or point out any incorrect information before passing the story along to others. Rumors are anathema to organizing efforts. 
Start by spreading the word
Once you've gathered the preliminary information, get it into the hands of as many neighbors as you can. If you have an existing listserv of tenants, excellent. If not, you can post information in your building, or even more old-school, slip the information under everyone's door. Ask neighbors for their e-mails and set up a listserv. Communication is key to your organizing efforts.  
Enlist some like-minded neighbors to share some of the initial work and be part of a steering committee. Eventually, you are going to want to organize a task force or construction committee whose members will manage communication between your neighbors and the builders and who will be the ones to actually sit down at the table with the builders. Each building affected should have a "captain" and these captains should be part of the task force. Co-op or condo board presidents and building owners, managers and supers should be represented as well.  
It's helpful to have a representative of your community board or one of your local elected officials—most often your city council member, state assembly member or state senator—working with you on the task force, but it's not absolutely essential. Elected officials or community board reps are the ones with the juice, they're the ones with the persuasive letterheads, the ones who can connect you to relevant city agencies and arrange to have an agency's community outreach team attend your meetings. 
When approaching the developers, start out friendly, with a let's-work-this-out-together kind of vibe. Then, hope that it stays that way.
The main players: DOB, DEP, and DOT
The Department of Buildings is the key player. It's the agency that regulates all work that requires a DOB permit, from approval to sign off. You can find out what permits have been issued for your site here and here.
Issues involving site safety, sidewalk sheds, and permission to work after hours are overseen by DOB. DOB inspectors are the ones who handle complaints and issue violations, partial stop work orders or full stop work orders. 
The DOB has added an online feature that lets you sign up for construction project status updates by email. Instructions on how to use the site are here.
Complaints regarding any DOB-regulated aspect of construction should be reported to 311. According to Abigail Kunitz, deputy press secretary at the DOB,all complaints are inspected. New buildings need to have a site safety plan and safety professionals on site and are subject to proactive, unannounced safety inspections by the DOB. 
And it's the DOB that grants after hour variances (AHVs) that allow work to proceed outside of regular hours, which are 7 a.m. and 6 p.m. on weekdays. AHVs are granted for a number of reasons and as you monitor activity at the site, it's important to keep track of the requests. AHVs are not supposed to be granted simply to speed up the work. (Check out Brick's "How can I tell if the after-hours or weekend construction work on my NYC block is allowed?")
If you want to get into the weeds with DOB and have your agency-related questions answered one-on-one, you can go to a customer service night,held every Tuesday from 4 p.m. to 7 p.m. held in each borough offices. 
What about noise? 
One of your biggest complaints will be noise and that falls under the aegis of the Department of Environmental Protection (DEP). The DEP requires noise mitigation plans for every site and requires that these plans be available at the site. Daytime construction is allowed 85 decibels as measured at 50 feet from the site.   
A department spokesperson explained that inspectors used to need access to an apartment in order to measure the noise level, but now measurements can be made from outside the building.  But he says, "access to an apartment for noise readings may help to make a stronger case for limiting the noise from the construction site."
When the noise gets extreme, calls to 311 will bring an inspector out to measure the decibel level. When calling with a noise complaint, tell the 311 operator that your complaint should go to DEP and be as specific as you can to avoid having your complaint float around to a variety of agencies, making a timely inspection impossible. For information on the city's noise code go here.
The DEP also requires dust mitigation plans for construction sites and will respond to 911 calls with an inspection. 
The Department of Traffic (DOT) plays a somewhat peripheral role, requiring that all construction sites include sidewalks, curbs and a paved roadway. Any problems with traffic on the block of the construction, road closures, or crossing guards, is the DOT's responsibility to handle. DOT also has to grant permission for AHVs. 
What to discuss at your first meeting
Choose a chairperson for the first task force meeting from among the tenant reps or, if there's an elected official or community board district manager involved, he or she will probably want to chair. Decide who will take the minutes. Subsequent agendas will be driven by what is happening in and around the site as the work progresses. 
Here's a sample agenda for the first meeting that was put together with the help of Ethel Sheffer, FAICP, an experienced consultant in community development and planning. Subsequent agendas will be driven by what's happening in and around the site as the work progresses. 
Introduction of participants
Overview of project by developer 
Overview of block by one of the tenant reps: Special features such as churches or schools that would impact the construction 
Demolition phase: 
what are dates and duration of the work
frequency of inspections scheduled to guarantee safety at the site
plans for the structural safety of adjacent buildings during excavation phase
plans for noise, dust  and rat prevention
holidays when there's no construction   
Construction phase: 
plan to set up 24/7 hotline for complaints from tenants/how will it be monitored?  
schedule of regular lookaheads (every two weeks is best and should include as many details as possible, be written in plain language,and include a 1-10 scale of anticipated noise) 
Frequency of meetings 
plans regarding traffic: anticipated street closures, set- up for deliveries  
plans for noise and dust mitigation (be sure to let the builder's rep know that youknow that a noise mitigation plan needs to be available on site) 
at the end of the meeting: Chair presents a wrap-up of major points, reviews who is going to do what to move the process forward and group decides on next meeting date
Nearing the finish line
We've just been told that the project next door won't be finished until February 2021, so we've got a long, long way to go. But we've also been told that this April the structure should be completely enclosed, which should quiet things down considerably, at least according to the builders.
At the last task force meeting, when they announced the anticipated date of completion, I was tempted to bring up the fact that the Empire State Building was built in one year and 45 days. But, I didn't give in to this brief urge toward sarcasm and kept quiet. (Not easy but important.)
Until the building is done we will continue to monitor what's going on, file complaints when necessary, try to maintain good communication with the builders, and continue to let all of our neighbors know, via email, what to expect and when. It may be a cliché, but knowledge really and truly is power. 
Brick Underground articles occasionally include the expertise of, or information about, advertising partners when relevant to the story. We will never promote an advertiser's product without making the relationship clear to our readers.